Marketing
LinkedIn Tips to Substantially Grow Your Company Page Followers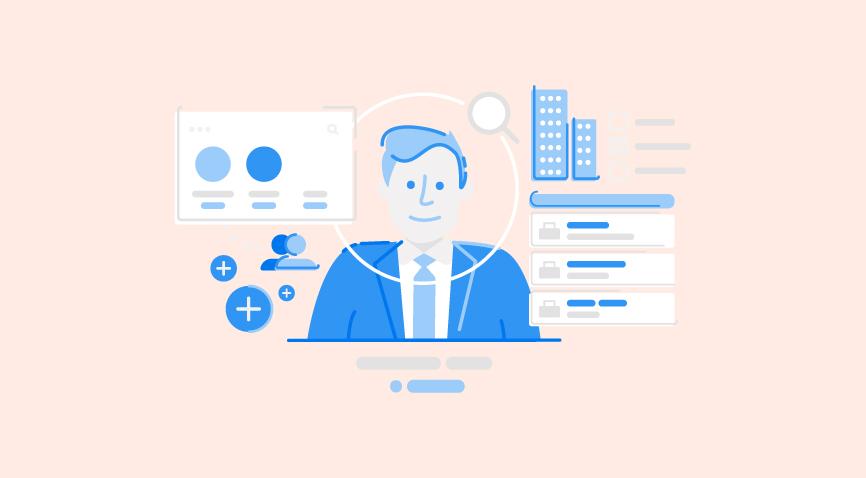 Here's a complete guide on LinkedIn business page tips & some Linkedin best practices for businesses to help your LinkedIn page grow and gain more followers.
As of 2022, LinkedIn officially has 830 million users, with 40% accessing it daily. This means LinkedIn is no longer a social platform only for hiring opportunities. It has become a prime network for companies to market, connect, and sell their product and services.
In fact, LinkedIn is becoming essential for both B2B and B2C marketers as it allows them to establish leadership, gain insights, and conduct market research. Simply put, LinkedIn is the new marketing powerhouse. Currently, 55 million companies are using it to build a strong relationships with their consumers and prospects.
Here are some LinkedIn Business statistics to help you better understand this platform's importance.
4 out of 5 people on LinkedIn drive business decisions
There are 61 million senior-level influencers on LinkedIn
96% of B2B content marketers use LinkedIn for organic social marketing, according to Content Marketing Institute
33% of B2B decision makers use LinkedIn to research purchases, says Hootsuite.
So, how can you leverage LinkedIn for your professional brand and its growth? These tried and true LinkedIn tips & tricks can help accelerate the growth of your company's page followers 500% faster.
LinkedIn Tips to Increase Followers
Here are some important parts to building a strong following on LinkedIn regardless of whether you have a professional brand or a personal brand.
1. Work on your company's LinkedIn page
According to Falcon, in 2019, Google was ranked at the top among the 15 most followed companies on LinkedIn, way ahead of other popular companies like Amazon, Apple, and LinkedIn itself.
Why? Google's LinkedIn page kept its audience engaged by offering great content, including CSR initiatives, company culture, product updates, and much more than just updates. It's still one of the most followed companies on LinkedIn.
Now, ask yourself a few questions:
Why should anyone follow your company on LinkedIn?
What are you offering them?
How do your offerings provide value to your audience?
If your page is not delivering valuable content to your audience, for instance, great content, job opportunities, etc., they are bound to move to competitive pages offering them solutions.
Moreover, focus on your profile's headline by implementing some of the top LinkedIn headline tips. It's one of your profile's most prominent elements in the search algorithm. Your LinkedIn headline generates a great impression and precisely describes what you offer to a business contact or a recruiter. The headline is responsible for establishing your authenticity in the industry and when pumped with relevant keywords. It makes you searchable on LinkedIn.
Other than the headline, here is how you can make your page enjoyable by adopting these Linkedin best practices for businesses.
Keep the company's LinkedIn page complete & updated
Companies with a complete, updated, and active profile receive with a profile photo 5x more page views. They also get 7x more impressions and 11x more clicks per follower.
These great stats are that having a complete profile makes your company page look more legitimate and looks like an actual professional brand. Almost all companies follow LinkedIn business page tips given by industry experts to make their profile more appealing. This provides visitors with all the necessary information regarding the company, its job opportunities, their experience section, etc., thus improving brand image.
Share more than just updates
Sharing only company updates will lower your potential for attracting new followers. They may find your content hard to engage with and move to other pages that align better with their expectations.
This does not mean you shouldn't share your company updates at all. Be open to providing valuable content for non-users of your product as well. This will attract them and make them feel inclusive, and turn them into prospects.
Mention other companies in updates
Mentioning other non-competitive companies and influential people in your posts helps you grow your follower base. They will reshare your content with their followers, giving you an insight into their network.
2. Consistency is key
Remember, LinkedIn is just another social media platform. It's easy for people to scroll past the content if it's not engaging enough. However, sharing content consistently gives followers more visibility on the feeds. It not only improves branding but also helps you to build a loyal following on LinkedIn.
Companies that post weekly on LinkedIn see a 2x higher engagement rate. Research shows that the best day to post on LinkedIn is Wednesday for B2B brands or Monday and Wednesday for B2C brands.
You can even use different applications to set up a posting schedule. Make sure your marketing content stands out from your competitors. This helps maintain a high engagement rate.
3. Understand the LinkedIn algorithm
The two primary goals of the LinkedIn algorithm in 2022 are to prioritize relevant content and promote engagement. It now displays posts from the people the audience knows and the topics they can relate to. Hence, it's important to post relevant content.
To better understand this aspect, you can look out for various LinkedIn post tips that guide you through curating more organic and relevant posts. This increases the likelihood of interaction and encourages members to engage with the page.
4. Optimize your LinkedIn page for SEO
Optimizing your LinkedIn page for SEO can boost your connection requests fivefold. You can start by using prominent keywords in your tagline or 'About' section so that search engines crawl your page. It also provides clarity to your users and helps them understand your work.
Another way is to use relevant hashtags in your post to reach new and related communities. You can even use it in comments to further promote your brand.
Finally, use compelling images and high-quality visuals. Similarly, you can try your hands on different LinkedIn Business page tips available on the web to establish your authority.
5. Help your employees & colleagues get the best out of LinkedIn
Your employees and colleagues are the most influential people who can help you with your LinkedIn marketing. They help you boost your Linkedin content, increase the visibility of your company page, and eventually rank better.
Here's how you can implement these Linkedin best practices and get the most from them:
Request your company employees to complete their LinkedIn profiles and add your organization as their workplace in their work experience list. Once they include the company's name, they automatically become a follower.
Let them know whenever you publish a post on LinkedIn. Encourage them to interact with the post and even share it within their circle, if they find it helpful.
Encourage your employees to participate in LinkedIn groups. Having people with relevant experience and skills in discussions increases your organization's credibility and demonstrates your expertise on key topics.
Since employees and colleagues want to see your brand succeed the most, their advocacy is a winning strategy for companies. Here are the statistics to justify the claims.
30% of a company's engagement on LinkedIn comes from employees
Employees are 14x more likely to share content from their employers than other types of content on LinkedIn
6. Invite connections to follow your LinkedIn company page
Inviting connections to follow your LinkedIn company page can be a powerful tool to get more followers. This is an incredible LinkedIn marketing strategy for small businesses looking to pinpoint potential prospects.
Additionally, you could add a LinkedIn follow button to your website asking your visitors to follow your company page. Make sure not to sound too compulsive. Instead, include a message that promises them better content.
For example, "Hey, if you enjoy our content here, you'll love the stuff we share on LinkedIn."
7. Use cross-promotion strategies
No marketing strategy restricts you from using other channels to promote. A coordinated effort on all platforms helps you see consistent growth over time. Adding a 'Follow' button on the website is one of the cross-promotion strategies. Others include linking your company page in your marketing collaterals, email signatures, and other social platforms.
Make sure your content is easy for readers to share at the point of their reading or browsing experience. According to many Linkedin tips and tricks, adding social media sharing buttons in blog posts helps you to increase your reach for long-term success.
Conclusion
There are several advantages to increasing the number of followers on your LinkedIn company profile. Strong brand equity, favorable brand resonance, improved brand reputation, and growth in the total number of sales prospects are just a few of them, contributing to optimum overall revenue.
To grow their LinkedIn business page followers, marketers must take advantage of interacting with niche and specific target groups.
We strongly recommend adopting the above-mentioned LinkedIn business page tips & some Linkedin best practices for businesses to help your LinkedIn page grow and gain more followers.
FAQs
1.

How to grow LinkedIn company's page followers faster?
Your company can grow its LinkedIn company page by up to 600% by following these simple LinkedIn business page tips:
1. Complete your company profile on LinkedIn (entirely).
2. Make a blogging schedule and stick to it.
3. Reschedule your most popular content.
4. Encourage your coworkers and employees to participate.
5. Promote your LinkedIn company page to a broader audience
2.

What are some standard LinkedIn best practices for businesses to increase their company page followers?
These are the most popular posting on LinkedIn tips for growing an engaged following:
1. Add interesting content to your page
2. Regularly update your page with new content
3. Include a hyperlink in your email signature
4. Join conversations by adding a link to your website using hashtags
5. Incorporate hashtags into your posts
6. Create a publicity campaign
7. Publish LinkedIn articles, and link to your page by following LinkedIn post tips
3.

How to make the most out of the LinkedIn page?
Here are some LinkedIn best practices to help you get the most out of your profile:
1. Finish your page
2. Participate in discussions 
3. Make an effort to incorporate a picture in each of your postings
4. With boosting, you may expand your audience and reach more individuals
5. Seek assistance when required
4.

How do you create a successful LinkedIn marketing strategy for small businesses?
To expand your company's online presence and produce leads, use these Linkedin tips and tricks:
1. Analyze your competition regularly
2. use relevant keywords
3. fill out all key fields
4. recycle old content
5. collect and offer endorsements
5.

Which are some of the best businesses with fantastic LinkedIn Company pages?
Coca-Cola, AppleOne, Mashable, L'Oreal, Four Seasons Hotels & Resorts, BlackRock, IBM, Evernote, and HP are a few of the top companies that capitalize on the opportunity and absolutely rock it. 
6.

Which is the most used social media platform professionally?
LinkedIn, the most popular social networking site for online business networking, has evolved from a place for social media stars to hang out to a place where companies can express their views and execute marketing and advertising efforts. On specific social media networks, it is the source of 97% of total leads.
7.

List some of the Top 12 LinkedIn Tools for Boosting Sales.
Here are some of the top LinkedIn tools to help you succeed in your career as a media marketer:
1. LinkedIn Sales Navigator
2. LinkedIn Plugins
3. LinkedIn Small Business
4. LeadFuze
5. Crystal