Marketing
5 Powerful LinkedIn B2B Marketing Strategies That Work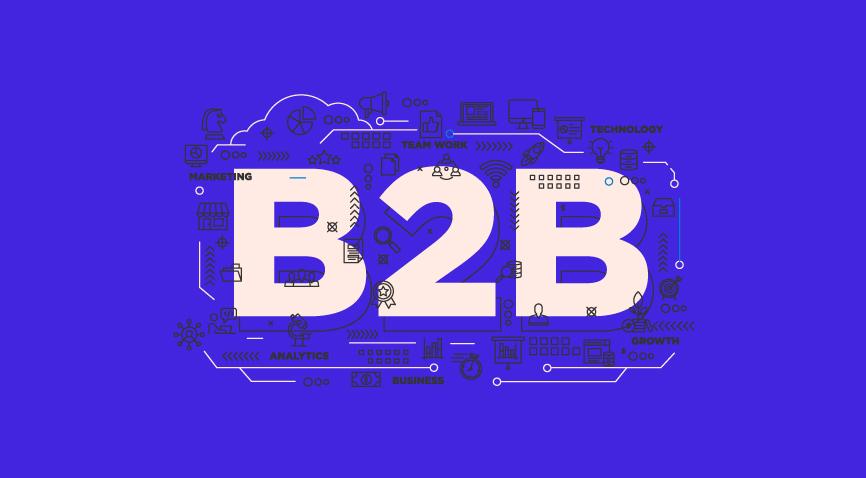 Good B2B LinkedIn strategy for marketing are a must if you want your business to flourish. To help you get started, here are some strategies you can try.
Studies show that for B2B, 80% of leads are generated via LinkedIn. In comparison, other social platforms generate less than 19.67% of leads.
So, why are B2B clients making their buying decisions on LinkedIn?
This is because the platform provides the right mix of engaging, reliable, and data-driven marketing content.
From blogs and articles to industry news and research, this is exactly what clients look for before purchasing a B2B product. This content educates them as they move from one buying stage to another. The content makes it worth their time.
And thus, this is the main reason marketers utilize B2B LinkedIn strategies for marketing for instant growth of their business.
5 Great B2B LinkedIn Strategies for Marketing
Let's talk about strategies that have been successfully put to work by B2B marketing experts, leading to positive results. Here are five strategies you can take inspiration from:
1. Niche outreach using LinkedIn Groups
LinkedIn users are mostly a part of several groups on the platform. Due to which LinkedIn Prospecting is the perfect way to generate leads. Connecting with other LinkedIn members to eventually convert them to customers is known as LinkedIn Prospecting.
So, how does one participate in the ideal groups? What must be done to maximize the efforts of a particular B2B LinkedIn strategy for marketing in that group?
Just use the search bar on your LinkedIn homepage. Type the name of the target audience. For example, if you are searching for people from the technology arena, you could type 'technology consultant.'
Now, you will see several tabs at the top of the result page. Click on the tab labeled 'Groups.' In the example used, our search keyword 'technology consultant' generated 593 groups. You can pick a few groups and request to join and test these as the next step.
Once you are let into the group, start commenting on existing conversations and focus on making these comments rich in value and content. Also, a good start will be to post informative, robust, and high-quality contributions to the group.
Did you know that over 130,000 posts are published weekly on LinkedIn Pulse; however, only a fraction of this content is posted to groups? Moreover, this platform has high credibility, with 71% of users believing LinkedIn is a credible source of information for professional content.
Add this technique to your existing B2B content marketing strategy. Firstly, create a plan. For instance, create a blog post on a trending topic and publish it on your company's blog page. Next, post the same content on LinkedIn. Also, share it within various relevant LinkedIn groups. This will surely give maximum exposure to the post.
2. Effective B2B lead generation strategies to generate valuable inbound leads
In the B2B world, potential prospects are intensively searching for companies such as yours via LinkedIn. Being visible to them is an important factor.
Firstly, to be visible to these prospects, optimize your company page with keywords that are relevant to your business. This optimization will give you more visibility and exposure. Now, make sure you create a great impact on prospects landing on your page through messaging.
Let us consider Salesforce's LinkedIn page as an example. This page starts with the basic and necessary information about the company, such as what the company does, the address, the employee count, etc. The uniqueness of this page can be determined by the excellence in the depth of its content. Moreover, this page includes insights into the behind-the-scenes of the product creators and also tips to be used by its partners.
This page also lists the products that the company is offering. The company has also listed all the events its customers can attend on this page. Moreover, when you look into the 'recent updates' tab, you will be amazed to see the type of content the company has posted. Be it news from the media about the company to new trends the company is following.
3. Implementing a B2B marketing strategy via LinkedIn is an opportunity to drive relevant traffic
One of the best benefits of LinkedIn is that it can drive relevant traffic to your website. A great B2B LinkedIn marketing strategy will generate leads and attract huge traffic to your website. The first step to achieving this would be creating engaging, relevant, and informative content.
Let's take this example; as you post content to LinkedIn Pulse, insert links to other attractive content pieces created by you at the end of the article. After a while, review analytics to be aware of content that resonates well with targets. After the analysis, link this to the published content, which will drive potential targets to your website. This will also help to generate steady traffic.
Most importantly, ensure that the targets know the next steps after reading your content; otherwise, you may lose them forever.
To achieve this, create B2B lead generation strategies, so the targets are tempted to drop personal information such as email addresses or phone numbers. This can be a white paper of high value, a demo video, or a case study that addresses a specific pain point, or some other piece of amazing content.
Once the contact information about the target is collected, the next step will be to start nurturing, providing value, and moving those leads closer to sale.
4. Take the opportunity to get insights from top industry leaders
LinkedIn helps to find and tap into the insights and knowledge of top influencers of different industries. You can use this feature to locate the industry's top influencers. Go through the articles of these experts. Also, share relevant articles in your groups and updates. This will help you build a reputation by association.
Secondly, you should also start commenting on the content posted by these influencers because your target market is probably reading this content.
Usually, content posted by influencers gets a high number of views. If you leave useful and valuable comments, you inversely drive exposure to your business. Lastly, reviewing influencers' content may also give you topic ideas for your content.
5. Marketing insights can be gained by using LinkedIn B2B marketing strategies
When there was no LinkedIn, keeping tabs on what your customers were saying or thinking about you was difficult. Now, you can find your customers posting positive or negative reviews on feeds. Products built by a company are often based around a pain point. This pain drives prospects to buy your product.
For example, there are times when marketing processes consume time. In such cases, prospects need to streamline and automate those processes.
No matter the pain point, you must continue learning to resonate with your customers. More importantly, you will be able to learn the exact language used by your customers to describe a problem. You should use that same language in your marketing. This will build instant and more powerful connections with your customers.
One must join groups and understand the conversations and their context. These discussions can benefit your services and products as soon as you do that. This information can be a powerful tool while creating white papers, blog posts, and case studies. It can further be narrowed down to address specific customer issues.
The Takeaway
LinkedIn is basically used for connecting with other professionals. Most of us are on LinkedIn searching for connections and building a network.
So, the first thing one should consider before making LinkedIn B2B marketing strategies for this platform is communicating with these connections. These connections could lead you to your prospects, or they may be your prospects.
What works for others may or may not work for you. So, be patient and test the strategies mentioned above. Once these strategies are tested, review the results, and if needed, repeat the process. These strategies, if implemented well, will take time to show significant results but will never fail.
FAQs
1. How do you do B2B marketing on LinkedIn?
For B2B businesses, LinkedIn marketing is very crucial. Before building a LinkedIn B2B marketing strategy, one must have a strong and compelling LinkedIn profile or company page. Also, one should join several groups relevant to your business and engage in conversations on these groups. This helps you expand your network and build connections that can be converted into prospects and consumers.

2. Why is LinkedIn for B2B marketing?
The company page or profile page on LinkedIn, if well optimized, has a higher chance of ranking in a Google search. Hence, this increases the total online visibility of any brand.
It also has 660 million active users who are mostly professionals looking to build their networks and connect to maximum related professionals. 


3. How do I generate B2B leads on LinkedIn?
Six steps to generate leads using LinkedIn:
Firstly, optimize the company's LinkedIn page
Also, optimize personal LinkedIn profile
Increase Connections on LinkedIn
Share content relevant to the industry
Retarget website visitors on LinkedIn
Use paid ads on LinkedIn
6. How often should you post on LinkedIn 2022?
Recommendations are to post at least once a day and not more than five times per day. LinkedIn has seen brands that post regularly increase followers six times faster than those who keep a lower profile.