Marketing
LinkedIn Content Strategy: The 4-Step Guide to Mastering Content Marketing on LinkedIn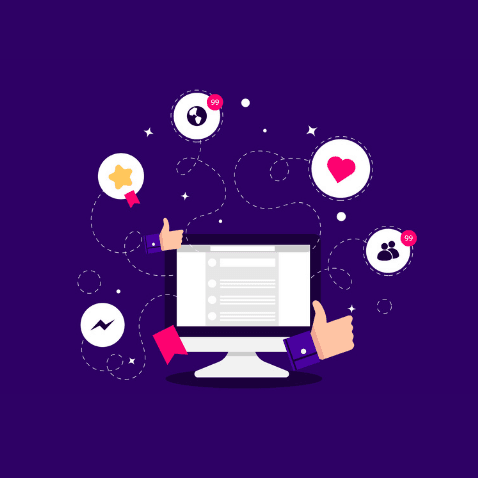 It's a misconception that the sales funnel on digital platforms starts with lead generation. There's one crucial step that forms the base to lead generation, which often goes amiss — prospecting
Table of Contents
Who's on LinkedIn? Understanding the Demographics
4 Steps to Ace Content Marketing on LinkedIn
Measuring the Impact
5 Things You Should Know about LinkedIn to Master Content Marketing
Key Takeaways
Conclusion
FAQs
Want to know where to spend your marketing budget before you jump into the digital ocean? LinkedIn is the place to be! Content is king. If you can optimize content marketing on Linkedin, your business will get the much-needed boost.
Linkedin's marketing strategy does not just rely on the sales funnel for lead generation. One crucial step forms the base to lead generation, which often goes amiss — prospecting. A foundational exercise to essentially test the waters, prospecting helps you find out where your most lucrative leads are. It's also what gives inquisitiveness some traction. Although more critical for B2B organizations, several large B2C entities also make good use of prospecting.
Gone are the days when cold-calling was the only way to perform prospecting. LinkedIn is touted as the kingpin for prospecting as it allows you to connect with a host of primary and secondary decision-makers on a professional medium.
This article gives you the content marketing blueprint to leverage your LinkedIn content strategy for calibrating your digital marketing goals.
Who's on LinkedIn? Understanding the Demographics
Before unpacking the content marketing strategies on Linkedin, it's essential to understand who the LinkedIn audience is.
The basic stats:
It may seem that the total number of users worldwide is minuscule compared to other social media platforms, according to a Statista report.
But there's more than meets the eye. To truly understand content marketing capabilities on LinkedIn, we need to dig deeper into the demographics.
According to the age and gender distribution of Facebook, most Facebook users are in the age group of 18 to 34. That would mean that most users are college students, freshers, or early-career professionals.
According to the data for Twitter, another favorite among B2B professionals, the distribution of user groups age-wise is good, with 25.2% falling in the 18 to 24 category and over 50% falling in the 25 to 49 category. This means that the age group is equally divided among youngsters and mid-career professionals. However, the gender gap is too vast, with 68.5% males compared to a mere 31.5% females, according to Statista.
And, now for LinkedIn:
LinkedIn users lean toward early and mid-career professionals. What's more interesting is the analysis of gender distribution.
As you can see, the gender distribution is much more even with LinkedIn compared to Facebook or Twitter.
So what does this mean for a content marketer? How can you optimize content to generate leads on LinkedIn?
Qualified prospects and leads
If you're looking to connect with mid-career professionals, entrepreneurs, C-Suites, and business owners (which is likely the target audience for B2B marketing), LinkedIn is your best bet. Having a great LinkedIn content strategy will help you find the quality leads you're looking for.
The platform has over 180 million senior-level influencers, making up nearly 25% of its total user base. Despite the popularity of woke entrepreneurs like Elon Musk on Twitter, LinkedIn trumps Twitter on CEO representation among Fortune 500s by a margin of 67.5%.
Superior engagement
According to Alexa, the average daily time on LinkedIn is 11 minutes. Note that those who spend time on LinkedIn are usually looking for answers in the professional ecosphere. This is very much unlike the time spent on other social media sites, where people log in just to 'tune out' from work.
Better representation
LinkedIn clearly distinguishes itself as a professional network, and as a result, more women entrepreneurs are open to keeping their public profiles limited to LinkedIn. Linkedin content marketing efforts are likely to be more well-received by women professionals.
Now that we've established the benefits, gear up with these content marketing tools to build your authority on LinkedIn.
4 Steps to Ace Content Marketing on LinkedIn
1. Getting the basics right
As with any other platform, you need a LinkedIn page for your business. Here are some LinkedIn content tips to help you make your page look neat and professional:
Company description: Provide a clear description that establishes the brand's voice. Here's an example of famous streetwear brand OBEY clothing:
Notice how the first few lines establish character and history straight away. This is because it's optimized for Google's meta description, a preview or summary of the brand page with a 156 character limit.
While this example is for B2C brands, here's one for B2B organizations.
Hashtags: Pick up to three hashtags to make your profile search-friendly.
Profile photo: Add a polished background that is uncluttered and impactful. Recommended size is 1584W x 396H pixels.
Make sure you also set up individual LinkedIn pages for your company's top executives and managers.
Last but not least, don't forget to add the appropriate links and buttons to your website to enhance your content marketing on Linkedin.
2. Understanding the content marketing types for LinkedIn
Publish quick status updates: Post exciting news about your organizations by linking appropriate individuals. You can also share interesting articles, websites, or videos.
Publish and share articles on LinkedIn: This post is limited to individual LinkedIn influencers, like the company CEOs or brand managers. You can set featured posts of long-form content and articles on your LinkedIn profile.
Publishing video content: Much more than articles and blogs; LinkedIn loves video content. This may be because users can view videos without leaving the platform, unlike blogs and articles where they'll be redirected to the company website.
LinkedIn has a special section for recently posted videos, and it immediately follows the about section of your page. It's no surprise that videos are the most reshared form of content on LinkedIn, meaning you can expect good engagement. LinkedIn content marketing strategies like these will help you go a long way when trying to master content marketing on LinkedIn.
3. Planning your content strategy
It's essential to plan your content so that your content marketing analytics can provide you with solid insights. Here are some LinkedIn content strategy tips to help you plan content for LinkedIn.
Start by finding time to research and share the correct articles on personal pages. Collate the most noteworthy blogs and infographics from your existing content and post it regularly for business pages.
This can't be stressed enough — use a content calendar. This will help you optimize your strategy and ensure consistency.
Determine the frequency of posts. Although this may be tweaked by industry and size of your organization, here are some general guidelines

Post status updates 2-3 times a day
Post long-form articles 1-2 times a week
4. Integrating LinkedIn and SlideShare
Think about diversifying your content marketing strategy by leveraging SlideShare. SlideShare is LinkedIn's built-in professional content sharing tool for quickly uploading portfolios, artworks, and reports. If you have many pitch-decks and company presentations, simply upload on SlideShare with a follow-through button to LinkedIn. This is one of the easiest ways to help you get traction.
Measuring the Impact
LinkedIn offers a host of analytics that help you track how well your content marketing strategy works. Using LinkedIn analytics, you can track metrics on:
Visitors
Updates
Followers
Activities: Likes, shares, comments, and mentions
Post impressions
Profile analytics
LinkedIn also provides a comprehensive view of sponsored and organic content with its Updates dashboard. Make sure to keep a close eye on the engagement metrics and compare them to your competitors to see if you can improve your strategy.
Most of all, note that companies with a complete and active LinkedIn page get 5X more views.
So, repurpose your existing content, promote blogs and articles from your website on LinkedIn and stay consistent. That is the secret sauce to LinkedIn marketing!
5 Things You Should Know about LinkedIn to Master Content Marketing
Today, LinkedIn content marketing is a very effective way to reach your target audience. It helps you meet the right professionals and connect with people on all levels. So, the more comprehensive the network, the better your chance of reaching out to a larger audience. With its growing popularity, people find LinkedIn to be a perfect platform for content marketing.
While it is one of the best platforms for marketers looking to promote their business and products, the big question is – do all types of content get the required visibility? The answer is no; all kinds of content cannot get visibility and exposure. But with a proper LinkedIn content strategy, it is possible to reach your target audience here.
To help you get a better idea about how LinkedIn works. Here are five things you must know about LinkedIn content marketing.
1. Content marketing framework
When it comes to content marketing tips for LinkedIn, you must know that the platform works majorly to produce content that will help attract the right industry stakeholders. LinkedIn is one of the most desirable and strongest platforms to get relevant business-related results. So, whether it's for more engagement or achieving the right leads, content marketing on LinkedIn is indeed helping business owners. LinkedIn works independently from other social media platforms. So, while more shares and likes show you how much people talk about your brand, similarly, actions on the LinkedIn platform can be connected to endorsements and getting the right connections.
2. Grow your network
Another LinkedIn content strategy you must know about is making sure to grow your network. Unlike other platforms, LinkedIn needs an entirely different approach. Inviting people and professionals to connect on LinkedIn could grow your network. Also, ensure that your profile page is complete, add your email signature to the LinkedIn URL, send out personalized messages to people to connect with them, and finally, join groups and participate in conversations to grow your network. With over 756 million LinkedIn users and more and more individuals joining the platform every minute, LinkedIn is undoubtedly a place with many opportunities for all types of professionals.
3. Set up your company page
Having a company page will help give your business identity. It's a page where you can talk about your business. You must add all the relevant details, including your company logo. Since it's the central part of your content marketing distribution, you must present your business in the best way possible. It also helps brands get visibility when it comes to search engines. Having a well-set up company page makes it easier to deliver news and essential information to your followers.
Once you have a company page setup, you can make a constructive plan and share weekly or monthly updates on different topics like:
Industry trends
Business advice
Company newsfeed
Being active and sharing regular news and updates goes a long way in keeping your followers engaged and interested in your business.
4. Join the right groups
The next LinkedIn content marketing tip is choosing and joining the right groups. Is your business offering marketing services? If your answer is yes, you must actively participate in groups related to your particular niche. There are many different groups on the platform that one can join to get in touch or connect with professionals and competitors. This will help boost traffic and give your business better visibility. It's a great way to share ideas and get helpful information.
To choose the right group, you could check the number of group members and the amount of interaction. You can find the interaction information by looking at the statistics box on the right side of the screen. You can also check the number of articles posted in a month, and the number of comments that each piece has received, to get an idea about the group.
5. Not a place for personal thoughts or messages
Remember, LinkedIn is a platform for building professional connections, and hence posting personal messages and thoughts is a definite no. It is not only unprofessional but also seems nonsensical. Avoid posting private or family updates like you would on other social media platforms. It's essential to realize the platform's purpose and never post irrelevant information that might force your connections to block you.
Make sure to follow these content marketing tips to see results. Patience is the key to succeeding in the content marketing world. So, if you do not get the response you expected, don't give up. Stay active on the platform and keep posting and commenting, and you will see the results soon.
Key Takeaways
Linkedin mainly comprises individuals who are in their early or mid-career years. It is a platform that encourages people to post educative information. Therefore, Linkedin's content marketing strategy is also focused on creating valuable content for its users.
Linkedin's content strategy also relies on optimizing bio and website information with proper keywords. Try to include your biggest USPs as too many keywords would do you not a specialized service.
Linkedin content marketing is very effective in creating a community of followers, who engage with your content. Higher engagement results in more traffic, thereby growing your network further.
You could join groups that are related to your business to boost your content marketing on Linkedin. It could grow your network and you would get an idea about your competitors.
When devising content marketing strategies for Linkedin, you will probably go through tons of content. Make sure that you do not plagiarise content from anyone.
Conclusion
Linkedin's content strategy relies on delivering meaningful, valuable, and targeted content to the audience. A dry content funnel is probably one of the biggest challenges that most businesses face while creating content on Linkedin. Peppertype.ai, an instant content generator from Pepper Content, could be a massive game-changer for your content marketing on Linkedin. Peppertype is powered by artificial intelligence, making its content highly reliable. Linkedin's content marketing strategy requires you to maintain a consistent posting schedule. You could also keep a content calendar to note down ideas.
FAQs
1. How do I do content marketing on LinkedIn?
Here are a few tips on how to do content marketing on LinkedIn. 
– Publish quick status updates at least 2-3 times a day. 
– Publish weekly articles on your page that are relevant to your industry.
– You can also publish video content that engages your audience.
2. How do I amplify a post on LinkedIn?
Building your presence on LinkedIn begins with finding the right audience. Make sure to follow these tips to reach more people and enhance your Linkedin content marketing strategy. 
– Write a relatable story. 
– Using a LinkedIn hashtag to get engagement. 
– Share quick tips targeted towards your audience. 
– Start a poll and ask your network to tag other people on the post. 
– Share your opinion on various topics that your audience may be interested in.
3. What content strategy works for LinkedIn?
Content strategies such as list posts, templates, ebooks, webinars, live events, slideshares, videos, infographics, original research, and company updates are great content strategies to use for LinkedIn. Make sure that the content you are posting has some value for a user. Do not post frivolous or personal content.  There is a key difference between posting unique branding content and personal content.
4. What is the best time to post on LinkedIn?
The fact is there is no correct answer for this. However, you must do a little research to find the best time to post on LinkedIn based on your specific audience. There's no one-size-fits-all, but it's found that marketers have seen success when they post between 8 am to 2 pm from Tuesday through Thursday. Try to monitor your user engagement rates. When your users engage with your content the most, it is the perfect time to post.
5. What kind of content should I post on LinkedIn?
The content you should be sharing on LinkedIn is blog posts, industry research and news, quick tips, in-depth how-to posts, photo updates, and company updates. Try to keep your language professional and error-free. Do not post memes or funny videos, as Linkedin is not the ideal platform for such content. Your business may be looked down upon if you post unrelated content.
6. What should you not post on LinkedIn?
Refraining from making the following posts on Linkedin would yield the best results from your content marketing on LinkedIn. 
– Stay away from posting complaints about colleagues, the company, or a former boss.
– Watch out for spelling mistakes.
– Do not publicize your job search.
– Do not post anything unrelated to jobs.