Design
How To Effectively Lead A Design Team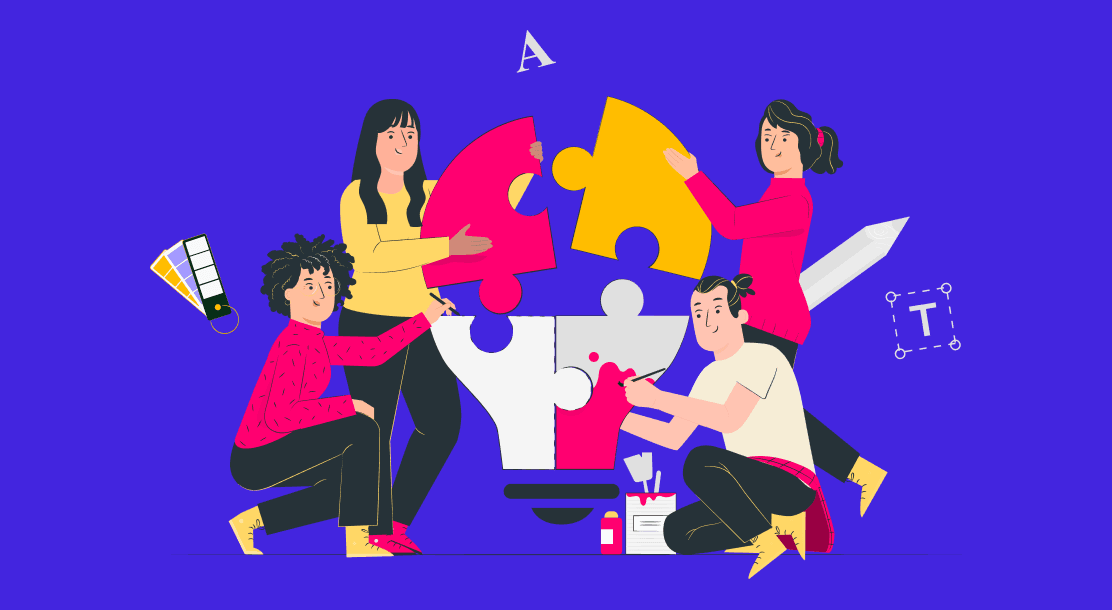 An ideal design leader is a guardian of design efforts and knows how to lead a design team efficiently.
Strong design leaders are creative, confident, and inspiring. They inspire their team to be creative and confident through their talent, experience, and hard work. Although management plays a crucial role in the success of a design team, it is not the same as design leadership. Even the most efficient leaders struggle with how to lead a design team.
Design leaders are guardians of a design effort, and they don't always follow a traditional top-down leadership but a collaborative approach. A design leader intends to serve the designers and ensure that they flourish. Read on to understand how to lead a design team?
Why Is Design Leadership Important?
A design team is a crucial part of an organization's workforce. Its design leader helps the team members perform well and create fulfilling careers. This results in efficiently meeting the set goals and ensuring client satisfaction. Design team management is both an art and a science. A new idea is developed, or previously existing ideas are consolidated to project the company's image in the best possible way.
Tips For Effectively Managing A Design Team
Here are some helpful tips for how to lead a design team and also manage a design team in practice:
1. Understanding the team members' passion
All designers in a team always try to outdo one another in creating masterpieces. The team leader needs to check the source of inspiration to understand why certain projects succeed and others do not and how every team member functions. Knowing the driving force for every team member makes it easier to gauge their strength and weakness. Thus, the team lead can design projects which best suit them.
2. Keeping up the motivation level
Sometimes, the monotonous nature of a design activity can result in a loss of motivation among team members. Mental fatigue can result in a lack of flow of new ideas. This blocks designers' creativity and hence reduces their efficiency.
In such a scenario, it is challenging for a design team lead to keep up the interest of all team members. External factors can also result in a loss of motivation and creativity. Hence, remaining connected with them personally can help find the issues and take the necessary steps for fixing them.
3. Willing to learn from various sources
The market changes rapidly, which requires continuous learning to create meaningful relationships with peer groups. This can be learning new leadership skills and anything resulting in a growth mindset. In the process, one might make mistakes and learn from them. In the end, the team can significantly contribute to the organization's growth.
4. Focusing on consistent improvement
The design team needs to look for ways to progress at their personal and team levels for better outcomes. This is possible through proper design training sessions for skill enhancement. Technological developments call for upgrading relevant skills to stay ahead in the competitive market.
5. Being far-sighted
Innovative ideas can be developed by finding what is missing at present and taking into account how things will be moving in the coming period. Predicting the future of design is a primary characteristic of a good design leader, and he considers this to be one of his vital responsibilities. Based on this, design services are created and refined. Design team roles are optimized by defining their responsibilities, and all these help accomplish the career goals by operating in close association with the designers.
6. Encourage the team to be independent
Designers can perform better when trained to listen to their instincts. The design lead has to trust that his team can make the right call even in his absence in high-pressure environments. This is because dependency on the lead will slow down the complete process. Giving the team such freedom can keep up their creativity. The team members should also get a break to relax and start creating the best ideas again without getting overburdened with work.
7. Provide them with the right tools
Like other employees, the design team deserves to get the right tools to give wings to their ideas and create something impressive for consumers. Achieving the desired outcome is impossible without the right tools.
8. Give the designers enough room to explore:
Time is a significant criterion for designers as they can create great designs by investing time. A clear understanding of the issue is essential to develop the best solution within the work limits. There have to be realistic deadlines.
Any business or industry aims at delivering great design to the customers that keep up their interest in the brand. To lead effectively, a team leader must first answer, "how do I lead my design team?". No business doesn't have conflicts, and in such situations, the design lead needs to research the issue before acting and have an honest conversation. Along with the tips mentioned above, thanking your team for their work and celebrating milestones will make them feel valued and boost their productivity. The above tips on design teams management have received rave reviews from lead designers.
FAQs
1. What are various design team roles?
Some of the significant roles in a design team include visual designer, front-end developer, content strategist, user researcher, UX lead, and interaction designer.
2. How is managing a design team possible efficiently?
A design lead can manage his team efficiently by following the tips mentioned above. 

3. How to lead a design team?
For leading a design team, the lead needs to understand team members' passion and assign them projects accordingly to give their best.

4. What are important skills for design team management?
Knowledge of using design software, creativity, visual communication, problem-solving, and user experience design are some skills needed for design team management.