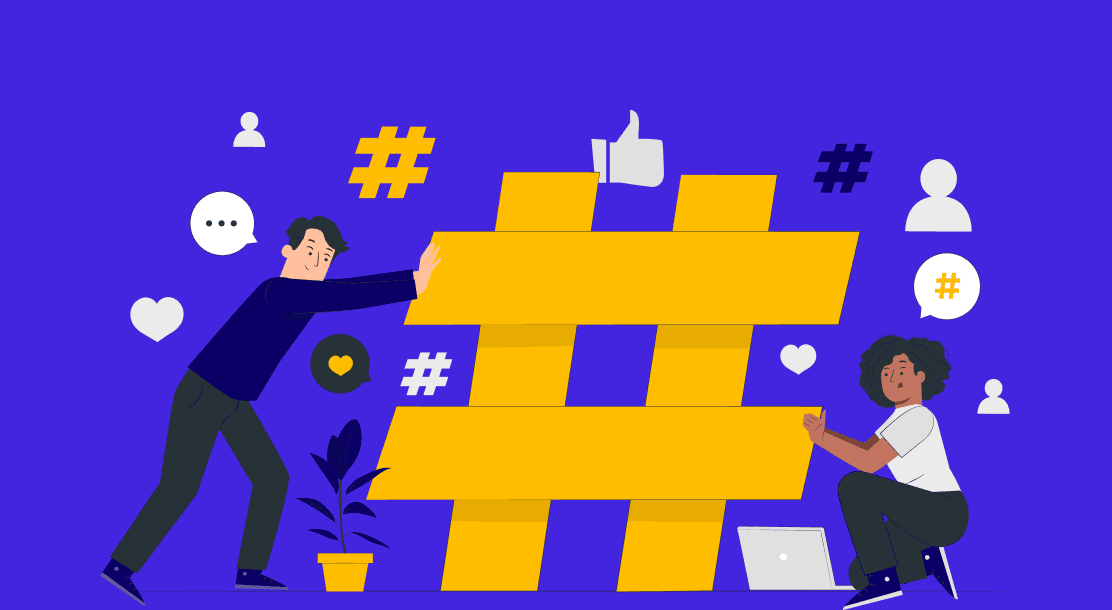 Table of Contents
Why use Instagram for Marketing?
Why switch to Instagram Business?
Tips for Instagram Marketing

Optimize your profile
Use Instagram hashtags
Go big on stories
Keep track of metrics

Key Takeaways
Conclusion
FAQs
When Instagram initially launched in 2010, it was just another social media platform: full of selfies, dogs, and food photos.
In 2022, Instagram has practically shifted from a simple photo-sharing app to a full-fledged marketing outlet.
Take a look at the platform's latest features. In the previous years, Instagram has introduced scores of new tools for businesses, including enhanced analytics, shoppable Instagram posts, collaborations, paid partnerships, IG guides, IGTV, and whatnot.
Regardless of what industry you work in, Instagram has content for you. From education to dance, news to fashion, Instagram is the go-to place for all kinds of content. That said, it isn't a piece of cake to make it big on Instagram. The more the content, the more the competition.
This blog will help you understand how to get the most out of Instagram. But before we dive in, let's make sure we understand why Instagram marketing is crucial for a successful online business.
Why Use Instagram for Marketing?
Did you know that at least one business is followed by 90% of Instagram's 1 billion users? With figures like these, it's only natural for you to leverage Instagram for marketing.
Instagram offers tremendous opportunities for e-commerce businesses to exhibit their products due to its visual nature.
Millions of businesses have discovered that having a presence on Instagram can greatly complement their e-commerce marketing, whether through regular photographs, videos, or Instagram Stories.
In fact, 72% of users report making purchase decisions based on something they saw on Instagram.
The fact that Instagram users are more engaged than the users of any other social media platform is also a big factor. And while trends suggest that Instagram interaction is declining, the platform still generates higher engagement rates than Twitter and Facebook.
The platform itself is another reason why Instagram is so good for shopping. Instagram has lately announced a slew of new business-focused capabilities, with more on the way! Many online purchasing experiences now begin (and conclude) on Instagram.
And the best part? Instagram's algorithm displays your content to users based on their interests and app usage. This makes it easier for you to connect with people who are more likely to engage with your company.
Having said that, it is important to understand that simply because your company does not sell e-commerce products; it does not belong on Instagram! Instagram is a fantastic platform for businesses to boost brand awareness and engage with new audiences, in addition to driving sales.
How to Switch to Instagram Business or Creator?
You'll need an Instagram Business or Instagram Creator account to use Instagram for marketing. You can transition from a personal to a professional Instagram account via the Instagram app if you already have one.
This is how you do it:
Tap the hamburger icon () in the upper right corner of your profile.
Go to the Settings tab.
An option to Switch to Professional Account may be available for some accounts. Continue with the steps below if you don't have that option.
Tap Account.
Tap Switch to Professional Account, then Continue.
Select a Category for your business, then tap Done.
Tap Business and follow the prompts.
Once you have switched to the Business or Creator account, you are ready to use Instagram's full potential for marketing.
Let's now dive into the tips for Instagram marketing.
4 Tips for Instagram Marketing
It takes consistent and deliberate efforts to get the most out of Instagram marketing. Here are our five best tips to get you started –
1. Optimize your profile
Your Instagram profile is the equivalent of your business website or a physical store. It is what the audience will see when they visit your Instagram. And hence, it is important to make sure that every element of your Instagram profile is well-stitched and resonates with your brand image and tone.
You might know the basics already – filling out your contact information, writing a keyword-optimized description (with emojis!), and selecting a readily identifiable profile photo, such as a logo. This is a great beginning.
But you need to go the extra mile to stand out. Here's what you should do:
Add clickable hashtags, such as a brand hashtag that the audience can resonate with and also use in their own content. For example, #wearegoalkeepers is used by MASH Project Foundation.
Feature a bunch of Story Highlights that your audience can go through. This could be user reviews, product collection, FAQs, interesting events, etc. For example, Freakins has made great use of this feature.
Add a clickable link to your bio. This could be your website, a landing page, a Linktree link with various links in it, and so on. Both MASH and Freakins above have links in their bio.

2. Use Instagram hashtags
If you're making Instagram content, you want your audience as big as possible to engage with it. Using hashtags is one of the best ways to do that. A hashtag is a keyword or set of keywords preceded by a pound symbol, like #peppercontent. On Instagram and other social media platforms such as Facebook or Twitter, the hashtag converts into a link that features every content piece that uses the same hashtag.
Here's an example:
You may use hashtags to organize your own content. For example, you can use a unique hashtag to collate all of your linked articles together if you're starting a new campaign or initiative.
In a single post, you can use up to 30 hashtags. But that doesn't mean you should! Some individuals think it's spammy.
So, what are the kinds of hashtags you must use? Here are a few –
Use your Brand Hashtag, a hashtag unique to your business. Put this in your bio, every post, story, and so on. Encourage your audience to use it too.
Add General Appeal hashtags, the ones that are trending or resonate with your brand image and audience. For example, a business with beauty products could use #nofilter.
Use Niche-specific hashtags, the ones that are specific to your industry or a product line. For example, if an apparel company has launched a series on the BTS band, #BTS and #BTSarmy could be good to use.
Feature Entertaining Hashtags that may not necessarily be trending, but that entertain your audience and make your content memorable.
And finally, use Time-sensitive Hashtags focused on current events, holidays, or festivals—for example, #Diwali2022.
Instagram hasn't shared an update on the size of the story audience per day since 2019, but it has definitely crossed 500 million accounts per day.
Instagram users can use the Stories feature to publish photos, videos, or even text that will show 24 hours after they are posted. Instagram Stories are engaging and entertaining. You can be as creative and engaged as you like with them. It gives your followers compelling reasons to interact with you and return for more.
The Stories feature has evolved into a critical component of the platform. Stories spawned Story advertisements, and Instagram has since added Highlights, allowing us to keep our Stories alive indefinitely on the profile.
Now that Stories are so important for Instagram marketing, how do we leverage them? Here are a few strategies you can make use of:
Use Instagram stories to showcase the authentic side of your business. The audience loves unfiltered, behind-the-scenes content. And stories are the best place to feature that.
Create engaging content such as live polls, trivia, and questions on Instagram stories. The easier you make it for your audience to engage with content, the better.
Feature user-generated content and feedback on stories. Received beautiful feedback? Put it out there! Or a happy client's picture wearing an outfit you stitched? Voila! Also, tag your users so that they can repost too.
Go live on Instagram stories. Do an interview with a team member, just engage with your audience, or walk them through your physical store. There's so much you can do on Instagram Live.
And finally, add the best and the most engaging stories on your Story Highlights so that your existing audience, as well as new visitors, can go back to those stories.
The last but most important tip is to analyze your content and consistently keep track of the metrics. How would you know what kind of content to publish more unless you understand what your audience is engaging with?

Luckily, Instagram has made it easy to stay on top of key metrics and track them consistently.
Go to your profile page and click the graph icon in the top right corner to access your analytics.
Important performance metrics such as the following can be found in your Instagram Analytics:
Total number of profile visits
Total number of website clicks
Total reach (the number of unique accounts who saw your posts)
Total impressions (the total number of times your posts were viewed)
Engagement and impressions on every post
Total number of views on your Stories
Additionally, you can examine important details about your target audience, such as:
The number of followers and current trends in growth
Gender and age distribution
Where they reside
Follower activity, broken down by days and times
Make sure that you consistently keep track of these very important data points and use them to refine your strategy for Instagram marketing.
These are some of our best tips to help you with your Instagram marketing strategy. Be consistent and go big!
Key Takeaways
Instagram marketing is crucial to a successful online business because of the large audience size and high engagement.
A presence on Instagram can help you drive sales and build brand awareness.
To leverage Instagram marketing, you must switch to a Creator or Business account by following a few simple steps.
Optimizing your Instagram profile with a bio, profile picture, website link, hashtags, and story highlights is important for Instagram marketing.
Instagram hashtags are a great way to make your content visible to a large audience, and you must use different types of hashtags to do that.
Instagram Stories have a great potential to engage audiences, and you must try posting various types of stories.
Analyzing your content and keeping track of metrics is crucial to make the most of your Instagram marketing efforts.
Conclusion
Instagram has the potential to take your business to the next level, regardless of the industry you are in. If you haven't already, you must begin marketing on Instagram and use it to build brand awareness, drive sales, and connect with a large audience. It will take consistent efforts, but it will be worth it.
FAQs
1. How can Instagram be used for marketing?
Instagram has an extensive set of tools and features to help you market your products and services. These include posts, stories, IGTV, Live, shoppable content, and a lot more. Instagram marketing can help you increase brand awareness and market your brand to the right audience.
2. Is marketing on Instagram free?
Yes. Instagram does not charge you anything at all to post content. You can use most of its features for absolutely free. That said, you might want to spend some ad budget to reach a wider audience on Instagram.
3. How to use hashtags on Instagram?
If you wish to add a hashtag to an existing post, modify the caption or leave a comment on the photo with your hashtag. After you've added a hashtag to your post, you can click on the hashtag to go to a page that displays all of the photographs and videos that have been shared by other people or pages using that hashtag.
4. What to post on Instagram stories?
Instagram stories are one of the best features on Instagram, with more than 500 million active users per day. When it comes to creating content for stories, you can try various things such as user-generated content, product showcase, live polls or questions, behind the scenes, or even go live.