Marketing
25 Inspiring Social Media Quotes from Top Social Media Managers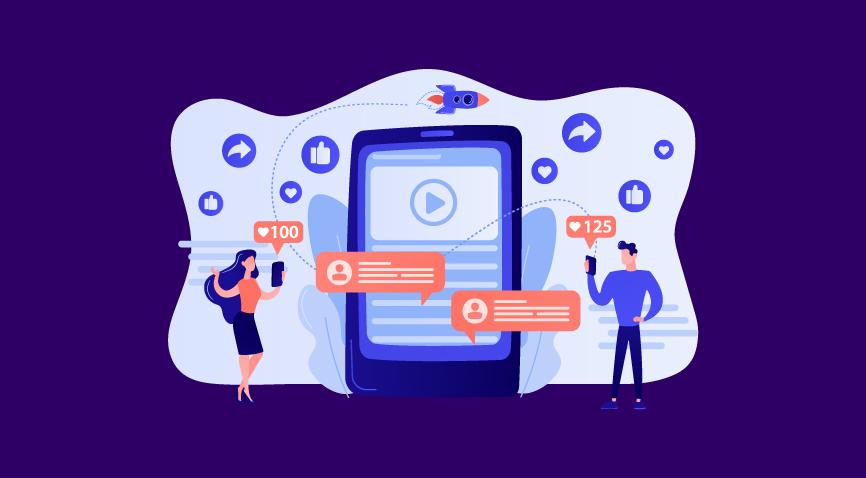 Table of Contents
Introduction
25 Social Media Quotes From Experts
Are you feeling inspired?
FAQs
Have you struck a slump in your social media marketing strategy? Do you feel like no matter what you do – take a break, hit the gym, grab a cup of coffee – you just can't get back on track. Well, that's normal. Sometimes even the best of us hit that creative block. We all find ourselves needing a bit of motivation to sail through our setbacks.
Managing multiple social media platforms can feel overwhelming and sometimes, even chaotic. Social media marketing is not just about posting content regularly. It takes a lot more effort than that. Some powerful social media influencers and businesses have mastered the art of quality content. And, that is precisely the reason they do it better than others on the platform.
Whether you're a social media influencer, a marketing agency, an entrepreneur, or any business (or freelancer) looking for some inspiration, these incredible and best social media quotes will transform how you think about social media, and so much more.
Here is a compilation of the top inspirational quotes on social media that can help you smash your goals.
Let's dive in!
25 Social Media Quotes From Experts
With many organizations and leaders taking advantage of social media, we thought of what better opportunity to learn and draw social media inspiration than from some of the best social media gurus. Thus, we have curated a list of the best social media quotes and phrases that will energize and prompt you to take action. So, set your social media marketing goals and tap into the social media inspiration needed to crush them.
Quote #1. "Build it, and they will come" only works in the movies. Social Media is a "build it, nurture it, engage them and they may come and stay.
– Seth Godin, Founder, Squidoo
Quote #2. "Content is fire, Social Media is gasoline."
– Jay Baer, Founder, Convince & Convert Consulting
Quote #3. "The difference between PR and social media is that PR is about positioning, and social media is about becoming, being and improving."
– Chris Brogan, Founder, New Marketing Labs
Quote #4. "When it comes to social media marketing, you don't have to post 3 times a day. It's never about how often you post but the quality of your content."
– Janet Benson Amarhavwie, Social Media Manager and Digital Marketing Lead, Huntta Academy
Quote #5. "Social media marketing is about creating content that brings your audience together as a community and inspiring authentic conversations while increasing your brand's awareness."
– Krystal Wu, Social Media Community Manager, HubSpot
Quote #6. "Social Media is about the people! Not about your business. Provide for the people and the people will provide for you."
– Matthew Goulart, Founder, Ignite Digital
Quote #7. "Social Media can provide a conversational extension to a B2B company's nurturing programs. Social Media gives us the opportunity to humanize our communications and make our companies more approachable."
– Ardath Albee, B2B Marketing Strategist and CEO of Marketing Interactions
Quote #8. "Social Marketing eliminates the middlemen, providing brands the unique opportunity to have a direct relationship with their customers."
– Bryan Weiner, CEO Of Profitero
Quote #9. "Social Media is about sociology and psychology more than technology."
– Brian Solis, Founder, FutureWorks, BuzzGain
Quote #10. "Social Media is not just an activity; it is an investment of valuable time and resources. Surround yourself with people who not just support you and stay with you, but inform your thinking about ways to WOW your online presence."
– Sean Gardner, Forbes Social Media Influencer, Digital Marketer, Global Keynote Speaker, Executive Board Member at AI Specialist
Quote #11. "It's a dialogue, not a monologue, and some people don't understand that. Social media is more like a telephone than a television."
– Amy Jo Martin, Founder and CEO of Digital Royalty
Quote #12. "I use social media as an idea generator, trend mapper, and strategic compass for all of our online business ventures."
– Paul Barron, Founder and CEO, Paul Barron Group and Rever Network Inc
Quote #13. "Social Media will help you build up loyalty of your current customers to the point that they will willingly, and for free, tell others about you."
– Bonnie Sainsbury, Founder & CEO of Social Media Smarter
Quote #14. "The beauty of social media is that it will point out your company's flaws; the key question is how quickly you address these flaws."
– Erik Qualman, Head of Marketing, Travelzoo Inc
Quote #15. "Just as you don't need to be on every single TV channel, I don't believe a brand needs to be on every single social media in one big way."
– Shiv Singh, SVP & GM, Expedia Group
Quote #16. "The same emotions that make people want to click on content are the same emotions that make people want to share things on social media."
– Larry Kim, CEO of MobileMonkey
Quote #17. "The secret to social media success is to think and act like a member first, and a marketer second."
– Mari Smith, Popular Social Media Keynote Speaker, Facebook Marketing Expert
Quote #18. "When I hear people debate the ROI of social media? It makes me remember why so many businesses fail. Most businesses are not running marathons. They're playing the sprint. They're not worried about lifetime value and retention. They're worried about short-term goals."
– Gary Vaynerchuk, Chairman of VaynerX, CEO of VaynerMedia
Quote #19. "The first rule of social media is that everything changes all the time. What won't change is the community's desire to network."
– Kami Huyse, CEO Zoetica Media and Smart Social Secrets
Quote #20. "If you're not regularly experimenting with your social media efforts, you're not maximizing your social."
– Neal Schaffer, Digital and Social Media Marketing Speaker and Consultant
Quote #21. "Successful social media marketing is not built on impressions. It is built on relationships."
– Kim Garst, CEO at KG Enterprise
Quote #22. "Lead people with what they want. Lead with what they've already said. Lead people from where they're at. Lead them with the things that concern them."
– Sandi Krakowski, Founder and President, Real Change International and Sandpaper Tablet
Quote #23. "Transparency may be the most disruptive and far-reaching innovation to come out of social media."
– Paul Gillin, Social Media Expert
Quote #24. "If you aren't using social media, you are creating language barriers with your audiences."
– Pam Moore, CEO and partner of Marketing Nutz
Quote #25. "Getting likes is easy. It's a light action. Anything else requires trust."
– Jon Loomer, Founder, Jon Loomer Digital
Are you feeling inspired?
Sometimes, when motivation fades away, all we need is to read a quick quote that cuts us through all our stress and keeps the fires of inspiration stoked. These 25 inspirational social media quotes offer great insight into the current state of social media and beyond. Keep these catchy phrases in mind, when thinking about your social media strategies and tactics, as they may help you facilitate new ways of thinking. These famous quotes on social media can also help you find the solution to your social media marketing challenges whenever you feel unmotivated or weighed down by marketing activities.
FAQs
1. What is the power of social media quotes?
Inspirational quotes about social media can be an awesome way to encourage each other, communicate with people, and share stories. These quotes on social media also help in curating relatable lessons for our benefit.

2. What are some social media quotes from the experts?
Here are a few quotes about social media from experts: 
1. "Our head of social media is the customer." – McDonald's
2. "Don't worry; skills are cheap, passion is priceless. If you're passionate about your content and you know it and do it better than anyone else, even with few formal business skills you have the potential to create a million-dollar business." — Gary Vee
3. "If what you are doing doesn't add value, they won't listen to you." — Marcus Sheridan
3. What are some social media motivational quotes?
A few quotes that incite social media inspiration include: 
1. "Think about what people are doing on Facebook today. They're keeping up with their friends and family, but they're also building an image and identity for themselves, which in a sense is their brand. They're connecting with the audience that they want to connect to. It's almost a disadvantage if you're not on it now." — Mark Zuckerberg
2. "I get a 100% email open rate,' said nobody ever." — Mari Smith
3. "You are what you tweet." — Alex Tew, Founder & CEO of Calm
4. "Social media allows big companies to act small again." — Jay Baer
 5. "A brand is no longer what we tell the consumer it is – it is what consumers tell each other it is." — Scott Cook
4. What are the best social media quotes?
Here are a few of the best social media quotes: 
1. "You are what you share." — Charles Leadbeater
2. "Think like a publisher, not a marketer." — David Meerman Scott
3. "The first rule of social media is that everything changes all the time. What won't change is the community's desire to network." — Kami Huyse
5. How is social media inspirational?
Social media is a great tool to spread inspirational quotes, stories, and concepts. It has the ability to reach a huge amount of people and inspire them, making them appreciate life in general. 
6. How do you write a good social media post?
A few tips on writing a good social media post include: 
Always perform a thorough research to make your posts highly relevant. 
Speak in the the language of your audience.
Meanwhile, also develop your own brand voice. 
Keep the post short and simple. 
Always use great visuals including images, videos, gifs, etc.
Always add a call to action.