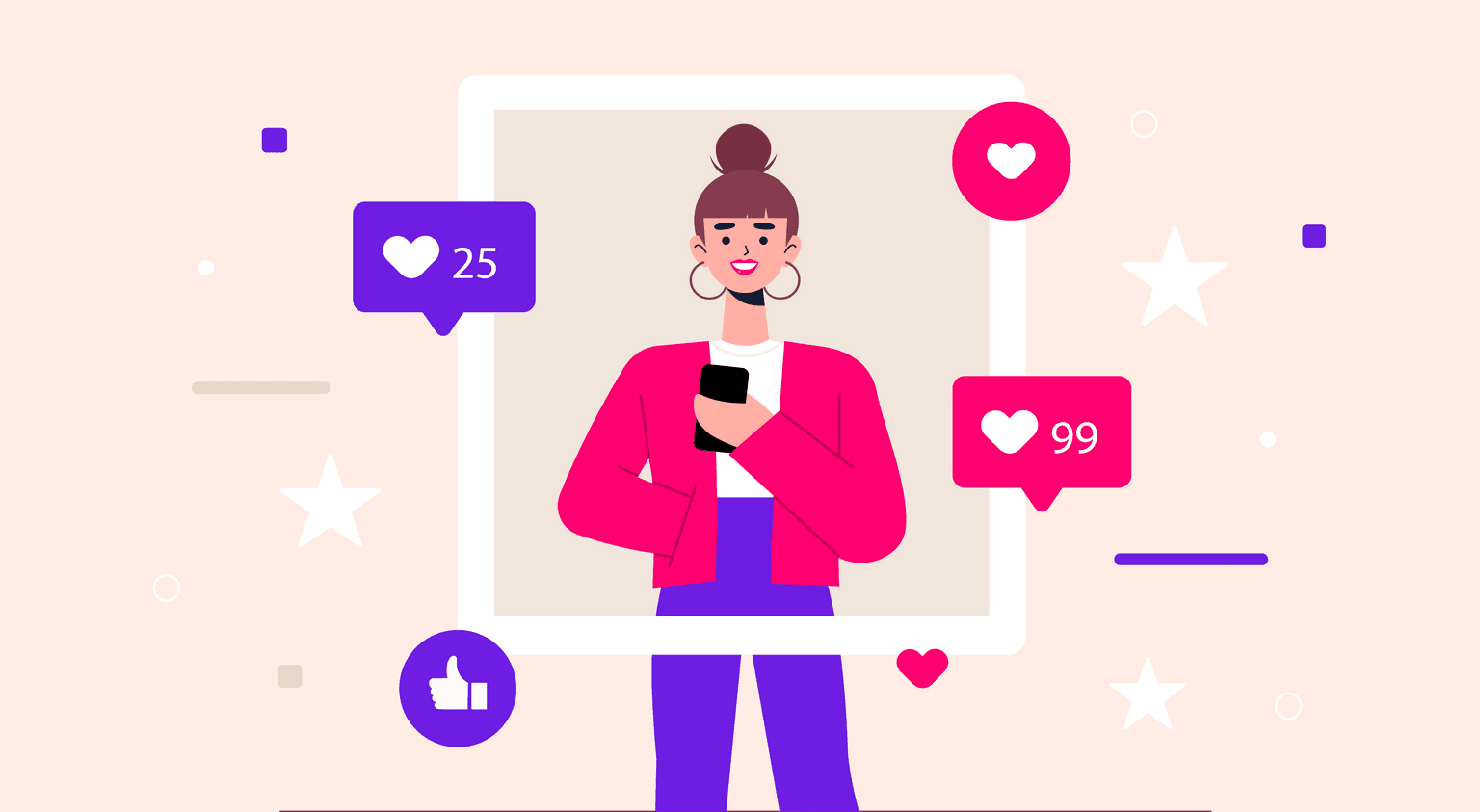 Check out the list of top-10 Indian Content Creators who are killing it on Instagram. Read on to find out more!
Instagram has recently gained popularity because it is incredibly versatile and efficient. Furthermore, the platform consistently introduces new and exciting features, attracting more users.
Their most recently introduced major update is Reels, which has catapulted content creators to instant fame. The feature has helped them increase their reach and has seen a 360-degree turn in audience demand.
But that is not all; Instagram's posts, IGTV, Lives, and Stories have all done exceptionally well over the years. Every update by the brand has been met with an enthusiastic response, making it one of the most popular social media platforms.
As a result, content creators have taken to the brand and are immensely successful in engaging their target audience. Let's look at who a content creator is before indulging ourselves in some of the top content creators across genres in India.
Who is a Content Creator?
A content creator is someone who creates audio, visual, or written content on various content creation platforms such as blogs and social media. Content can also be in a video format like Instagram Reels or YouTube. Such content coming from influential content creators works when they have an end goal in mind.
For instance, many Indian content creators on Instagram share photos and videos on their accounts by targeting a selected audience to increase the associated brand's followers or website traffic. So basically, a content creator's job is to create content to connect with the audience and market the related brand's products or services.
Let's talk about some of the top Indian content creators on Instagram.
Top 11 Indian Content Creators on Instagram
This list of Indian content creators on Instagram comprises the best of the best. They create content on fashion, current affairs, fitness, travel, beauty and much more. They are some of the best Indian content creators on Instagram and have built a solid audience base that regularly consumes their content and eagerly awaits it.
Read on to see the complete list.
With about 2.1M followers, Kusha Kapila @kushakapila always makes her audience giggle with her humorous Reels. Her videos on KOKO Aunty and South Delhi Girls are immensely popular.
Kusha Kapila is the only Instagrammer invited to the Koffee With Karan talk show, which has a particular affinity toward high-flying Bollywood celebrities. She works for the online fashion portal iDIVA, where the audience adores her fictional character Billi Maasi.
When it comes to travel, no one can beat Ankit Bhatia's content. Having started off on TikTok, he now has 1M followers on Instagram and is engaged in uploading unique travel reels, photos, and videos on Instagram. His main goal for building a strong Instagram presence is selling his video presets and online travel video-making courses.
With more than 10M followers on Instagram, Sahil Khan has created a solid audience base and is one of the best Indian content creators on Instagram. He consistently shares content based on workouts, bodybuilding, and fitness advice. Khan is a Rajiv Gandhi awardee for contributing to the fitness industry. He also owns a gym and is one of the most famous fitness coaches in the country.
With more than 1.2M followers, Faye D'Souza is one of the leading Indian content creators on Instagram. She previously stormed the internet with her views against the male-dominated world. Having pursued journalism, D'Souza started her career at CNBC TV18, and joined The Times Of India. Her unbiased opinions have won the trust of her audience, and most of her followers are youngsters who feel that India needs more influencers like Faye D'Souza, who tells the news as it is – without bias.
Famous Indian Instagrammer and trend-setter, Komal Pandey, boasts a massive following of 1.5 million on Instagram viewing her makeup styles, skincare routine, fashion therapy videos and new fashion trends. Komal started posting pictures with her "Look of the Day" on Instagram while working at PopXo.
All of her hard work and trend-setter attitude helped her bag the award of Cosmopolitan Best Fashion Influencer & Vlogger 20-21. Her reels and posts are widely appreciated by gen Z and millennial Indians.
Ganesh Vanare aka haram_khor_ is a photographer who captures the most beautiful photos of his travels. His Instagram feed is an album of candid moments from across India. His images capture the aesthetics of places and the beauty of the people.
Owing to his amazing photography skills, Oppo has made him their official brand ambassador. He has close to 473K followers on Instagram and continues to grow with his active travelling adventures and pictures that make you look twice!
Parul Kakad, aka @mumbaimummy, is a one of the top mom influencers in the country. With four kids, she specializes in telling her followers about her parenting experiences on Instagram. She uses the platform to educate moms on various activities they can indulge their children in.
8. Digital Pratik – Digital marketing influencer
Digital Pratik @digitalpratik is a one of India's top Instagram influencers with a whopping 187k followers! As a virtual digital consultant, he specializes in helping businesses learn how to build better brands. Through his Instagram posts, he aims to educate and help his audience build their marketing plans.
Neha Nagar is a successful Instagram influencer in the niche of financial literacy. Through her Instagram feed, she helps people by offering them financial literacy. With more than 800k+ followers on Instagram, she aims to be a financial guide and posts easy to understand videos for her followers.
10. Dr. Tanaya Narendra – Sexual and reproductive health
Popularly known as @dr_cuterus, Dr. Tanaya is a gynaecologist and a body literacy advocate. She talks about sexual and reproductive health on Instagram and focuses on myth busting facts in the form of her stories and reels. She is a loud advocate for sex education and open conversation about body and sex positivity.
Divija's @awkwardgoat3 content focuses on therapy, mental illness and the various myths in Indian society that focus on mental health. She also talks openly about how mental health professionals are a boon to the Indian audience and the importance of therapy.
The Final Word
Currently, the Instagram influencer market in India is booming. According to influencer.in, the market is dominated by lifestyle, fashion, beauty and fitness influencers, in that order. Their marketing survey found that the largest percentage of Indian influencers are from Delhi and Mumbai – 24.9% and 21.2% respectively.
In 2021, Statista reported that as of 2021, the influencer marketing industry in India was worth nine billion Indian rupees and is projected to grow at a CAGR of 25 percent over the next five years. The industry's market value was estimated to amount to 22 billion INR by 2025.
So there is no reason to not jump on the influencer bandwagon. Take cues from our 11 top Instagram influencers and see how your following grows.