Content
How to Create Blog Post in 45 Minutes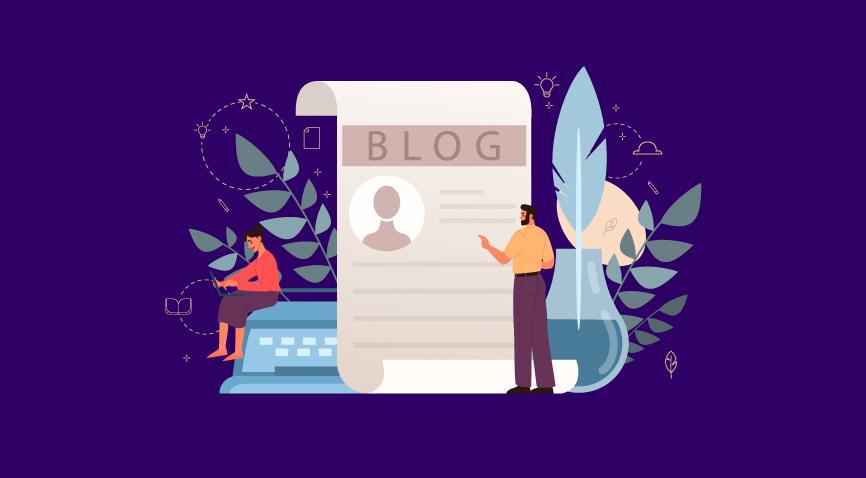 It is essential to know how to create blog post correctly if you expect it to convert well. Here are helpful tips on how to create a good blog post in 2022.
Do you feel your blog posts aren't convering as well as you would want them to? It's not very uncommon to see people visiting your blog post and leaving without reading it until the end. What's worse is when a larger percentage of people don't even click to read your blog post when you share in on your social media.
Realistically, you have no more than three seconds to grab the reader's attention and convince them to click and read your post. So, here are some tips to create blog post that converts.
How to Create Blog Post
Wondering how to create a good blog post? Let's look at the steps you can follow.
1. Select a topic
To create blog post, you need a good topic. You must understand your target audience. You have to perceive what they want to know, the problem they face, and their needs.
Clearly defining the buyer personas of your target audience can help you understand them deeper. With this insight, you can ensure that your post is interesting to them.
You can also write on trending topics to put your blog in the limelight. Platforms like BuzzSumo help you find topics that are trending in your niche. Writing about the latest trends and updates is an assured way of getting more hits on your blog.
2. Keyword research
For every blog post, you need to identify one primary keyword that closely relates to the subject of your blog post. It is ideal if this primary keyword is popular with users and has a low competition rate. You can use the Google Keyword Planner to research keywords, its popularity and competition rate.
You also need to select about two to four secondary keywords that you need to use in the blog post. A more straightforward way of figuring out secondary keywords is to search your primary keyword on Google and go through the related search list.
3. Study and take notes
Once you've figured out what you want to write about, start your research on the subject. You need to understand the subject to create blog post about it.
Use Google to search all the keywords related to your topic and go through the blogs that you find relevant. Check if your main competitor has written a blog on the same subject or not. If yes, see how you can improve and publish better content.
You don't need to be an expert on a topic to write a great blog about it. But you do need thorough research to ensure that you add value to the content already out there.
Don't be afraid to go beyond Google. Try to use online forums, white papers, journals, YouTube videos, and other such sources for your research. And don't forget to take notes at all times. They'll come in handy when you start writing.
4. Start with the first draft
Now that you have done the research and prepared the outline, you can start writing your post. Remember that a good blog is practical and useful for readers and search engines.
Many people believe that a blog post optimized for search engines is somehow less user-friendly. That is a false belief. It might have been true a decade ago, but search engine algorithms have become much smarter.
Today, SEO means publishing content that both search engines and users can understand. This is because the primary goal of search engines is to provide the most relevant and useful information to users at the top of search results. Here's how you can frame each section of your post to make it more appealing to users and search engines alike:
The headline of your blog post is the first thing your potential viewers will see. It will also determine whether the viewer reads your blog or not. So, it is crucial to get this step right.
A Backlinko study found that headlines 14 to 17 words long generate 76.7% more social shares than short headlines.
You should develop a few different possibilities of headlines for every blog you write. Discuss them over with your team to find out which one seems most click-worthy. The success of your blog post depends on this decision, so make it count.
A compelling introduction
Once you have figured out the perfect headline, you must write a compelling intro that instantly grabs a reader's attention. Keep it short enough to hook people and compel them to read the blog.
With the introduction, your aim is to grab the reader's attention and set their expectations before they dive deeper into your article. Do not make lofty claims in your introduction that your content cannot match. It'll drive the readers away for good, and you'll lose their trust.
The style and tone of your writing are important and can make a big difference. To create blog post, you should try writing as if you are talking to your reader. Make them feel like they are conversing with someone instead of merely reading a post.
The body of your blog post should be easy to scan and skim through. Usually, people don't read the entire blog posts; they skim through them. You can make your blog posts easy to scan by writing short sentences and paragraphs.
Use bullet points and numbered lists. Organize your blog with subheadings as they help readers scan through the main topics.
Your blog post must be at least 300 words long, but there is no upper limit to how long it can be. According to a Backlinko study, long-form blog posts generate a lot more backlinks than short-form blogs, and the ideal length of a blog post for maximizing social shares is 1,000-2,000 words. So, don't be afraid to dive deep and write your heart out.
Remember never to copy content from other sources. Originality is preferred by readers as well as by search engines. Plagiarizing content will make it almost impossible for you to rank well in search results. If you must copy or quote some section, make sure that you cite the original source and add a hyperlink to it, if available.
A text-only blog post can turn many readers away from your site. Reading requires effort and can easily become monotonous. Images can make your post a lot more fun and engaging. They help break that monotony and keep the reader engaged.
Use images in your blog post regularly and be creative with them. Choose pictures that are not only relevant to the topic being discussed but are also engaging. You can also use memes and cartoons related to your topic to make it more fun and interesting.
Conclusion and call-to-action
Conclude the post with your final thoughts in a couple of sentences. You can also add a Call to Action after the conclusion. A CTA is a prompt to your audience to take some desired action. The action could be anything you want them to do, for example, sign up for your newsletter, register on your platform, purchase from your site, and so on.
5. Proofreading, editing, and SEO
Now that your first draft is ready, you'll have to proofread the content for grammatical, punctuation, and spelling errors. Go through the entire blog several times and fix all the clerical errors.
Read it out loud. This will help you figure out places where the tone and flow of the blog are going wrong. Edit the sections that don't fit in with the rest of the content to finalize your post.
Lastly, you will need to work on the on-page SEO of the blog. Some of the most important on-page SEO checks include:
Title Tag: This is the title of your blog post that will appear on the search engine results pages (SERPs). Keep it under 60 characters since that is what will be visible in the search results. Make sure to include your primary keyword in the Title Tag.
Meta Description: This short description of your post will appear just below the Title Tag in the SERPs. You must use it to get people to click on your search result. Include your primary keyword in the meta description and describe your content's unique selling point. Meta Description needs to fit within the 160-character limit.
Internal Links: Whenever you publish a blog, add links to a few older posts in that blog. Similarly, also go to older blogs and add a link to the new blog. The internal links must be relevant to the linked text and discussed topic.
Keyword Placement: You must include the primary and secondary keywords throughout the blog content. Use them naturally, and do not overstuff your content with keywords. You should keep the keyword density below 3%. Most experts believe 1-2% is the ideal keyword density for long-form blogs. Use your primary keyword at least once in the blog intro and conclusion.
Brainstorming Content Ideas
Content writers face difficulties starting with unique blogging ideas. Only a few can stand out from the crowd in the competitive blogging world. These steps are crucial for achieving quick results regarding what to post about:
Step 1: Determine your intention
The first and foremost thing for bloggers is to identify intention – what motivates you to blog? Is it for boosting sales? To increase followers? Or to spread your message? Blogging decisions should not be made only for the sake of blogging. There should be strong motivation and purpose for blogging.
Step 2: Analyze the need and urgency
Out of several ideas, content writers figure out which one will be the most suitable, depending on the need and urgency of the blog posts. Timing and context are of the essence.
Writers also communicate the priority of urgency from the posts to increase traffic and catch readers' attention.
Step 3: Developing a competitive strategy
The competition in blogging is about creating a differentiated content piece that helps increase the number of followers and increases shares to be known by many people. Readers need to rely on the information you pass through the blog posts.
In blogging, your competitors do not work against you; instead, they help you craft your content more uniquely.
Step 4: Identification of pain points
Many writers neglect this step. It is as critical as salt in food. It is significant to create relevant content by identifying the readers' problems. That is the only time when your readers find blog posts worth reading.
Blog content should swim in the hearts and heads of the readers. These pain points can be identified by reading comments on competitor blog posts, Facebook, discussion forums, book reviews, and Quora.
Performing Quality Research in Minimum Time
Quality in blogs is equally crucial for accomplishing rapid post creation to attain blogging objectives.
Writers should devote a significant amount of time to research or homework to infuse quality in content. In other words, the foundation of blog writing is conducting research. It enables a writer to provide reliable and factual information by referring to the data content.
As a writer needs to perform rapid research, surfing authentic blogging platforms and social networking sites provides the best research solutions on a chosen subject. Adding references to blog posts ensures quality and relevance that can win the audience's trust.
Key Takeaways
Identify and understand your audience. You must know who you are writing for, or else you'll be writing in vain.
A picture is worth a thousand words. Our brain processes visual content a lot quicker than textual content.
The title of the blog is more important than you think it is. After all, we are known to judge a book by its cover.
Don't forget SEO.
Once your blog post is ready for publishing, recheck your content, images, and SEO. This is called a pre-publishing check.
The Takeaway
Even if you perceive yourself as a terrible writer… Even if you hate the writing process… You can create blog posts as quickly as 45 minutes.
Bloggers need to allocate dedicated time for writing tasks. Time-efficient writing depends on blogging competencies such as idea generation, researching skills, typing speed, proofreading capabilities, and formatting.
We hope this post helped you understand how to create a good blog post in under an hour. Just get started.
FAQs
1. How do I create a blog for free?
There are a lot of online platforms where you can create your blog for free. Some of the popular platforms include WordPress, Blogger, Medium, and Wix.
2. What is blog traffic?
Blog traffic refers to the number of users visiting your blog during a given period of time. Blog traffic can be organic or inorganic. Organic traffic includes the viewers that came to your blog organically and you didn't pay any money to get them there. Inorganic traffic refers to viewers who come to your blog through your paid advertising and promotion efforts. 
3. How do I see the traffic to my blog?
Different blogging platforms have their own analytics dashboards from where you can check your blog traffic. Most blogging sites use Google Analytics integration to get detailed reports of traffic, demographics, user behavior, and other site data.
4. How do I promote my blog?
Apart from sharing your blog on the platforms mentioned in the previous question, you can promote your blog with email outreach, partnerships, paid promotions, advertising, updating your blogs posts regularly, and repurposing content into new formats. 
5. How do bloggers make money?
Bloggers can make money from different sources like Ad placement, affiliate marketing, sponsored posts, lead generation, creating and selling products, or providing services, coaching, and consulting.