Content
10 Key Skills of a Website Content Writer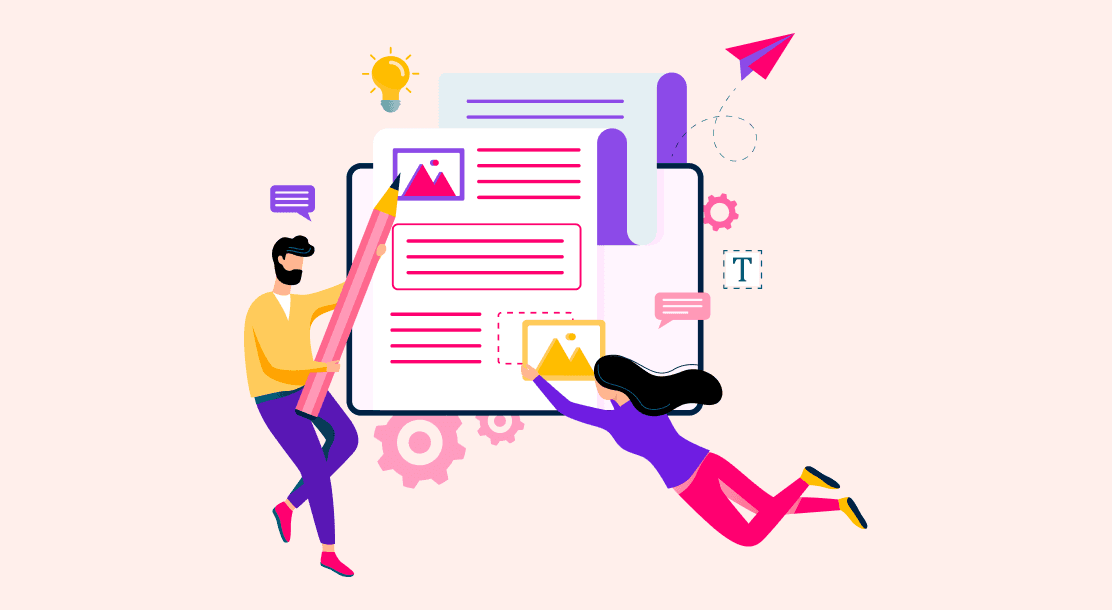 "Web content is the meat in the sandwich, not the icing on the cake." – Karen McGrane, a renowned speaker, and author.
As a website content writer, you would have heard the saying, "Content is King." Content is the epicenter of all web pages. Your content will succeed only if it is visited, read, and shared. Visitors will not return to the site if a website has excellent graphics and beautifully executed site architectures but lacks quality content.
To run a website successfully, your website content writing services should be in line with the audience's requirements. Good website content not only adds value to the site; it also drives followers to your website. Your website will also rank well with SEO-rich content from website content writers.
High-quality content is the key to getting your product or service noticed. This article will discuss all website content writing services, from what is website content to the critical skills required.
Website Content: The Meaning
Let's start from the very beginning. Website content is the textual and visual content communicated on a website. This content can be in the form of text, applications, data, images, audio and video files, etc.
The quality of the web content is the key to driving traffic to websites; thus, the role of a website content writer, freelance or full-time, is very critical. To capture the visitors' attention, website content writers need to focus on creating and organizing engaging content.
Website content is broadly classified as text and media. Text or the written content on the website is again segregated as blogs, case studies, checklists, e-books, website pages, and white papers. Media, on the other hand, is any content other than text. This includes animation, podcasts, images, infographics, sound, and video.
Both text and multimedia must go hand in hand. To keep both in sync, web content writers play a significant role, and this is why some of the best content writing websites pay very well towards website content writing charges.
10 Key Skills of a Website Content Writer
Excellent and established website content writers can demand great perks. You can either work as full-time or freelance website writers and have the flexibility to work from anywhere. You can also choose and decide the topics you want to write about.
However, like all other roles, to ensure success for the best content writing websites, below are the ten essential skill sets that any web content writer needs to build on beyond the basic writing prowess.
1. Magnificent writing skills
While writing for a website, your message should be crystal clear, for only then will it resonate with the audience. Your writing skills include spelling, grammar, and vocabulary. Without the accuracy in these, you will not be able to gain credibility or trust from your readers. Pay attention to grammar, punctuation, syntax, spelling, etc.
With your writing, you should also be able to create a logical flow. There should neither be any gaps between paragraphs nor an unexpected dead-end. Good website content writers ensure content flows naturally.
2. Know your audience
Website content is not just about giving useful information but also about generating more revenue or leads. Thus, it is important to write what benefits your target audience. You should collect intelligence on your audience before writing content as a web content writer.
Evaluate your web content from the audience's point of view. Your content should be aligned suitably with the reader's problem and should help them find answers. Targeted web content writing is the key to converting readers into paying customers and clients.
3. Research skills
One cannot know everything. For website content writers, research is the name of the game. Read as much as you can on the topic through articles, blogs, or even by visiting a library. A great web content writer combs through all the research to find relevant data backed by logical statistics. With thorough research, you can expertly address any topic, creating a piece that satisfies both the audience and SEO standards.
4. Adaptability
If you are associated with the best content writing websites, your flexibility or versatility plays a key role. With every new content, not only will your tone and style need to change, but you also have to swap between various topics.
The writer's ability to customize and adapt to the reader's choice, preference, the purpose of the content, or market trend is one of the most common web content writer skills that create value.
5. Understanding of SEO
Website content writers, freelance and full-time, should have good knowledge about SEO-friendly titles, keywords, and descriptions. To become a successful website content writer, you need to optimize for SEO. Readers will reach your content, and it will rank higher only if you engage in search engine optimization. Data shows that posts with an image get 94% more views than those without.
6. Communication
As a website content writer, you will need to talk to people, listen to what they say, and exchange opinions. Communicating with others can give tremendous value and insights. Website content writing services should be in line with the client's goal. Open communication with clients and stakeholders is very critical. Also, when communicating with readers about a particular topic, don't restrict yourself to just text. Use images, videos, infographics, or statistics to communicate in the best way possible.
7. Editing and proofreading
This skill increases the value and quality of the website content and reduces re-writing. Editing and proofreading can minimize typing errors, overused words, and grammatical errors, improving the overall quality of the content. This needs a lot of patience but is also highly rewarding for a website content writer, both in terms of content writing charges and variety in content work.
8. Time management skills
Whether you are a freelance website writer or a full-time content employee, you must work on your client's timetable and maintain strict deadlines. It is thus critical to handle your time effectively.
Organizing your time will allow you to achieve more when you coordinate your activities and have a plan. Effective time management helps you focus on the job for the day to reach your goals. Managing time wisely will help you accomplish more each day and give you a feeling of being in control.
9. Organization skills
As a website content writer, your organizing skills should not be restricted to a clean and tidy workstation. It should show inside your content. A well-organized content makes the website content neat and clear. A well-organized content also needs a high level of concentration and focus on making sense and flowing seamlessly. Sometimes it might be challenging to get rid of distractions, especially as a freelance website writer. The best way to stay focused is by organizing the tasks.
10. Creative intelligence
Creativity is about out-of-the-box thinking while getting inspired by all things around you. Drawing inspiration from competitors and colleagues is one of the best ways to boost your creativity. Creativity is moving out of your comfort zone and experimenting with different concepts and tones. Another great way to improve creative intelligence for web content writers is to read all genres and formats. Creativity needs constant exercise.
If you aspire to become one of the top website content writers, you need to inculcate creativity in your writing. As a web content writer, your job isn't just to put words on the paper. Mixing creativity with research will help you tell engaging and meaningful stories.
Key Takeaways
● For any website content writer, writing a head-turning headline is the key.
● The content should be clear, engaging, and concise.
● All content should have a clear structure.
● Format content into short paragraphs, subtitles, and bullet points as it encourages audiences to read.
● Every paragraph should be clear and also have a purpose.
● Your website content should focus on your audience's needs and help the reader see a purpose and connection.
● As a website content writer, use a clear outline to ensure that your document is organized and readable.
In the End
Today, there's a lot of scope for a website content writer on a freelance basis. If you are competent in the abovementioned skills, hit the market with some of the best content writing websites. You can become a good website content writer with the basic skills and some confidence.
Even if you feel you lack some of these skills required for website content writing services, it is never too late for you to develop these skills. You can also try some certified content writing courses to help you start as a freelance website writer.
The expectation from website content writers is the ability to write with clarity, using immaculate words and perfect punctuation. To be a part of the best content writing websites, you will need to master all, from on-page SEO to social media content.
This article will help you get clarity on the various skills required to get started and make the best of the website content writing charges you can make as a full-time or freelance website writer.
FAQs
1. As a writer, what skills should I possess?
Some professional writing skills include command of grammar, vocabulary, punctuation, spelling, proofreading, and research.
2. What types of writing skills are required for website content writing services?
There are four main types of writing. It includes expository, persuasive, descriptive, and narrative and all these styles require different types of writing skills.
3. What is a writer's attitude?
The tone of the author's attitude is simply the author's feelings about the subject. This attitude is expressed through word choice, figurative language, and sentence structure.
4. How do I start as a website content writer from home?
Creating and growing a blog, then writing content from home as a freelancer for online publications can be the first steps to take as a website content writer. You can also approach certain companies and ask if you can offer your services.
5. Are web content writers in demand?
As businesses now understand the importance of good content for their website, the demand for website content writing services has gone up. Freelance website writers can write for social media, scriptwriting, news, blog, and copyright, among others, as content writing careers.