Content
A Step-By-Step Guide on Writing the Most Powerful Homepage Headline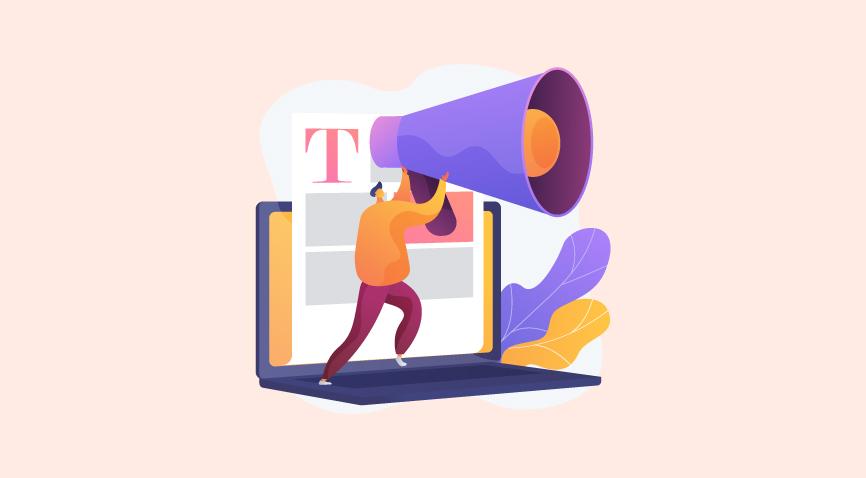 Table of Contents
The Importance of Writing an Engaging Homepage Headline
What Should be Included in a Headline?
How Do You Create a Catchy Homepage Headline?
Test Your Headline
Examples of Highly Engaging Homepage Headlines
Conclusion
Key Takeaways
FAQs
A headline is supposed to be the most captivating part of a piece of content. This holds true for content generated for a daily newspaper, a weekly magazine, an advertisement, a blog post, or even a website homepage. It is an essential component of a write-up that can make a reader get hooked or just quit reading it. Hence, it is important to make the headline as creative, powerful, and catchy as possible. In fact, writing great headlines is an art.
If you are designing a website or generating traffic to your website, pay more attention to the homepage headline – you should be focusing on writing great headlines for it. So, here's a step-by-step guide to writing the most powerful homepage headline. These blog headline tips will certainly come in handy for you.
The Importance of Writing an Engaging Homepage Headline
Almost all entrepreneurs and digital marketers agree that the homepage is the most important aspect of a website as it is the first page that prospective customers see. The homepage headline is as important as the page itself because:
Homepage headline directs viewers to continue viewing or drop out immediately.
If you have a website that is witnessing a high bounce rate, it means that the headline does not interest visitors.
A good headline makes for a better SEO for your website since it is the first thing that viewers see after searching the keywords. The higher the ranking your site gets, the higher it is placed in the search results. This is related to the website content's click-through rate. Thus, writing great headlines, using relevant keywords, helps homepages to rank higher in the search engine results.
Websites become popular only if users get hooked on their content. One aspect that can help in this regard is definitely the headline. If you do not have proper headlines, even the best images, products, and content pieces are wasted efforts because people might not be willing to see what lies beyond a bad headline.
What Should be Included in a Headline?
Every digital or content marketer knows that it is important to have a proper headline as it does more than just grab attention. A powerful headline should do the following:
Create a sense of urgency
Give a positive message
Generate curiosity
Help build a relationship and reputation for the brand
When all this is done effectively, a reader is compelled to view the website, and that helps in increasing searchability, readership, and popularity. Ideally, it is recommended that you create a headline that sells on the initial draft, but since that may not always be possible, keep revising the headline till you are convinced it is powerful. Without revision, it won't be easy writing great headlines.
How Do You Create a Catchy Homepage Headline?
Though it is apparent that a headline's purpose is to get the reader to read your content, many content writers and marketers don't make it catchy enough. All you need to do is follow some effective headline tips. Here are some of the ways in which you can get your customers to read the info you put out on the homepage:
1. Make your headline stand out and let it be unique
Making your headline unique is one of the foremost things to do when creating even the first draft. When you do that, you differentiate yourself from the thousands of businesses competing with you. It gives customers a reason to buy from you instead of your competitor. Moreover, customers are usually inundated with advertisements saying the same old things. So to attract customers, you should have a headline that sounds more like a brilliantly crafted advertisement tagline. By creating a catchy headline, you are likely to connect to prospective customers who like something unique. It gives your business an appealing personality and also makes your brand stand out from other businesses.
2. Create a headline with a sense of urgency
A headline should be such that it creates urgency in customers to take relevant action. It should compel them in such a way that if they don't take immediate action, they are bound to miss out on something worthwhile. Though not a rule, it is seen that those headlines that create a sense of urgency tend to work well compared to those that don't.
For instance, if you end a headline with 'Offer ends Today!', people tend to click through and read what discount is being offered and if it is a product that they are likely to buy someday. The urgency can increase the click-through rate and convince a customer to make a purchase.
Source : Pinterest
In this image, it is clear that the coupon code comes with a limited-time offer that prompts a user to click on it immediately.
3. Make the headline concise and to the point
Sure your headline has to be unique, but that does not mean you should be adding a tagline that does not make sense or convey the information properly. The headline should be to the point and convey to the customers what you are offering. If your headline is too boring or too technical, the customers will not be interested in reading it.
For example, Infusion Partners With Anheuser-Busch to Accelerate Business Innovation Using Microsoft Hololens. This headline is full of jargon and technical words and, thus, intimidating. It is a put-off for someone who has just landed on the page. Instead, a headline like 'Secrets To Getting More Clients', which is concise and to the point, is more alluring. It makes the reader curious, it is on point, and there is no jargon involved.
4. Use a headline that benefits customers
A customer expects value from everything, and that includes the headline too. The headline that you use for the homepage should bring out the benefits for them. Otherwise, the viewers see no reason to continue browsing the homepage. The point of writing great headlines for your page is not to show off your creative skills but to communicate the benefit of clicking through and reading.
An example of a headline that benefits customers sounds like 'Make your website better instantly'. In this headline, the customer gets to know that they can improve their site and that too quickly, which is an added advantage.
Test Your Headline
It is a sin to launch anything online without testing it, and the same goes for your headline. The reason to test your headline is that you want to check and make revisions on your assumptions of your target audience, their needs, and the keywords that work. Many A/B testing tools are freely available on the internet that can be used to run the tests. Headline testing is an essential practice to increase your viewer engagement, shares on social media, and readership.
Still unsure about how to create a catchy headline, try Peppertype.ai. 
Examples of Highly Engaging Homepage Headlines
Here are some examples of catchy homepage headlines:
1. Spotify
This Spotify homepage headline is a classic example of how a headline should be – unique, concise, and to the point. It is almost impossible for a visitor not to understand what the website is about.
2. Apple
Apple is not just a top technology company, it is also the best when it comes to making killer headlines. Take this headline, for instance:
The headline is simple and mysterious, attracting viewers to click without hesitation.
3. Tumblr
This headline on Tumblr embodies uniqueness. It is more of a conversation than a tagline. It helps indicate the benefits for its customers and also plays on their minds.
Conclusion
Having a well-designed website is not sufficient, it is equally important to have an attractive, unique, and creative headline – writing great headlines is imperative. Not to mention coming up with unique content. Homepage headlines are a site's gateways. They should convince and compel visitors, promising them that your website is worth their time.
Key Takeaways
A customer expects value from everything, and that includes the headline too.
A headline should give readers the gist of the story you are telling.
A headline can make or break your homepage.
Follow blog headline tips.
Revise and test your headline till it becomes powerful.
FAQs
1. How to write an attention-getting headline?
Summarize your story in your headline 
Use keywords 
Show numbers 
Give a glimpse but never disclose 
Keep it short and crisp
2. What are some good headline examples? 
Top 10 trending outfits to wear in 2021 
Don't miss out on this magical diet plan 
What to avoid when trying to lose weight? 
5 common myths about losing weight busted
3. How do you write a strong headline?
The headline should be unique
To-the-point and specific 
Try inculcating FOMO 
Provide a key takeaway 
You can use adjectives, facts, emotional triggers
4. What are the hacks for creating catchy headlines? 
Here are some tips on creating catchy headlines:
Research about your niche 
Experiment a lot with your content 
Try Peppertype.ai for creating headlines within seconds
5. What is SEO content writing? 
SEO content writing is the art of writing content keeping the practices of Search Engine Optimization in mind. The idea is to plan, create and optimize content with the aim of ranking it in search engine results.