Content
How to Start a Blog in 8 Easy Steps?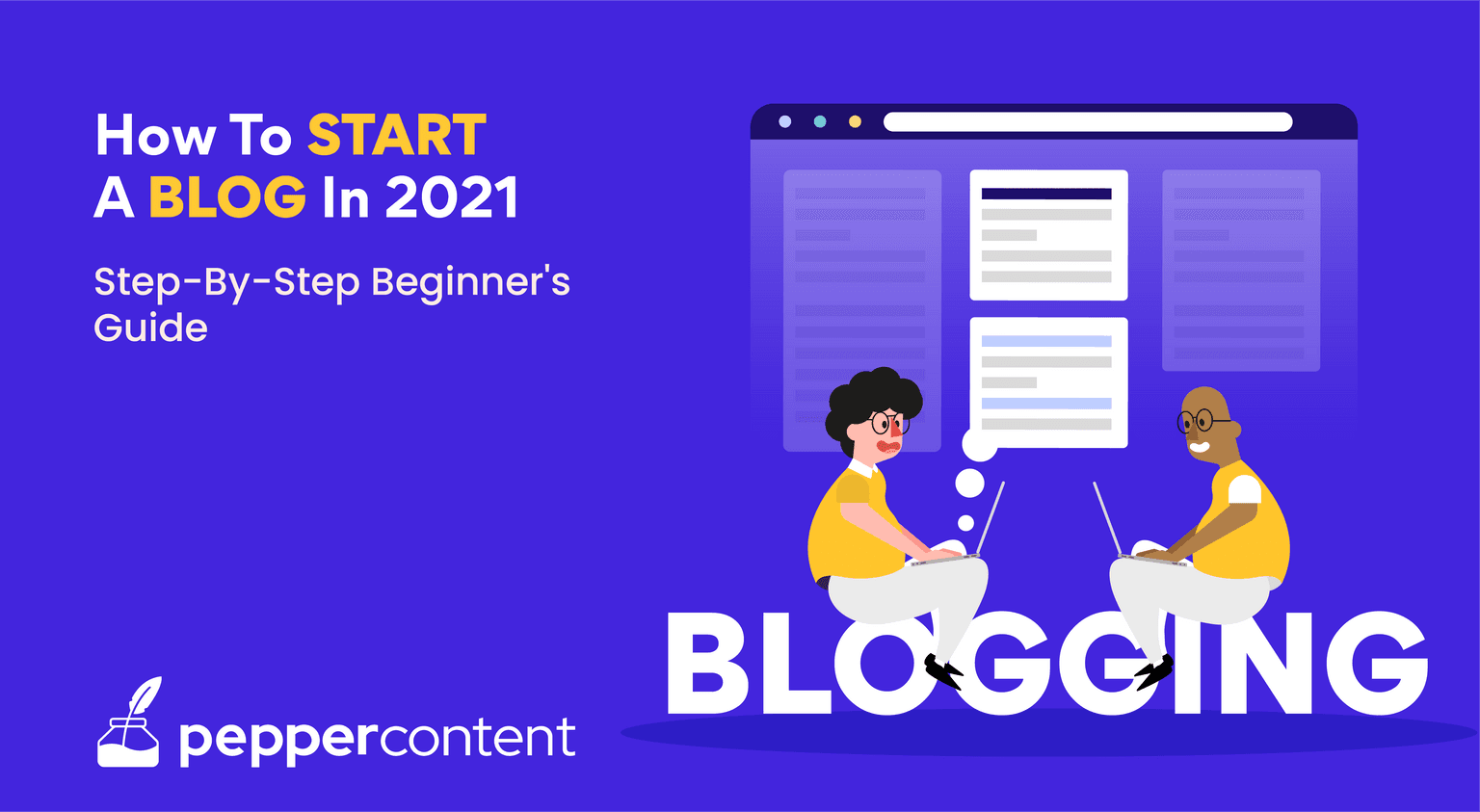 According to obelro.in approximately 2 billion blogs are posted online every year, and if that is the competition, you must have your best game on when blogging.
Table of Contents
Introduction
Blogging for Beginners: How to Start a Blog
Best Blogging Courses for Beginners
Conclusion
Key Takeaways
FAQS
Statistics say that approximately 2 billion blogs are posted online every year, and if that is the competition, you must have your best game on when blogging.
According to Internet Live Stats 2021, approximately 2 billion blogs are posted online every year, and if that is the competition, you must have your best game on when blogging for beginners. However, even though this is a big number, the world can also always do with good bloggers who love what they do.
Blogging is all about sharing what you know with the world. The process of starting and continuing a blog becomes much easier if you're truly passionate about the topic. Visitors will always be interested in your content if they can see and understand your passion. Some more reasons to start blogging in today's day and age include earning money from home, getting recognition for yourself or your business, generating leads in case you have a product or service to offer, and finding a community that is mutually beneficial.
Blogging for Beginners: How to Start a Blog
Beginners looking to start a blog with easy steps will find the below information. This is how to start a blog:
1. Pick a segment you are passionate about
The first step of how to start a blog is to find a topic or set of topics that you are passionate about. It is always easier to be able to write well if you are passionate about your topic. Remember, don't let that passion cloud your judgment; make sure there is an audience that also shares your passion. When blogging for beginners, you need to ensure that there are readers who want to read your thoughts. Now that you have a voice, make sure you also assess how big the market is, make sure there is space for a new player.
2. Understand your competition
The nest step on how to start a blog is to understand that competition is always healthy. It makes you go the extra mile to stand out and be just a little better. You need to understand what your competition is doing in the space you will be working in. For example, it just wouldn't make sense to be selling potted plants at a Formula 1 event, right?
Also, you need to be careful; getting too familiar with your competition may blunt your edge. Check out what they are doing, don't get pulled into writing just like them. A fresh tone and original writing style can go a long way in helping you stand out.
3. Choose the ideal platform
How to start blogging for beginners? You will have to decide if you want to host your own platform or use a blog hosting service. There are several free platforms out there. As a general rule of thumb, invest, and you are more likely to see the rewards. Here is a list of the 10 best blogging platforms in 2021:
4. Earn money blogging as a beginner
If you are serious about making a career out of blogging, you will have to figure out how you will monetize. How can you know if there is money to be made? Well, if there are a lot of adverts in the specific segment you've selected, that is a good indicator. However, what matters the most is getting steady traffic and growing your email list. Choose a monetization strategy that goes along with your blog's main idea.
Source
5. ID yourself
One important piece of advice on how to start blogging for beginners is to choose a handle that you can live with. Be it a domain name or a social media handle for microblogging platforms, create a name that you are happy to be known by. Assuming your blogs take off, this is how you are going to be known online. Choosing a name that reflects your level of seriousness or your industry may be a good way to go. Having said that, there are hugely successful bloggers out there that have very rebellious names.
6. Figure out your flow
A calendar or a schedule is something that is strongly suggested. Planning the topics you are going to publish and when you are going to publish them is crucial. Consistency is a huge part of becoming a successful blogger. Keep in mind that you don't want to lose sight of the bigger picture. Plan each blog to meet your long-term goals. There are a lot of blog artists out there who drop random ideas. As a beginner, it is best to ensure that you stick close to your guns and play hard in the space you are comfortable with.
Here is a little bit from the opposite side. While it is a great idea to be super organized and stay focused, allow your creativity to flow. That may sound counterintuitive, but hear this out. While you should stick with the plan, allow a little time in your day or week to let your ideas flow. Go ahead and type out the creative genius ideas and record them. You just may create a Picasso without even trying. Make sure you only publish what you have planned. If you think the off-topic blog may break the internet, then that is another thing.
7. Prepare your first couple of blogs
This is probably contrary to what many blogging experts say. However, it may give you the confidence boost you need. This tip for blogging for beginners includes drafting a couple of your blogs, having a friend or two take a look at them, and taking their feedback. Please make sure the first couple of people who read your work will be honest about your blog. Don't hesitate even if they aren't as excited as you about the writing; it just means that you have a little room to improve.
8. Publish your blog as a beginner
Go ahead, publish your blog and get ready to enter the world of content writing. As a beginner, it can be a little daunting to put yourself out there. Don't let anything stop you. You've come this far, and it's time to take that leap of faith. While it doesn't hurt to proofread your work many times (at least three or four times), check your grammar and make the edits, please go ahead and publish. Do NOT wait until your blog is perfect; even the Mona Lisa has critics. Here is what experts have to say about blogging for beginners.
Blogging Courses for Beginners
There are also several blogging courses for beginners that you can go for. These courses can help you understand the best practices, optimization methods, and ways of churning out fresh and engaging blog content each and every time.
As the digital marketing industry burgeons, it is important that your content stands out amongst the billions of blogs available online today. Here are the five best blogging courses for you to invest in:
Key Takeaways
Blogging is an important part of today's digital marketing strategy but at the core of it, it is all about sharing your knowledge with people. For blogging novices looking to begin their own blogs, it is important, for the sake of creativity and consistency, to choose a topic they are passionate about.
An 8-step strategy on how to start a blog includes doing thorough research of your market, picking the right blogging platform, monetizing your blog when the time comes as well as building a posting calendar.
If you still think you need some hands-on training on blogging as a beginner, try going for the various free and paid blogging courses available online.
Conclusion
Starting a blog can seem overwhelming and intimidating. It is not necessary to be a great writer to be a blogger, yes, that is true. You, most importantly, need to choose a nice, be consistent and have an eye for spotting and posting trending and interesting content. Be passionate about your topic and that is the most important requirement of how to start a blog.
Make sure you do your research and do as much reading as possible. Once you've spent a few days understanding what blogging is and how to go about it effectively, just go ahead and start.
FAQs
1. How do you start a blog step by step?
Starting a blog with easy steps involves processes like: 
1. Picking your blog topic
2. Understanding your competition
3. Choosing the correct platform
4. Monetizing your blog
5. Getting organized and finalizing a patterns of posting and promoting your blog
6. Drafting a few first blogs
7. Publishing them on the chosen platform
2. What type of blogs makes the most money?
Some blogs that make the most money include finance blogs, fashion blogs, travel blogs, health blogs, mom blogs, marketing blogs, food blogs, etc
3. Do blogs make money in 2022?
There are several income opportunities you can explore while blogging for beginners, including affiliate ads, sponsored content, etc. The way income streams work would depend on blog content, audience interest, size, and location.
4. How do I create a simple blog?
The process of how to start a blog begins with thinking about what you want to blog about. Some basic steps include: 
– Choosing the blog name and blog hosting platform.
– Picking a theme that personalizes your blog.
– Adding key blogging plugins that will find your readers and perform analytics.
– Writing content that is compelling for your readers.
5. What blog should I start?
Choose a topic that is close to your heart, this way you will never be weary of writing a blog or posting. Here is a look at the most famous types of blogs. 
– Fashion Blogs
-Food Blogs
-Travel Blogs
-Music Blogs
-Lifestyle Blogs
-Fitness Blogs
-DIY Blogs
-Sports Blogs