Blogging
What Type Of Media Can You Add To Make A Blog Post More Interesting?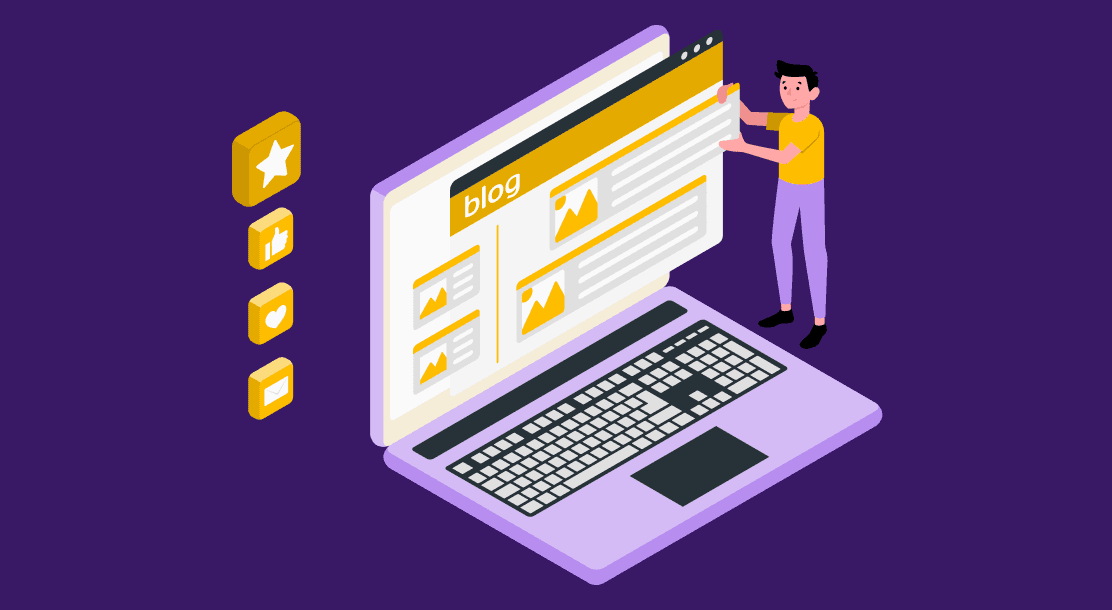 If your blogs aren't converting due to static content, you need to add multimedia elements like videos, images, infographics, GIFs, etc. in to create an interesting blog post.
Are your blogs not converting the way you would like them to? Want to learn about how to make blogs more interesting and increase reader engagement? This detailed guide will give you some innovative ideas to help your blog look engaging and drive sales.
It is important to note that most people visit blogs and usually leave without reading a particular post completely. Bloggers or brands just have a couple of seconds to grab the readers' attention, convince them and let them read the content in their blog.
So how do you ensure that your content marketing efforts for your blog aren't going to waste? First, you add media elements to your blog, making the content stand out from the crowd. Multimedia content adds voice to the content, and readers can interact better.
Continue reading below to learn about the different media elements you can embed in your blog to create an interesting blog post that ranks your blog higher in search engine results.
Different Media To Use For Blog Posts
If you want to make the most out of your digital marketing, making your blog interactive and visually impressive is one of the best things to do. Starting a blog is easy, but writing an interesting blog post is challenging. However, some studies say interactive blog content drives twice as much conversion as static content with no multimedia element.
Here are some multimedia elements you can embed in your blog to make it more interesting.
1. Images
After all, a picture speaks a thousand words. Adding pictures in a blog post helps better describe your point. Try to include at least a couple of images in every blog post you publish.
The engagement of blog posts on social media platforms like Twitter and Facebook tends to be higher when the blog post includes images. Pictures always make the blog look impressive, fresh, and evergreen. If you can't create your image and use someone else's, don't forget to give credits for the same in your blog post.
2. Videos
Apart from images, videos can be a handy multimedia element for an interesting blog post. Videos can help make a blog look visually impressive and better help readers associate with the content. If a person has to choose between reading content versus watching a video, many would consider the second option.
For example, imagine you want to write a blog about using a particular software. You can write a blog entailing all features, but you could explain it better using a video. People can see how to use the software and follow the tutorial step-by-step.
A great example, in this case, would be Whiteboard Friday of SEOmoz, where they explain the blog's contents in the form of a video.
If you can't make your videos, it's okay. You can embed relevant videos that other people have created and use them in your blog to make it look appealing. At the same time, the original creators of the video will get first-hand exposure, and you always have a video as a backup when you are trying to explain things to the readers.
3. Infographics
Adding infographics is an excellent way to create an interesting blog post. You can quickly disseminate information like statistics and complex data creatively. Additionally, infographics are likely to capture the readers' attention at first because they are aesthetically pleasing and provide relevant data. Not only do infographics improve reading comprehension, but they are skimmable, shareable, and fun to look at.
At the same time, they reinforce the content you have written in the blog post. They play a pivotal role in contributing to site traffic, backlinking and social media shares.
The crux of infographics is not the design but the research you put into it. You have to invest a good time getting relevant data and making a helpful wireframe that works like a visual story.
4. GIFs
GIFs are fun to look at, and they hold extraordinary power over social media platforms like Facebook and Twitter. At the same time, they convey emotion and show the human side of your brand or service. It helps the readers understand what they are reading and can retain the content for a longer time. Unfortunately, many marketers are afraid of using GIFs in their blog content.
Using GIFs will give an entertaining and professional vibe that indicates your business understands the trends on the internet. There are plenty of examples of companies that have used GIFs on their posts and have gone viral.
Embedding GIFs in the blog post will build a loyal audience base because they can be easily shared over social media. More the number of people viewing your blog post, and better will be your brand building.
5. Interviews
Interviews are a great multimedia element to include to create an interesting blog post. It gives the readers a chance to hear from the people they admire. In addition, interviews can highlight other people that your readers might find interesting. At the same time, it adds a new voice to the blog and makes it look appealing.
For example, if you are into the construction business, you can interview interior designers or realtors. The information you share on the blog will be relevant and give the readers a different perspective. The best practice will be to add relevant interviews to the topic in your blog post. Try to make the interview insightful by asking meaningful questions and getting direct answers without beating around the bush.
6. Q&A
Once in a while, you might want to write a blog post based on your customers' questions and queries. Ask your readers to post their queries on social media platforms or mail you relevant questions about your service or product to prepare such a post.
Once you have received all questions, curate the relevant ones and embed them in a question-answer format in your blog. The best practice in this regard would be setting up a timeline for the readers to ask questions, and you come with the answers shortly to keep up the momentum and interests of the readers high.
7. Screenshots
Are you always discussing a company or quoting an article you admire in your blog content? Then why not add a screenshot of the same to make for an interesting blog post? It will reinforce the points you want to convey to the readers and break up the text and make the blog look visually impressive.
If you are doing a question and answer type of a blog post, you can use the screenshots of your reader's or customers' questions and then follow up with your answers. You must seek permission for the screenshots you are using in the blog, give credits to the original creator, or avoid copyright issues.
8. Slideshows
If you have plenty of images to add to your blog post, adding a slideshow is perfect for including numerous pictures without making the blog look clumsy. Nothing is more boring than scrolling halfway through the article only to find yourself browsing through a lump of images to continue reading.
Many people create PowerPoint presentations when they try to explain things visually. So why not turn those presentations into a slideshow and let readers flick through them in your blog? Numerous sites like SlideShare and Google Slides can help create powerful presentations into interactive slideshows for your blog post.
9. Audio files
We all live in a busy world. Sometimes we are so engrossed in our work that we don't have the time to sit and read online content. One way of getting around this is by embedding some audio elements in the blog to make it sound interesting. You can record yourself reading the entire blog post or use some automated software that will read the whole thing.
This will help readers go through your blog while on the go. Recording audio certainly makes the blog more accessible. People, especially the visually impaired, would appreciate it if you offered audio in your content. Numerous online tools are available that easily record the content in an audio form that you can embed later in your blog.
10. Interactive charts
Data visualization certainly helps your blog graphically when you try to represent statistics and boring numbers in the content. However, there is no point in using the static charts when there is a better option of interactive charts.
The best part about these charts is they are engaging and demand continuous involvement from the readers to understand and interpret correctly. For instance, a reader can scroll through various areas in the chart for extra information. At the same time, you can make the chart animated to illustrate the facts and figures better.
11. Enabling social sharing
When a blog is interactive, it will inspire the readers to take appropriate action, like sharing the content with friends, colleagues, or family members. If you want people to share your blog, you will have to make things easier.
You must enable the social sharing buttons of Facebook, Twitter, Pinterest, etc., on the blog so that the readers can share them quickly on their favorite social media platform. If you have a blog on the WordPress platform, you can use plugins like AddThis to enable the social sharing media buttons.
12. Tweetable quotes
The entire blog content is not the only thing that readers can share on social media channels. A WordPress plugin called TweetDis can be used in your blog post. It will turn the selected quotes on Twitter into snippets that the readers can later share on their Twitter accounts with one click of a button.
Apart from TweetDis, numerous plugins are available with innovative designs for tweetable sentences, quotes, or images. These quotes attract instant interaction from the readers, making the blog look interactive and driving traffic.
13. Interactive chatbot
People generally run a blog for marketing purposes, and they are likely to embed popups and CTAs at various points within the content. Instead of resorting to these things, the better option is to indulge the readers in a meaningful conversation. This is precisely what an interactive chatbot does. When you add an interactive chatbot to your blog, it will help capture leads and increase sales.
The chatbot appears when the reader has spent some time reading the blog's content. It is far more effective than a static CTA because it attracts reader engagement with a two-way conversation. In addition, you are free to personalize the chatbot conversation based on the blog topic or category.
14. Customized calculator
Another popular way to make the blog more interesting is by adding a customized calculator. This interactive calculator will compute the information based on the available data provided by the reader. The calculator will collect meaningful information for the target audience. This, in turn, offers a personalized experience to the reader in return.
The reader will stick to the content available on the blog because they will believe that the content is tailor-made for their interests and requirements. For instance, if you have a travel blog, you can build an interactive calculator that can help readers get first-hand knowledge about the trip cost. This will help readers plan their trip based on their budget and preferences.
15. Interactive maps
If your blog offers information regarding geographic locations, readers will be able to visualize them properly if you embed an interactive map. For instance, you can illustrate population data for some nations or draw a comparison between different countries using an interactive map.
Using this map, the reader can easily click, hover or scroll to get precise information. It is pretty easy to create an interactive map as there are numerous templates available that you can easily embed in your blog and make it look visually appealing.
16. Virtual tour
You can spice up your blog and make it look attractive to readers by embedding a virtual tour within the content. This type of media is especially beneficial for people in the real estate business. For example, you can make a 360-degree virtual tour of the blog post's property listing.
This will offer first-hand information to the readers without actually visiting the site in the first place and learning about the property online. In today's time, virtual tours within blogs have become popular and a preferred alternative for people who wish to explore places of interest.
17. Memes
If you wish to add a slight touch of humor to your blog post and make it look attractive, then memes can be a significant multimedia element. The memes will set your blog apart from the competition as it removes monotonous and makes the content look attractive.
Putting some funny images into memes will help the readers relax instead of making things tedious. The best part about memes is they are snackable, and readers can consume them easily. Furthermore, if the reader finds the memes interesting, they will share the blog on social media platforms.
18. Illustrations
If you want your blog to stand out in the ubiquitous world of pictures, then illustrations will undoubtedly help you go places. Get in touch with some talented designers and use their skills to design illustrations for your blog. Of course, the illustration you intend to use in your blog must look professional. At the same time, it must convey the message of your brand or service and reflect the proper tone.
Importance of Multimedia in Blog Content
Apart from offering high shares and driving reader engagement, there are three important reasons for adding multimedia to your blog content. The same is discussed under the following headings below:
Increases time spent on the blog
No matter how brilliant the blog is, if it is just static content with no visual representation, people are not likely to read them. On the other hand, multimedia blog content increases user engagement, and the reader will stay longer.
When you add multimedia elements to your blog in pictures, screenshots, or illustrations, you can optimize the images by using the proper keyword. You optimize the on-page SEO and improve your blog's ranking in the Google search engine.
Using multiple media content in your blog will draw more readers and help build your brand. As a result, people will get associated with your blog, which will improve the brand image and drive sales at the same time.
Tips for Using Multimedia To Enhance Your Blog
A no-frills blog that is not enhanced with multimedia is like Las Vegas without lights. The inclusion of multimedia in images, videos, infographics, etc., captures the reader's attention. It creates a visual interest among the readers and illustrates the purpose of the blog post.
The multimedia firms have a plethora of web-ready content, but the marketers and bloggers should note that most of this content comes with a price tag. Copyright infringement is serious and can land any aspiring blogger in hot water. In addition, writers and bloggers can land into trouble if they borrow graphics, photos, or videos from their blog without seeking permission from the originator.
Here are some of the different ways of playing it safe while adding multimedia elements to your blog. Check them out below:
Always purchase the media from its original creator. For instance, many photographers require you to pay a fee to download the images. Alternatively, you can buy multimedia from online resources and galleries like Getty Images and iStock.
Use multimedia that comes with your software. Numerous software products like Adobe Photoshop and MS Word have free access to different image galleries and clip arts that can be used in the blogpost free of cost without paying anything.
Always link the multimedia which is hosted on other blogs or websites. Many bloggers allow their pictures and videos to be reproduced on different blogging sites as long as you give credit or a direct link to the home site.
You can create your original multimedia and use it in the blog posts for your marketing purposes. Posting images and self-produced videos or original music compositions can be a great way to make the blog interactive without paying fees and facing legal infringement.
Creating static content for blog posts is insufficient in today's digital age. When readers visit your blog, they expect more than just written content. They want to see a mix of content and multimedia for an ultimate experience.
Start publishing interactive content for your blog using the multimedia mentioned above to offer a memorable experience to the readers. We are more than sure implementing multimedia in your blog post will make it look interactive and catapult your blog to success.
Key Takeaways
Search engines highly value blogs having multimedia content
Multimedia content is likely to rank higher than text-based content
Blogs that include images and videos receive 94% more views
Multimedia blogs grab the attention of the readers at first go
User engagement in multimedia blogs is on the higher side
FAQs
1. My blogs are not converting and not ranking higher – What to do?
Readers and search engines don't like static content anymore. Therefore, it would be best to make the blog interactive by implementing different multimedia elements to make the content look attractive.

2. What are the popular media elements to add to a blog?
Some popular media to add to a blog include images, videos, infographics, illustrations, screenshots, GIFs, audio files, slideshows, and interactive chatbots.

3. What is the importance of multimedia in a blog?
When you add multimedia elements to your blog, it improves the reader engagement, and they can visualize the content better. Also, it enhances on-page SEO and yields more vital branding.