Marketing
How to Get the Best Out of Your Editorial Calendar Template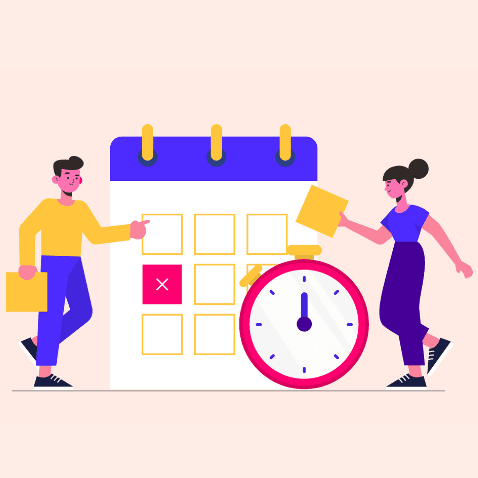 According to Alexandra Zelenko, DDI Development, "Without an editorial calendar in place, you will find it challenging to deliver regular, varied content that is relevant to the needs of your audience."
Table of Contents
What is an Editorial Calendar?
Why do you Need an Editorial Calendar?
How to Optimize your Editorial Calendar?
How to Create an Editorial Calendar Template [+Tips]
Key Takeaways
Conclusion
FAQs
Organizing all your content work can be stressful. And hey! All of us aren't project managers who are skilled at scheduling and managing tasks.
But worry not!
You can make use of a content editorial calendar template that can help in streamlining your workflow. But first…
What is an Editorial Calendar?
Hubspot defines a content or editorial calendar template as a visual workflow that helps a team of content creators schedules their work daily, weekly, or monthly. It can help you track content types, promotional channels, authors, and, most importantly, publish dates.
As many as 69% of companies (Curata) use an editorial plan template to manage their blog content, and rightly so, because it's the best way to plan your content, store your ideas and help you stay on track.
Staying consistent with content can sometimes be difficult for most marketers, and that's when a content marketing template can be effective for editorial management. An editorial calendar helps you resolve this problem and stay organized.
This blog post will discuss why you need an editorial calendar template, some tips on creating the best editorial calendar templates and how to optimize it.
Why do you Need an Editorial Calendar?
There are plenty of content marketing templates available online. When it comes to an editorial calendar, you can find a digital template that is easy to use. Here are some reasons why you need an editorial calendar:
Keeps your projects and ideas organized
According to Alexandra Zelenko, DDI Development, "Without an editorial calendar template in place, you will find it challenging to deliver regular, varied content that is relevant to the needs of your audience."
How many times have you had a great content idea, only to forget it later on? Having a content editorial calendar for your ideas and projects helps a lot. Once you have an idea, you can enter it straight into your editorial calendar. This not only enables you to make a note of all the content topics but also helps you put your ideas into action on time.
It keeps you on track and helps meet deadlines
Content planning can become a daunting task without a proper content marketing template. If you do not have deadlines in place, you tend to work at your own pace, often missing timelines. To stay on track and get work done on time, it is vital to have an editorial calendar template to help teams function better. When you have clear deadlines along with a proper tool for enforcing them, you get more work done on time.
Helps with team collaboration
According to Matt Solar, nDash.co, "Don't put yourself in a position to be the only source of idea generation. Enable other team members or freelance subject matter experts to help you with the ideation of content marketing."
An editorial content calendar helps to encourage your team to contribute actively and collaborate in the ideation process. It also helps keep everyone informed about different content tasks, deadlines, clients, and other essential content processes.
Helps outline and assign tasks
You can easily plan your content topics and assign them to your team members using an editorial calendar template. When you outline tasks and give them, you can meet your goals and stay aligned with your strategies.
Helps recycle content
One of the best things about using a content editorial calendar is that it aids in reusing your old content. So, when you have similar topics to produce, you can reuse and update your old content instead of starting from scratch. If a particular case is still trending or is relevant after a year, you can re-post that piece again. Also, if you decide to recycle your content, you can just improve the writing to save time and effort.
How to Optimize your Editorial Calendar?
Here are a few simple tips on how you can optimize your editorial calendar in the best way possible.
Choose your schedule and stick to it.
At first, using a content marketing template might seem like an overwhelming task. When you download an editorial calendar template, you might have questions like, where do I begin? When should I publish content? How often should I post?
First, it's essential to decide how many times you want to publish content. Think about how much time you want to put into producing new content each week. If you are too busy for a few months, you can focus on creating just one post a week. If you have the time, then you can produce more content.
Next, narrow down on which days of the week you would like to publish. So, depending on your goals, you can create a particular day to post your content. Once you've decided on your schedule, go ahead and write the topics or ideas against the days you will be posting.
One crucial factor to remember here is that when you choose a day or time to post your content, make sure you stick to the schedule. When you start, it's essential to stay consistent while keeping your audience interested and engaged.
Keep a list of ideas ready
Content ideas don't come to mind when you are sitting tight, ready to enter your content topics in the content editorial calendar. They pop up when they're least expected. That's why it's essential to keep a list. You can add your ideas to the list whenever a new one strikes. Write them down wherever you find convenient until you have the time to put them into your editorial calendar.
If you get into the habit of noting your ideas, you'll be able to build a comprehensive list that you can use in the months to follow. You'll notice that this will be an excellent resource for you, especially on days when ideas don't flow.
Double-check your list
Having an editorial content template to handle certain parts of your marketing strategies can be very helpful. You must ensure that everyone responsible for content marketing in the organization must adhere to style guidelines and best practices. To ensure the entire team is on the same page, you can develop a checklist that teammates follow every time they submit their content for publishing.
Take it slow
Sometimes, you can get carried away while starting with a new venture or strategy. Thus, take things slowly. When you focus on good habits and stick to a routine, you'll be able to stay on track with your content and deadlines.
There's no exact time when you must start planning your calendar for the year. But it is always better to begin tackling it early on. It gives your team and yourself enough time to plan your content marketing strategies. When you have a good editorial calendar template right at the start of the year, it will help guide you throughout, ensuring that everyone in the organization is aware of the content goals. However, it's also essential to give flexibility and make changes whenever necessary.
It's also recommended to check your content editorial calendar often to ensure that you keep your content well-organized and stay on schedule. If your content marketing teams have weekly meetings, it's a good idea to pull up your editorial calendar to discuss and review the same. It ensures that content ideas and strategies stay fresh in the team members' minds, and everyone can work together towards achieving the content goals.
When you start with your strategies, make sure to take one step at a time. Start with brainstorming content ideas and getting familiarized with the editorial calendar template. Once you've done that, you can slowly work towards improving your strategies.
How to Create an Editorial Calendar Template [+ Tips]
There's no universal guideline on how to create the best editorial calendar template. Still, you can start with some of the real-life examples we've listed below and get some valuable tips on how to create a good editorial calendar.
Airtable
From content marketing to product tracking to design research and event planning, etc., Airtable has tailor-made templates for all your project management activities. Yes, that includes an editorial calendar that you can share with others within your organization for a seamless workflow.
Airtable's content editorial template helps you create a content hub for your organization and enables you to review content assets such as images and schedule or publish content within the application itself.
Creating these templates is free but with paid plans added benefits in terms of other tools.
Trello
Trello is another common project management tool that provides you content editorial template examples within the application and templates that other businesses have been using as a reference. If you're new to the field, these templates from market leaders can come in handy and help you in your content marketing strategy.
Trello helps you add cards under each list and assign individual cards to members within your organization whose profile picture can be seen under it. You can also make updates within the activity section of the cards to show progress. The best part about Trello's workspaces is the ability to keep backgrounds. Imagine a picture of a kitten in your social media calendar — it can help keep your tension levels in check.
Avaza
Avaza is a project management tool intended not just for teams but for entire organizations. If you're an employer, project manager, or organizer, this can be the right platform for you. But if you're an employee, not so much.
Just kidding!
This is because Avaza has an umbrella workspace called Projects, under which you can create multiple tasks, which can be viewed by anyone working in the organization.
Avaza's tasks come with a horde of benefits in the form of assigning labels of teams who own the task, adding assets that come along with the content for reference, setting deadlines and priority levels to each task, which can be used to prioritize, etc.
The best part, you can also set progress levels and create timesheets to track your tasks for the day and week.
Asana
Asana stands for organizing projects into views that best suit you. Made for people that work in an organization across landscapes, Asana aims to bring everyone into one shared space.
Asana can be extremely helpful for organizations in the current scenario by helping employees collaborate as they're working from home.
The best part about Asana content editorial templates is its organized view, which is a delight to the eyes. Each template has all the touchpoints built-in so that you don't miss out on any part of your campaign and turn your marketing strategy into results.
Hubspot's DIY Editorial Calendar
We're saving the best and the simplest for the last.
Hubspot's editorial calendar template is a DIY that helps outline your strategy.
This content editorial calendar template can be used as a reference when you're unsure where to start by giving you a gist of how an average editorial template would look with all its content. Hubspot's calendar is free to use and can be edited on Google Sheets and Microsoft Excel.
Key Takeaways
An editorial calendar template keeps your ideas and projects organized. It is always beneficial to keep things in one document for easy reference.
The best editorial calendar templates contain a business' content marketing objectives, possible content topics, upcoming content strategies, ROI measurement analytics, and content optimization plans.
A content editorial calendar template helps you to be on track and achieve your desired objectives on time.
An editorial plan template helps in fostering team spirit. Since every idea is collated in one place, any team member can access it. One can save a lot of time as there are lesser follow ups.
An editorial calendar template helps in assigning tasks to employees and keeping track of their progress.
Since a well-documented editorial calendar template contains all the existing ideas posted on one's website, it helps a brand to repurpose or recycle content. If a trend has become obsolete, you can remove it.
To create the best editorial content templates, set realistic deadlines and outline tasks based on one's potential.
The best editorial calendar templates always has a list of ideas ready. It is very crucial for the team to contribute in content ideation. If you are running out of content ideas, you can try using Peppertype.ai. It is an instant content generator, powered by artificial intelligence.
Airtable, Trello, Asana, Hubspot,and Avaza,a long with many others, offer several editorial content templates to use.
Conclusion
Editorial content templates collate all the necessary information in a single document. You do not have to rummage through tons of spreadsheets, Google docs, and files to get information. The best editorial content templates helps a business to optimize content and create a killer content marketing funnel. A well-strategized content marketing plan helps to drive organic traffic and facilitate more conversions. Make sure that you align your content plan with your business objectives in your content editorial calendar template. Set realistic goals and chart a timeline to ensure that you reach your goals on time.
FAQs
1. What should be included in an editorial calendar?
An editorial content template must contain dates for schedules and deadlines, followed by sub-topics for classification, external channels for posting or publishing, and status updates.
2. What is the purpose of an editorial calendar?
At a layman level, the purpose of an editorial calendar is to organize content and publish them across channels primarily for groups.  A content editorial calendar template helps to organize tasks, ensure that tasks are completed on time, and business goals are aligned with the content strategy.
3. What makes a good editorial calendar?
A good editorial calendar is simple and easy to understand and accessible for the person or group accessing it despite having a lot of information within its content. The best editorial calendar templates are designed in a way that it is easy to navigate and find information within the document.
4. Why is an editorial calendar important?
Being a hub for your content marketing strategy across channels, an editorial calendar template allows you to organize your content and strictly adhere to schedules and editorial plans.
5. How to get the best out of your content calendar?
First and foremost, stick to a schedule. It all falls flat when you don't. Next, never stop updating new content. Last but not least, even if you're a single user, share the editorial calendar template with your team or manager. Their feedback is valuable and can help you to improve.