Freelancing 101
Freelance Writing: 7 Tips on How to Attract Clients on LinkedIn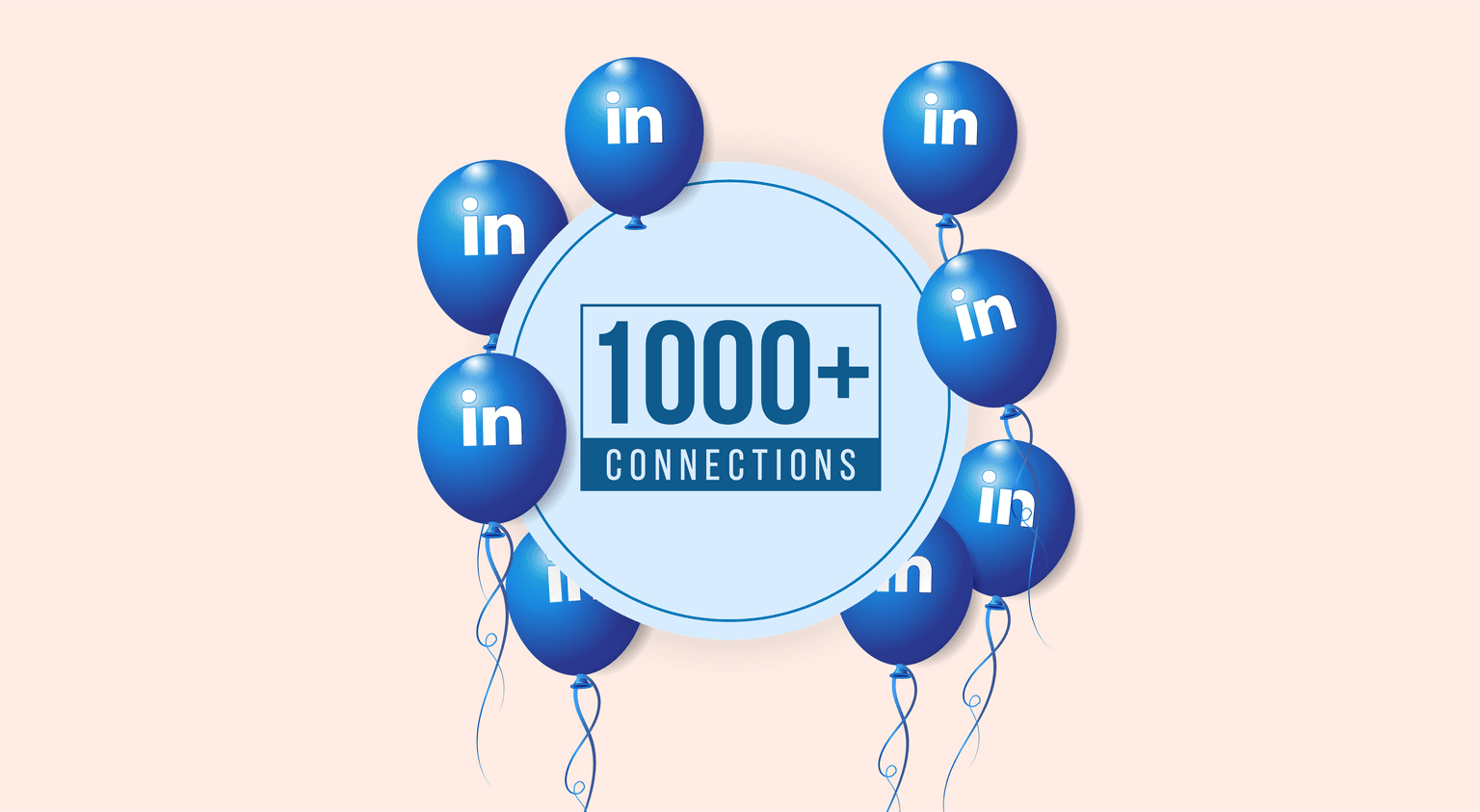 Table of Contents
Why Should Freelance Writers Use LinkedIn?
7 LinkedIn Marketing Tips to Attract Clients As a Freelance Writer
Key Takeaways
Conclusion
FAQs
The below-mentioned graph shows that LinkedIn has the highest visitor-to-lead conversion rate (at 2.74%), which is almost three times higher than both Twitter (0.69%) and Facebook (0.77%).
Well, this is because people and businesses are active on this platform to showcase their expertise in their respective fields. This makes it easier for other businesses to find their target audience, hence leading to a higher visitor-to-lead conversion rate. But as a freelancer, you must be wondering how to attract clients on LinkedIn. Read on to find out the answer to this question.
Why Should Freelance Writers Use LinkedIn?
With over 300 million monthly active users, LinkedIn has become the go-to platform for lead generation. It is extremely beneficial for freelance writers as well.
According to the stats from an Upwork study, 50% of freelancers refused to go back to their 9-to-5 jobs, which clearly shows that freelancing is becoming popular day by day.
But, to become a successful freelancer, you need to fill the pipeline with clients, which means you need to attract clients on a regular basis. After analyzing LinkedIn's conversion and daily users rates, it's evident that no other platform can be a more perfect fit for freelancers.
On LinkedIn, you can learn from other people or company's content, and level up your knowledge. This can help you publish your content either in the form of social media posts, blog posts, and even video to present yourself as a thought leader within your industry. You can connect with fellow freelancers and other like-minded individuals, and pitch your service to anyone you think can help.
Clearly, there are many reasons for a freelancer to leverage LinkedIn. Now, let us give you some tips for LinkedIn marketing to make good money. We show you some LinkedIn marketing best practices, supplemented with examples.
7 LinkedIn Marketing Tips to Attract Clients As a Freelance Writer
Here are some essential LinkedIn marketing tips to attract clients as a freelance content writer.
1. Create a professional LinkedIn profile
Your LinkedIn profile is not just another social media profile: it's your portfolio/CV, your visual identity, based on which your prospect can either select or reject you.
Just like you optimize your website to rank on Google, you need to optimize your LinkedIn profile to stand out from the crowd. Here's how to do it.
Upload a professional profile picture
This should go without saying, but people often forget this despite knowing that LinkedIn is a professional platform. Try to look approachable in the picture with a smile on your face, but remember to keep it formal. Check out an example below.
This should be in the form of a headline on your profile. Your unique selling proposition (USP) can be anything that sets you apart from your competitors. Try to add different keywords to enhance your ranking in the search bar.
Write a strong description
You can write 2,600 characters in your "About" section. Leverage it! People love reading stories, so add your unique story to this section. Why are you doing what you are doing? What brings you to LinkedIn? What were your struggles, and what are your wins?
Try to add everything but try to be on track with respect to your services. You can also add a call-to-action (CTA) like "Need a content writer? I'm just a DM away!" Here are a few more tips to remember.
Add a professional email address.
Try to make your LinkedIn profile 100% complete.
Ask your connections and followers to endorse and recommend you.
Don't forget to customize your profile URL in this format: "www.linkedin.com/in/yourname".
2. Connect with fellow freelancers and potential clients
Connecting with both kinds of audiences has different benefits. For example, connecting with fellow freelancers helps you learn from their experiences. You get an idea of what kinds of content they post and what strategies they use to get clients. Connecting with potential clients, on the other hand, opens up several doors of opportunities.
A potential client is someone who might need your services and can hire you in the future. Now, obviously, they are not going to know about you and your services automatically. It's your responsibility to market yourself to the best of your ability.
Now, here's one of the best LinkedIn marketing tips for you: whether you are connecting with freelancers or potential clients, always send a personalized note with your connection request, as it will speed up your chances of getting the request accepted.
3. Post valuable content
Posting content and posting valuable and thought-provoking content are two different things. People don't want to see pictures of your bed tea on LinkedIn.
As clients want to hire consistent, talented, and hard-working writers, creating and sharing valuable posts consistently on LinkedIn will help you present yourself as an expert and will show that you can deliver such high-quality content to your client as well. Also, if your content gets good engagement consistently, there's a high chance your post will get featured on LinkedIn's Publishing Platform, which gives an extra boost to your credibility.
4. Share your best work
Sharing your best work on LinkedIn increases your chances of getting hired by your potential clients, as it demonstrates how good you are at your job. Here are a few tips on how to attract clients on LinkedIn through your content.
Share published articles on LinkedIn.
Publish videos that you wrote scripts for.
Share links to the websites that you wrote content for.
Share testimonials that you may have received from your clients.
You can either put these works in the "Experience" section or you can make a portfolio and share the link in the "Website" section. You can also add links to your works directly to the "Featured" section.
5. Engage with other people's content
This is a crucial LinkedIn marketing tip. Engagement is key to your growth on LinkedIn. The more you engage with others, the more likely it is that they will engage with you, be it through your content or in your DMs.
And, the more actively you engage with other people's content, the more your name appears in people's feeds, which leads to your profile grabbing more eyeballs. It also establishes you as an expert when you comment thoughtfully and engage consistently. In other words, consistently engaging with other content on the platform can help build relationships with fellow freelancers and potential clients, and grow your network.
Apart from that, you can also join LinkedIn groups related to your industry and engage with other members.
6. Leverage hashtags
Using hashtags is one of the most important LinkedIn marketing tips to bag clients on the platform. You can actually search for a hashtag related to your service and grab a gig.
Some examples of hashtags you can use to get freelancing writing gigs can be as follows:
#freelancecontentwriter
#freelancewriter
#freelancewriting
#freelancewritingjobs
#freelanceblogwriter
7. Get recommendations
Do you look for reviews before buying any product? Everyone does, because it's a common practice. Similarly, when your potential clients want to hire you, they want to check who has lauded you for your past work, in order to know whether you match their standards.
And, getting recommendations on LinkedIn from your past and existing clients is the best way to show your expertise. All you need to do is to visit the concerned person's LinkedIn profile and request a recommendation, as shown in the picture below.
Try to ask for a recommendation as soon as you successfully complete a project. This ensures your work is fresh in your client's mind, they would be more than happy to give you a recommendation for it (provided it's good enough). About five recommendations on your profile are ideal. However, the more you get, the better it is for your profile to stand out.
Key Takeaways
With over 303 million monthly active users and the highest visitor-to-lead conversion rate, LinkedIn is the topmost priority for every business nowadays.
It's worth it for freelance writers to learn LinkedIn marketing best practices.
Freelancing is becoming more popular, mainly because it gives you a lot of freedom: freedom of time, as you can choose when you want to work; freedom of location, as you can decide where you want to work from; and of course, freedom when it comes to the prices you charge. You have full control over how much money you want to make and how many clients you need to strike deals with in order to fulfill your earning desires.
Your LinkedIn profile is the visual identity that can help you land your dream client. Therefore, you should create one dedicatedly.
Posting valuable content and engaging with other people's content can be a game-changer for your freelancing career, because posting content consistently builds your credibility and brings you inbound leads.
Consistent engagement helps you grow your network. And, as you might have heard before, "Your network is your net worth."
Hashtags work! It doesn't matter whether you are on Instagram, Twitter, or LinkedIn. You can search for relevant hashtags in the search bar, in order to get in touch with potential clients and fellow freelance writers.
Connecting with your potential clients and getting recommendations from your past and existing clients go hand-in-hand. As you are expanding your network to get more clients, you need some recommendations and testimonials to establish your worth for potential clients.
Conclusion
Now you know how to attract clients on LinkedIn as a freelance content writer. But these strategies are nothing until you practically execute them. Also, never expect any strategy to work within a few days; they take time to bear results. You need to be patient and consistent with your approach and wait for at least a couple of months.
Try to consistently analyze factors, such as these: what kind of content is working best for you? What kind of response are you getting from your network, especially from potential clients? Is there anything you need to change in your strategy to get the best out of your efforts? Do apply all the above-mentioned LinkedIn marketing ideas consistently, and take your freelance content writing career to the next level.
FAQs
1. How do I market myself as a writer on LinkedIn?
Here are some tips for you to market yourself on LinkedIn as a writer. 
1. Create an attractive profile. 
2 Mention your services in the "About" section. 
3. Mention how you can help your potential clients with your services. 
4. Add your portfolio. 
5. Add links to your blog or published articles. 
6. Leverage the "Featured" section to showcase your best work. 
7. Post valuable content and engage consistently. 
8. Send personalized connection requests to potential clients.
2. What are the different kinds of content that I can create on LinkedIn as a content writer?
Here are some LinkedIn content ideas for you. 
1. Long-form content, which explains an important topic like SEO
2. Industry news and recent statistics
3. Industry-centric reports or articles
4. Easily comprehensible tips and tricks 
5. How-to content. For example: "How to leverage LinkedIn as a content writer"
6. Make a post of any life lesson (personal or professional) you have learned.
7. Talk about your struggles and wins.
3. What are inbound leads?
Inbound leads are nothing but your potential clients who reach out to you, either because of your targeted content strategy or a referral. This process is also known as inbound lead generation.

4. How do I find high-paying clients on LinkedIn as a freelance content writer?
There is no sure-shot strategy to achieve anything, and the same goes for getting high-paying clients as well. But if you stick to consistent practices, you are sure to get results. Here are some tips to follow in order to land high-paying clients. 
Network with potential clients. 
Try to create value for your client through engaging, meaningful content. 
Try cold messaging.
5. How do I add my published article's link to my LinkedIn profile?
In order to feature published work, follow these steps:
1. Go to your profile. 
2. Scroll down to see the "Featured" section. 
3. Click on the (+) icon. 
4. Select "Link". 
5. Paste the link in the given space
6. Click on the "Add" button.
6. How do I search for hashtags on LinkedIn?
Just go to the search bar and enter the hashtag you want results for. Click on the search button/icon