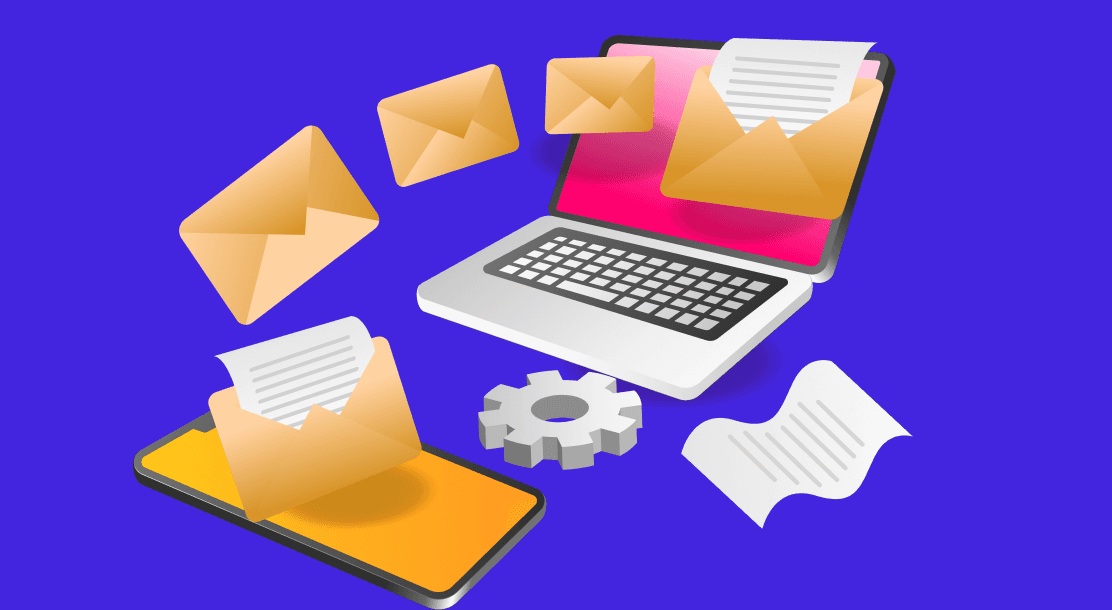 Learn everything about dynamic email templates, from what they are, to their types and how you can create your own dynamic email template.
Table of Contents
What is a Dynamic Email Template
Types of Dynamic Email Content
How To Create Your Dynamic Email Template Quickly
Statistics Alert: By adopting personalization techniques, brands stand a chance of converting almost 70% of their customers to transact.
Digitization, development of technology, automation, and consequential customer evolution have all forced businesses to adopt newer techniques to win over their customers and, in the process, stay ahead of the competition.
If the above statistics are any indication, personalization plays an even more significant role for businesses in today's competitive world. While it is not possible to manually personalize these emails and other communication, dynamic email templates help bridge this gap between communicating with the customers in mass while ensuring a level of personalization according to the user behavior or demography.
What is a Dynamic Email Template
A dynamic email template is a powerful tool in a marketer's arsenal that helps marketers and businesses send out personalized one-on-one communication to their target audience on a mass level using a single email template design.
Using these email template designs, you can send out millions of messages that are personalized automatically in real-time, based on the data you have about the recipient.
Today, you can send out dynamic emails to your customers, from newsletters to other marketing communications, using these standardized email template designs.
Segmenting and grouping your customers according to common demographics like their age, gender, location, interests, etc., generally forms the basis for sending out dynamic emails using email newsletter templates and email marketing templates.
Today, sending out personalized emails using dynamic email templates is not only simple but requires literally zero coding knowledge. They can also be sent out the way you want them, with images, dynamic links, etc.
Dynamic email templates are one of the most effective tools an email marketer and business can use to engage with their audience. It is important to know how to create a dynamic email template of your own and know what type of dynamic email content will work best for you.
Types of Dynamic Email Content
From engaging with your audience to creating personalized brand recommendations or direct leads to a landing page, simply for data collection, different types of dynamic email content templates are used by businesses for various purposes.
Broadly, the types of dynamic email designs include,
This is the simplest, most traditional, and very effective way to personalize and share dynamic email templates with your users. From subject lines to the body of the email newsletter template and email marketing template, you can personalize any text element of the template to build a connection with your audience.
Adding any form of a media element to your dynamic email template falls under the visual type of dynamic email content. These could be GIFs, videos, images, and even graphics. To improve the response rates, ensure that the media file resonates with the audience and the content of the email.
As the name suggests, CTA's can be used when you want the recipient to take a specific action. CTAs are primarily used when you intend to increase conversions, so it is essential to make them attractive.
How To Create Your Dynamic Email Template Quickly
While there are several tools available to help you design your dynamic email design without knowing how to code, you would still need to ensure that the template is designed to fit right on all devices.
The various steps you would need to follow to create your email marketing template and email newsletter template include the following:
Step 1: Creating your email list
Building your own customer email list that is not only accurate but also trustworthy is critical for the success of email newsletter templates and email marketing templates. You can then design your email marketing campaigns based on your curated subscriber list. To curate your email list, there are various lead generation methods that you can adopt. These include landing pages, email opt-in forms, pop-ups, etc.
Step 2: Collect customer data
The key to building your own successful email campaign using a dynamic email template is knowing your customers and understanding their behavior patterns. Using dynamic email design, you can use this vital information later to power the personalization. There are various ways in which you can collect this customer data.
Asking the customer through interviews: These could be collected either by conducting one-on-one interviews or through online interviews. Asking them direct questions about their expectations of your brand, product, and service can help you learn a lot about their expectations.
Using subscription forms judiciously: Simply add all the questions you need the audience to fill out as part of your subscription form, and you are done. However, use these questions wisely and do not overdo your questions. We are doing this to gather information, not to offend the customer.
Gathering insights post-sales through feedback surveys: Gathering customer feedback about your product or service post-sales through surveys is another great way to collect information about the customer.
Keeping other communication channels, like live chat or customer care numbers, also helps. You can use various online platforms to create these surveys easily.
Studying trends in social media: The keywords and search query customers use on social media can give you many insights about the community.
Step 3: Segment customer data into buckets
Segmenting your customers into various buckets according to the data gathered plays a vital role in optimizing and personalizing the e-mails you send out using dynamic email templates. You can segment customers in multiple ways; however, the most common method is based on the customer lifecycle.
Depending upon the customer's buying journey stage, you can alter the communication that goes out to the customer and engage to maximize the output achieved from it.
Step 4: Curate and customize the dynamic email template according to each segment
Now that you have segmented your customer data and gathered all the information you need about the customers to design your marketing campaign, you need to decide how you would like to customize the emails to maximize the results from your campaigns. While there are no rules set in stone for the same, here are four best practices adopted to personalize content for the target audience:
Based on demography: You can customize your email with content that is most suitable for customers segmented based on demographics like age, gender, location, occupation, education, etc.
Based on preferences: The easiest way to know about the customer's preferences is to ask them. Once you have identified and segmented customers according to their common preferences, you can curate your content specific to their expectations of your brand.
Based on psychographics: Another common way to customize a dynamic email template is based on the customers' values, interests, and beliefs. These include hobbies, interests, political views, food choices, etc.
Based on action taken: Customizing email communication based on a specific action taken by a customer can help improve the relationship with the customer and also lead to a conversion. The action taken could include the customer's purchasing history, email activities, website practices, responses to a survey, or even action on CTA.
Once you have covered all these steps, you are finally ready to execute your dynamic email template content campaign using various smart email marketing solutions available in the market.
To Summarize
One of the most efficient email marketing solutions, dynamic email templates can help nurture relationships for you and help build trust with your customer's mind. After all, over 75% of consumers choose, recommend, or pay more for brands that provide personalized service or experience.
Key Takeaways
Personalization helps convert over 70% of customers to transact.
Dynamic email templates are the easiest and most efficient way to send personalized communication.
You don't need in-depth coding knowledge to create your own dynamic email design.
There are multiple ways to segment customers. The most preferred is segmenting according to the buying journey stage.
The four best practices used to curate dynamic email campaigns are based on demography, preferences, psychographics of the customers, or the action taken by them.
FAQs
1. What is a Gmail dynamic email template?
This refers to an email that allows one to complete tasks from within a Gmail message without leaving Gmail, like replying to an invitation, filling out a questionnaire, etc.

2. Can email content be dynamic?
Any email content that changes is described as dynamic email content. Email template design changes are based on the subscribers' data, preferences, and behaviors. With dynamic email marketing templates, you can personalize an email to target particular subscribers.

3. What is a dynamic email template?
Dynamic email template designs are automatically personalized in real-time to build one-to-one customer relationships. A single template can be personalized and sent to a few million.

4. Is dynamic email safe?
Dynamic email marketing templates are safe and geared with privacy and security protections. All dynamic emails have to be reviewed by the email survive provider before getting started.

5. Is dynamic email necessary?
A dynamic email template design is important as it allows for a better-customized email. This helps target different audience groups in one email.

6. What are three easy ways to use dynamic content?
The easy ways to use dynamic content are based on demographics, preferences, and email data.