Content
How Does an Editor Ensure Quality of Content?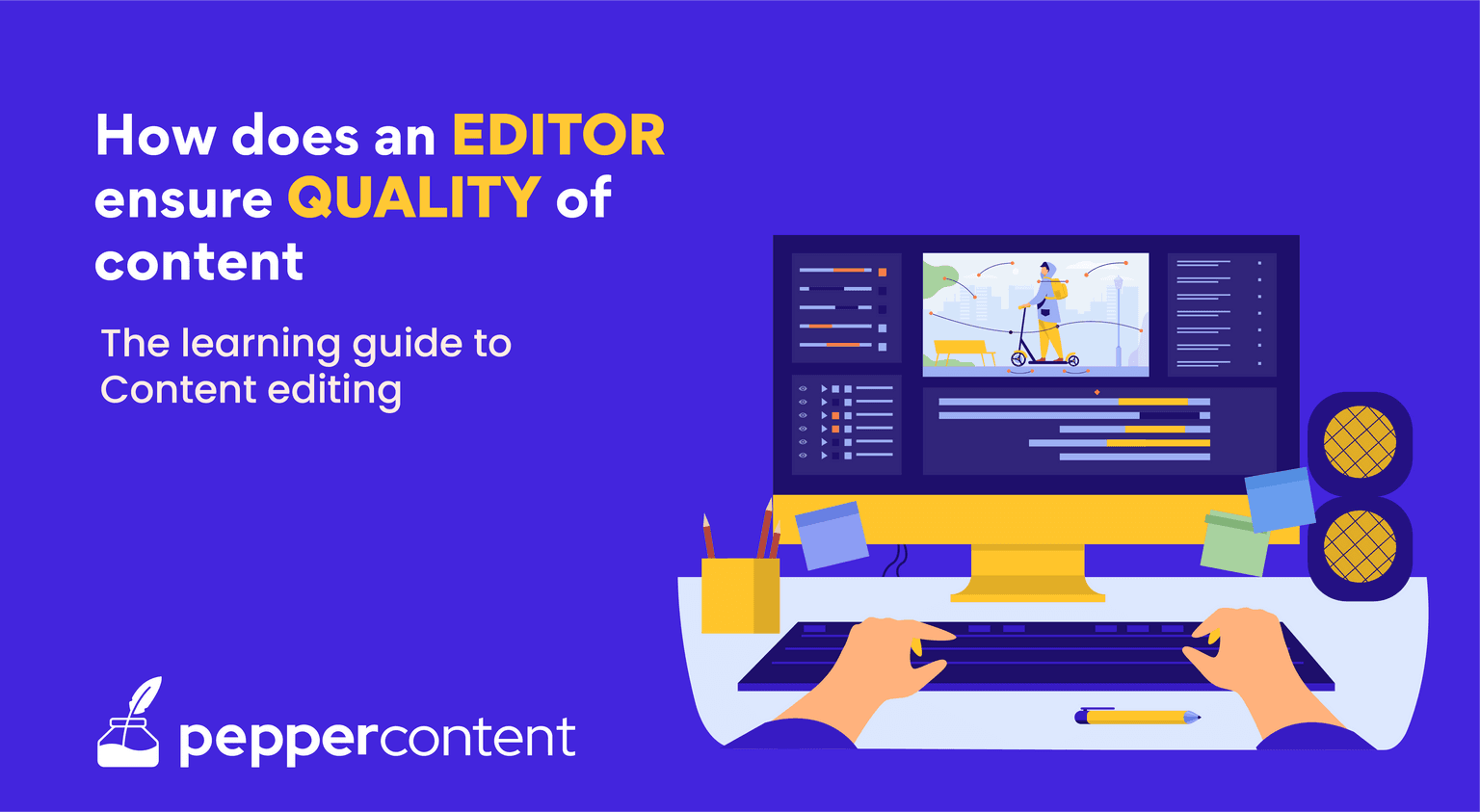 Content creators and writers often rely on editors to amp up their content and rectify mistakes. Editors also suggest improvements with regard to the overall structure and style of content. For them, quality is of paramount importance.
Table of Contents
What is Content Editing?
Content Editing vs. Copy Editing
What does a Content Editor do?
Why is Content Editing Important?
7 Content Editing Tools for Error-free Writing
Key Takeaways
Conclusion
FAQs
How to write quality content? The truth is that most people can't maintain the same quality throughout their manuscripts or texts. The content editing process is an integral part of any writing. If you wonder what content editing is, you have come to the right place. Let us learn more about the content editing process, learn the intricacies of content editing vs. copy editing and see how they are a backbone for writers.
What is Content Editing?
Editors are responsible for editing content at varying stages following the completion of the writing process. Through the content editing process, they make sure that your content is fit for publication.
Besides some of the premium content creation tools, Content creators and writers often rely on editors to amp up their content and rectify mistakes. Editors also suggest improvements about the overall structure and style of content. For them, quality is of paramount importance. In content editing vs. copy editing, there is no clear winner. Both these processes are integral in enhancing the quality of a document. If you are stuck in the creation process and are running out of content creation ideas, consider using Peppertype.ai. It is an artificial intelligence-powered, instant content generator that helps create content. You may run that content with a copy editor before publishing it.
Content Editing vs. Copy Editing
Let's now understand the difference between content editing and copy editing. Simply put, content editing is responsible for making writing effective, connected, and understandable, meaning to check the strength and logic behind the argument, the sources and examples' quality, its match with the brand voice, and the scope of the text.
On the other hand, in copy editing vs. content editing, copy editing is responsible for identifying and correcting more superficial mistakes like spell check, grammar check, checking punctuation and syntax, and following the style guide. Copy editing could also involve validating graphs, charts, and images and proofreading the copy, including its title, meta details, and captions.
What does a Content Editor Do?
So, here is how the content editing process ensures the quality of your content:
Sentence style and readability
Editors read your content through a reader's eyes to ensure that all sentences convey the writer's intended meaning lucidly. They often watch for chunky phrases, incorrect tenses, misused metaphors, and other language errors.
Syntax fundamentals
The order of words and clauses in a sentence or paragraph should be easy to follow. While writing long-form content, many writers mistake complicating syntax—the content editing process helps to rectify convoluted sentences.
Removing unwanted matter
Sometimes the use of jargon or complicated vocabulary can mar the reading experience. What does content editing involve? The removal of unnecessary words and sentences. The content editing process may also suggest alternate ways to structure a sentence or shuffle paragraphs around to ensure clarity and continuity.
Retaining a reader's attention
The flow of your content should sustain a reader's attention. An editor's job is to study your content, focusing on minute details that disrupt a reader's attention. Crisp vocabulary for elaborate descriptions is one example of an effective writing style that retains readers' attention. To an editor, a reader's experience is fundamental to the effectiveness of any text.
Studying the tone
A fundamental aspect of the content editing process is to study the tone of a manuscript. While a writer cannot please everyone, the meaning of their content should be easily understood by all readers. An editor needs to remove words, phrases, and imagery that negatively impact a message's tone. At the same time, an editor would ensure that the originality of the writer's thoughts remains intact.
Suggesting improvements
Once an editor has studied the text in detail, suggestions are made along the way. The intention is to make the text better, offer alternatives to words, rearrange sentences and ensure continuity. An editor ensures that the right words are used at the right points. Depending on the type of editing, professional editors would make innumerable suggestions. However, the main objective is to resolve issues in a copy.
Preserving the writer's voice
Editors must not edit out the writer's voice altogether! Because a writer's unique voice is the driving force for any content piece. Editors have to study a manuscript from a reader's perspective, but they also understand a writer's point of view. This makes editing a very challenging endeavor. To sum it up, the goal of editing is to suggest improvements that align with the writer's ideas and unique voice.
Eliminating repetition
Sometimes a writer can go on and on for a long time about the same idea in different ways. This rambling style can confuse a reader or push them to boredom. The content editing process aims to declutter text and remove repetitions. Writers are often too attached to their works for all the right reasons. However, a reader may not want to read a ten-page narration of an event. A content editor steps in to suggest changes in the narration, story, plot, characterization, and so on.
Proofreading and double-checking
It never hurts to double-check information and ensure accuracy. Whether you're an editor or a writer, proofreading and double-checking for errors are fundamental to the content creation.
Why is Content Editing Important?
How to write high-quality content? Vague and unclear answers often revert a question asked by writers everywhere. The secret ingredient to quality content is flawless copy editing. Most content writers often overlook the importance of the content editing process.
A proficient content editor can make good content perfect.
Content editors can help optimize the content as per SEO requirements so that the writers don't have to bother about it while writing.
A copy editor helps to create a theme and consistency in bulk content.
For any content marketing agency or a digital marketing company, a good content editor is even more crucial than a good writer to keep up with their competitors with appropriate consistency and excellent quality in content.
7 Content Editing Tools for Error-free Writing
Some writers are not comfortable with the idea of having someone editing their content. Hence, they rely on top industry software to enhance their content creation skills. Here are some of the best content creation tools that you can check out and incorporate into your daily writing process to ace up your content game:
This application is designed to take notes and capture ideas when inspiration strikes. It helps executives, entrepreneurs, and creative people to arrange their thoughts. You can also edit all you write in this application with its note editor feature. Such tools help an editor to execute the content editing process more efficiently.
This is an excellent resource for checking the readability and grammar of your text. Grammarly free and premium can be installed as a Chrome extension which enables the software to scan every piece of text on your screen and give suggestions to improve its quality. It is a cloud-based AI-powered assistant that works across platforms to review everything from spelling, grammar, punctuations, clarity, etc.
Google docs are speedily replacing MS Word with many companies preferring to work on this feature due to its easy shareability quotient. However, Google docs also make creating, editing, and collaborating easy with its in-built editing and styling tools. It is an essential tool that helps in the content editing process, as an editor and writer can work simultaneously on the document.
The Hemingway app is a writing and editing tool that helps polish one's writing. It concentrates on pointing out common errors that reduce your content's quality like inappropriate sentence construction, too many weak adverbs, excessive use of passive voice, etc.
The Ginger Grammar Checker tool makes use of patent-pending technology to produce error-free content while correcting grammar and spelling mistakes as well as misused words. It is a coveted tool that aids in the content editing process.
Yoast SEO is a popular WordPress plugin. It is a powerful tool that helps make your website search-engine-friendly and useful for personal blogs and client websites.
A massive relief for editors worldwide, Copyscape is a great tool to check plagiarism and copied content. Its free and premium versions do an excellent job of detecting duplicate content, making it a perfect addition to the content editing process.
Key Takeaways
Content editing is the process of evaluating the overall style, formatting, and content of a document. It enhances the readability and appeal of the document. A content editor also suggests changes in the document.
In copy editing vs. content editing, content editing refers to a broader evaluation of a document. A copy editor goes much deeper, focusing on grammar usage, spelling, and punctuation. They also recommend changes on a much deeper level than a content editor.
A content editor focuses on the characters, story, plot development, readability, and a general evaluation of the document in content editing vs. copy editing. They may also suggest minor grammatical changes. A copy editor's expertise includes advising changes in the repetition of words in a passage and improving sentence structure.
Evernote, Grammarly, Google Docs, Hemingway editor, Ginger, Yoast SEO, Copyscape are some editing tools that help in the content editing process.
The content editing process is one of the first editing stages that a document or manuscript goes through.
Conclusion
There is no winner in content editing vs. copy editing, for both these processes are crucial in enhancing the readability of a document. The content editing process is one of the first stages in editing a document or manuscript. It is proceeded by line editing, and post that, copy editing comes in the picture. In copy editing vs. content editing, it could be said that a copy editor combs through the document more meticulously, as compared to a content editor. A copy editor focuses on improving syntax, punctuation, and grammatical errors. If you're just starting as an editor, don't be overwhelmed. Learn from your experience and engage in fulfilling relationships with your writers. It's important to motivate each other with suggestions without sounding too harsh or arrogant.
FAQs
1. How to write high-quality content?
The content editing process goes smoothly if the content is written well. However, do not criticize yourself for making minor grammatical errors. It is only human. A content editor helps to enhance readability by eliminating such grammatical errors. You can improve your content writing abilities by carefully going through all the standard guidelines stated for SEO optimization. You can also keep in mind critical key factors that are the prerequisites of a quality content copy. These are:
100% originality or no plagiarism
Zero grammar errors
No punctuation errors
SEO optimized (if the copy is meant for publishing on the web)
Good presentation
High readability
2. How to become a good content writer?
There is no secret to becoming a good content writer. You have to have a flair for writing, which can only be developed through extensive reading and listening to good content. You can use various content writing tools to enhance your skills, but it can only do so up to a point. If you want to try blogging, several blogging courses for beginners are available online. One of the best tips to keep in mind while writing is to think of your audience. Who are you writing for? It will help you address their pain points and make your content more appealing. Never publish your articles without running a single edit. The content editing process helps identify grammatical errors and improves the overall readability of a document.
3. How to write the best content?
To write the best content for any given purpose, it is important to keep the following things in mind while writing the content:
– Target audience
– The platform where it is going to be published
– Adding value for the readers
– Making your content interesting
– Adding credibility with facts and statistics
Do not forget to edit your content. The content editing process is crucial in enhancing the readability of your document. You do not want to publish your content with sentence fragments and grammatical errors.

4. How to increase the readability of content?
To increase the readability of the content, always remember to use simple conversational English and follow the basics of the content editing process. It helps if you divide your content into various sections and subsections using catchy headings. Adding flash words and keeping the language fluid with an active voice further helps to improve the readability score for your content.
5. Which is more important, copy editing or content editing?
In copy editing vs. content editing, there is no clear winner. Both content editing and copy editing are crucial in the editing process. They are two consecutive stages in the editing funnel. The content editing process is often followed by copy editing. While the content editing process provides an overall evaluation of the document and suggests improvements in plot, story, characterization, copy editing focuses on improving the syntax, grammatical errors, and punctuation.