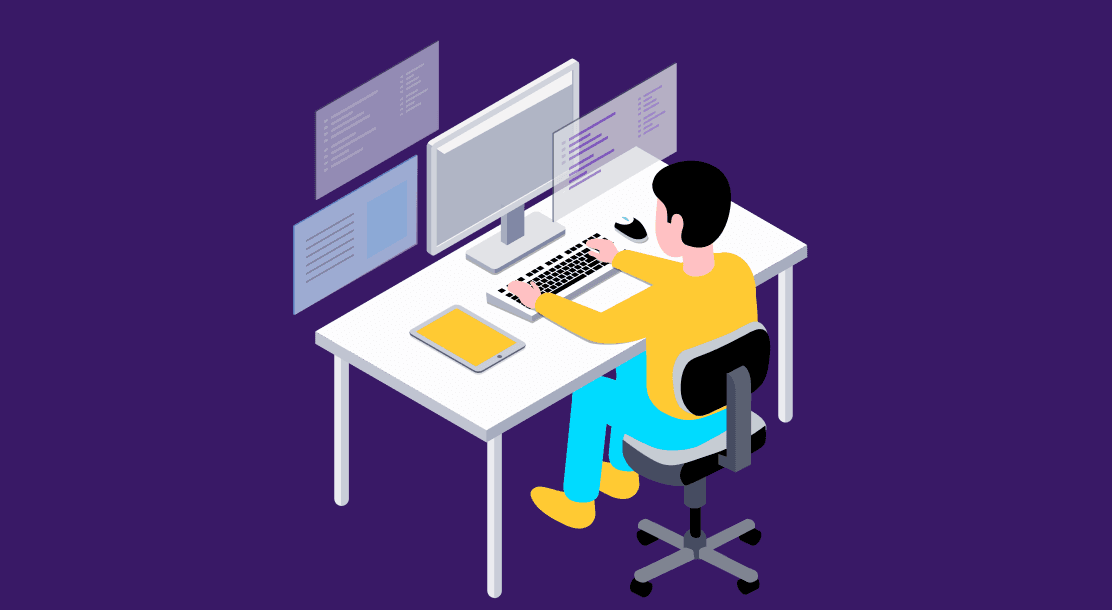 While many web developers work full-time for one firm, others dream of working from home and appreciate the freedom that comes with it. Freelancing has become just as fulfilling as working full-time for a single employer. Social attitudes about freelancers have evolved, and they now get the same respect as full-time employees.
On the other hand, many companies find it expensive to hire full-time web developers. Consequently, these businesses employ freelance web developers, particularly for one-time assignments
Fresh web developers, including professionals who are currently employed as web developers but want to supplement their income with freelance work, may find freelancing enticing. Freelance web development projects may be a lucrative career for various reasons. Still, it would be best to get to the correct start to be successful.
Let's look at what a freelance web developer is before we delve deeper into why you should consider being a freelance developer.
What Is a Freelance Web Developer?
In web development, freelancer web developers are independent contractors who work on a project-by-project basis for various customers. Freelance web developers may establish their pricing, collaborate with anyone, and engage in as many assignments as possible.
Working as a freelance website developer means you are your boss and may work from anywhere with an active internet connection and get compensated for it.
After discussing your concepts with a client, you are in charge of bringing their ideas into action. An independent web developer has the opportunity to work with clients from all around the world. Freelancers have the freedom to determine their rates, hours, and clients.
Programming languages, web design, data management, and ensuring that a website is compatible with various browsers and devices are among the many services offered by freelance developers. Do note that there is a difference between web developers and web designers.
Why Should You Consider Being a Freelance Web Developer?
As a developer, you either have a long-term contract with a single company or switch positions every year. Initially intriguing, the situation soon dwindled to tedium. What's most significant is that as globalization and technology evolve, a wide range of new possibilities is becoming available.
If you're a computer nerd, you're probably searching for a means to expand your skillset so that you may establish your hours and work from anywhere you choose.
If you consider succeeding as a freelance web developer, you must have technical and business abilities. Focus on your technical and business capabilities if you want to be a successful freelance developer.
Coding skills
It is assumed that web developers have a working knowledge of computer programming. Learning HTML, CSS, and Javascript is an excellent place to begin. It's possible to learn how to code from the ground up in various ways, online and offline.
Even if you know HTML and CSS, you can start as a freelancer. With a CMS like WordPress or WebFlow, you don't have to worry about writing code. These are the methods used by many successful freelancers, and they're good to use as well.
Business acumen
A typical blunder made by new freelance website developers is failing to see their work in this capacity as a company. Many different abilities are required to start a company. These include but are not limited to branding and pricing negotiation. You'll be in charge of your own company, from finding new customers to keeping tabs on your financial flow.
Step-By-Step Guide on Becoming a Freelance Web Developer
When considering working as a freelance web developer, you need to follow some fundamental steps. These include:
1. Identify your passion for web development and pursue it
There has been a tremendous rise in recent years for freelance web developers. This trend is expected to continue and rise in popularity in the coming years.
For those looking to start freelancing web development, it is vital to ensure firsthand that web development might take long years to build a business. You must have a great work ethic to endure long enough to achieve it.
2. Determine what type of web development to focus on
There are three different types of web development you need to consider.
Front-end development
Front-end developers design UI components like buttons and icons and pick colors, graphics, and typography. This implies you must enhance every visible and clickable element of a site design. Front-end web developers build the user experience.
Front-end web developers must be fluent in HTML, CSS, and JavaScript. It will significantly help if you are conversant with applicable search engine optimization (SEO) tactics.
Back-end development
Back-end web developers should be familiar with PHP, MySQL, Python, and their respective frameworks. Software engineers should also learn soft skills like communication and cooperation because good communication with other teams is necessary for a fully operating site.
Back-end web development involves creating the site's code, databases, APIs, and other server-side operations. Backend developers work on the logical side of a website's architecture.
Full-stack development
Full-stack development combines front-end and back-end development knowledge and talents. You must be able to develop a website's user interface and manage its server services. A full-stack developer must be able to handle all aspects of web development.
3. Set up your firm
Once you've chosen to get started, the first step is to get your business up and run it. Being a sole partner or forming a company are only two possibilities available. You must ensure that everything is legal and that you comply with all applicable tax laws. To operate as a freelancer, you must utilize a contract specifically developed for consulting services and sign it with your customers.
4. Build your freelance web developer website
Having a portfolio of accomplished customer projects is one of the most challenging components of freelancing. Your freelance web developer website should be a display of all your previous work.
Create a dynamic, engaging site leveraging current design trends. Indicate that you developed the site from scratch and can do so for customers. Say who you are, what you care about, what you can do for them, and why they should select you.
Include connections to social media sites, a contact form, or even live chat. Include a blog to demonstrate your knowledge of current web development trends and practices and improve your SEO.
5. Create a unique identity for yourself
To establish yourself as a successful freelancer, you'll need to work hard to get your name as an expert in your profession. If you put yourself out there, network, educate, and write like an authority, you'll be able to meet new people and have them discover you.
Among the social networking sites to locate customers, LinkedIn is business-oriented and will help you expand your professional network. Update your profile periodically, share your work, and reach out to potential collaborators. Depending on your work and target audience, you may also market your company on Facebook, Instagram, and Twitter.
Blogging is another technique to get visibility. While you won't get direct leads from them, it's an excellent method to establish yourself as an authority.
6. Concentrate on a niche
Your reputation and competence will develop if you focus on a particular area of expertise. Trying everything is a mistake new web developers make; it makes them seem incompetent and leaves them vulnerable to being replaced.
Establishing oneself as an authority in a specific field is essential to a successful freelancing business. As an experienced web developer for construction businesses, you want to be the first name that comes to mind when a company wants to build a website.
Those who use your services will be happy to pay a premium. The most acceptable marketing method is word-of-mouth, and your reputation will spread swiftly in your sector.
7. Retain clients
Retaining clients is vital while you have consistent employment. The most excellent strategy is to give exceptional service and constantly make your best effort.
Always seek to respond and provide tasks on time. If you don't reach the deadline, inform the customer immediately. If you continually miss deadlines, review how you estimate and quote customers, and extend as needed.
Also, make sure you invoice promptly for your job. Invoices should also mention a due date to avoid misunderstandings regarding late payments.
8. Stay up to date with web trends
Learn new web development languages and technologies as they emerge and keep up with the latest trends in the field. When you have time off, make use of it. Stay on top of things by subscribing to industry-specific newsletters and publications. This will keep you current as a developer and enable you to keep expanding your clientele as your skill sets evolve.
Conclusion
While establishing a freelance web development business demands tremendous time, effort, and challenging work, the perks of the freelancing lifestyle far surpass this.
To ensure you're becoming the best freelance web developer, keep learning and refining your skill set to serve your clients best. It would help if you constantly enhance all areas of your freelance web development company.
FAQs
1. How much does a freelance web developer earn?
In India, a freelance web developer can earn anywhere from a ₹ lakh to ₹ nine lakhs, and maybe, even more, depending on their expertise. However, on average, the annual salary of a freelance web developer is around ₹ 3.5 lakhs.
2. Do I need a degree to become a web developer?
No, you do not need a degree to become a web developer. Web development is a pretty flexible career and features multiple entry points to enter into it. As a web developer, the most important thing is that you need to be proficient in different software programs like JavaScript, HTML, and CSS.