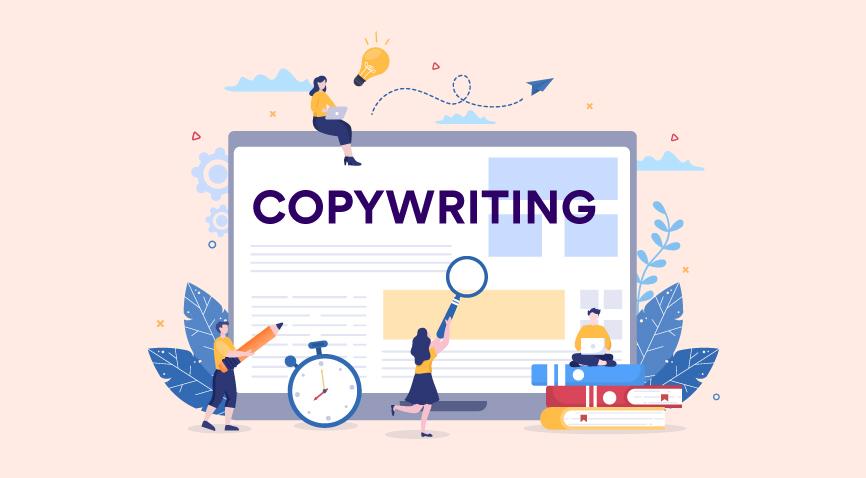 Table Of Contents
Copywriters' Jobs and Workplaces
Career Scope in Copywriting
The Best Copywriting Websites
Key Takeaways
Conclusion
FAQs
Today, finding copywriting jobs is not that stressful or difficult. One can hunt for either freelance writing or full-time work with the convenience of the Internet. Freelance copywriter websites offer many writing jobs, and you gain more experience that helps you start and develop your copywriting.
A copywriter's main job is to draft messages or write about the company's products to promote and educate people about the product. They create write-ups for the company's email newsletter, social media posts, advertisement content, or brand taglines.
Their duties include coming up with unique and quality content for marketing and promotion of the products and the services. In this digital era, almost everyone who wants to promote their business hires freelance copywriters.
Career Scope In Copywriting
The career scope of copywriters is increasing at a time when businesses are establishing themselves on digital platforms. Big and small companies are constantly hiring freelance or full-time copywriters. The shift to marketing on digital media has been tremendous, especially after the COVID-19 pandemic started last year! If nothing else, the need for solid and impactful words to grasp the customers' attention is of the essence now more than ever.
The biggest skill of a good copywriter is the professional understanding of how and what words can reflect your brand's voice and vision in the best way possible. This became more crucial in the last two years!
The Best Copywriting Websites
Several sites offer writing jobs at quite a high fee! But, more than money, you need to find the right platform that matches your writing preferences while also helping you to earn well. Choose sites with a solid track record of transparency, consistency, and industry-wide acceptability.
Many reliable resources can help you find a copywriting job to start or build your writing business. Here are the top 7 freelance copywriter websites for finding writing jobs.
It is one of the best sites for copywriters to start their freelance writing work and earn money from the comfort of their homes. It helps you land your first writing job, plan your work and grow your writing business.
Pepper Content is a treasure trove of opportunities for all freelance writers across the globe. It gives a skilled workforce of over 45,000 content creators a seamless, transparent platform. The best part is that they have an efficient and transparent payment system. Pepper Content also offers a great writing job board with opportunities to connect with different industries from technology to finance, wellness to beauty, and more.
2. Solid Gigs
Searching for copywriting gigs online by scrolling down the endless list of copywriting jobs is highly time-consuming. SolidGigs solves that problem for you. It takes care of the job finding work for you by filtering out the top 1% of the writing jobs.
The team behind SolidGigs ensures you get unlimited access to their resources to hunt for the best copywriting jobs.
3. Flex Jobs
You may look at Flexjobs if you want flexible copywriting jobs that best suit your working conditions. It saves your time and energy by providing high-quality remote jobs in more than 50 career categories.
The Flexjobs team helps you choose the best copywriting gigs by sorting out jobs in different criteria. It offers advanced job search features like choosing a location; you can pick remote work, the time duration of the job, from freelance to full-time, and the job categories.
4. Pro Blogger
This is a good choice if you want to start a blog with great content and become a professional blogger. Problogger offers blogging tips and advice while also delivering in-depth knowledge of blogging trends.
The Problogger team offers various courses for bloggers to help them create profound content and attract readers.
5. Clear Voice
Clear Voice is one of the best freelance copywriting websites. Like other sites, it provides a lot of blogging-related jobs. You can choose Clearvoice if you are looking to work in the content marketing field.
It attracts famous brands that want better content for building better traffic and engagement of consumers. Clear voice already engages with more than 25,000 freelancers.
6. Creative Jobs Central
At Creative Jobs Centrals, you get to filter and choose jobs according to your preferences easily. You can select the country you want to work in and the category of work like copywriting, content writing or web content writing, etc.
It has a job board for college students and professional writers. Hence, you get writing jobs according to your preferences. At the same time, you gain experience as well.
7. Get Copywriting Jobs.com
Another site added to the list of the best copywriter websites for finding high-quality copywriting gigs is GetCopywritingJobs. As the name itself suggests, you get the best copywriting jobs quickly. Their team connects freelancers and writers to quality companies and clients for copywriting jobs.
Key Takeaways
Choose your niche: Before getting started on your writing business, find what interests you and what you are passionate about.
Research: Many companies and clients are looking for good freelancers. Before you take up any copywriting gig, know about the company, the products, or the services it provides. Understanding the client will help you write content aligned with the brand's voice.
Understand the job requirements: You need to look at the job specifications for any freelancing work before starting with it. Check whether you are interested in a copywriting gig and you have some experience in that area.
Challenge yourself and seek to learn more: Taking up any work is not the solution to becoming a good copywriter. You need to go through the process and see whether the job helps you grow and add value to your skills and experience. Challenge yourself to take up jobs that seem to demand more effort and require you to learn specific skills. Explore different niches with a wide range of clients.
Keep up with current trends: It is crucial to stay aware of the current demands and trends in the content market. To make the most out of your copywriting job, you must grab opportunities at the right time. As a copywriter, you must be well updated with the latest trends and have the habit of reading about different things. This will ensure that you have multiple job options to choose from as well.
Conclusion
These 7 freelance writing sites offer thousands of writing opportunities, from blogging to social media posts, website content to brand taglines. However, these are not the only sites for getting writing jobs. There are many more websites and freelance copywriter websites that provide good copywriting gigs.
Don't wait around for referrals and opportunities to knock on your door. Instead, actively look for copywriting websites online that have a lot more options to offer.
Now that you are ready to start your freelancing business and know how to find copywriting jobs, you can begin your writing career early and get your first few copywriting gigs.
FAQs
1.

How do I get my first copywriting gig?
1. Connect with copywriting websites that offer a variety of writing jobs
2. Network with people related to or in the field of marketing
3. Interact with businesses during networking events 
4.. Build an online presence on platforms like LinkedIn
2.

How can I become a good copywriter?
To become a good copywriter, you must know your strengths and weaknesses in writing. Choose the writing niche of your interest and experience. Select a suitable company according to your knowledge and skills.
3.

Can I earn well in a copywriting job?
Yes, you can earn a good amount of money in copywriting. However, it varies for different copywriters as it depends on the writing skills you have and how much prior experience you have.
4.

What are the highest-paying copywriting jobs?
1. The highest-paying writing jobs include:
2. Long-form sales page writers.
3. Pay-per-click campaign managers.
4. Content writers aligned with Search Engine Optimized (SEO).
5. You can get higher pay by working for well-known brands and clients.
5.

How do I garner copywriting experience?
You gain experience working with different clients and in various job categories by working on freelance copywriter websites. Focus on your journey and learn while you are earning. The more writing work you take up, the more experience you get.
6.

How do I market myself as a freelancer?
Establish and present yourself online. Set up your website and be active on social media handles. Choose the best copywriting jobs and show the world what you can do!