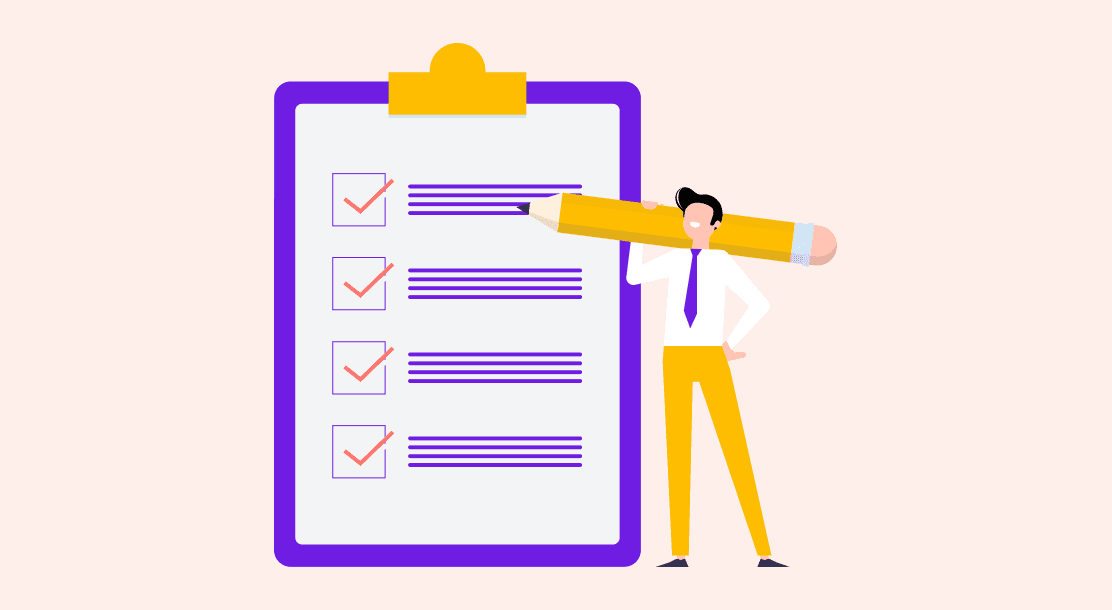 Here's a complete guide to writing listicles in a way that you get more engagement and traffic to your website.
With billions of people connected to the internet, blogs and articles have become imperative for marketing strategies. Quality, informative, and keyword-rich blogs can increase website traffic and build audiences' trust. While its importance is only escalating, listicles still suffer from a poor reputation. Regardless of this fact, list posts yield top results, benefitting your marketing efforts.
Like blogs, listicles aim to provide value and information; however, the latter posts are easy to read, scan, and understand.
Let's say you have two topics: How to upgrade your marketing efforts and 6 ways to boost your marketing efforts. Which one will you choose? Certainly, the latter! You may wonder why? The answer lies further in this article as we will give you a detailed guide to writing listicles.
What Is Listicle?
Even though a listicle is an effective marketing strategy, only a few are aware of its true potential. Listicles are merely articles written in a list format to educate the target audience in a better way. The items in these lists are explained in detail. Even though it isn't a popular format, it is more understandable and enjoyable for the readers.
Presenting long articles in bite-sized portions is a great way to attract an audience and increase click-through rates (CTR). But knowing its definition is only 1/4th of the total information. To boost your marketing efforts, you need to have a thorough knowledge of how to write listicles. Thus, we are here to make your writing more interesting and informative.
The Ultimate Guide to Write Listicles
1. Check the title relevance with the list
The main ingredient in how to write listicles is checking the title's relevance with the listicle. List posts may be scannable but require focused attention. An exemplary title doesn't guarantee a perfect list. What if these do not match?
For example, you started with the title ''how can content marketing help you?'' Whereas one of your list titles says, ''Don't overdo content marketing.'' It sways away from the reader's attention from the primary topic. It's a fundamental part of marketing: You never confuse readers.
While writing listicles, ensure you proofread and double-check the minutest details. Knowing the answer to ''What is a listicle?'' isn't enough. You have to dig deeper.
2. The article should be crafted in the form of a list
Prerequisites for writing a listicle are extensive research, thorough knowledge of the topic, a pool of ideas, and presentation in a list format. Make this checklist and see to it that everything is ticked off.
Before writing an article, ask yourself this question: can this article be converted into a listicle? If yes, then go, and create a bang on list post. If not, don't try to force it. It will only hamper the article quality, resulting in poor traffic.
It is always advised to keep your creative juices active. They can always turn dull articles into top listicles. Remember, always dig deeper; this guide to writing listicles will only open new horizons for you.
3. Keywords are value bombs
Someone needs to tell Google about your web page's content. No one can do it better than relevant and quality keywords. Keywords serve as a linchpin between seekers' search results and matching content. Hence, you cannot miss out on keywords while optimizing your articles.
Keywords are an essential part of the marketing strategy because they can help you rank higher on search engines. While you try to understand every aspect of a listicle, make sure to keep keywords a high priority.
4. Implement the KISS principle
You may implement the KISS (keep it simple, stupid) principle to avoid confusing readers. Your target audience is here to get as much information as they can. Thus, don't fill your articles with fluff but with value and knowledge.
First, make the title relevant and engaging enough to entice the readers. Your audience needs to know what they will find in a particular article. Make a checklist and see if you have covered everything. While you figure out how to write listicles, be as specific as possible in your approach.
5. Make an outline
One of the important things to consider in this guide to writing listicles is to create an outline before you start writing. A well-structured outline will keep your ideas organized and let your thoughts and creativity flow without any obstacles.
Without an article, there is no clear path to start with writing; however, creating one can give you a clear flow of ideas and guide you better. The better you write, the easier it becomes for the audience to comprehend the messaging. Check out your competitors' websites and see what ideas you can pick.
For example, let's say you want to write about ''reasons why email marketing is important.'' The topic grabs your attention because it depicts what you need. You may go through the competitors' articles and jot down ideas. Observing your competitors closely can help you identify ample opportunities.
6. Images are the game changers
How to make a boring article interesting? Use relevant and high-quality images. Images grab audiences' attention quicker than plain text.
Images act as an interesting element in listicles. While readers may seem to lose interest while reading an article, a relevant and engaging image can bring them out of that zone. Using high-quality images can build the trust of your audience and increase website traffic.
As you are reading this guide to writing listicles, you may have observed a couple of images. Well, the reason is simple. It improves the reading experience of the users. Moreover, it is said that 90% of the information transmitted to our brains is usually in the visual form.
7. Avoid clickbait titles
Remember, your audience is here to make a connection and gain value. An important parameter of how to write listicles is to avoid misleading titles. These clickbait titles can ruin a brand image and erode trust.
Apart from this, it will affect your SEO negatively and hamper search rankings. It may lead to a drop in website traffic too. Deliver what you promise to the readers.
8. Surprise your readers
Many times readers know what they are expecting out of articles. Because of this, they either don't click on the article or leave it halfway. You have to keep them glued to your listicle till the end. It can only happen when you offer them something unexpected that even your competitors haven't offered yet.
You may always be surrounded by questions like how to write listicles or how to make listicles? Well, it's a trick not everyone knows. So be clever yet creative while writing listicles. Provide your readers with groundbreaking tips and insights. It will keep them hooked till the end.
9. Make your conclusion as engaging as your title
Often, you may have heard about writing attention-grabbing titles. Guess what? Your conclusion needs to follow suit. You need to remind your readers about the gist of your article. How is that possible? Certainly with engaging conclusions.
A good conclusion is as crucial as a good intro. It's on you how you provide closure to your readers. No matter how you decide to do it, make sure it entices them to come back. In the end, all you have to do is present your message in a better way. So do it and make it extra relevant to the audience.
Conclusion
Regardless of how this guide to writing listicles makes it seem simple, the fact is that list posts aren't easy to write. Like any other articles or blogs, they require the same amount of effort and creativity. If you plan and outline your listicles appropriately, the chances of higher search engines also increase.
Flesh out your list of posts with value and relevant information. The marketing industry is dynamic; however, one thing has always remained constant in this industry — Quality articles always outperform others. We have already answered your question- ''how to make a listicle?'' It's time you write one.
Key Takeaways
● Don't mislead the readers. As this guide to writing listicles says, keep the title relevant to the entire list post.
● Use relevant keywords; however, avoid keyword stuffing. It can hamper your SEO rankings.
● Creating an outline makes an article even easier to understand. Moreover, the thoughts and ideas flow smoothly.
● Don't pay heed to the rumors about listicles' bad reputations. List posts are easy to read, understand, and invite more click-through rates (CTA).
● Be specific while writing listicles. It would keep your readers engaged.
FAQs
1. How are listicles helpful for a brand?
Listicles simplify the content and improve the layout. As a result, readers don't have to skim through lengthy articles anymore. Listicles appeal to the audience in a polished manner and persuade them to consume more content.
2. Why are images essential while creating a listicle?
Articles with relevant images get 94% more views than those without images. It's undoubtedly an excellent technique to keep your readers glued to your list post for a long time.
While you figure out how to write a listicle, make sure images are always a part of your strategy. High-quality and relevant images can build the trust of your audience and aid them to understand your content better. Moreover, people remember visuals more than text blocks. So, do not forget to use images in your content.
3. How to write listicles?
As mentioned, follow and execute all the steps mentioned in this guide; however, don't be shy from using your creativity as well. Let your ideas flow and help you in creating an attention-grabbing list post.
Do remember these pointers: Keep the title relevant to the content and don't divert from the topic. Moreover, be as informative and yet as specific as possible. The readers love brands with on-point messaging.
4. How are keywords a crucial part of listicles?
If you plan to rank higher on Google, there is no better way than to optimize your articles with relevant keywords; however, you shouldn't overuse them. It may work against you.
Besides this, keywords help communicate what your web page is all about with search engines. Make a list of primary and secondary keywords and use them accordingly. Make sure to use them in the most organic way possible.
5. Why do people still write listicles?
Even though this format is less spoken about, it offers quite a few benefits to the brands. But, avoid fluff. Well-written and quality listicles are still attention gainers.
Provide authentic and valuable information. Moreover, don't forget to offer some valuable tips to the readers. It may help in increasing their loyalty to your brand.
6. What should a listicle title accomplish?
● Entice the audience: A catchy title would even manage to hook a casual web surfer.
● State the value proposition clearly: With ambiguity, readers may get disappointed. Hence, it is wise, to be honest, and candidly mention what they can expect from the article.
● Quantify the content with numbers: Numbering tips or ways lets your audience gauze your content better. So, depending on the total number in your listicle, your content would attract an apt audience.