Content
Everything You Need to Know about Creating Thought Leadership Content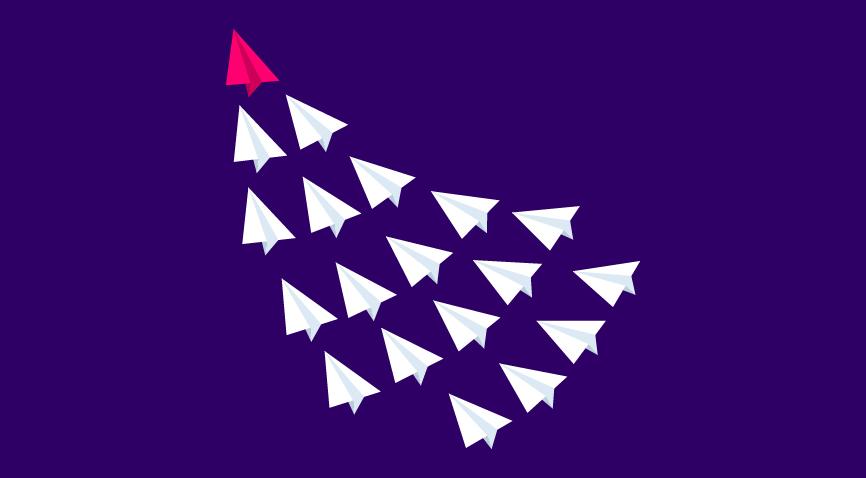 Table of contents
What is Thought Leadership?
5 Best Practices of Thought Leadership Marketing
Bonus Tips on How to Write Thought Leadership Content
5 Best Examples of Thought Leadership Content
What Makes a Good Thought Leader?
Key Takeaways
Conclusion
FAQs
Creating thought leadership content builds an audience's trust in your expertise in the field. However, it is more of an effect than a cause. You do not start as a thought leader; you become one. Find out everything you need to know about writing thought leadership content in this article.
As a marketer, you have to experiment with different types of thought leadership content that nurtures trust in the market, improving your brand authority and reputation. Almost every big name in any industry is known for more than just being successful at their business or profession. They are considered leaders when they disseminate their expertise by, no doubt, giving direction internally within their organizations and sharing it with others. Over the last few years, this has given rise to a new type of content marketing, which is the subject of our discussion today.
What is Thought Leadership?
Thought leadership builds an audience's trust in your expertise in the field. However, it is more of an effect than a cause. You do not start as a thought leader; you become one.
Thought leadership isn't just about providing high-quality products and services but instead bringing your industry to a higher level of talking about the numerous challenges faced and offering solutions based on your expertise and experience. A thought leader isn't just great at influencing people with answers but also explaining why their approach is better.
According to a study by Edelman and LinkedIn of 1,200 respondents, 58% of respondents read one or more hours of thought leadership content every week. Furthermore, 55% said they used thought leadership to qualify the merit of their hire organizations.
Thought leadership content is responsible for influencing consumer decisions. Over 60% of consumers reported buying a product and service after reading thought leadership content that offered them value. Marketers in varying niches explore new ways to share their ideas, with thought leadership at the core because expert content can encourage expert opinions.
5 Best Practices of Thought Leadership Marketing
1. Be rooted in deep research and add value
The most fundamental aspect of creating thought leadership content is to provide valuable experiences to viewers. People who engage with your content should be inspired to think, take action, and indulge in productive discussions.
Since more people are on the internet, your content marketing quality should be a top priority. Video resolution, image resolution, vocabulary, and every little aspect that goes into your content marketing template should be double-checked for quality. Quality content offers uninterrupted engagement with your ideas.
Ensuring that your thought leadership content is grammatically accurate, readable, interactive, and engaging will go a long way in establishing your presence as a thought leader. Whether you're doing it for yourself or a brand, thought leadership is about committing to make the world a better place with ideas that have an immediate impact on the environment.
2. Say something new or say something in a better way
There is a lot of content on the internet already, and one could argue that unless you have a unique or new point of view on a subject, don't bother talking about it. This may not always be possible. With thought leadership content, it's great if you have something new to say about a subject relatively less spoken about, for instance, perhaps a new technology or product.
Another way to approach the subject is to use perhaps different, more engaging ways to say the same old thing. Can you give an anecdotal approach to drive the same point home, or maybe an exciting infographic can do the trick? Tom Fishburne's comic, the Marketoonist, is an excellent example of this. He may not be saying something new each time, but his style is witty, irreverent, and fun and is bound to make you think and also draw a chuckle out of you. You could also try to experiment with different formats of thought leadership content.
3. Use of social media effectively
Social media is buzzing with activity, and thought leaders are producing content specifically to increase their social media followers. That's because an idea worth sharing is complemented by the following.
Sharing blog posts about your industry, vlogs, and infographics can showcase your expertise on any given matter. You can use social media to promote your thought leadership by engaging with other thought leaders. Social media offers a broader view of your audience, which helps you make the most of your thought leadership content marketing strategy.
When posting on social media, you have to maintain consistency by following a schedule to share content at the right time to reach your audiences. To become a trusted thought leader, you have to post informational content frequently, where the market garners a solid idea of what you represent.
Picking the suitable types of content marketing like videos, images, blogs, and infographics helps you refresh your targeted audience's views. Choosing the right social media platform will give you the best engagement for the type of content you produce.
4. Spread your thought leadership message with your team
Thought leadership content is not limited to your industry expertise but the value produced in your imminent environment. The best way to showcase your thought leadership is by promoting your team members' content.
As your audience expands, they have multiple options and opinions about your brand, and thus it is your responsibility to encourage your team to share their expertise. An expert may provide helpful information, but a team of experts can bring real value.
Since thought leadership is about creating credibility, your team's thought leaders can add to the value you provide through content. Some ways to get your team to disseminate thought leadership content:
Online events and speaking seminars
Guest podcasts, videos, and webinars
Media connections and press releases
Guest blogging
One of the most valuable assets of a thought leader is their ability to create a team spirit. Nobody can be a better judge than your team members.
5. Find your style
The way thought leadership content is delivered is as necessary as the content itself. Two things can play a role in determining your winning style: the industry and the type of audience you are catering to and the tone and style of writing that comes most naturally to you. This could be story-led, data-oriented, very visual through videos and informative carousels, or even through live sessions answering questions around your area of expertise.
Let's consider a lot of the content created by internal leaders at Tata Group of Industries for a minute. One of the web pages of the Tata website is titled "Tata Stories of Heritage." All thought leadership content around the brand and its leaders is extremely anecdotal,i.e., driven by stories of Ratan Tata and his response to various situations. This is the case because stories help build a legacy that Tata has established over decades of existence in India.
Bonus Tips on How to Write Thought Leadership Content
6. Analyze the competition
Keeping up with the plethora of content is crucial in figuring out what works with the baseline audience. The best part about thought leadership content is that it primarily focuses on empathy, and concludes with a solution-driven approach or strategy. This means addressing key issues that the industry at large is opening up about is not only necessary but crucial.
In doing so, taking inspiration from your competition becomes inevitable. However, always put your own 'brand twist' to existing content. The focus of competition analysis should be to fill gaps in the content-sphere, not extract from existing value.
7. Learn from your audience
One of the best places to find thought leadership topics is to screen through customer interaction portals. From emails to comments, involve your Customer Relationship Management team to come forward with the most frequently asked questions. Analyze brand personas by answering the following questions:
Who has the most difficulty using your product or service?
Which type of audience loves your product?
What audience needs your product but is hesitant to try.
Your thought leadership content should ideally target the audience that fits question 3. Your best bet is for audiences who love you or find your product difficult to understand for content that you can upsell.
8. Choose the face of your content appropriately
Legacy organizations like Tata and Wipro have built a reputation for their top ranks by actively participating in philanthropic causes. However, it's not the only way to do it. From Subject Matter Experts to passionate consultants and educators in your field, you can choose anyone to be the face of your thought leadership content. Here's how HiMama, a daycare chain, does it.
Despite being one of the worst-hit industries in the pandemic, HiMama continues to build trust and support with parents and daycare owners by hosting the aptly named 'HiMama Helps' webinar series every Thursday. It's not hosted by the high-ranking C-Suites, but by subject matter experts designated as 'Community Ambassadors' who can understand the daily nitty-gritty of running a daycare.
9. Be ready to take sides
When it comes to social or economic importance, you probably can't please all your customers and well-wishers. It's necessary that you lay out the rulebook and stance of your organization when it comes to controversial or touchy subjects and keep your staff aware of it. Taking a solid point of view in thought leadership content is not only necessary from a moral point of view, but it also justifies to your audience that you are, in fact, a strong advocate for some causes that may be of significance to them. One way to make your audience aware of your leanings is by running daily/weekly/monthly op-eds or columns on your blog portal.
10. Challenge your thought leaders
One of the most significant advantages of thought leadership content is that it gives you the power to introduce your product to an audience who aren't actively searching for the solutions you can provide them. For example, try and network with live streaming and public speaking engagements where a plethora of other experts from related but not necessarily competitive spheres interact. Use your thought leaders to carry your message to previously unchartered territories so that you can expand the sales funnel.
5 Best Examples of Thought Leadership Content
In the wake of the pandemic, it became inevitable that remote work was the only way forward and that endless virtual meetings would be an unavoidable workplace routine. While getting used to technology is simpler for the younger audience, it's much more difficult for those who are ingrained in traditional office culture. With Airmeet 101, the virtual conference company has put together many resources for everything from meeting etiquettes to organizer challenges.
Jay Shetty is a brand all by himself. His business? Thought leadership. Find everything you need to know about marketing value from a coach who tells you how to become a coach. If you're asking the question of how to become a thought leader, you'll find all the answers here.
VQ 2.0 by Vinita Chaitanya
Interior designers to Deepika Padukone and Kiran Mazumdar Shaw, Bangalore-based architect Vinita Chaitanya spills the tea on all things maximalism — her signature style. She frequently brings high-profile guests to the short sessions and holds masterclasses to spread her immense knowledge in the field, gathered in over 30 years of experience. It just goes to show that all you need is a passion for sharing insights on your industry to bring thought leadership content alive.
TaxBuddy.com
Tax buddy is a savior every April for youngsters who are comfortable with going the online route for filing taxes. To help new earners understand the changing systems in India. TaxBuddy has a wiki-style Income Tax Guide that explains the IT Act. For addressing more common concerns about money, turn to their blog section for exciting insights.
There are never enough challenges to satiate the daily adrenaline rush for the health buffs out there. AllForSports is a dedicated coaching and events organization platform by Decathlon. Here, the thought leaders are the sports coaches themselves. Blogs and guides keep the page active and filled with fun and valuable content for fitness enthusiasts.
What Makes a Good Thought Leader?
Content is king, and quality is the throne. These four pillars of thought leadership content revolve around producing high-quality content that drives engagement and results in brand advocacy.
Produce valuable content
Provide educational insights
Offer accurate information
Use a targeted approach
You have to know your target audience and create content that matches their interests by introducing insightful advice on solving a challenge or creating a more fulfilling experience. Thought leadership evolves with your knowledge of the market and the industry, gradually forming bonds with people to encourage mutual understanding and learning. Now that you have a fair idea of writing thought leadership content challenge your brand to take over subject expertise and establish yourself as a credible source of all-things-information in your industry.
Key Takeaways
Creating thought leadership content is one of the best ways to prove that you are an expert in your niche. It makes your target audience more likely to trust your product or services.
Detailed digital blogs, podcasts, informative videos, newspaper articles, webinars are different types of thought leadership content that helps brands showcase their expertise in a niche.
A company must integrate different types of thought leadership content in its content marketing strategy to grow business revenue.
Thought leadership content is rooted in research and aims to educate, inform, and say something new. The article or video provides tons of meaningful information for the user.
Spread thought leadership content on different platforms. You must use social media effectively to spread the word; if you don't post about it, no one will get to see your excellent content.
Always take customer feedback seriously. If your thought leadership content is not striking a chord with your target audience, you have to change your approach content format or write about a different topic.
Analyze your competitors to get deeper insights on what kind of content is popular with the audience. It will help you to create more innovative thought leadership content.
Conclusion
Creating thought leadership content is one of the best ways to build a credible website. By providing free and innovative content, you prove that you are an expert in your niche, and your audience begins to view you as a reliable source of the latest updates. When your audience trusts you, they are more likely to purchase your product or service. Mix and match between different thought leadership content types. It will make your content more exciting and foster engagement.
FAQs
1. Why is thought leadership content necessary?
Thought leadership content establishes your brand as an experienced and profitable venture. It helps keep your audience constantly engaged with your work. Most importantly, it enables you to build a solid and empathetic reputation in the market.
2. What are the different types of thought leadership content?
Most often, thought leadership content is thought to be all about webinars, exhibitions, public speaking, and newspaper editorials. However, in the digital era, thought leadership content can result in independent research, EBooks, whitepapers, blogs, and podcasts.
3. How to develop a thought leadership strategy?
Most of the parts of developing a good thought leadership strategy are derived from the basics of content development. Alternatively, you can outsource the strategy development process to experts in the field.
4. What are the most important thought leadership skills?
No matter which format you're developing a thought leadership strategy, be it audio, video, or written content, always make sure that your tone is confident, impactful, and research-oriented. Make sure to put forth your critical thinking skills as well.
5. Who should (and who shouldn't) develop thought leadership content?
It's a myth that only specific niches benefit from thought leadership content. As seen in the examples above, both B2B and B2C brands from all market arenas can develop successful thought leadership strategies.