Marketing
7 Email Writing Best Practices You Should Know About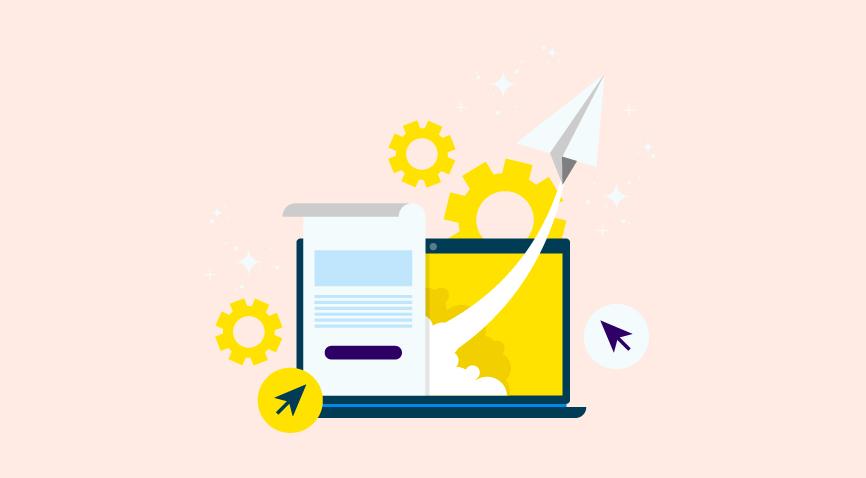 Table Of Contents
Email Marketing and its Importance
Email Writing Best Practices
Key Takeaways
Conclusion
FAQs
It doesn't matter whether you are trying your hands at email marketing or are simply on the lookout to learn how to write better emails, this article will do you good! While emails may no longer be our primary form of communication, they remain incredibly relevant.
We wake up to work emails, receive event invites over emails, and find out about updates/offers of businesses we subscribe to via – yes, you guessed it – emails! It is only natural then to want to sharpen your email writing skills. Let's find out about some data-backed email writing best practices to help you elevate your email communication.
Email Marketing And Its Importance
First things first, let's talk about what email marketing is. Email marketing is one of the most underrated yet highest-performing forms of digital marketing. The act of email marketing refers to sending commercial emails containing promotional material to prospective clients. Like any other form of marketing, it is done to elicit sales for the business conducting the function.
So, why is email marketing every digital marketer's darling? Email marketing is a cost-effective way of communicating intimately with old and new customers. While you cannot always rely on your audience to follow your posts on social media, you can always count on them to open an email delivered to their inbox with a catchy subject line! For this reason and more, email marketing continues to thrive in the digital marketing landscape.
The rest of this article focuses on email writing tips and techniques to enable you to develop your email writing skills.
Email Writing Best Practices
Writing a good, effective email can bring up your sales. Here's how.
1. Note email client diversity
People use different email clients to keep track of their emails. Such behavior poses a challenge for businesses trying to formulate a consistent email marketing strategy. iOS top all email clients with Windows, Android, Blackberry, and Outlook trailing behind.
2. Understand that engagement varies across email clients
Unfortunately, the most popularly used email client reports the lowest engagement. Most iOS users tend to discard emails without even reading them.
3. Don't forget to optimize for mobiles
Most of your target audience likely checks their email on their smartphones than on any other device. Mobile usage has jumped 400% since 2011. In other words, if you fail to optimize your marketing emails for smartphone viewing, you lose out on visibility to a significant chunk of your audience base.
4. Format your emails
Out of all the professional email tips being shared, this one may be easy to overlook but should not be – and with good reason! HTML formatting in your emails allows you to make the text contained bold, italic, or even colored. 75% of those between the ages of 18-44 have been found to prefer HTML formatted emails over regular text-based emails.
5. Pay attention to filter-proofing your emails
Email hosts are putting stringent measures to weed out emails that they think hold no value for its user. Individuals are increasingly using filters, and then some maintain separate emails altogether for commercial communication. Focus on what aspect of your content will trigger a filter.
6. Know that your emails will most likely attract some interaction
While it might be surprising to know, consumers are actively taking action on the unwanted emails they receive. If your email fails to impress them with its value offering, chances are it will be flagged as spam and will never get to see the light of the consumer's inbox again.
7. Lastly, add a good subject line
What makes for a good email subject line? While the jury is still out on that, most email marketers tend to agree that high-performing email subject lines are usually terse, addressed to individuals, and able to create a sense of urgency in the recipient's mind. Put some thought into coming up with your marketing email's subject line, and you will find yourself well-rewarded with a high click-through rate!
Key Takeaways
Emails are cost-effective marketing machines that can bring your business a good RoI with less effort.
Email marketing best practices need to be followed to ensure these ROIs.
Any email marketer must learn about email client diversity. After all, the email clients used by your audience also determine their engagement with your email marketing campaign.
Mobile optimization and formatting can make your emails more appealing.
Emails are just as good as their subject lines! A poorly written subject line can prevent a well-written email from being opened.
Conclusion
Email marketing has been around for quite some time now, but it is only recently recognized for its immense benefits to marketers worldwide. Need a cost-efficient digital marketing strategy? Think no further than email marketing. Spend some time chalking up an email marketing strategy, and you will notice the advantages that this humble means of marketing can bring to your business shortly! We hope our email marketing tips serve you well in your future email marketing endeavors.
FAQs
1. How can I entice customers to read through my entire mail?
Customers tend to respond to content relevant to them. When writing an email, make sure the content is engaging and personalized to your audience's needs.

2. How do I grow my subscriber list?
Engage with customers personally and offer them valuable content in your emails.

3. What are the features of good subject lines?
Effective subject lines are short and create urgency for the audience.

4. How frequently should I be sending emails?
Try to keep your frequency of emails under thrice a month to keep from disturbing your customers.

5. What counts as a good email open rate?
Between 10-15% would signify a good email open rate.

6. How can I design an attractive email?
You can use catchy images, colorful fonts, and other formatting styles to make your emails attractive.