Emails
A Quick Guide to Upgrading Your Email Design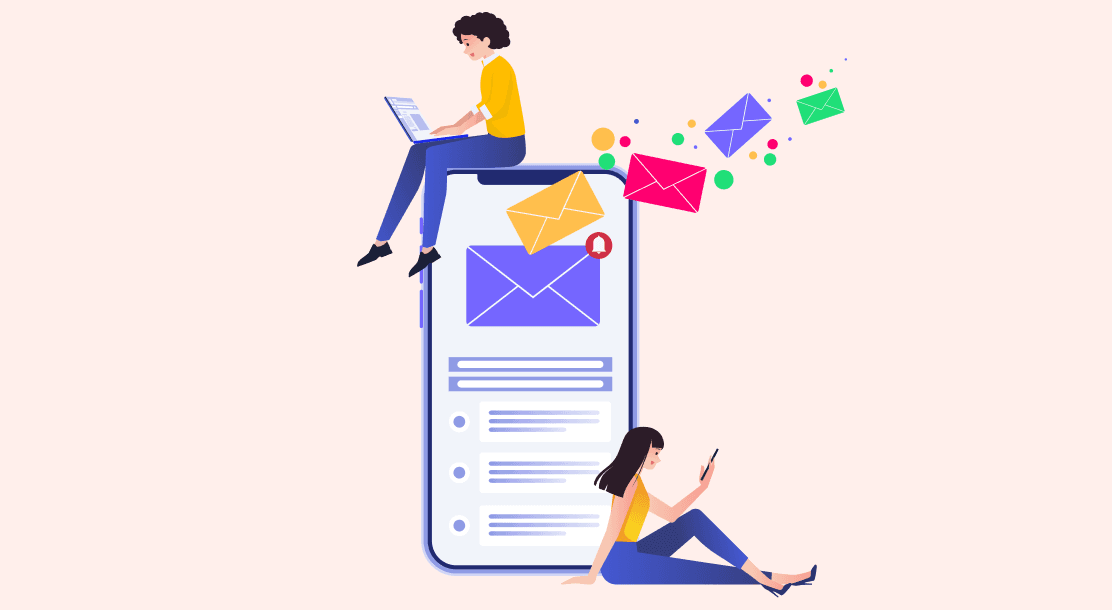 Email design is an integral part of any email marketing campaign. This blog shows you how to optimize your email design.
Email marketing can be effective, but only if you know how to make a strong statement, hook your target audience, and get them to act. It is one of the most powerful methods of connecting with customers, yet few businesses understand how email marketing is truly beneficial. It's the best way to communicate with your customers and is a cost-effective strategy as well. And with a few tips and tricks, you can optimize your email design as per your business needs. Brace yourself, as this guide will completely change your email marketing game.
Email marketing is viewed as an incredible asset to advance an organization's products, services, and overall brand image. Some customers may be hesitant to give their email addresses, but remember, it takes to build trust.
5 Benefits of Email Marketing
There are numerous benefits of email marketing. Here are a few of them.
1. It helps you reach your target audience
Social media platforms, such as Facebook, Twitter, and others, request an email from every new user who signs up. This pattern alone contributes enormously to the development of their email marketing strategies. You can fragment your contacts through their location, lead status, and demographics to know whom to send what. You can then reclassify the list for a specific pool of customers with different necessities. This practice can help elevate your conversion rates.
2. It is cost-effective
Email marketing is one of the strongest promotion tools on the web, and it is cost-effective too. You get $44 through each email for every dollar you spend. Emails are shareable, have a good click-through rate (CTR), and fetch a high ROI. All these factors make email marketing a more reasonable medium than other digital marketing channels.
3. It delivers measurable results
Unlike traditional marketing methods, email marketing presents significant and exact outcomes. These are gauged through many metrics, such as open rates, conversion rates, traffic analysis, and CTR.
Additionally, many online marketing tools give questionable outcomes. Results for email campaigns, on the other hand, are directly linked to the user's interests and behavior. They are quantifiable and not just a set of ambiguous numbers. You can undoubtedly use this data to know the kind of content your client is responding to. This will assist you in building an effective email layout to accomplish greater marketing and business goals.
4. It is easy to track
With the assistance of tracking and automation tools, your email marketing campaign can become a lot easier to follow and monitor. What the tools do is that they show you the number of times a customer has visited your site or has bought your item in response to the emails they get from you. To utilize it, simply compose your content, pick a layout, place the content, select the addresses to send the email to, and hit "Send."
5. It increases brand popularity
Clients become more mindful of your brand image, products, and services with each subsequent email they get. Your business can develop consistently through a brilliant email marketing campaign. Your brand will also be remembered for longer and will be brought up in conversations. This can be an approach to transforming first-time customers into loyal clients.
7 Elements of Email Design
Behind every successful email marketing campaign is a beautifully crafted email template design. They are as follows.
1. Header
The header segment of your email resembles the envelope; and even though it's not commonly considered important, it's, in fact, the first thing your reader notices when they see it in their inbox. Furthermore, much like a postal mail, who it's from assumes a significant role in affecting their choice to open it. An eye-catching header additionally assists the reader in deciding whether they need to open the email or skip it.
2. Preheader
The preheader behaves like the subsequent title on an email; use it to additionally entice customers to open your email. Take full advantage of the initial five-to-eight words.
3. Logo and colors
Much like in any form of communication, you need to ensure your logo is included in your email design. Similarly, the colors you choose need to be aligned with your overarching message. Also, make sure that both the colors and logo are in sync with your brand's style guide.
4. Images
Utilize a picture that upholds the motivation behind your email. Assuming you're communicating something specific about a deal on a specific item, utilize a picture of that item to help your message. Make sure you use aesthetically pleasing imagery in all your emails.
5. Text
Readers regularly filter the content before they read it. Plan your text such that it grabs the reader's eye. Use a larger font size for your headings and a reciprocal shading that matches your image's hues. The body of the email ought to be of smaller font size. It should contain five sentences describing the product, and why the user should click on the CTA.
6. CTA
Make certain to let your readers know what they ought to do straight away. You might need them to visit a particular page on your site, call your store, or reclaim a coupon. Ensure your CTA button portrays the message loud and clear.
7. Footer
The footer segment of your email contains significant data on your business. Incorporate your location, telephone number, site link, and active sales in the footer segment. Likewise, incorporate buttons for your social channels, so individuals know how to associate with you in their preferred communities. Make certain to test those links before you send the email out.
Email Design Guidelines: 15 Tips for an Impeccably Designed Email
Here are some top tips to follow if you want to enhance customer engagement through your emails.
1. Keep the messaging clear
Make it a thumb rule that you should only send one message in a single email. However, if you have no choice but to convey more messages, use bullet points. Creating engaging content is difficult. It will not bring any genuine worth if the email is scattered over places. Thus, as much as possible, center your email on one message and make it clear.
2. Write a strong subject line
Your email subject line is the principal text anybody reads when you send them an email. The short assertion should arouse curiosity in your readers. It should catch their attention, so they feel the need to open your email and read it.
3. Design a catchy preheader
Your email preheader is a review of what's going to be inside the email, much like the metadata of a site page. It's the second thing readers see. You can use the preheader to give a sneak peek into what the recipients are going to read in your email.
4. Make the design mobile-responsive
Make the plan responsive and dynamic to further develop email maintenance across all gadgets. As indicated by many studies, individuals check their email more frequently on their mobile phones than on laptops or any other device. Thus, your email configuration ought to oblige with all screen sizes.
5. Make it accessible
It isn't just about giving extra information for assistive advancements. It is about giving an amicable environment to all readers. It implies that even individuals who have poor network connectivity should be considered when creating the content. Accessibility includes responsiveness and versatility.
6. Experiment with interactive features
An ever-increasing number of brands attempt to draw in the crowd and drive changes with the assistance of intuitive elements. You must strive to make the customer experience extraordinary by using animations, videos, cinemagraphs, gamification, and much more. A microsite within the emails is a kind of possibility that business visionaries need to accomplish.
7. Use an optimized layout
No one needs to peruse through a jumbled and chaotic email, which causes readers to feel overpowered and can prompt them to unsubscribe. Arrange your format with user experience (UX) as the primary focus. Make your email content simple and easy to consume and explore. Ensure you leave lots of white space in order to not overwhelm the reader.
8. Simplify the text
The less text you compose, the more is the possibility that it would be read until the end. Attempt to be imaginative with your content, but remember that your message should be clear. The individual who reads it should be able to comprehend the message precisely as you anticipated. The text should be clear and as relatable as possible.
Try not to make your messages excessively lengthy. Some email vendors cut long messages (Gmail, for instance, cuts any messages bigger than 102 KB). Such emails can spell disaster for your campaign. You can hire an email writing service to make sure your email copy attracts audiences in large numbers.
9. Let your brand voice shine through
What you want is to catch everyone's attention and make a remarkable brand statement. Be the person who isn't like their competition. Be astute and unique. Execute your imagination in the content that you put out, and let your overall design align with your branding values.
10. Personalize
Whenever you alter an email and design it for your recipients, it must feel insightful and personalized. Email personalization assists in establishing and preserving your brand image. A touch of personalization encourages a connection between your business and email recipients and even helps break the monotony.
11. Break your text into consumable chunks
An excessive amount of text can mean a lot of visual mess, which could tank your email campaign. Separate your text with symbols, headers, lines, and shapes, and with appropriate white space in mind. This permits the email to impart all the necessary information without overpowering the crowd.
12. Use a strong CTA
CTAs serve a crucial purpose. They help convert your email recipients or readers into customers. For example, you can use a CTA to get recipients to follow you on social media channels, visit your site, talk with a customer care agent, or buy a product. CTAs ought to be noticeable and alluring, and should clearly highlight why they should be clicked on.
13. Present the option to unsubscribe
Permit your readers to leave (or withdraw from your mailing list). This will ensure they can remember your business in a positive light. To do this, add a simple "Unsubscribe" button at the bottom of the email design. For all you know, they might require your email content, services, or products in the future.
14. End with an email signature
An email signature configuration is another way you can lend a professional feel to your email. Email signatures shouldn't simply incorporate your name. They ought to contain other vital attributes about you and your job and contact information.
15. Conduct split testing
Any noteworthy email plan you have will fall flat if it does not resonate with the objective or target market. There could be a few reasons why your content may not work. Some of them are full images, cluttered designs, and more. Split, or A/B, testing helps you test your strategy before actually launching it. You can break down the outcomes to alter your CTA, colors, pictures, design, and even writing tone to observe the arrangement that best suits the market and converts the greatest number of clients.
Key Takeaways
There is not any more basic method for bringing attention to your brand than to send a series of relevant emails.
Custom email configuration offers a powerful starting point for expanding on and acknowledging different promotional methods.
With the assistance of email marketing, you can make a strong connection with your clients, and become more acquainted with their necessities at a significantly low expense.
A deceptive subject line might make your crowd lose trust in your content, so keep away from misleading titles.
Plagiarism and intellectual property regulations apply to emails the same way they apply to different types of content. So be certain that you are conveying messages and ideas that are original. Likewise, you need to seek permission to use other sources' imagery or any other content.
What you ought to keep in mind is that each email should have a CTA and an "Unsubscribe" button. Keep the latter at the lower part of the page. However, ensure they can track it on the off chance.
Email marketing is here to stay. Thus, if you're not already making the most of its power, this is the ideal opportunity to fuse it into your marketing stack. By utilizing the tips, tricks, and examples mentioned in this email design guide, you'll have the option to design an excellent email that anybody would be more than happy to find in their inbox.
FAQs
1. How can I improve my email template design?
An effective email template design has strong imagery, an attention-grabbing preheader, and ample white space.

2. How can I make my emails more appealing to my audience?
Here are a few different ways in which you can attract your email recipients:
1. Design a paid email course. 
2. Share links to product pages on your site. 
3. Add selective deals and offers. 
4. Create a lead-nurturing email series. 
5. Provide users with gated content. 
3.  Why do I need a great email design?
While the text contains vital information, the design permits the reader to explore the content seamlessly. Likewise, great email configuration gets the reader's attention and tempts them to continue to read once they open the email.

4. What makes an email responsive?
A responsive email is one that is optimized for all screen sizes.
5. What makes a great email design?
An appealing email design directs every reader straight to the content, with a prominent subject line and preheader.