Marketing
E-Commerce Digital Marketing: 10 Tips to Get Started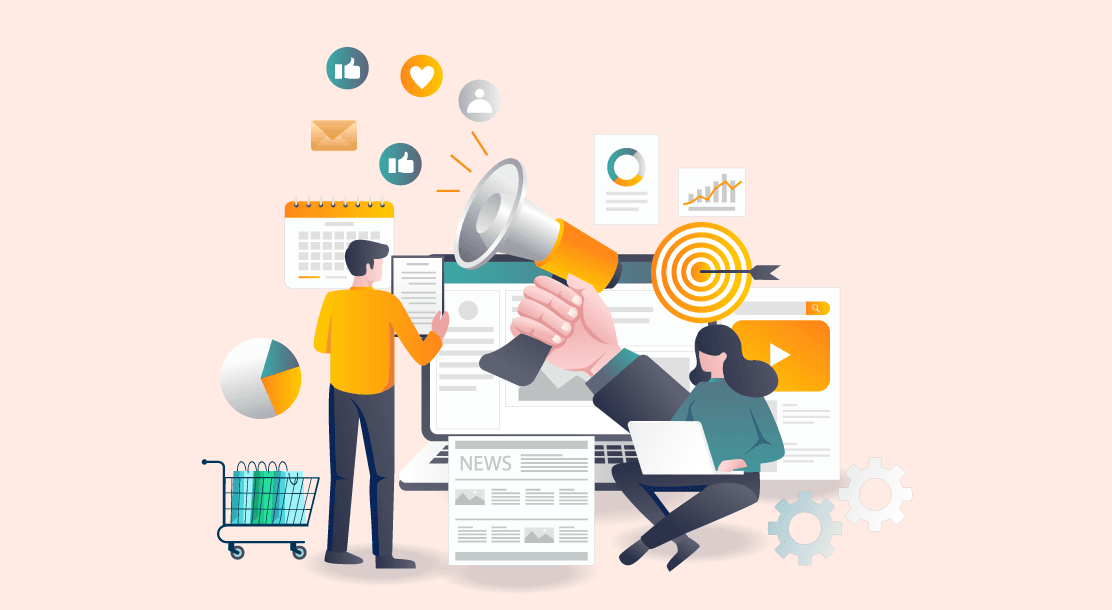 Every e-commerce company needs to have several digital marketing strategies up its sleeve. Here are ten excellent e-commerce digital marketing tips.
In today's digital-first era, more and more customers are choosing online platforms over physical shopping destinations. This has motivated every business owner to shift their store address to online sites and e-commerce websites.
But, with the increase in e-commerce sales, e-commerce digital marketing has become a crucial decision for every business owner.
With business operations moving to digital platforms, creating awareness and taking action towards accelerating the growth of e-commerce websites is imperative. Now that the customers are online, creating a digital portal is not enough.
E-commerce websites primarily require marketing, yet business owners overlook this aspect the most. It is high time businesses consider digital marketing an important part of their marketing expenses.
The important question is: "How to conduct digital marketing for e-commerce?"
New-age business owners are implementing several strategies to reach their target audience. If you are starting this business, go through this blog to learn about some top e-commerce digital marketing tips.
The Importance of E-commerce Digital Marketing
Ecommerce and digital marketing go hand in hand. Lead generation and an increase in the digital footprint of an e-commerce website directly depend on the digital marketing done by the business to gain traffic.
You can use digital marketing tools like email campaigns and social media to drive traffic to your e-commerce website, generate more leads, and increase customer interaction. Thus, you can generate more revenue and grow your customer base.
Today, more and more people are consuming information available to them on digital platforms. This information can be from YouTube reviews, press releases, or blogs. Some of the techniques used for digital marketing of e-commerce websites are as follows:
Email marketing
Social media marketing
Search engine optimization
Influencer marketing
Content marketing (user-based and brand-based)
10 E-commerce Digital Marketing Tips
Even though we all live in the digital age, e-commerce websites have to move the extra mile due to the fierce competition in the market. Every brand is looking for e-commerce digital marketing tips to increase traction and accelerate sales volumes.
Customers can search, choose, compare and purchase within a few clicks, making attracting and retaining them even more challenging. An e-commerce digital marketing strategy can help capture the desired target group and increase sales in this ever-growing digital market.
Here are a few tips when strategizing digital marketing for e-commerce websites.
1. Use aesthetic visualization
Showing the details of products through pictures and videos attracts more customers, who will be further convinced to purchase said products. Add tools like zoom-in, 360-degree viewing, and information pop-ups to increase engagement on the e-commerce website.
2. Adopt AI
From chatbots to augmented reality to virtual assistants, artificial intelligence (AI) has made our lives much easier than we think. Adopting the correct AI tools to attract and filter the target audience will help you understand customers' reactions and participation through bounce rates, engagement rates, and other metrics. AI helps eliminate errors and provides data-driven reports.
3. Use data based on user preference.
About 42% of e-commerce businesses do not use filtering per user preferences or categories. If you can understand user behavior, your business will already have an edge above its competitors. The more the attributes for filtering categories, offers, etc., the easier it is for customers.
4. Have a user-friendly interface
Customers today spend most of the day on their smartphones, which makes it crucial to provide a user-friendly and simple interface for smartphones. Your users may leave your site within seconds if its design is not user-friendly or if the loading time is more.
Options like filtering, sorting, easy add-to-cart options, and sequenced product descriptions allow customers to remain engaged with the site and make purchases.
5. Leverage social media
For any business to succeed, it requires ample marketing and awareness, and what better platform than social media to promote and spread awareness about a brand or a company. Hence, having a solid and consistent social media presence helps attract more people.
6. Personalization is key
With the increase in competition, two products have less or little differentiation. This makes it important to provide customers with personalized and customized items specially designed for them. Personalization can be offered based on local preferences, cultures, and lifestyles of people within the target group.
7. Offer instant rewards and opportunities for reviews
Today, users actively write product reviews, and people tend to believe more in those living within their social environment. Therefore, allowing immediate assessment and referrals fosters fast and increased interactions on the e-commerce site. Also, providing customers with discount coupons and other rewards encourages traffic on the site.
8. Implement influencer content
A happy customer tends to bring in sales. Encourage past customers who are satisfied with your product to share their reviews. These can be done through relevant hashtags and easy reviewing channels. If these reviews come from people with a high following in their niche (also known as influencers), it can help with brand awareness and lead generation.
9. Retarget customers
Retargeting your customers is among the significant digital marketing tips for e-commerce. This approach allows you to keep continuous interaction with prospective customers. Once the customer has visited the site, reminding them through ads on their feeds with one-click links helps them make social purchases.
10. Keep checkout easy
Your customer may get frustrated due to your website's complicated and slow checkout and payment processes. Creating a checkout process with a few simple steps allows customers to make payments quickly and improves their overall shopping experience.
In Summary
It is important to stay updated with the latest marketing trends and tactics to succeed in your digital marketing efforts. It is also critical to market your products with relevant information that reaches the target market.
This is possible if businesses use multiple paths to reach out to their customers, which is possible through digital marketing for e-commerce. Increasing the present campaigns is another important factor that will lift your game. And finally, keep an eye on the website analytics to see patterns, optimize your site, and track your progress.
FAQs
1. Is it necessary to have a website for a business?
The majority of customers research a company online before making a purchase. The company's brand awareness is enhanced by having an internet presence. Also, websites can help in online customer support and consumer involvement.

2. What is the role of digital marketing in e-commerce?
E-commerce in the digital marketing era assists businesses in making the transition to the online world and reaching a larger audience. You should employ different digital marketing strategies for e-commerce to generate traffic to your website, improve sales and branding, etc.
3. How do businesses assess the success of their digital marketing efforts?
Digital marketing success is measured by using metrics such as website traffic, leads created, and new customers. The number of likes or follows on social media might help you gauge it a little as well, but these are not the ultimate metrics to look at.
4. Which social media platforms should a business use?
In general, social media networks with the maximum number of active users should be tapped into first. Facebook, YouTube, Instagram, Twitter, and LinkedIn are the ones you can turn to. 

5. What information do I need about my customer to ace my digital marketing game?
It is important to learn about the demographics of your target audience. Here are a few questions to ask:
1. What are their shopping patterns?
2. Where do they spend maximum time? 
3. What content do they like to consume? 
4. What impact does social media have on them as consumers?