Content
How to Increase Traffic on Your Blog: 11 Mistakes You Can't Make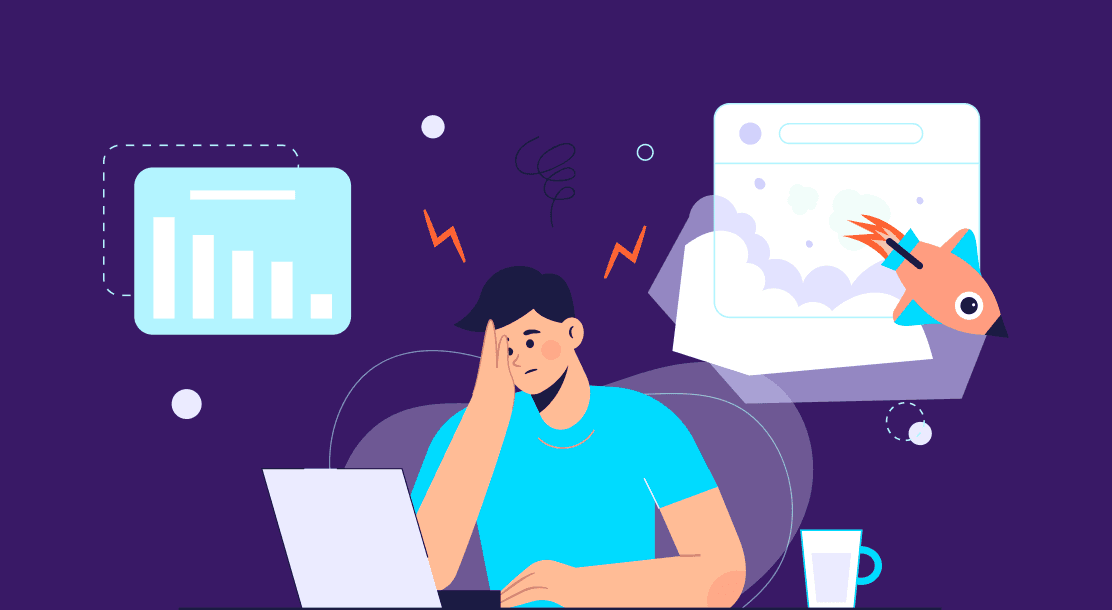 Table of Contents
11 Mistakes To Avoid To Increase Traffic on Your Blog
Key Takeaways
Conclusion
FAQs
Gaining readership can be challenging, especially if you have just started to blog for your business. Yet, blogs are the best way to generate traffic to your business website. Studies show that 77% of online users regularly read blogs. So if you are among the 23% that doesn't get enough traffic, there can be several reasons.
Let's address this by understanding the 11 blog KPIs that must be aligned with your blog content. Also, here is where blog KPIs are effective as a discussion. Blogging regularly can gain positive ROI and build authenticity in Google SERPs. But, the most competitive reason your blog needs extra effort to rank your business website is that there are just so many!
As per reports in 2021, the Internet has 570 million blogs! Clearly, with WordPress claiming 42% of the web (the highest), it is challenging to compete with all of them, especially if you are blogging for the first time. However, if you meet certain blog KPIs, there is a higher chance that you can generate much more traffic to your blog.
We will discuss these KPIs in the form of mistakes you should not make while working on your blog. You can identify them and understand how to fix them. At the end of this article, our key takeaways will summarise these for you.
So, let's start with the top reasons that might affect your blog's inability to charm your audience.
11 Mistakes That Can Cost Your Blog Traffic
1. Poor quality content
Most bloggers focus on ranking on the Google search engine. So, undoubtedly, ranking on their page and not following their defined writing rules can be a mislaying sidestep. Go through Google's published guide for bloggers and content developers.
So, it is the context that decides the quality of the content. Not exactly. We help you understand the credibility of a blog with an example. For instance, think about a logical answer, "1+1". Logically, many of you would guess it to be "1+1=2". Now, think of the blog content you wrote last time, and answer the below questions:
Were you able to provide information that's not obvious to guess (above primary education)?
Did you spread awareness about specific information impressively?
If not, unfortunately, the content was "poor" or "low-quality." But, to fix it instantly, we have a bonus for you.
Bonus: Recycle your existing content. You can always create new pages with old topics with a robust approach. For example, include the latest statistics and write your insights and views. Remember, people read to know unique perspectives!
2. Poor topic choice
Blog KPIs highlight overall blog visits, homepage visits, and points towards the traffic source breakdown. One of the main reasons for lower blog visits is choosing a poor blog topic.
Interestingly, we have an activity for you to understand what a poor topic looks like.
A headline like, "Stop Wasting Away Your Workday With These Productivity Tools and Techniques." Did that confuse you and point out to NOT use those productivity tools? If yes, what one word creates confusion in this topic?
"With" doesn't fit the sentence. It makes it unclear for the readers to understand. This is what we mean by a poor topic choice. Luckily, 36% of readers grab and read the blogs with list-based headlines. Thus, it's time to ensure you are on the list!
3. Quantity over quality
It's true, blogs with 2000+ words are likely to gain solid and favorable results. But wait, that doesn't mean compromising quality and only writing in quantity. Longer is not automatically better. To rank up in the insights of blog KPIs, you should combine blog quality with what your audience needs.
Again, Google prioritizes content that serves users' search queries over everything else. Simple, authoritative, search intent-based content works, whether it's 300+ words or 3000+ words!
4. Giving up too soon
A word of motivation, micro, small and medium enterprises take two years on average to see profitable results. So, before giving up, check if you are getting some results on your blog. Indeed, getting no results is different from getting results that aren't generating traffic.
So, as we promised, your bonus to stay on track and strive to generate traffic with blogging is to think about whether you are accommodating the changing lifestyle factor to your blogs. Sometimes, while focusing on running their own business, bloggers forget to adapt to a change. Instead, we suggest you adapt to the "learning curve."
5. No knowledge of or focus on SEO
Monitoring the right blog KPIs is the only way to sustain our competitive environment today! So, never neglect SEO. Why? SEO is the essential metric to follow if you focus on driving traffic to your page. Indeed, SEO is the go-to solution when improving your search rankings with relevant keywords. So, as a pro tip, follow the below factors to improve your page SEO.
Know who your target audience is and include catchy titles and CTAs.
Research keywords and add them only if they are relevant (only you know your blog strategy)
6. No consistency
There are three situations
Situation A: Blogging every three months
Situation B: Blogging every week
Situation C: Blogging when you feel like
Understand that it is entirely a game of numbers. The more regularly you update the blog, the more are the chances to rank better in search. In the above situations, Situation B is ideal, but on the other hand, will Situation A give any positive metrics in Blog KPIs? Yes! It will because at least the blogger is consistent. It may not reap instant results but can overcome the drops created by a blogger in Situation C!
7. Failing to address bad content
You should know what mistakes to address before it gets too late. If you have content that is grammatically incorrect or has incorrect facts, you shouldn't proceed further.
Your Bonus: Before worrying about SEO, consider the end-user! To avoid and address lousy content on your blog, you should find the right balance between blog KPIs and human reading flow.
8. No Oversight for Simple Errors
Accept the hard truth: Your readers are not interested in your life. So, never self-indulge while writing blogs. Secondly, as a blogger, you should provide complex information simply and not the other way round. The simplest errors could include mistakes in the way you put your thoughts on paper and deviation in how you think.
For instance, it could start in the present tense and switch again to the future and then to the past. Check out common errors to ensure you aren't dumping your brain as a read for users! Indeed, these simple grammar errors are the speed bumps for your blog, which slows down the reader.
9. Overly Promotional Content
Exceptionally, 97% of bloggers rely entirely on social media to promote their blogs. Indeed, tracking the blog KPIs, promoting your blogs is an excellent way to reach a broad audience, but "too much" can be detrimental. "Too-promotional" blog posts mean:
Forced mentions of particular products
Including links to your brand's homepage
Highlighting your company like a vendor
So, the next time you blog, keep in mind, you are writing for an unbiased audience, looking forward to making decisions with your information.
10. Technical Issues
Search "technical issues in my blog." What do you get? Indeed, everything but not the one you are looking for, right? The technical issues are not listed anywhere. On a personal frontier, while writing blogs, these are the issues you may face. For instance, the fundamentals of blogging remain the same, but can you deliver thought-provoking posts? Also, if you are covering controversial topics, is there a way to grab users' attention to think about it.
Many times, bloggers need to revert to the feedback. So, technically, you should follow a good web UI, a friendly feedback chatter, and a mobile-friendly User Interface to make your blog more impactful.
11. No Promotion
Indeed, absolutely no promotion of your blogs is a bold NO-NO! Promoting your content will drive traffic, and thus, attract the right audience to become long-term friends with your brand. Apart from that, promoting your blog posts positively impacts the blog KPIs. It may include attracting more backlinks to your webpage, triggering massive social shares, and leading to more newsletter sign-ups. It is the direct answer to how to increase traffic on your blog!
On the other hand, if you are not promoting your blog posts, your blogging KPI will fall consistently. The effect is apparent- your content cannot reach the right audience. Thus, no brand awareness means no traffic!
Key-takeaways
Avoid the most defying 11 mistakes while blogging to generate more online traffic.
Implementing the best blogging practises to stay up on search engine rankings
Tips to positively impact Blogging KPIs and drive more leads and better visibility
Conclusion
Your blog is a severe source to drive business. Follow the above tips and grab your bonuses in-between the read to drive more traffic to your blog posts instantly. In addition, engage with the right audience by avoiding the most defying 11 mistakes to enhance the quality of your blogs. Finally, learn the areas of improvement in blogs to write content that urges the reader to think!
The more you create an impact, the more Google loves you, and so more people read your content.
FAQs
1. Why is your blog not getting traffic?
It could be one or more reasons discussed in the above blog that might affect your blog's traffic. For example, poor topic selection, inconsistent posting, no focus on SEO, or poor quality content might lower your blogging KPIs score.

2. Why do most bloggers fail?
One of the primary reasons bloggers fail is their inability to create original, engaging, and high-quality content for their readers. As a result, creating content that answers users' queries has a chance to rank high.

3. How do I increase traffic to my blog?
Produce quality content while writing more. Also, make sure to promote your content on social media with relevant visuals. Thus, creating engaging content with catchy headlines, high-quality links can drive more traffic to your blog.