Creator Story
Creator Success Stories at Pepper Content: Milonee Parekh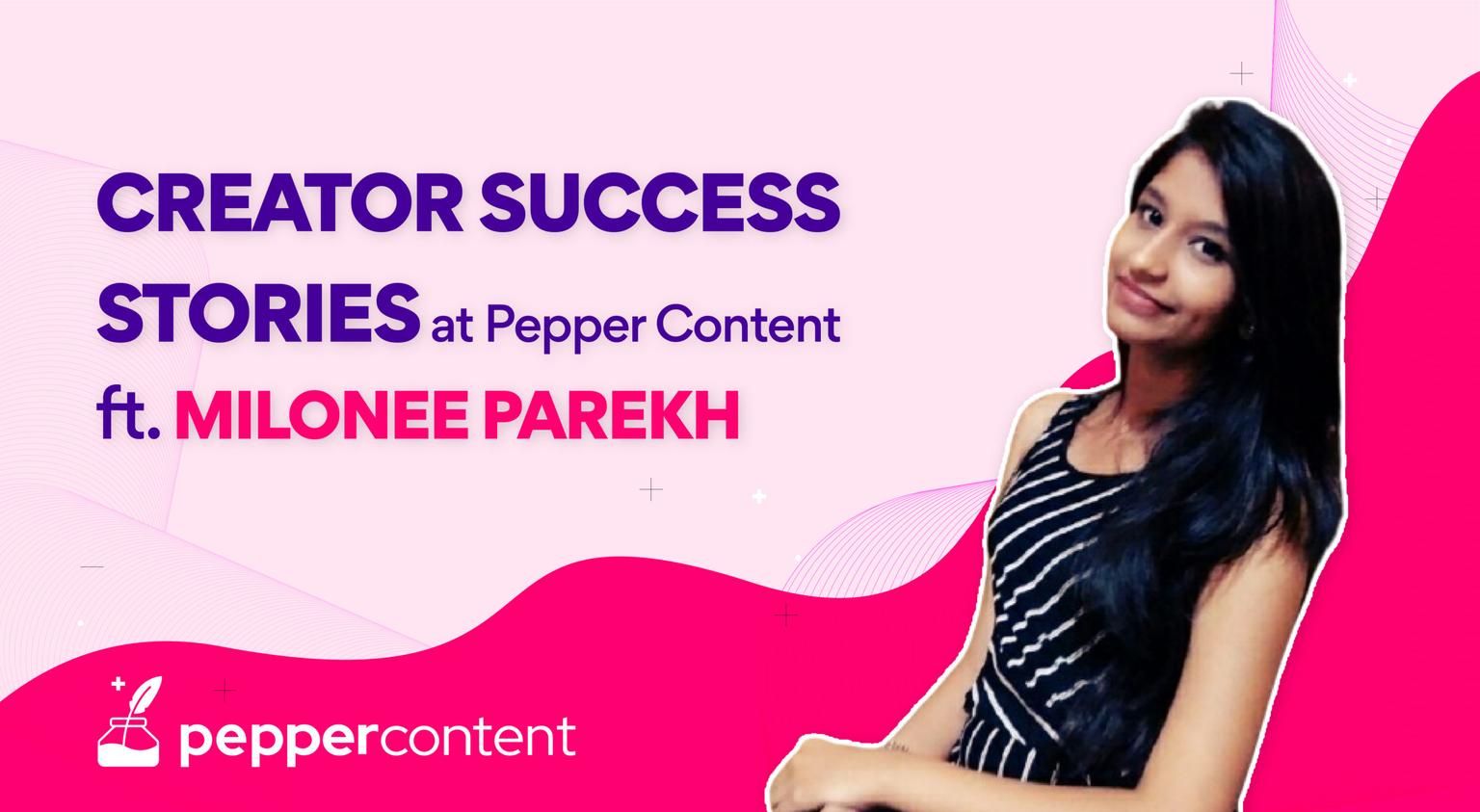 Milonee Parekh is pursuing her Master's in Psychology by day and building a writing career by night. As part of Pepper's Success Stories, here's Milonee's.
With a childhood dream of writing, Milone Parekh started to string her works into meaningful essays at a very young age. If that is impressive, she also started as a freelancer as early as she was 17. Writing, psychology, science-fiction – that's her described in three words.
Milonee Parekh, from Mumbai, is pursuing her Master's in Psychology by day and building a career as a writer by night.
She started her freelance journey with a creative, fiction, and non-fiction writing course at St. Xavier's College, Mumbai. She found this the best way to get a foot in the door, and there has been no looking back.
She followed this by building a network of clients on LinkedIn and Facebook Groups. Putting herself in open groups helped build her client list at age 18. In today's Pepper Content's Success Stories, we present Milonee Parekh.
On Choice of Writing Style
Milonee believes in writing across genres. Sticking to one type of writing is not her cup of tea. However, with Pepper Content, she is popular for her healthcare and wellness contributions. Her background in Psychology makes her work in this field effortless.
She also once blogged and reviewed books. Many of her early writing days involved interviewing people and writing their stories for a brand called Jagriti Yatra.
"For now, Pepper Is an alternate side hustle. And I love the regular work I get from them," she adds.
On the Hustle
As of 2020, colleges moving online have opened up more time for freelancing. Not just for Milonee, this has been the case with most creators. It's easier to put more time into a side-hustle.
"I do all my freelancing work at night because I've got college till 5 PM," explains Milonee. "The whole day is lost in college work, assignments, and catching up on studies. Around 10 PM or 11 PM, I sit to work. Sometimes I go up till 1 AM."
Her love for writing has fueled her enthusiasm. She doesn't mind the late nights spent in front of the screen, chronicling words and creating articles for brands worldwide.
On Reading Like a Writer
"When I want to relax, I read fiction. Whatever is there in the market, I read it. It's like a safe space." she explains.
However, science-fiction is her go-to obsession of choice.
"It [science fiction] does help me as a writer since it opens my mind to many possibilities. They write about things that a lot of us cannot even imagine. And seeing how they do it trains your mind to think differently, out of the box." she explains.
Unlike most people of the digital generation, Milonee does not enjoy Netflix much. It's just sitcoms when she needs a break. The long-haul series doesn't grab her attention.
On Freelancing vs. Full Time
Freelancing for the long run; is it for everyone? Well, It is something Milonee, like most writers, wants to consider.
"I love writing, and this [freelancing] just opens up a lot of ways to work for different people. I've been able to work with companies from the USA and Dubai thanks to my time with Pepper Content. Which would be very hard for me to do if not for a provider of work." she explains. "Also, the editors will give you re-works and push you to perfection. And it motivates you to do your work perfectly on the first attempt."
"It's the freedom that I love," she adds. When you work for a company, there is no space to explore. But freelancing is the chance to do whatever you want.
Adding Pepper to Her Life
Milonee believes Pepper Content is a platform for all kinds of creators to showcase themself and get paid work in return.
"I got a chance to connect with a lot of people. In 2021, I was able to meet the writers and team members from Pepper. Freelancing is a line of work where you are on your own, but having the Pepper Community with you does not make it feel that way," said Milonee. The built-in plagiarism checker and content scorer on the platform has also been a massive game-changer for her writing skills. "Without Pepper, I would never have access to such tools for free," thus making Milonee Parekh one of Pepper Content's great Success Stories.