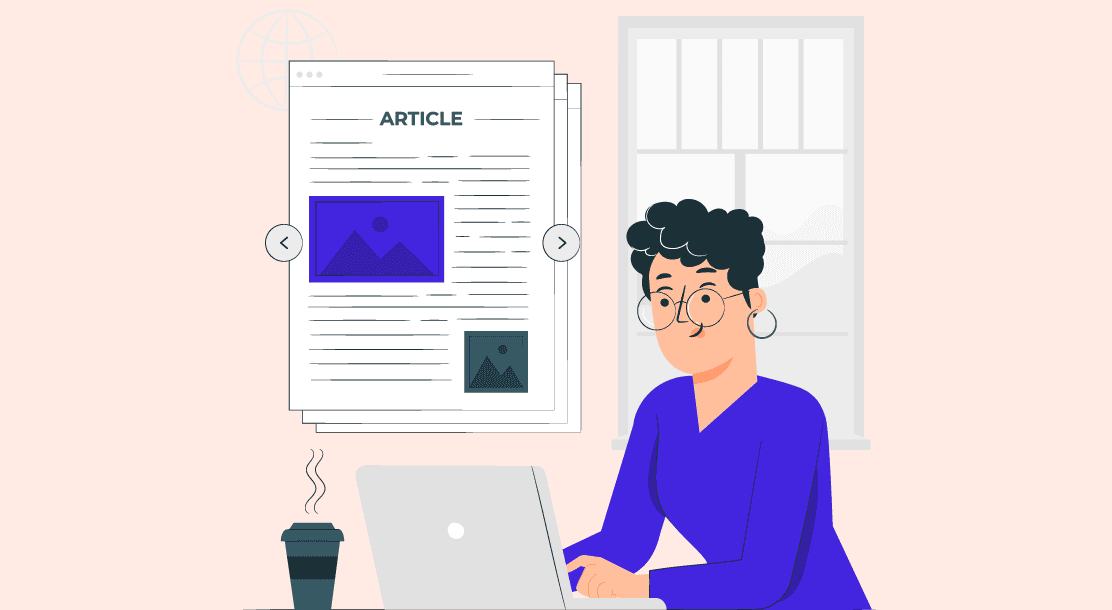 Want to be a content writing rockstar? Follow these 5 content writing tips for beginners. Exceed expectations and grow your business with these content writing tips for freelancers.
Table of Contents
Differentiate Your Services
Keep Adding to Your Portfolio
Ask For Feedback
Be Flexible
Nurture Your Existing Relationships
Conclusion
Key Takeaways
FAQs
If you're on the hunt for content writing tips for freelancers, you're in the right place. With so many content writers and digital agencies in the market, it can be tough making a name for yourself. It's, after all, a competitive environment.
Landing premium clients is challenging. So is convincing your clients to pay more for new services. But all these can be done if you have content writing best practices at your disposal. Let's explore the 5 best content writing tips for beginners to retain and upsell to your existing clients.
1. Differentiate Your Services
With so much competition, freelance content writers have to figure out creative ways to retain their clients constantly. That's one of the main content writing tips for beginners that baffles even pros. It's not enough to just follow the content writing best practices.
While good work will always speak for itself, there can be instances where businesses may be drawn to another competitor offering the same things you are. Therefore, make it clear that your services are different from the others. That's one of the essential content writing tips for freelancers. Make your clients understand that you're different. Here's how you can do this.
Think long-term
One of the best content writing guidelines is to have a long-term mindset. Explain to your clients how your efforts will keep growing. Quality growth takes time and patience. If you've been working with a client for a while and have come to understand their business' nuances, highlight that.
Hold monthly meetings and convey your findings. Show them hard data about your plans for incremental growth. Make sure they know that you're playing for the long haul. Long-term thinking is one of the content writing tips for beginners that pays off in the long run.
Be specific
Always be as concise and exact as possible when talking to your clients. Focus on the most relevant topics, content writing best practices, and your client's pain points. Did they have a poor image that needed work or low sales due to ineffective copy? Show them the issues you discovered and how you're working on them.
Elaborate on content writing guidelines and how your services solve these problems. Always ask them if you're on the right track and whether they have input on tackling these specific issues through good content writing. By being specific, you'll become knowledgeable enough to have your content writing tips for freelancers to share.
2. Keep Adding to Your Portfolio
One of the major content writing tips for freelancers is to keep an updated portfolio. Most freelancers take on more than one client at a time. If you are, there's a high chance you're doing different kinds of tasks for each. You could be working on a batch of social media descriptions for one and doing content strategy for another.
That way, you're making the most of the wide variety of abilities you have as a content writer while sticking to the best practices of content writing. But you need to ensure your clients are aware that you have all these skills. They must also know how useful they are as per content writing guidelines. Don't expect them to assume that you can do more than just write a 200-word post. Here's how you let them know.
Maintain a website
This is one of the most basic content writing tips for beginners. Keep a blog or a website that showcases your work. Keep updating it with your latest projects that align with best practices' content writing. Systematically create a way to display all your major deliveries. Explain what you did and how the client benefited.
You could also dedicate some space to topics and projects you'd like to work on. For example, if you want to try your hand at content strategy, you can make a mock strategy for a hypothetical brand and display those ideas. That way, you're showing your actual work as well as your scope for creative thinking and planning.
Update your social media
Social media platforms are fantastic for two things – showing off client testimonials and cementing your position as a thought leader on content writing guidelines. Share your learning experiences and views on these topics. If you have your own content writing tips for freelancers, express them. If you work in a specific niche, share your knowledge about that.
It will help you reach out to new clients and give your existing clients a better idea of how they can further utilize your talents. Your existing clients will want to try out your other services by doing this. They'll also be more intrigued to experience your premium offerings since they'll be treated to a preview of them through these platforms. Isn't this a fabulous content writing tip for beginners who want to scale their business?
3. Ask For Feedback
If you're wondering how to retain your customers, the best way would be to ask for feedback. Since you don't have the conventional mentorship you'd get in an agency, content writing tips for freelancers from other sources are highly valuable. Those help you understand content writing guidelines on a deeper level, improve the quality of your work, and help you come up with new ideas.
As creators, we can become emotionally invested in what we're making. That could make us myopic and unable to see our work's shortcomings. But instead of stubbornly insisting that our work is flawless, we must be open-minded and ask for feedback.
This would make your work more accurate. Ask for feedback creatively. Create easy-to-fill review forms and ask clients to give their opinions. Ask if they're willing to provide you with more detailed reviews.
If they are, send them a more detailed form. This way, you'll have all the information at your fingertips. You can use this at a later stage. One of the best content writing tips for beginners: consider enrolling in courses to learn more about the areas you need improvement.
Community pages
Quora, Facebook, and several other forums have groups you can join. People share their work, update content writing guidelines, and have discussions. You can seek feedback from here. Having fresh eyes take a look at your work helps give you a new perspective. It also helps if it's someone from your domain to lend their expertise.
Be open to receiving content writing tips for freelancers from others from these forums, even if they're technically your competitors. You could learn a lot from others who are more experienced than you are at a specific skill or in a certain niche. Just make sure your work follows content writing best practices and that you aren't breaching any confidentiality agreements or making yourself vulnerable to others stealing your work.
4. Be Flexible
Whether it's email marketing, product descriptions, or SEO-centric long-form blogs, many brands have discovered that content writing can power their businesses. But they may not know the different ways content can be applied.
As the expert, it's on you to let them know even if they've asked you to deliver a specific piece of content. Take the initiative and tell them what you can do for them, even if it means going in a different direction. That's one of the best content writing tips for freelancers.
Accept edits gracefully
If your client wants additions or changes, be helpful and do what you can. If it's a reasonable request, then you don't have to mention extra pay. By doing this, your clients will feel that you care about the work you're doing beyond the money.
Going the extra mile is always attractive. That can include suggesting better titles, sharing useful articles or trending news that's relevant to their brand, and more. Make sure you follow content writing guidelines and SEO content writing tips for beginners throughout to achieve the best results.
Go the extra mile
You could even include images or graphics in your content or use credible research sources to impress your clients. Let them know you're making an effort to meet their needs. Also, feel confident to question your clients if you think the brief is missing something or you know a better way to do something.
That would show your willingness to do your best. It would also make the work more interesting and exciting as you'd be trying new things together. This will set you apart from everyone else.
Get out of your comfort zone
If it's a new subject matter, don't be afraid to tell your client. This will help you avoid creating poor-quality content. That way, your client will share relevant sources of information with you. They may even give your precious content writing tips for freelancers in that niche. They'll also take you through your brief to help cement your foundations.
Ask questions, refer to the brand's content guidelines, and research thoroughly. Even if it's a new space, you'll have to deliver top-notch content to keep your client coming back for more.
5. Nurture Your Existing Relationships
Understand your client
This is one of the critical content writing tips for beginners to build relationships. Ask as many questions as possible and understand your client's business. That includes the thought behind it, their ideal target audience, and what they're trying to communicate to them.
Thoroughly go through their websites, social media pages, and any other content you think could be helpful. All this information will help you craft riveting content that is true to their brand. You'll also understand what they need to improve on.
Respect deadlines
One of the most basic ways to show your clients you respect them is to abide by deadlines. Most would prefer working with a good writer who makes deadlines rather than a great writer who keeps missing theirs. As a freelancer, this may be tough as you might have a lot on your plate.
But you must plan accordingly. Don't bite off more than you chew. Let your client know in advance if you have to miss a deadline. Do not make this a habit.
Regular updates
Clear and timely communication goes a long way in building healthy relationships. Respond to your clients quickly, give constant updates on your progress, and ask questions at the right time.
Resolve issues as fast as you can. Nip any misunderstandings in the bud. You'll be able to build strong working relationships this way. Your clients will also become more comfortable with you. All this builds trust.
Key Takeaways
Set yourself apart from others by thinking long-term and being specific when creating and executing your content writing strategy. That will compel them to stay with you to see this consistent growth.
Constantly updating your blog, websites, and social media pages is one of the key content writing tips for freelancers that will help you keep your clients wanting more. It will also show what other things you can do for them.
Feedback will help you improve your skills just as much as taking courses offering content writing tips for beginners would. You'll become better at what you do. That will equip you with knowledge and help you provide quality services.
Being creative and willing to exceed expectations is another main point in this list of content writing tips for freelancers. Accept edits constructively, make extra efforts, and push yourself to go beyond your limits.
Most lists of content writing tips for beginners will mention this. The best way forward is to nourish your relationships with your existing clients. Give your whole soul to your projects with them.
Conclusion
These 5 content writing tips for freelancers will help you in your journey to becoming an expert content writer who knows how to keep their clients on lock.
FAQs
1. How do I upsell as a freelancer?
– Differentiate your services
– Keep adding to your portfolio
– Ask for feedback
– Be flexible
– Nurture your existing relationships
Remember that most freelancers get extra work from their existing clients. Client retention is key to upselling your services and scaling your business.
2. How do freelance content writers get clients?
Freelancers use platforms such as Pepper Content, Fiverr, and others to reach out to clients. You can also contact clients directly through LinkedIn and other platforms.
3. How do I promote myself as a freelance writer?
You can create a profile on several platforms. Try to pick a specific niche to become an expert in it. You can also create a website on WordPress, Wix, etc. Publish your blogs, posts, and content such as content writing tips for freelancers. By optimizing these blogs, you'll be able to create your portfolio and promote your work.
4. What do clients want from freelancers?
Clients want high-quality, SEO-friendly content that's tailored to their needs. It must follow content writing guidelines, be helpful for the brand's audience, and be true to its image. Essentially, clients want their marketing and branding efforts to become easier by enlisting the services of a content writer.
5. How do I advertise my writing skills?
Make a blog or a website. Update them regularly with content and blog posts. Create profiles on social media platforms and promote yourself through them. Get testimonials from your existing clients. You can share content writing tips for freelancers. Try building a community around your work to amplify your skills.
6. How do I pitch myself as a freelancer?
Write personal messages, focus on your client's needs, including several references, and provide a free suggestion or a tip. That could be content writing tips for freelancers, brands, agencies, and more.