Content
Content Optimization Strategy 101: 5 Strategies You Need to Know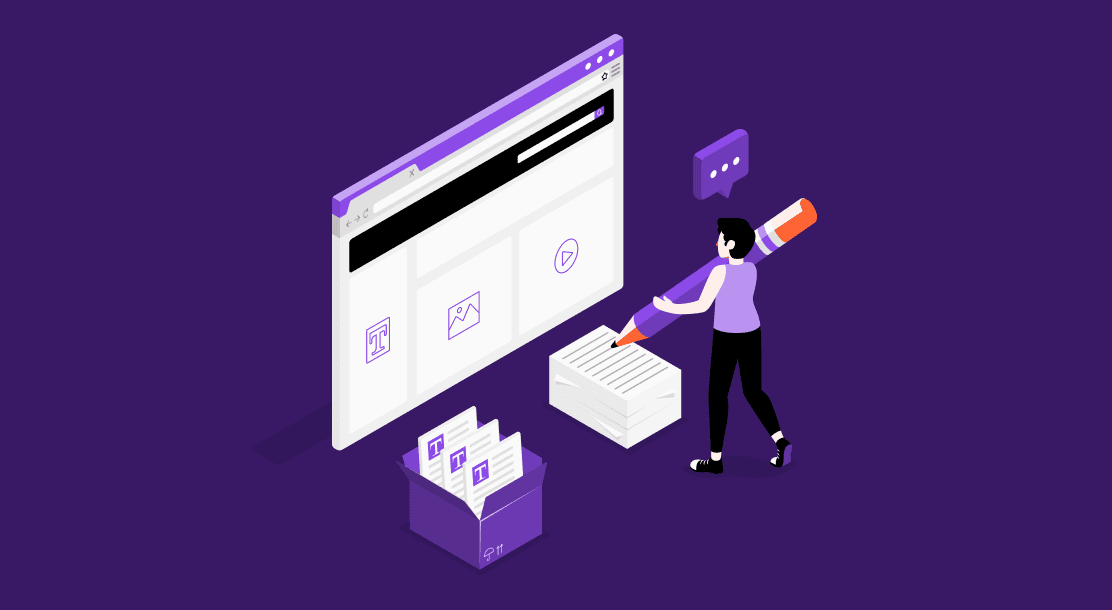 Looking for effective ways to optimize your content strategy? Check out these top content optimization strategies and boost your website's performance today.
Irrespective of your company's size or sector, content optimization is a significant building block that helps you stand out and convert leads effectively. The internet is cluttered with content. So, if you want your content to stand out, it must be properly optimized. Sadly, crafting a content optimization strategy is not always as effortless as it may appear.
In this article, we will take a deep dive into a few optimized content marketing strategies to improve your SERP rankings, engagement, and conversions to get more momentum online.
What is a Content Optimization Strategy?
Content optimization is a strategy used to make your blog posts SEO-friendly to attract the maximum website traffic and leads.
A content optimization strategy also involves making alterations to an article such as:
Incorporation of primary keywords
Including relevant meta tags
Composing an impressive meta description
Enhancing the readability score
Increasing the score for keyword relevance
Adding pertinent internal links
Optimized content has a higher likelihood of ranking higher on SERPs – and better rankings ultimately attract more visitors, increase sales, and generate more revenue.
How Important is a Content Optimisation Strategy?
Now that you've understood what content optimization is, you're undoubtedly wondering, "Is it so important?" And our response to your query is positive. As mentioned before, content optimization is critical for increasing the exposure of your branded content.
The following are primary reasons content optimization is essential for the success of your blog or website:
You improve the overall value of your content by targeting every article on your website to a specific demographic.
By producing SEO-optimized content, your content will start to appear higher on search engines.
It elevates the content's relevance to your primary keywords. Consequently, you could get targeted traffic that produces more leads.
5 Proven Content Optimization Strategies for Maximum Impact
The following are some of the effective content optimization strategies to streamline your content effortlessly.
1. Content Decay Optimization
The traffic to your website starts declining when you stop modifying or updating the older content on your website. This process is known as content decay.
Content decay can be caused by any of the following factors:
Your competitors frequently publish fresh material.
There have been major developments in your niche that you haven't covered in your previous content.
Your decision to stop promoting your older content has resulted in the loss of fresh links.
You can perform the following actions to boost traffic to your website:
Examine the ranking of the web pages that have plummeted. Start by reviewing your top 10 to 20 pages for traffic declines.
Upgrade the content by adding 1,000–2,000 words of fresh content after assessing the most popular articles in that niche.
Add a video to the webpage to extend the time spent by your website visitors.
Increasing page loading speed is crucial as it is one of the Core Web Vitals and an essential part of the Page Experience Update. Websites that load quickly provide better browsing experiences, and Google promotes instant page loading in its SERP rankings.
Utilize the skyscraper technique to give your website a unique quality that the top-ranking web pages lack. A graph, an informational graphic, a video, fresh examples, etc. can be used to illustrate this.
Update your web pages with relevant and new information by evaluating local current events.
2. Conduct a competitor analysis
Competitor analysis is a fundamental marketing technique in which you investigate your competitors' content marketing processes, their strengths, and shortcomings, to improve your content strategy.
Research is one of the building blocks for crafting an effective content optimization strategy. Simply enter your primary keyword on Google to identify your top three competitors.
You need to take the following factors into account:
Domain Rating (DR)
Page Authority (PA)
Domain Authority (DA),
Trust Flow (TF)
Word count of articles
Content Quality
Increase the number of backlinks
Boost the number of social shares
Enhance the E.A.T. score (Expertise, Authority, and Trustworthiness)
3. Write thorough articles
If you want to rank on the first SERP page and generate more sales, you must provide valuable content to your visitors. By producing in-depth content, you can showcase your expertise to readers and eventually establish trust with search engines.
Look at related subjects and frequently asked questions to determine which aspects of your niche are the most relevant. In such a scenario, Clearscope's Research tab can be quite valuable.
When considering conversions, imagine what kind of content might help them accomplish their objectives.
Some of the useful components involve:
Examples or case studies
Actionable insights
Recommended resources
4. Comply with blog updating guidelines
Your content's return on investment should always be maximized. Thus, you should frequently update all content on your website to start attracting new visitors or replace any lost ones.
The following is the six-step blog updating guideline you must use while working on your next content optimization strategy:
Rewrite the introduction and concluding paragraphs as they both essentially summarise the article's matter. These sentences must be both intriguing and valuable to the reader.
Choose the weaker sections of the article and update them with improved revisions that are more beneficial to the end reader.
Write as much as necessary, depending on the topic at hand. There is no specified word count, but you should make sure that your article is well-written and provides in-depth, accurate, current, relevant, and comprehensive information.
Replace any outdated or redundant photos with fresh ones.
Any obsolete examples should also be replaced with new ones.
Thus, content marketing does not always involve the creation of fresh content. You can achieve spectacular results by simply improving your current content. This is the primary objective of a content optimization strategy.
5. Get access to featured snippets
A featured snippet is an exclusive box of content that answers an individual's inquiry. It essentially flips the sequence of standard organic listings by displaying the snippet followed by the website's URL.
Having your content evaluated as a featured snippet could boost traffic to your website as Google displays your URL twice – as a featured snippet as well as a standard listing.
The location of a featured snippet is "position zero," which means it is above the topmost position in the organic search results. Featured Snippets are beneficial for increasing clicks, enhancing branding, and outpacing your organic competition.
You cannot use any specific Schema markup to designate your web pages as featured snippets. The best results are automatically selected by Google's algorithms based on the search request and are presented in an answer box.
However, a content marketer can utilize several tactics to increase your likelihood of having your content appear in the answer box:
Produce content that completely addresses the user's query.
Use a Q&A format while responding to the question to make it effortless for Google to indicate it in the search results,
Optimize your content using question-related keywords. Utilise resources like "Answer The Public" to discover relevant long-tail query keywords and create in-depth information on the topic in question.
Create exhaustive, original, interesting, and user-focused content of the highest quality.
Utilise short, uncomplicated phrases to boost your content's readability score.
Use bullet points, brief paragraphs, images, and videos to make your content easier for readers to scan through.
Wrapping Up
Every company spends a lot of time creating content. Due to fierce rivalry in today's cluttered Internet era, it is crucial to stand out from the rest. Content optimization strategies can help you streamline your content to beat your competition effortlessly.
Key Takeaways
Content optimization involves making modifications to an article to improve SEO and increase website traffic.
It boosts your visibility, leads, and keyword relevance.
The top five content optimization strategies involve optimizing for content decay, competitive research, comprehensive content production, adhering to blog updating guidelines, and featured snippets.
Content decay is caused by competition, updates, or poor marketing. Refresh your content, add videos, boost page traffic, and speed up your website to recapture lost visitors.
Review SEO content optimization metrics such as domain authority, page authority, trust flow, internal links, backlinks, and E.A.T. score to improve your content.
FAQs
1. What are some common errors in content optimization that you must avoid?
Keyword stuffing, duplicating content, and disregarding user experience are some of the common errors to avoid while optimizing content.
 

2. Can a content optimization strategy be used for any type of content? 
Yes, you can utilize a content optimization strategy for a wide range of content categories, such as blogs, videos, photos, and social media posts.

3. How can I find relevant keywords to optimize my content?
You can utilize tools like SEMrush or Google Keyword Planner to discover relevant keywords that your intended audience is searching for.
4. How can I determine if my content optimization efforts were successful?
You can assess the effectiveness of your content optimization strategy by measuring metrics such as your website traffic, engagement levels, and SERP rankings.