Marketing
The Beginner's Guide to Effective Content Mapping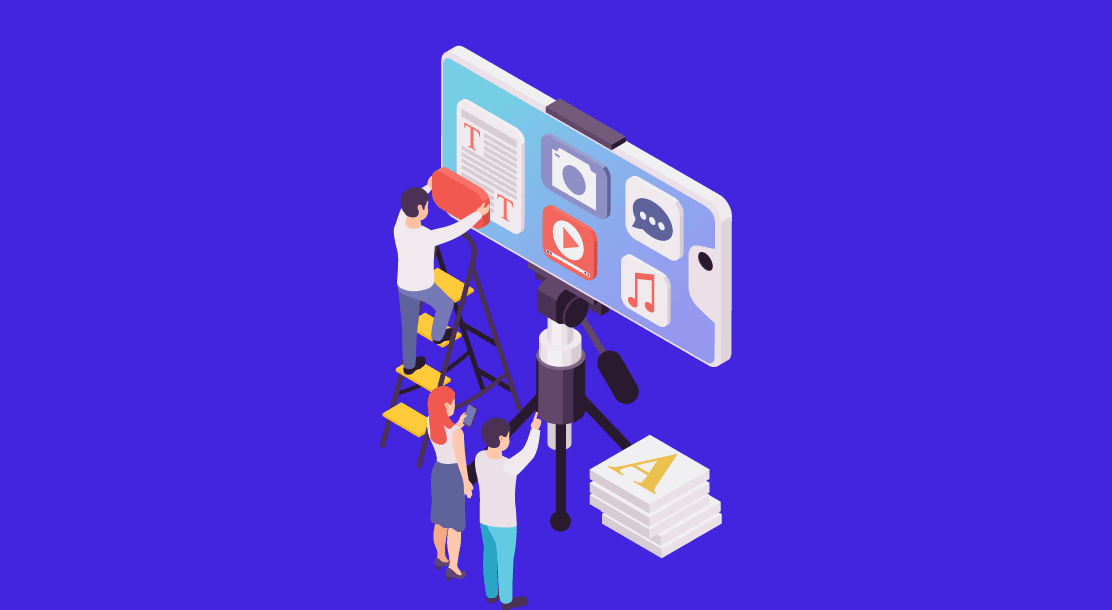 Content mapping is an effective way to gain insight into how your content marketing is performing. Read on to access the ultimate guide to effective content mapping.
Table of Contents
What is Content Mapping?
Importance of Creating a Content Map
Benefits of Content Mapping
How to Create a Strategic Content Map
Essential Content Mapping Tools
Are you bothered that your blogs are not getting the expected outreach, paid ads cannot give your content a push of confidence, and cluelessness is all that you have regarding what secret ingredient your content might be missing? Then, it is high time that you pay a little attention to how your content is distributed.
But, before we discuss the best content distribution methods, let's understand a little about content mapping. Content mapping is a potent tool if used smartly and efficiently. It is an informative insight into your existing content assets and plans for new content. It is also helpful in ensuring how much engagement that content would churn out from your desired audience.
A content distribution strategy is no less than a secret recipe to bring more traffic to your content. While you might be engaged in manually creating content, you might essentially be unaware of where it is being distributed. Is it being used or shared? Or is it being sold?
You must also divert a small portion of your energy and time to promote your content. If you are creating spectacular content but fail miserably at marketing it, then that content might be getting lost into an abyss of ghost content, with you wondering what went wrong.
So let's first see what content mapping is precisely.
What is Content Mapping?
Content mapping is the process that helps businesses understand their target audience's needs and cater to them in a more enhanced manner. In industry terms, content mapping is the tool to guide potential customers through the customer journey effectively. In this process, you pay individual attention to each piece of content you develop and analyze how it aligns with or supports the customer journey.
Once you have understood the content mapping process, you will be able to deliver personalized and highly effective content to your target audience, generating better leads and amplifying the purchasing prospects.
Importance of Creating a Content Map
To begin with, a content map is a plan that helps you assess the characteristics of the target consumer and then design the content that best fits their need and requirement. A content map comprises a defined set of stages and a proper choice of channels you will use at each stage to distribute your content.
Therefore, you must create a content map. It is essential that an appropriate amount of planning is put into mapping the content to personalize your consumer's experience of working with your brand and create content that aligns with their wants and beliefs.
A few reasons to help you identify your need for content mapping are listed below:
You do not know where your audience engages most with the content in the sales funnel.
You do not have a clear understanding of your customers' stage-specific needs.
You are facing challenges in auditing and organizing the existing content.
You are developing a significant amount of content, but you are unsure if it's purposeful.
You are unable to optimize each piece of your content.
Benefits of Content Mapping
While content marketing is essential, content mapping is that little extra push that your content needs for your business to skyrocket. It can boost your business in more ways than one. There are more benefits of content mapping than one can imagine.
A few of them are listed as follows:
It provides you a better understanding of your customers
You must, without a doubt, be aware of how customers or your target audience searches for your solutions or how they look for your products and services. This knowledge is crucial for you to define the path taken by your customers before they reach you.
It will lay out their beliefs, practices, goals, wants, and needs right before you. You can then use this information to improve your products and services or implement a more effective marketing plan.
It saves your resources and time.
If you are creating blog posts or social media ads but not returning the estimated results, your guesswork has some flaws. Content planning removes the effort you put into such guesswork and offers you a concrete action, thus saving your time, energy, and other resources.
It helps you craft the right content.
You might be majorly wrong if you have been mindlessly posting everywhere and expecting it to boost your business. Different marketing channels and platforms cater to different types of content. Mapping the content beforehand will help you choose the right channel and align your content accordingly.
It helps guide your customers through the purchase funnel.
Using a content map, you can use your resources to engage prospects/potential customers and keep them interested until they become paying customers.
It ensures that no content goes unused.
When you create a content map, you ensure that every piece of content has a task to fulfill, a purpose for which it has been created. This ensures that no content remains unused and your resources are not wasted. This way, you have the time and energy to generate the best content ideas that yield maximum results.
How to Create a Strategic Content Map
A sound content marketing distribution plan relies on the foundation of a strategic content map. You cannot choose content distribution channels unless you have already mapped your content. Creating a strategic content map comprises six essential steps.
1. Create a buyer persona
A buyer persona (also known as a user persona/marketing persona/audience persona) is a framework that represents segments of your target consumers. It is the semi-fictional representation of your target audience.
A buyer persona combines market research, your data about your target audience, and a few assumptions based on that data. Creating a buyer persona is crucial as it helps you understand your ideal customer. A few characteristics identify a prospective buyer. The buyer persona gives you an in-depth insight into characteristics like,
Demographics (factors like gender, age, income, education, etc.)
Values and goals (beliefs, personal and professional goals, lifestyle habits, personality traits)
Fears and challenges
Sources of information consumption (books, music, websites, influencers/leaders they follow)
Work (job title, industry)
Buying habits and patterns.
With the help of all this information, you can easily visualize your ideal customer. You can also create buyer personas using your existing customer base. Identify the qualities these customers share, why they purchased your product or service, and what they achieve by making the purchase. Another easy method to build buyer personas would be to approach your customers for a survey or a personal interview.
2. Document the customer journey
Customer journey is the term used to define the entire experience a customer has during their communication with a brand or a company. In other words, it is the communication roadmap, which begins right from the stage of discovering the brand, engaging with the brand, evaluating, and making an actual purchase to the post-purchase experience. It helps outline some crucial details at each phase, like,
Finding out what questions are likely to arise in the customers' minds
Anticipating customer actions
Touching the points the customer is experiencing in any particular phase of the marketing funnel.
Customer journey or experience does not focus on the transactions involved; it also considers the effect of the interactions between the brand and the customer.
At each phase of the customer journey, the type of content that would generate maximum traffic while catering to the customer's needs also changes.
At the awareness stage, blog posts, videos, guides, checklists, Google remarketing, and social media posts are the most suitable content. The awareness stage demands that you create content that is likely to get found in search engines. You can use keyword research for this.
One of the best content distribution methods is to tap into the potential of the time your customers. This can help you plan your social media strategy. This changes to newsletters, emails, blogs, and infographics at the engagement stage.
While at the evaluation stage, content typically includes data sheets, landing pages, white papers, reviews, product lists, etc. Reviews and testimonials give customers proof of your credibility in the community. It gives them a reason to trust your brand. When the customer shifts to the bottom of the funnel, sales pages, live demos, and FAQs are more suitable to make them feel confident about making a purchase. User guides, customer support, and surveys can be used to create an effective and fulfilling post-purchase experience.
3. Audit
Create a catalog of the content that you already have. You can audit the content by title, category, type, quality, etc.
4. Conduct a content analysis
Match and analyze the buyer personas you have created and the existing content to see if they cater to each other. Try to sift through and organize the content according to your intended audience's needs. When you are assigning the existing content pieces to the phases of the customer journey as part of the content analysis, you should take into consideration the following factors:
What content fits a customer journey phase better depends on the content type.
The content's conversion point is also essential, as this is when the audience takes further action. It also determines what action they will take next. Identify the call to action in the content.
The content quality also determines whether or not it should be included in the mapping. You can revise it or tweak it to make it more suitable.
5. Identify gaps
After you have organized the existing content, you can figure out the gaps in the customer journey and the specific phases that need attention. Pause, reflect, and identify what parts of the funnel or stages of the customer experience have insufficient or unsuitable content. Can it be made better to optimize your content marketing distribution strategy? If yes, then in what ways? Can the existing content be repurposed?
6. An all-new content map
Now that you have assessed the pre-existing loopholes, it is time to create a new and improved content map with the resources available.
Essential Content Mapping Tools
Several content mapping tools and resources can help you gather, audit, and organize information, making the content mapping process easier.
1. Important templates
A buyer persona template is an indispensable tool while mapping content. It helps you visualize your ideal buyer's mind.
A content audit template will be required to help you assess the potential of each piece of content and its suitable location on your content map.
Most importantly, a mapping template will help you organize all the customer experience details. Content mapping templates are easily accessible and downloadable these days. You can either download or create one as per your need.
2. Word processors
You will need a basic word processor to outline the content map and write down the content. If the processor is shareable, it will be easier for you and your team to work on it simultaneously.
The Final Word
The crux of the best content distribution methods lies in educating the prospective buyer and providing them with the information they need before they even ask for it. By mapping content in advance, you can provide different conversion paths per the different personas. Creating the right content and delivering it to the right audience at the right time can potentially fuel your company's growth.
Key Takeaways
A content map comprises a defined set of stages and a proper choice of channels you will use at each stage to distribute your content.
Content mapping is essential to personalize your consumer's experience of working with your brand and create content that aligns with their wants and beliefs.
Mapping provides a better understanding of your buyer, saves time and resources, helps you create the right content, and guides the buyers through the marketing funnel.
A buyer persona combines market research, your data about your target audience, and a few assumptions based on that data.
The customer journey is the communication roadmap, which begins from discovering the brand, engaging with the brand, evaluating, and making an actual purchase to the post-purchase experience.
The content mapping process is incomplete without a thorough knowledge of the phases of the marketing funnel.
A content mapping template, a buyer persona template, and an audit template are essential content mapping tools.
FAQs
1. How do I create a content map for my website?
When creating a content map for your website, firstly, you need to establish an overall goal. Next, run an audit of the existing content on your site. Now take into consideration the structure of your site and check if the pages and other site elements are correlated. Finally, you can start your site map.
2. What is content mapping in SEO?
Content keyword mapping is the process of on-site identifying and assigning keywords to the pages on a website. It is done to increase the visibility of the pages and the overall site on search engines.
3. What does content mean in marketing?
Making use of the content for marketing is also known as content marketing. It is the strategy used to attract, engage, and retain the target buyer's attention by creating and sharing relevant information in the form of textual content, video content, podcasts, and more.
4. What does a content audit look like?
A content audit assesses the entire content present on your website and finds its strengths and weaknesses. An example of a content audit is as follows:


Source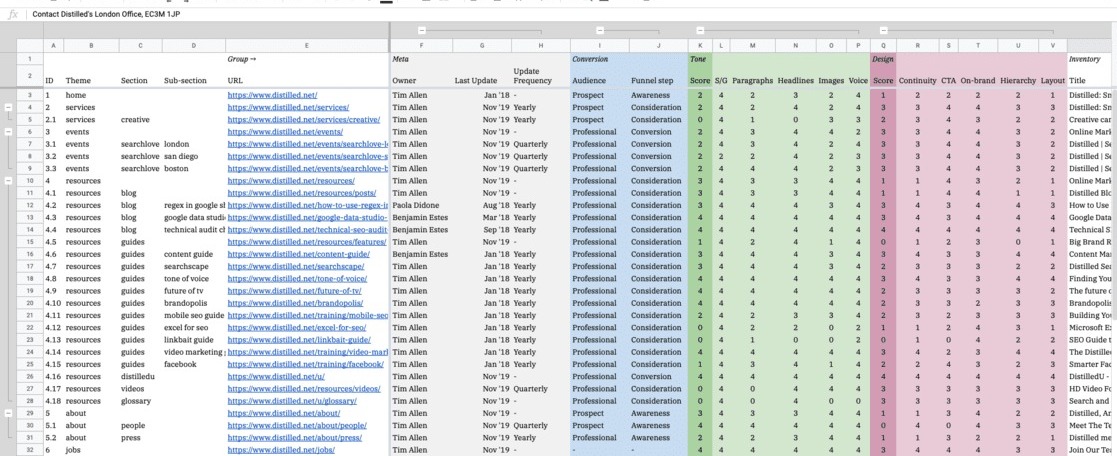 5. What is a content matrix?
A content matrix is a visual aid that helps you organize your content based on two dimensions. It appears to be like a scatter plot with two axes. The first axes measure where any particular piece of your content falls, and the second axis assesses how and why the content resonates with your ideal buyer. It is a useful tool for analyzing your content's weak spots and strong points.