Marketing
How to Create Content That Helps Your Sales Team Close More Deals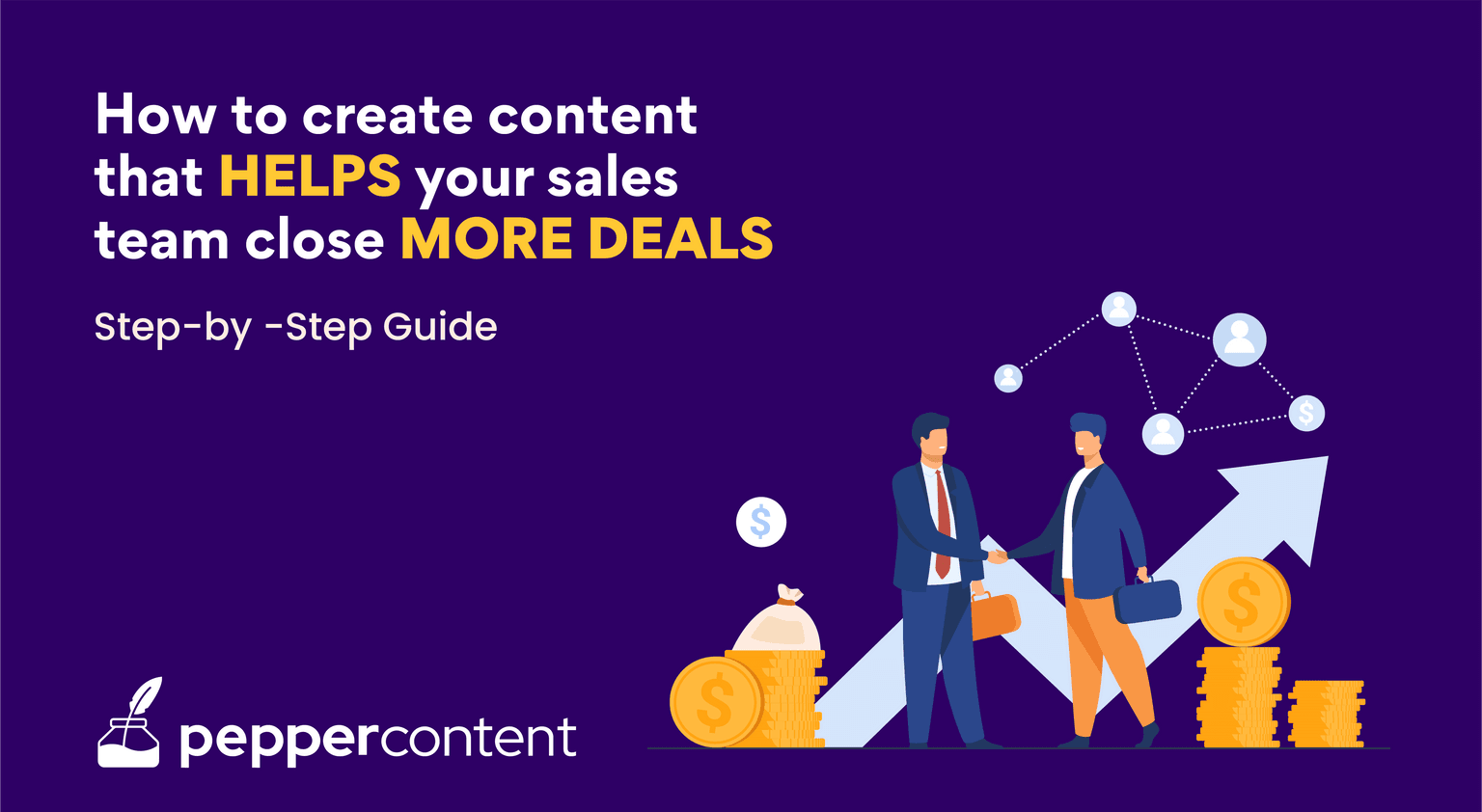 Unlike sales content, marketing content does not intend to directly promote products and services offered by a brand. In other words, marketing content is meant to influence audiences without explicitly selling a product or a service.
As per market estimates, 65-70% of content that is created by the marketing team remains unused by sales. In order to ensure that you have a better sales impact, both sales and marketing teams have to be aligned with each other and understand how to do content marketing to their advantage. To understand the reason behind the misalignment of sales and marketing content, look deeper into how content for marketing differs from that typically used in sales.
Marketing Content is Not the Same as Sales Content
Unlike sales content, marketing content does not intend to directly promote products and services offered by a brand. In other words, marketing content is meant to influence audiences without explicitly selling a product or a service. In a way, marketing content boosts awareness regarding a brand's products and services. The choice is left to a customer, but it is an attempt to help and influence people to make their buying choices.
Sales content comes in at a much later stage following the creation of marketing content. After brand awareness has already happened, sales content explicitly sells products and services, usually at a stage when people are ready to be 'sold'.
We can refer to a marketing funnel in this regard where targeted content is created according to the stage of your funnel automation.
The wide top of the funnel corresponds to when prospects are becoming aware of a product or a service. At this awareness stage, marketing content can be effective in reeling in customers. High-quality, informative content is published at this stage and this is where your content can direct actual sales; you provide insights, information, and services with cost charts or convince people to make the investment.
The narrow neck of the funnel corresponds to when a customer is almost convinced or engaged and close to making the final buying decision. This is where aggressive sales content can come in handy. For instance, with solid testimonials and case studies, a potential customer can be finally converted into a paying one.
Types of Content That Sales Teams Can Use
1. Creating micro-content
Consumers today have a shorter attention span and therefore, smaller pieces of content have a more powerful impact with a better ROI. They work very well for social media platforms. Social media functions as a great platform where your marketing content can also work as sales-oriented content. The objective should be to answer the following questions:
What does the product do?
How does it provide its service?
What value does it bring to a customer?
2. Fact-based marketing
Sales content depends heavily on facts and figures. Marketing content is designed to appeal to customers, capture their attention and generate interest through storytelling. Using graphs and figures can therefore help in driving sales more effectively.
3. Product demos
Short product demos in the form of a sales deck, quick and short informative demo videos, and a one-page outline with product features are forms of content that convey the usability of your product to your audience. These also explain your product's relevance to prospective customers. Create landing pages that enable visitors to request demos for your products and services.
For instance, the page below provides content that conveys the value of a product by illustrating its key features.
4. Focus on specific needs
To drive sales, content must specifically target individuals looking for niche content on a particular subject matter. For example, if a customer is looking to buy a property and searching for content on the real estate market or a particular product in this regard, providing case studies or testimonials can be useful.
Content designed to address such specific needs of the audience can include:
Blog posts with the product or service-specific information that caters to sales and marketing professionals. These function as educational tools for them.
Case studies with customer-focused content. The purpose of case studies is to convey the value that your product can provide to customers through an application-based example. This could also be in the form of a customer testimonial that adds more credibility to your content.
Social media content that has the potential to reach a wide audience. Digital marketers and content creators can curate social media-specific content that captures the audience's attention through 30-second videos, briefs that link to your informative blog posts, and much more.
Competitor research data based on market surveys and analyses can be insightful. It shows which areas can be improved upon.
How Marketers Can Measure the Impact of Sales Content
Analytical tools available online can measure the internet engagement of readers and the impact of content on its audience. These tools provide detailed data insights and revolve around parameters like:
Time spent on a post that indicates the retention capacity and relevance of a post
Clicks per view
Comments that indicate interactivity of a post
Downloads or redirection of traffic to your website, if any
Search engine ranking of your content page
Measuring Internal and External Engagement
Regular review of internal views, ratings, and downloads can be used to assess customer engagement with content. The metrics give a clear understanding of content performance and allows you to make decisions regarding where to invest more time and money.
An external review allows you to assess buyer engagement with sales content. External views and downloads, total viewing time, and viewing time per asset are some of the parameters to measure performance metrics.
Employee sales enablement programs
Sales enablement programs in the form of upskilling and training can empower sales representatives. With access to all the required tools, sales reps can make better presentations, provide accurate facts and win customers over with greater success rates. An environment where both sales and marketing people are comfortable interacting with each other should be fostered.
Final words
Measuring the impact of your content is key to how to do content marketing correctly and understanding which of your content pieces resonate with the audience and which don't. It creates a way for adopting better content strategies for the future. This in turn translates into better sales figures, when your business can correctly address the gaps and work on the feedback based on such data.
FAQ
1. How to convert sales?
Inculcate a huge FAQ bank on your website. Include it in your blogs or dedicate an entire page to it. Answer the most common questions that a customer might ask or think about. Loop in your sales team and content team to research the most frequently asked questions. Answer those questions thoroughly with as much detail and keywords as possible.
Give an incentive. Offer informational freebies or free trials to nudge the leads to convert into customers. The incentive needn't be outrageously denting to the bank, but it should be lucrative enough to create a pull.
Uplift your email marketing game. Not overly promotional spamming. But a personalized email brimming with clever content and a direct call to action.
Go for it. Reach out to your lead directly and ask them if they are ready for the sale. It is simple and effective. If you do not step up, someone else will.
2. How marketing can help close deals?
Leverage the sales insights to build more powerful content marketing strategies. Your sales team has only one job to do: to engage with your target audience. They get first-hand experience with your customers' needs, grievances, and queries. Thus, access those insights and analyze the data to make a robust content marketing strategy.
Personalization of the journey is crucial. What sets you apart from your competitors? What is your magic sauce that will provide the best customer experience to your leads? Always try to add a tailored value proposition to your content strategy for getting the most beneficial results.
Access the content library. The sales reps are not as immersed in content (creation or marketing) as the content team. It can be tricky for them to make decisions about which content to share with whom or even know where to solicit it. To help the salespeople select what content to share, formulate a content library with assets that will help them retain prospects.
3. How do you support a sales team?
Marketing generates more leads that can enable the sales team while reaching out to prospective clients. There are many tools out there that can help the marketing team gather leads and organize them.
The marketing team can help educate the sales team about the prospective clients. Sales team constantly need engaging content for appealing to the customers. Marketing can create simple templates, personalized newsletters, and collaterals to help the sales team stay on top of their communication.
Marketing can also help by optimizing the social media profiles of the salespeople, especially on LinkedIn. These small changes can boost lead generation as well as conversion.