Marketing
7 Ways to Build an Organic Content Distribution Strategy That Works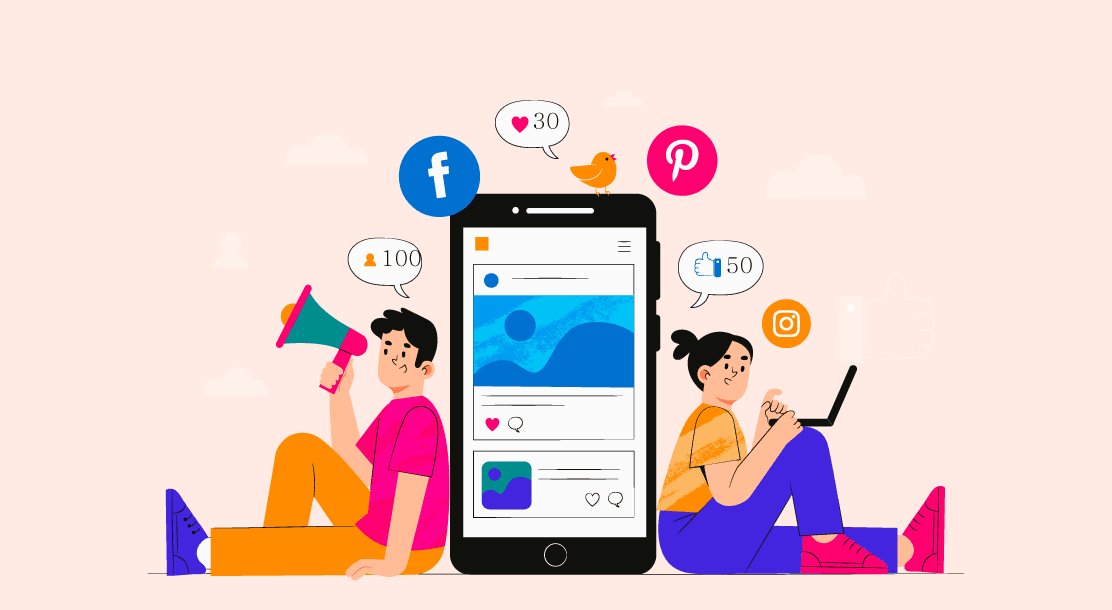 Table of Contents
Why Businesses Need a Content Distribution Strategy
7 Content Marketing Success Steps
Start a Blog
The Consumers' Pain Points
The Role of a Blog in Connecting Problems to Solutions
Build A Social Media Presence
Set Your Goals Right
How to Identify Your Audience
Personalize Your Approach
Build Relationships, Not Just A Following
Start An Email Newsletter
Create Content Corresponding to the Sales Funnel
Build A Content Calendar
Create a Variety of Content Types
7 Ways To Create Organic Content Distribution Strategy
Combining Organic and Paid Content Distribution Strategies
All online businesses should adopt an organic content distribution strategy focusing on content marketing to increase the audience base. Content marketing involves creating content and disseminating it through proper channels to drive more traffic to your website. You can use a range of content, including blog posts, case studies, white papers, infographics, images, and videos that focus on your brand and create interest in your products or services. This post dwells on why it is crucial for business owners to create an organic content distribution strategy and deploy it successfully.
Why Businesses Need a Content Distribution Strategy
Dishing up informative and valuable content keeps you in the limelight, and people start looking up to you for the latest updates and other thought-provoking information. Good content is a great way to earn the trust and loyalty of users and establish a respectful image for your brand. With a content distribution strategy in place, you can keep creating and distributing fresh content and remain fresh in the minds of your target audiences.
With a good content marketing plan, your content can become part of the thousands of posts on social media. Did you know that there are 3,607,080 Google searches every minute? And Twitter and Instagram are not far behind, with 456,000 tweets, 46,740 posts per minute. No wonder then that 89% of the marketers believe that awareness is the primary goal of their brand. There's tons of content created every minute, and without a proper content distribution strategy, you are likely to be lost in the frantic jostling for space online.
Content marketing can be pretty challenging, and evolving technology is only compounding it. People are well-informed, and unless your content is engaging and you have an effective content distribution strategy, distributing it is an uphill task. Unless you distribute your content scientifically, it may not reach your target audience. Customers will never know about your products or services without any content, and your brand remains unknown. How will you get leads to sell your products with no content distribution strategy?
7 Content Marketing Success Steps
Today, a content marketing strategy is not only a requirement but an essential component of your business. It is not surprising that 80% of marketers have a content marketing plan that works for them. Making a content marketing plan requires a lot of time and effort, but these seven steps should help:
1. Have clear objectives for your content marketing plan
What is the purpose of creating a marketing plan? It must help your content reach your target audience. Have you considered including social media platforms in your plan? Social media is the meeting ground for people from all spheres. Having a content channel distribution strategy before choosing your social media channel will help you reach the right people with your content.
For instance, if your product or service caters to the baby boomers, you should be focusing your marketing efforts on Facebook because that's where they prefer to hang out and meet their peers. If your product caters to the next-gen, you should be looking at Instagram because that's where the youngsters of today hang out. Folks on Instagram are fond of using hashtags and emojis, and 32% of Instagram users are between 25 and 34 years of age, and two-thirds of all Instagram users are below 34.
2. Be unique and have something to set you apart
Your content marketing plan should have something that sets you apart. With a massive glut of engaging content, you must first focus on creating compelling content that makes you different from the others. Your content must not only be helpful but motivational and inspirational. More importantly, your content should be relevant to your target audience and resonate with them.
3. Keep an eye on your performance metrics
You must measure your performance metrics periodically and tweak your content marketing strategy accordingly. Remember, it is your objectives that command your metrics. If your primary focus is on generating awareness, you should periodically measure this particular metric to understand where you lack. You may also want to measure content consumption metrics, content sharing metrics, your lead generation metrics, and the corresponding sales metrics. It pays to have a measurement framework as part of your content marketing plan to add more strength to it.
Your objectives should also focus on your audience. To determine your target audience, you need to understand your customer persona. Just as it is impossible to drive with your eyes closed, it is not possible to sell your products or services without understanding your customers. Start by creating descriptions of your buyers by finding out what they desire and what drives them to buy products from a company like yours. Gauging their attitude towards the products related to your business is an excellent way of understanding your customers.
Try to find out how a customer reacts to similar products available in the industry. Minor things like which language your customer prefers to communicate in, and do they have any hesitation in trying out a new product, especially yours? If so, why do they hesitate? How can you engage such a customer? If you can gauge their thought process, you can create content that resonates with such a personality.
5. Research what your audience is looking for
An essential factor in your content marketing strategy is researching the needs of your audience and what information they expect from you. You may look at their social media profiles and interact with potential customers on chats to understand their needs better. There is no point in generating data about the customer because the trick lies in getting real insights, which is possible only by conversing with the customer. Make every session interactive, and allow your customers to speak their minds.
6. Formulate a content execution plan
Your buyer's persona and interactions with your customers give you hints on tweaking your content technique. You must understand where your target audience looks for information and how they consume it. Your content strategy should include a content execution plan comprising all marketing assets that will help attain the goals spelled out in your content marketing strategy.
Your content execution plan should include intense SEO research, monitoring customer engagement, and blogging.
It is easy to determine what resonates with your target audience by in-depth audience analysis and pinpointing the content levels to learn how it supports your branding activities. Research indicates that long-form blog posts (3000+ words) attract triple the traffic and are shared 4 times more than shorter ones. Understanding the difference between a content strategy and a content plan is essential.
7. A plan to amplify your content
Is it enough to create compelling, flawless content? If you fail to amplify your message, it will not be effective as a marketing strategy. Content amplification is the process of using various online platforms and channels to disseminate your content far and wide. Content amplification helps marketers achieve their ROI and create awareness for their brand.
When you promote your content through various channels, the chances are bright that your target audience will interact better. You can amplify your content with some offer and present it by creating an email marketing strategy. Besides that, make your content available on social media, and check the other hangouts where your content should be present, loud, and clear.
Leverage your employees, customers, and influencers to help you amplify your content marketing efforts. As mentioned earlier, you can amplify your content through blog posts, detailed how-to guides on how customers can use your product, or a guest post with a call to action to drive traffic to your website.
If the content is the fire that burns merrily, social media is the fuel that stokes it. Using social media to your advantage gives you incredible benefits. You can also deploy your blog posts to generate leads because blogs provide valuable information to your customers, which they lap up and share with their peers. As mentioned above, leveraging your influencer partnership (you may have to pay them) helps amplify your content to their huge fan following. Most fashion businesses promote their flagship product through influencers.
Start a Blog
Starting a blog is an essential part of your organic content distribution strategy. However, you cannot publish any content as a blog because starting a blog also involves planning. You may ponder over what topic you should choose and whether it should be an in-depth one? Consider its periodicity, the sort of content that will initiate an action from the readers. These questions are natural for someone wanting to start a blog.
Your blog should focus on three things,
The target audience
Their pain points
What they want
Focus on your product – which solves their problems – and the content, which acts as a bridge between problems and solutions.
The Consumers' Pain Points
The primary purpose of your blog should be to attract your target audience. However, you must first define your target audience by knowing your buyer's persona. Find out what they wish to achieve and the pain points preventing them.
You may want to ask yourself the following questions:
Currently, who are my best customers (if any)? They like spending more money but spending less time deciding. Who are the customers who have been loyal for a long time?
What are the unique qualities of my best customers?
Why do they choose our products or services instead of our competitors'?
Answering the above questions will help you create a blog to attract your target audience based on their buyer's persona. Your blog states that you have a solution for your customers' pain point/s, regardless of whether it is a product, a software subscription, any digital product, or any service you offer.
The Role of a Blog in Connecting Problems to Solutions
Your blog must contain information that answers your target audience's questions while searching for a solution online. It's impossible to tell if they're ready to buy because they don't even know their pain point. Your blog is not only about your business and products; it must act as an overall solution and cover all aspects like awareness, evaluation, and decision, which make up the funnel.
Awareness comes at the top of the funnel and lets your audience know more about the problem they are facing.
Evaluation comes at the middle of the funnel and allows them to evaluate various solutions offered to solve the problem.
Decision comes at the bottom of the funnel when your target audience is finally ready to decide on the product or service; they know will give the best solution to their problem.
Build A Social Media Presence
You need a compelling social media presence and an organic content distribution strategy to establish your brand. And it is not enough to merely be there because you cannot expect much by posting some content with links.
Set Your Goals Right
You must set specific goals that are relevant, achievable, time-bound, and, more importantly, measurable. So, instead of saying "we'll post on Twitter regularly," try saying "we'll endeavor to achieve a 20% increase in response rates within this quarter." That's specific because you've identified Twitter and a measurable metric.
Since you didn't pick a random figure like 50%, or even 100%, the above goal is achievable. The goal is relevant because you already know your target audience hangs out on Twitter, and that's where you are making your presence felt. The goal is time-specific because you have set a time limit of three months.
When you set such concrete goals, your social media presence is well taken care of, and you don't waste time and effort posting aimlessly. Remember that content plays a pivotal role in your social media journey; hence you must create content that stands out and dominates the conversation. Select the relevant topics, and understand what resonates best with your target audience on social media.
How To Identify Your Audience
Once you have your goals in place, you need to focus on your target audience. Remember that not everyone on social media is your audience. You must break down your audience and identify the platforms they frequent before deciding which social media platforms you must be active on. Follow this with a content calendar and create a posting schedule. Decide what kind of content you need to post, consistent with your brand voice.
Your content must converse with a well-defined audience. The best way to achieve this is by studying your audience personas, sympathizing with them on their challenges, and determining the brands already familiar to them (through social media). Such competitive analyses can help you make a compelling and unique social media presence compared to your competitors.
Personalize Your Approach
You cannot present yourself on social media as a faceless entity with no personality. People expect more transparency and a personal touch with whomever they interact. Be conversational, exchange pleasantries, and build a rapport with your target audience.
Brands cannot behave like mere robots because followers expect a lot more. Adding a human touch to your brand means that there are faces and personalities behind the brand working for the welfare and benefit of the followers. Sharing photos of your team on an outing or at an office meeting helps break the ice because followers want to be a part of all the festivities associated with the brand.
Build Relationships, Not Just A Following
The trick lies in building relationships on social media and not merely a huge following. Although numbers count, each person has a distinct psyche, and building a relationship means a lot to your brand. Having 1,000 followers who read every word you post matters more than 10,000 who merely glance at your post and move on. Your social media presence demands that you be more 'social' than just being 'present.'
Connect with your followers regularly, and have them wait eagerly for your next image, video, infographics, or blog post.
Here are some quick tips to building a lasting relationship:
People have names; keep mentioning names at every opportunity.
Have people ask questions and answer their questions promptly.
Appreciate every like or share, and acknowledge such acts by responding.
Instead of retweeting, like every tweet your followers make and reply to initiate a conversation.
Start An Email Newsletter
Email newsletters are the best forms of communication for sending news, updates, and handy tips. These newsletters help you stay in constant touch with your audience, and your calls to action will guide them to your website to convert them as customers.
Did you know that over 75% of the visitors to your website hardly make a second visit? It is not anyone's fault, blame it on the millions of sites on the Internet, and every search finds a new website. You can retain visitors and encourage them to visit your website regularly by sending out an email newsletter.
The primary thing to do is sign up with an email marketing service provider who helps you send mass emails to your customers. Look for a beginner-friendly marketing platform that lets you work quickly (simply drag and drop). You can slowly graduate to automate the email newsletter, enabling you to use templates to reach more people quickly.
Create Content Corresponding to the Sales Funnel
You must align your content with your sales funnel since customers are still looking for benefits even if they have heard of your brand through social media or influencers. A prospective customer always goes through your sales funnel before becoming a staunch customer.
Bottom-of-the-funnel marketing techniques no longer work; hence you must push your customers down the funnel through your strategies. Map your content to the buying stages to reap maximum benefits from your organic content distribution strategy.
At the top of the funnel, customers are at the awareness stage, when they search for solutions to their problems by conducting research and seeking answers. The middle of the sales funnel is where your customers start evaluating, and their research becomes much more focused on your offerings (products or services). They are adept at comparing you to the other competitors in the market.
The bottom of the funnel is where your customers get converted to buyers. This is where your content works hard to establish your position as an industry leader, and you may throw in some discounts and coupons as additional incentives.
Remember that every stage of the sales funnel is equally important. Not all prospects make it to the top of the funnel, and a few make it to the middle; only a select few make it to the bottom of the funnel. Content plays an essential role at every stage of the funnel. Content plays an essential role at every level in the funnel. A good content distribution plan while mapping out your sales funnel helps save precious time and marketing efforts.
Build A Content Calendar
Create a content schedule and stick to it, as that's a mantra in your organic content distribution strategy you can't afford to ignore. Did you notice that the biggest brands present on social media post regularly, with no breaks?
You may be posting on several social media channels, all the more reason why you should have a content calendar to keep track of your posts.
Here's how a content calendar makes things easier:
It lets you tweak every single post according to the channels it is meant for without frantically navigating between sites
Your posts can be precision-timed for maximum engagement and eliminate the need for frequent posts in real-time.
Your content never looks stale as you don't repeat the same content immediately, making every post look fresh and appealing.
In short, creating a content calendar not only keeps your social media presence in perfect order but also helps maximize your content's reach.
Create a Variety of Content Types
While blogging is the most effective type of content to use, there are several others you must have as part of your digital content distribution strategy.
Long-form content is one of the best ways to increase your subscription base. Such content lets you share content in pieces, and it is easy to have your customers eagerly come back for the next episode. You can present guides as long-form content, which users lap up quickly.
Case studies
Case studies give minute details of a particular scenario and are a great way to share knowledge and valuable information. Case studies are a great way to display thought leadership and how unique your brand is. Case studies make your content shareable, leading to an increased readership.
Whitepapers
In addition to being packed with information, whitepapers offer ready solutions to the problems your customers began their journey with. They present an excellent opportunity to become lead magnets because of the information-packed within. Adding a table of contents helps readers scan until they find what they are looking for.
E-books
These are the longest type of long-form content and take time to create. However, the effort is worthwhile as they are one of the best lead magnets.
Customer reviews and testimonials
Reviews help build trust and help impact your sales and increase revenues. Personal recommendations and word-of-mouth references still work, though they have graduated to online customer reviews that reach millions of customers worldwide very quickly. Today, almost everyone reads a review before deciding to buy.
7 Ways To Create Organic Content Distribution Strategy
1. Know your audience
Even the best content is useless if your audience doesn't know about it. Doing your research in advance helps you understand if your brand and products match the demographics. Look at your competitors who look at the same target audience. Try to evaluate the competitor's brand and the marketing strategies they adopt to understand more about your audience.
2. Identify the social media platforms for use
Social media is not just an aspect of your organic content distribution strategy; it is the main focus. There are more baby boomers on Facebook than on any other social media platform. If your product or service matches such a requirement, that is where your focus should be. However, if your product is, for instance, fashion-related, you are looking for the next-gen, which hangs out more on Instagram. If you specialize in services for the corporate world, LinkedIn is where your presence will work best to increase your revenues. Before creating content, you need to identify which social media platform suits you best.
3. Build great content
We have already dwelt on this earlier in detail. Remember that the content you create should resonate with your target audience. Identify your buyer's persona before creating content for your target audience.
4. Use the latest SEO technologies
Research your keywords well before you start writing your content. Use a mixture of one-word and long-form keywords to make your content impactful. Backlinks are the life-breath of any website; hence go for guest blogging to increase links coming into your website.
5. Focus on social media
Social media is the most happening place today. Not only celebrities and influencers but the layperson – your primary target audience – also frequents social media every day. Did you know that the average daily social media usage is an astonishing 145 minutes? There is a compelling need for people to stay connected on social media, whether at home, at work, or while on the move. Focusing on social media as a content distribution strategy pays rich dividends. Make sure you know which social media platform to be on, when.
6. Data is important
A data-driven approach helps businesses focus on niche audiences and create relevant content to attract their target audience. Without data, you will be unable to reach your target audience, and all your efforts will be in vain.
7. Learn from mistakes
After all, to err is human. However, every mistake you make has to be a lesson learned. It is foolish to make the same mistake twice, which simply means you haven't learned from your mistakes. For instance, creating content without knowing your buyer's persona is a huge mistake leading to a waste of precious time. The best way to learn from such a mistake is to identify your target audience before creating content.
Combining Organic and Paid Content Distribution Strategies
Combining organic and paid KPIs to compare results gives better insight and helps fortify your content distribution efforts. Such a strategy can add to the overall health of your brand to make it more robust.
Examples of organic content distribution strategy
Blog or website
The best way to start distributing your content is to promote it on owned channels. The tool lets you publish your article, share it on social media to see more engagement. As with a call to action button, you have click-to-tweet buttons that let you share extracts with a link to your Twitter account.
Email newsletters
Email newsletters are one of the best examples of organic content distribution strategies because you can reach a large audience and build a strong relationship over a period. Although you are unsure how many are read, leaving a call to action button draws some users to your website.
E-books
E-books help you share informative content and how-tos, which are very useful to your customers. You can share technical and other in-depth knowledge, and the users know they cannot access such information anywhere else. E-books are a great way to promote brand awareness and add credibility to your brand.
Key Takeaways
Adopting an organic content distribution strategy helps you get to know your target audience better. You can also identify the best social media platforms suiting your product or service and share evergreen content with your audiences. Focused social media targeting can provide handsome returns.
Conclusion
There are many ways to build an organic content distribution strategy, and seven significant ones are listed here. Content is pivotal for your marketing success, and using SEO strategies and data helps greatly. You can offer great value to your customers who are sick and tired of promotion-only approaches.
FAQs
1. How can I create an effective content distribution strategy?
To build an organic content distribution strategy, you must first research your target audience. Before posting your piece, ensure that it has been audited. Decide which types of content you want to use, and be wise in choosing your content distribution channels. Your content distribution strategy must also feature KPIs and goals, and don't forget to create an editorial calendar. Finally, create engaging content and distribute it through effective marketing channels.
2. What are the key points my content distribution strategy should include?
Your content distribution plan must focus on your company's goals and learn how the customers react to a subject and talk about it. Such insight helps you understand their needs. Communicate easily to make it easy for the people to understand. Always stay updated, and present only the facts. Try to be conversational, interact with your customers, and be accessible. Another great content marketing distribution strategy is to be visible and easily found.
3. How does a typical content strategy plan look?
An effective content marketing distribution plan must have well-laid out goals you want your content to achieve. Select the content that's best suited to achieve such objectives, and work on how you are going to create and distribute the content, and more importantly, how you are going to measure the performance metrics. Your digital content distribution strategy must feature goals and KPIs that indicate if your goals are being accomplished.
4. How can I distribute content efficiently?
The trick lies in following a content distribution strategy that focuses on creating the right content and ensuring it reaches the right people. The timing is also very crucial, lest your content disappears in the maze the Internet is today. Another critical aspect of a good content distribution plan is using social media and leveraging influencers who play a crucial role in disseminating your content. Promoting your content with various content communities is an effective way to distribute it.
5. How can I create a social media content strategy?
Set goals for your content, analyze your audience, and determine the best times to post on social media. Choosing the relevant social media platform is crucial. Choose the proper formats for the content you post on social media, and create a content calendar before publishing your content. Keep track of your content's performance and measure the metrics to ensure your key performance indicators are met.