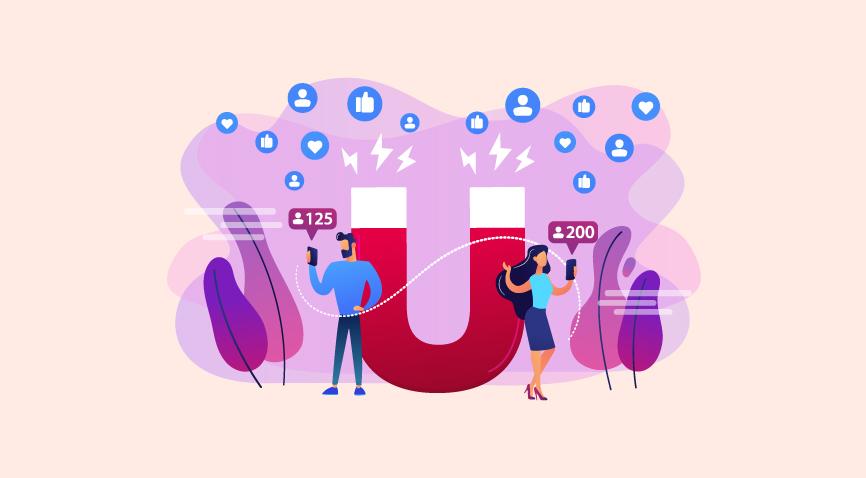 Looking for B2B social media strategy and inspiration? Explore how to win with business-to-business social media marketing strategies and examples in 2022.
Table of Contents
What is a Precise B2B Social Media Marketing (SMM) Strategy?

How to Craft a Business-to-Business Social Media Strategy

5 B2B Social Media Strategy Examples Set by Leading Organizations

Why B2B Social Media Success is Significant in 2022

Leveraging Triumphs in B2B Social Media Marketing

Key Takeaways

Conclusion

FAQs
Today, B2B companies and digital marketers have accepted that they can capitalize on brand awareness and support social selling by leveraging social media.
However, marketing for businesses online doesn't have to be uninteresting. So, we thought we would assist in sharing some of the best B2B social media strategy examples in this blog.
Furthermore, you can better prioritize the social platforms and reach your targeted customers with an effective social media strategy.
This blog will explore how to craft a successful B2B marketing strategy, winning social media strategy examples, and social media success in 2022 that will benefit digital marketers.
What is a Precise B2B Social Media Marketing (SMM) Strategy?
B2B social media marketing helps leverage different social channels to promote business offerings and reach targeted audiences. All social channels can be blended with B2B marketing. But the balance will probably look pretty diverse in a B2B social media strategy than consumer-based marketing planning.
Effective business to business social media strategy will help you set smart objectives, monitor competitors, share attractive content, use design elements, and have a unique brand voice.
Social media channels were crafted to assist people in making contact with other people. Even though companies have entered this field with their respective B2B social media marketing strategy for a while now, that sentiment hasn't altered.
How to Craft a Business-to-Business Social Media Strategy
An efficient B2B social media strategy drives growth, reach, and maintains reliability with your customers. Our inclusive framework will guide you through the checklist you require to build and implement a successful social media strategy for businesses.
The components of a social media strategy framework involve setting:
B2B marketing goals
Use diverse social media approaches to attain your digital marketing, business success, and promotional goals.
Audience understanding
You require audience understanding to increase influence and have clarity on your followers.
B2B marketing strategy
It involves selecting social media platforms and how to fetch results by leveraging them.
Content strategy
It covers researching and producing content with set objectives and using smart content creation tools.
Establishing partnerships
Engage with connections to find opportunities for alliances. Check your social networks to see whether your list of likely partners increases.
Paid promotions
It must involve strategic extension with paid campaigns.
Analysis
Inspect brand mentions to assess how your brand is observed by other people. Keep an eye on positive and negative comments.
5 B2B Social Media Strategy Examples Set by Leading Organizations
The brands listed below stand out from their competition by leveraging unique social media strategies and by completely understanding what their audiences require from their social media content.
They developed innovative approaches to reach more people and built useful communities across their company brands.
HubSpot is an example of a B2B brand that offers customer value on social media by leveraging content with a well-planned business to business social media strategy.
The brand steadily posts content on resources, research, guidance, and training subjects so that they have become a valued source for thought leadership.
The company uses a focused strategy of knowledge sharing to assist marketing executives in improving their skill sets and less about directly promoting their services.
What HubSpot as a brand does particularly well is interacting with its audiences by asking open-ended questions that steer a sense of community.
Zoom saw major development in its user base at the initiation of the COVID-19 crisis and social distancing limitations. With so many new professionals on the platform, Zoom did well by offering tips and training through social media sources.
Assisting people to become relaxed with new products and services is an influential approach to leverage social media and display to customers that they have your support.
It is also an effective strategy to highlight new product functionalities and improvements. Zoom does an endless job by interacting directly with its target user base and displaying to them how much they value customer support and constant enhancements.
Dropbox, the digital content distribution and hosting tool, leverages its brand channel on LinkedIn by sharing company announcements and even highlighting its staff members.
Staff at Dropbox utilize the hashtag #LifeInsideDropbox, and the company account regularly reposts and shares employee content.
This social media strategy steers authentic stories of the brand's employees and their experiences. It takes a more adapted and human approach to know its employer brand.
Today, B2B buyers can see the passion around the brand from its staff members and make it more prospective to want to do business with the company.
Adobe has a massive network of content creators that use their creative solutions on digital channels. Adobe uses the influence of user-generated content to enable its Instagram feeds with inspirational marketing content created and designed using their technology tools.
Sharing user-generated content is significant for crafting customer loyalty. It is specifically an effective social media strategy that markets individuals as testimonials.
The brand even engages its staff to share information about the organization on social media channels by leveraging EveryoneSocial's employee advocacy platform. With this strategy, they expanded their brand reachability and delivered successful campaigns.
You can explore on LinkedIn that Adobe posts more staff members' stories and points out the work benefits in the organization. This is yet another influential approach to entice top talent and reinforce their employer's brand.
Micro Focus is one of the prime enterprise software organizations. The brand effectively leverages social media channels to connect its services to the common people who gain from them.
Using sentiments in their posts and displaying customer stories, Micro Focus stands out from other IT services companies with personalized and honest storytelling.
Highlighting the mental health advantages of using their services conveys the pain points that their buyers may suffer and experience.
Micro Focus creates a helpful presence on social media that develops trust and reliability with customers enabling a fruitful business to business social media strategy.
Why B2B Social Media Success is Significant in 2022
With B2B executives locating information and insights on social media before purchasing, your brand comes a step closer to your clients than ever before.
You can build engagements on social media platforms through videos, blogs, posts, and other long-form content from your executives and company brand.
However, let us be frank. You require more than merely content. Your social media strategy must align with your company and business goals for consistent success. And if you are not crafting those bonds with your users and customers, who is? Your business competitors.
Leveraging Triumphs in B2B Social Media Marketing
It is stimulating to comprehend which B2B social media strategy will lead to the best outcomes with extended sales cycles and less understandable roadmaps for success.
In fact, the biggest issue that businesses face with social media strategies does not have a precise and formal strategy.
Setting an explicit business to business social media strategy and then forgetting it with time is not a strategy.
So, to leverage wins in 2022, you must play differently with your B2B social media marketing strategy.
In the B2B social media space, companies are winning by:
● Using their personal brands to interact with customers and user base
● Using diverse social media channels for different phases of the marketing funnel
● Integrating first-party CRM information and data sets to generate revenue from paid ads
Key Takeaways
Define your business-to-business social media strategies, goals, and involvement of stakeholders.

The benefits of executive social media management include a boost in trust and public emotions, relationship building, and brand genuineness.

Common troubles to social media activation comprise lack of time, lack of practice, lack of ideas, and blurred ROI.

Probable solutions to social media issues comprise guidelines and knowledge, curated content ideas for executives, and usage of advanced analytics tools.

Your social media strategy must be authentic, respond to the latest trends, repurpose current content, and add substantial value to your audiences.

To enable successful outcomes with your B2B social media marketing strategy, you have to generate original content that appeals to and occupies your prospects.

Monitor and measure your effect on social networks by crafting metrics on key performance indicators (KPIs) for each of your set social media marketing goals.
Conclusion
We explored marketing planning tactics and why they are needed with the best B2B social media strategy examples.
B2B companies can use these social media strategies, and they have already proven that these strategies can work for a diversity of audiences. So, why not attempt enabling them for your audiences to achieve business success.
Furthermore, it is pretty effective to leverage social media marketing to share the personal side of your company.
Promote your company's employees, achievements, milestones, and community involvement, and illustrate to your followers there is more to your organization than merely a revenue-oriented bottom line.
FAQs
1. How do you create and sustain a social media strategy for a B2B company?
Below are the seven phases of creating and sustaining a precise B2B social media strategy:
1. Align goals with prime objectives and clear milestones.
2. Identify your target audiences and marketing opportunities
3. Get personal rather than being generic with your content.
4. Leverage the best-fitting social media platforms.
5. Find striking and interesting promotional angles.
6. Plan how you will quantify and qualify your marketing activities.
7. Periodically analyze and make enhancements to your strategy.
2. How do I boost my B2B social media engagement and interactions?
We discovered proven B2B social media strategy examples in this blog, and below are some of the proven tactics to drive social media engagements:
– Understand your audience's needs and create applicable content.
– Be both engaging and hilarious with your posts
– Build a brand voice and generate helpful content.
– Add life to your content rather than being completely promotional.
– Share real-life examples and experiences in your posts.
– Create videos and infographics to generate enhanced interactions.
3. What is the disparity between building B2B relationships and direct sales?
With B2B marketing, you are selling high-ticket products and services, so your objective is to build long-term relationships with decision-makers by positioning your brand.
The journey on social media frequently advances in sequential phases, right from awareness to knowing the product benefits and acquisition comes at the end.
4. How B2B employees can work as key audiences and influencers?
In B2B companies, your employees are among the most efficient marketing tools for enabling brand advocacy.
When publishing and distributing content pieces such as blogs, product announcements, or discounts, marketing often initiates with employees sharing their networks before broadcasting to external audiences.
Today, personal brand building is stirred and not restricted across B2B businesses. An employee with a big professional network can be leveraged as an asset for reaching out to new prospects.
5. What if my customers aren't exploring all the social media channels we are promoting?
In B2B business, most of the VP-level purchasers are influenced by social media engagements in their purchasing decisions.
As per many surveys, B2B buyers consult information on social media channels before buying a product or service. By not having or having a partial existence on social media channels, you miss out on openings to network with significant clients.
6. How to create a winning B2B social marketing strategy on Facebook?
Below are seven steps for enabling a result-oriented B2B Facebook marketing strategy:
1. Set specific goals and targeted criteria for Facebook marketing. 
2. Do competitor research and identify your audiences.
3. Interact actively with your audience rather than using generic strategies.
4. Smartly plan and explicitly schedule your content. 
5. Strategize your Facebook advertising and mix it with organic tactics.
6. Inspire employee advocacy and use storytelling rather than being fully promotional.
7. Track and analyze your social media marketing strategies with generated results.