Blogging
21 Types Of Business Blogs To Inspire Your Content Marketing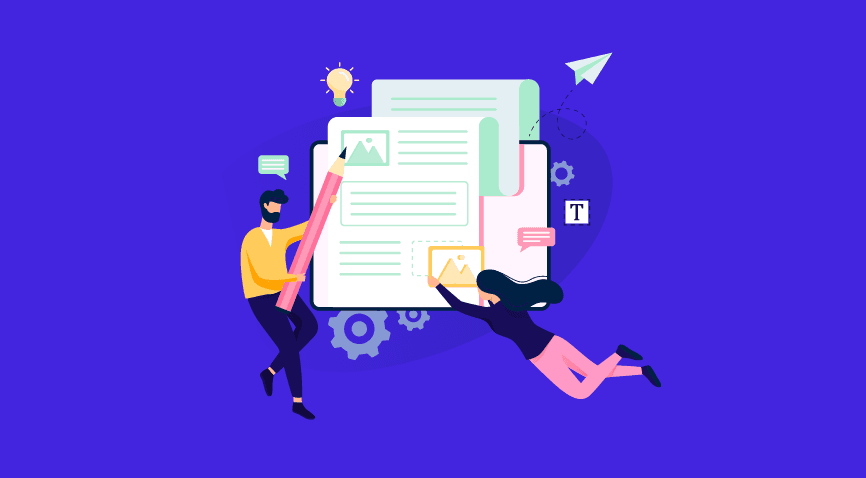 Table of Contents
What Is a Business Blog?
Small Business Blogs
Large Business Blogs
B2B Blogs
B2C Business Blogs
Tips on Starting a Business Blog
Key takeaways
Conclusion
FAQs
If you are the owner of a business or blog, you might have come across the following problem – everyone who consumes my content/product/service likes it, but how do I get MORE people to consume it? Gaining recognition as a brand or business can be very challenging. According to Investopedia, one of the most common reasons for a failing business is said to be a marketing mishap. Effective marketing of content is, therefore, crucial to scaling a business. This is where business blog marketing comes to the rescue.
Companies with business blogs have been found to have an average of 67% more leads per month than those that don't, according to a report by Demandmetric. There are several types of business-related blogs, and both small and large businesses consider them to be instrumental in enhancing their marketing strategy.
To reiterate, blogs about business are an effective content marketing tool.
In this guide, we will be looking at 21 types of business blogs examples you can draw inspiration from while creating your company's blog.
What is a Business Blog?
Companies publish business-related blogs, which they use to market their brands, services, and products. As its name suggests, you can learn about growing your brand from such business blogs.
We've handpicked and categorized 21 such business blogs examples to help you ignite the spark and blog your way to a smarter business. Savor these great blogging business ideas!
Small Business Blogs
This business blog primarily focuses on baking cakes. The website has delectable visuals of food, as any good food blog should have. The monotony is broken by sections about savory dishes, helpful how-tos, and insights into the business owner's life.
This small enterprise is focused on making unique products for dogs and supporting local animal shelters and rescue organizations.
Apart from product marketing, their frequently updated business-related blog is quite extensive and discusses various aspects of dog health and behavior. They also engage readers with canine-relevant news, stories of rescues, and tips on coping with the loss of pets.
This is a company that is dedicated to sustainably making soaps and other hygiene products.
The visuals of their business blog alone promote the idea of eco-friendliness. Talk about effective business blog marketing! With articles on sustainable sourcing, net-zero carbon emissions, and organic ingredients, the website gives a reader the impression that the business is selling sustainability through soaps rather than the other way round. Nevertheless, it also dives into the soap-making process and health benefits and provides considerable value to readers.
The articles also highlight the social responsibility efforts of the business.
This is a business that offers commercial photo and video shoots.
As one would expect from a photographer, their blogs about business is very visually appealing, with a well-organized layout. The blog provides great value to other professionals in the same space with articles that will help hone their photography skills. Apart from that, articles on shattering one's limitations and finding one's true self can also be found. It addresses issues that people face in other spheres of the art world and in their personal lives.
The Wood Whisperer is a website that focuses on selling furniture and other products carved from wood.
The website is visually engaging, and although it doesn't seem that the blog section of the website is updated very regularly, this is a good example of a small business blog with character. Their business blog marketing certainly places the products well with woodworking guides and articles on appropriate equipment for woodworking. However, it does only not stick to that premise as it also explores the future of the artform, self-doubt, and social responsibility, among several other themes.
Large Business Blogs
Fiver is an online freelancing platform that facilitates the connection between enterprises looking for services and freelancers who offer them.
Fiverr Guides is a great website for people looking to learn skills to enhance their employability or simply become more resourceful. They offer guides on several topics such as programming, video editing, audio design, and marketing. The simple brilliance of their business blog marketing lies in the fact that the audience can learn useful skills on it and eventually use them to sell services on the Fiverr platform. The blog, therefore, provides tremendous value for both businesses and the audience. There are surely some ideas to be gained from such a clever marketing tactic.
YouTube is an online video platform that allows users to post their own content.
The YouTube blog is a visually appealing and well-designed website. As a company built on content, it isn't hard to believe that the blog encourages artists and creators to make themselves heard in the section, titled 'Creator & Artist Stories'. The business blog also has a section that covers pop culture and trends, which ultimately links back to the video platform. This makes for a useful content marketing strategy.
Opendoor is an online company that facilitates transactions of residential real estate.
Although the website is not the most visually appealing one out there, it certainly makes up for it by using market research. The business-related blog is full of insights into the world of the residential real estate market. They also provide tremendous value through articles on strategies to scale up businesses.
Hubspot is a company that develops and markets software used for sales, marketing, and customer service.
Their blog is a result of the failure of traditional marketing methods such as emails and calls. The Hubspot business blog continued to grow and accommodate its vision of helping the growth of small and medium-sized businesses. The blog caters to various levels of marketing expertise, from articles on creating a sales plan to social media marketing, down to the simplest of articles like the basics of blogging and how to use header tags.
ChowNow is primarily an online food ordering app. Not only does it operate without levying commissions on the restaurants, but it also helps them set up their own app.
The company's vision to help small restaurants grow is well reflected in its business blog marketing through client stories, restaurant marketing insights, the latest in restaurant tech, and several other categories. Their 'How to' section also elucidates different ways in which restaurants can optimize the app's features. The articles are well-written and easy to understand, allowing even inexperienced restaurateurs to benefit from the blog.
IBM is an American technology company that thrives in the spaces of innovation and content marketing.
Their business blog is the epitome of consistent posting. This is made possible because the company encourages employees outside of the content team to contribute to the blog. The blog is visually representative of the company's innovative nature, and articles are organized according to readers' interests into categories of cloud technology, automation, artificial intelligence, and analytics.
B2B Blogs
GE is a large, US-based conglomerate with a stake in several sectors, namely, aviation, energy, healthcare, performance, and research worldwide. Each sector possesses its own blog section, thus making for a highly informative and engaging website. Their business blog marketing focuses on the positive impact that the company continuously generates through groundbreaking innovation. Definitely worth exploring for anybody interested in technology and innovation.
The Alibaba Group is a multinational technology company specializing in e-commerce and retail. Their business blog marketing efforts perfectly highlight their business and brand by focusing on tips for trade and e-commerce. Although this website caters largely to audiences looking for ways to elevate their B2B businesses, there is a wealth of information for those who are simply looking to learn about businesses in the retail space. They also have an encouraging section focusing on the success that people and businesses have gained through their brand.
Unity Technologies is a US-based video game software development company.
Their business-related blog exhibits a diverse collection of topics but manages to contain them within the brand's focus, which is video games and software development. Their roster includes tips for developers to enhance gaming experiences, insights into their software development process, and news and updates in the field of gaming and software, among several others. The blog provides a holistic view of the company and offers value not only to other similar companies but also to consumers.
Formlabs is a US-based company that focuses on the development and manufacture of 3D printers and related products.
The revolutionary innovation that is 3D printing is diverse in its application, ranging from healthcare to jewelry to art and design. This business blog pretty much covers all such applications of the technology. Their articles are topically sectioned, with each topic consisting of articles on the latest updates in the field, expert interviews, and 3D printing tutorials and ideas. The blog speaks volumes about the ubiquitous positive impacts of this technology and is definitely an inspiring space.
Atlassian is an Australian enterprise that primarily develops products for software companies.
Titled 'Work Life', their blog is creatively designed, with each article having a unique visual representation that catches your eye. Their blogs about business are built around valuable insights into core topics like teamwork, productivity, leadership, and technology. The blog seamlessly aligns with the company's mission to help improve productivity in a technological age.
B2C Business Blogs
If you are a blogger or an aspirant, what better source to derive inspiration from than a blog about blogs? Copyblogger blogs are dedicated to enhancing your online content, primarily focusing on written content. The website is packed with guides and tips for both the technical and creative aspects of writing. From creative headlines to getting rid of writer's block, this website literally inspires you to write.
Evernote is an app developed by Evernote Corporation that is essentially a digital notepad.
Although a large part of the business blog consists of updates, tech, and customer stories related to the app, they also have a category dedicated to productivity. The simplistic, organized, and engaging visual design of the page neatly outlines articles on self-care, organization, and inspiration, among other things. It is interesting to note how well the brand markets itself using the blog.
Coursera is an online course provider.
As a company focused on providing education to its customers, the business blog certainly carries its vision. It provides value to educators, businesses, and students alike, covering various topics ranging from arts to data sciences, among other things. It also encourages a reader to join the platform through inspiring stories contributed by customers.
Degreed is an education technology company that encourages skill-based learning over degree-based learning.
The website is simply designed and categorically partitioned to help readers gain insights into becoming more resourceful as individuals or enterprises. Their business blogs foster learning experiences through guidance, research, and success stories. A good portion of the articles is centered around learning and self-sufficiency.
SocialMediaToday is a blog that provides you with the latest updates from the world of social media marketing. From updates on the latest social media features to digital strategy and content marketing, their business blogs allow you to stay on top of your social media marketing. It provides insights into the latest research and infographics presented by the social media giants, thus highlighting the importance of business research.
Tips on Starting a Business Blog
1. Ensure that the blog reflects and elevates the brand
A blog is a marketing tool for a business and, therefore, needs to reflect the brand and its values as much as possible. Moreover, you want to ensure that the blog itself provides true value to readers. For example, in the case of Evernote, their app is used for purposes of organization and productivity. The business blog primarily consists of articles on the same, thus promoting their brand and providing value to readers by encouraging productivity.
2. Quality content
Arguably the most important aspect of having a business blog is ensuring that the articles are well-written and engaging. Similarly, they also need to be relatable and easily digestible. This means that ideally, even people who have minimal expertise on the subject matter of the articles should be able to benefit from reading them.
3. Audience engagement
According to a Demandmetric report, 70% of consumers feel closer to a company as a result of content marketing. It is, therefore, important to ensure that the blog consistently churns out new content. This does not necessarily mean that you are required to post every day, but it helps maintain regularity.
Also, ensure that you get comments and feedback and that any comments, queries, or messages are responded to as early as possible. This increases the likelihood of building a rapport with the audience.
Several of the previously mentioned business blogs have sections dedicated to customer/user experiences. Narratives of how the offered services or products benefited them can help build credibility.
4. Keyword research
Speaking of reworking, one of the most powerful tools you can use to work towards your quantitative goals is keyword research. You may be wondering why your website is getting an abysmal number of clicks. This can be helped using keyword research.
Keyword research involves the identification of the most popular search words at that time and building content that frequently incorporates those words. This will allow your website to ascend the search-engine pecking order. As your business blogs gain more visibility, your consumer base would also grow.
5. Setting goals
Set tangible and quantitative goals for the website. This could be in terms of anything from the number of website clicks to subscriptions to engagement with call-to-action links. If these goals are not met, modify your content and strategy or set more achievable targets. Luckily you have the 21 different types of business blogs described in this article to draw inspiration from.
Nevertheless, try not to feel discouraged when this happens. Building a business is a marathon, not a sprint. It will require constant re-calibration and reworking.
6. Visually engaging pages
According to stats from Webfx, 75% of a website's credibility comes from its design. Irrespective of the kind of business the blog represents, it is important to make it visually appealing. This does not mean that the design needs to be complex or elaborate. It can be simple yet eye-catching. Just enough to encourage the user to remain on the page. After which, the content will have to play its part.
7. Experimentation
It is always best to figure out what kind of content the audience finds most appealing. Try to periodically alter your formats, such as the number of words, the articles' tone, and the website's design. This will give you an idea about how people respond, and you can design your content strategy accordingly.
Much like building a business, a business blog requires constant work and attention. It might get frustrating not to see results right off the bat, but once you do, you'll know that it was worth it. In any case, if you hit any snags, the business blogs mentioned here can help you get going.
Key Takeaways
Blogs are one of the most effective marketing tools for a business.
Make sure that your business blogs always have some CTA or incentive for the audience to engage and comment.
Set tangible and quantitative goals for the business blog/website.
Articles need to be well-written and engaging. Always check meticulously for grammatical and spelling errors.
With consistent blogging, small businesses can generate organic traffic to their websites.
Keyword research involves the identification of the most popular search words.
You should know what interests your target audience. You are writing for a human and not a search engine. Avoid overstuffing with keywords.
Conclusion
Blogging is one of the most popular and most effective ways to market your business. Providing value to the consumer without asking for much in return helps them to trust your brand. Always make sure that your business blogs reflect your brand values, your personality, and talk about how your product and services can alleviate their problem. Incorporating search engine optimization (SEO) in your business blog marketing efforts would increase your chances of ranking. Above, we have curated a list of the best business blogs examples for you to take inspiration from. Happy blogging!
FAQs
1. How can a small business use blogs for content marketing?
With consistent blogging, small businesses can generate organic traffic for their websites and attract potential clients. Blogs help the business develop a strong presence on the web and give them the opportunity to engage with customers. Besides, business blogs are an inexpensive way to ensure your content is ranking on search engine result pages as search engines prefer fresh content pieces with relevant keywords. 

2. What is the best way to write business blogs?
The best business blogs have a few things in common. For one, a proper blog strategy is of utmost importance – you should know what interests your target audience. Second, the blogs should have topics and keywords that are relevant to your business. In addition, you must clearly define your goals and focus on producing regular, well-structured content. 

3. How do you promote blogs?
The best way to promote small business blogs is to repurpose the content. You can do this by converting top content pieces into infographics, YouTube videos, or podcasts. In addition, you can engage in active social media promotion and build backlinks to your site. 

4. What are the most popular content types for business blogs?
If you want to give a creative twist to your business blog, you can rely on some popular content types like listicles, video tutorials, how-to guides, guest posts, and infographics. These content pieces are interesting, innovative, and attract organic traffic to your website. 

5. How do you create a blog for your company's website?
When you are creating a blog for your company's website, focus on quality instead of quantity. Develop your unique writing style, insert keywords optimally, stick to specific word counts, and make your content easy to read. 

6. What is there to learn from successful business blogs?
If you look at some of the top business blog examples, you will realize that they focus on developing content for their customers rather than search engines. As such, they prioritize consistency and come up with fresh ideas. Besides, they do not stick to one content type, avoid keyword stuffing, and refrain from using jargon.

7. How do business blogs pay off? 
Blogs are among the most popular and effective content marketing tools. They give a unique personality to your business and make it stand out in an increasingly competitive market. The best part is that there are different types of business blogs that you can draw inspiration from to create a company blog that is creative and engaging.