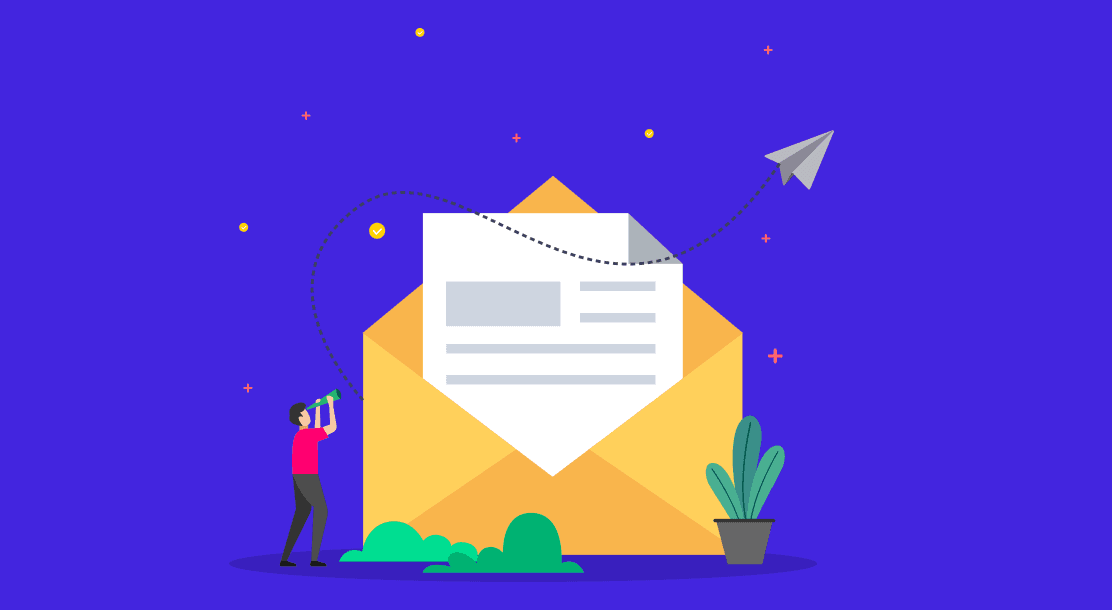 Make your last attempt to retain a client by carefully crafting a breakup email. Follow this ultimate guide to learn about breakup email templates and more.
Table of Contents
What is a Breakup Email?
What isn't a Breakup Email?
How to Write a Breakup Email
7 Great Breakup Email Templates
When writing a breakup mail, it doesn't matter how hard you try; there will be some people from whom you will not receive a reply. Such a scenario is highly challenging because you don't know how or what you should do to get a response from them.
But do you give up and move on?
Absolutely not!
This blog includes a list of breakup email templates that you can customize to draft your breakup email and send to your proposed client/customer.
Although before we start discussing the templates, let's first understand what a breakup mail is.
What is a Breakup Email?
A breakup email is the last attempt you make to save your company's relationship with a client. It can be understood as the email you send to a prospect after they've gone cold. In most cases, it's a last-ditch effort to get that prospect back on board before they are permanently removed from your sales funnel.
Breakup emails need to be crafted very carefully so they don't hurt the recipient's sentiments. To do so, you need to keep in mind a couple of things when writing your breakup email.
Do's
Keep the tone friendly, so it doesn't sound or read as another sales quota mail. Understand the recipient's POV and draft a letter that talks about their pain points and how you (or your organization) will solve them.
Add value to your mail by telling the customer what they will miss out on if they leave. Don't just send a mail consisting of numbers and stats; instead, make your client realize why they should choose your service/product. You can add a client testimonial or any other form of social proof to do so.
Keep the email's subject line crisp and precise; that's the first thing any individual reads even before opening the email. This applies to every email that you send out to your clients.
Remind them that this is the last email they will receive from your end, as this will give them a sense of urgency or scarcity. Also, by doing so, you will sound genuine and polite.
Keep the email short and sweet and get right to the point without beating around the bush. Also, don't overwhelm your customer with your prospect; instead, provide them with valuable information or address their pain points and how you or the organization will help resolve them.
Finally, inform them that they will not receive any more emails from you. But leave them an option to reach out if they ever need your service.
Don'ts
Don't write an extended essay in your breakup email. Also, they know who you are and what services/products you provide, so you do not have to give them in-depth details. Instead, be brief and to the point.
Don't make them feel guilty or at fault because it will only make you look unprofessional and desperate. This may also lead them to block you, and you don't want to sever all ties with them. So keep the message polite and away from any negativity.
Don't have a weak CTA because if you don't give your clients a concrete reason to respond, you may be right back where you started. You must get your client's attention and put them at ease with a strong CTA. Write such a compelling CTA that it feels that you are persuading (or even forcing) the reader to take a certain action.
Don't forget to proofread before you send the breakup email. Ensure there are no grammar or spelling errors before hitting that send button.
Now that you know what you should include and what you shouldn't in a breakup email let's clear some confusion about a breakup email.
What isn't a Breakup Mail?
We all understand the importance of a breakup mail because they are one of the most powerful sales tools you can use with prospects with whom you have actually built a relationship.
Still, many people mix breakup emails with follow-up emails.
So to make things clear once and for all, they (breakup and follow-up mail) are both different not only structure-wise but also purpose-wise.
A follow-up email serves as a data collection tool for any significant event in the customer journey at any point in time. In contrast, a breakup mail is sent to a customer for the last time to prevent them from unsubscribing or moving out of a sales funnel.
Because of this confusion, many people send breakup mail as a follow-up and put themselves and the company on the wrong side of the customer.
Lastly, you should remember that you should not send breakup emails to people unfamiliar (not on the subscriber list) with your brand.
How To Write a Breakup Email
Writing any email and not just a breakup email is an art. To help you master this art, we have listed a few steps (detailed) that you should follow to write a masterpiece.
Let's begin!
You need a powerful subject line; after all, "the first impression is the last impression," and your subject line is the first thing anybody sees or reads.
After that, you should start working on the main body, where you should focus on solving your customer's pain points. Shed some light on what product/service you sell and how it will help solve their problem. Although remember not to go overboard with the words; instead, keep it short and sweet.
Now that you have mentioned how your service/product can help solve their problem, make it clear that you understand why they were unable to revert. Now that you have the customer's attention, just ask them (subtly) for feedback to help you improve your service/product.
Finally, inform them that this is your last email to them. Let them know that you are grateful for their time and won't bother them with any unwanted mail further.
Since you don't want to sever all ties with your client, make sure you include a line or two stating that they (customer) can contact you at any time if they have a query about the product/service. For this, you can provide them with a contact number or an official mail id where they can get a quick response to their queries.
Now that you understand breakup emails and how you can write one, let's look at seven breakup email templates. Understand and analyze these templates and use these for your benefit.
Let's start!
7 Great Breakup Email Templates
You will find many breakup email templates online, but the seven we have mentioned here are the best. All these templates can be customized as per your business requirement.
1. Template 1: Don't just add words; add value
Hi [Name],
Regretfully, it is time for us to conclude our conversation since you've been unable to respond to any of our emails in which we've explained how [your product or service] could assist you with [their pain point].
It seems only fitting to provide you with additional resources since this is our last email to you; We hope that they will assist you in solving your challenges and pressing issues.
Check them out below:
[Link 1]
[Link 2]
[Link 3]
We are available whenever you need us if there is a question or problem that we can assist you with. You can schedule an appointment with us at [email protected].
2. Template 2: Use humor
Hi [Name],
Despite our desire not to continue spamming you with emails, it's part of our responsibility to follow up persistently on excellent potential matches such as you/your company.
That is why we continue to hustle.
Despite our hustling emails, you haven't responded, and we guess one of three things:
You no longer require our service/product, so we guess we should stop hustling, right?
Or it could be that you are busy with some other business and haven't had the time to respond.
Should we blame Netflix for keeping you occupied for hours?
Just tell us the reason by just typing 1,2, or 3, and if it's 1, you won't hear from us any longer.
Thanks,
[YOUR SIGNATURE]
3. Template 3: Keep it sweet and simple
Hi [Name],
We were happy to have you as our valuable community member. But it has come to our understanding that you are currently not interested in our product/service.
So without taking much of your time, energy, and space, we thank you and part ways.
But you can always shoot us an email if you ever want to reconnect.
Cheers!
[YOUR SIGNATURE]
4. Template 4: Be straightforward
Hi [Name],
Our best wishes go out to you.
As a solution for [their challenge], we have rolled out our product/service and told you about it via email. But since we have not received a response, we suppose the timing isn't right, or you might have gone the other direction.
As a result, we will allow you your space and contact you no more. However, do feel free to contact us if you ever feel the need to do so. We are always at your service.
Wishing you all the best in your endeavors, and should anything change, you can contact us via the contact information below.
Contact number – XXXXXXXXX
Email – ABC@
Regards,
[YOUR SIGNATURE]
5. Template 5: Ask for permission
Hi [Name],
I hope you are doing well.
Our sales pipeline needed a little cleaning up, and in the process, we found out that you haven't replied to any of our previous emails. So, before we close your file, we want to get one last confirmation from you. We are sure you've been extremely busy, or your priorities have changed since we last communicated.
Would you mind if we closed your file if you are not interested? If you are still interested in finding out how we may be able to help you achieve [a specific goal], then let us know how and when we can reach you.
Here is a link to schedule a demo, so we can show you the services/product we offer and how they can be great for you/your business.
Cheers!
[YOUR SIGNATURE]
6. Template 6: Offer gratitude
Hi [First name],
Greetings! We hope all is well with you. The last couple of times, we tried connecting with you and wanted to talk about how we can solve your problem with our product/service.
But it seems like you don't require our service as of now, so we must part ways. But we are grateful for your patience and time.
If you're still interested in continuing our discussion, do let us know. If not, we'll stop reaching out and wish you all the best.
Kind Regards,
[Signature]
7. Template 7: Say the final words
Hi [Name],
As you know, we have contacted you several times over the past couple of months.
But we haven't received any response from your end, and it's getting lonely over here. If you've decided to delay your decision or go with another solution, do let us know, so we don't trouble you with any more emails.
Feel free to get in touch if you want to learn more about [your product/service]. Unfortunately, we must say goodbye now.
Wishing you the best,
[YOUR SIGNATURE]
That's All, Folks!
We all know and understand that writing a letter is not easy, and when you are writing it as a last attempt to save a potential client, it becomes even more difficult. I
It's only understandable that it is challenging to craft the perfect breakup email under such pressure.
We hope this blog helps you craft a fantastic breakup email even under pressure. Remember, you can alter the templates to suit your personal preferences.
After all, finding a suitable breakup email template is a trial and error process. The template you use will depend on your customers' concerns.
The last thing that needs to be kept in mind about breakup emails is that nobody likes to receive multiple breakup emails. So when you are done sending your breakup mail, have patience and let the customer take the next step.
FAQs
1. What should the length of a breakup email be?
It is important to keep your email short. Messages that are too long or too short could cause users to leave the page without fully reading them, and messages that are too short could make them feel as if you haven't provided adequate information. Maintain a word count of 100 to 120 words.

2. Is email marketing effective for customer retention?
The use of email marketing for customer communication is effective. You can use this to engage your customers and help them feel that their voices are being heard. Many companies do not follow this procedure, which leads to the loss of customer trust.

3. How to draft a perfect breakup email?
Drafting a perfect breakup email is tough, but if you follow the tips mentioned in the article above, the whole process will become easy. Just remember to write an email in a very polite manner that is not too direct and isn't very long. You can make use of the breakup email template we mentioned above.

4. How does one determine if the breakup email did well or not?
One way to know this is by looking at your email analytics and looking for the opening rate and other critical criteria. Another great way is to be patient after sending the mail, and if customers positively reply to your mail then the email has performed well.