Content
19 Amazing Blogging Tips and Tricks for Newbie Bloggers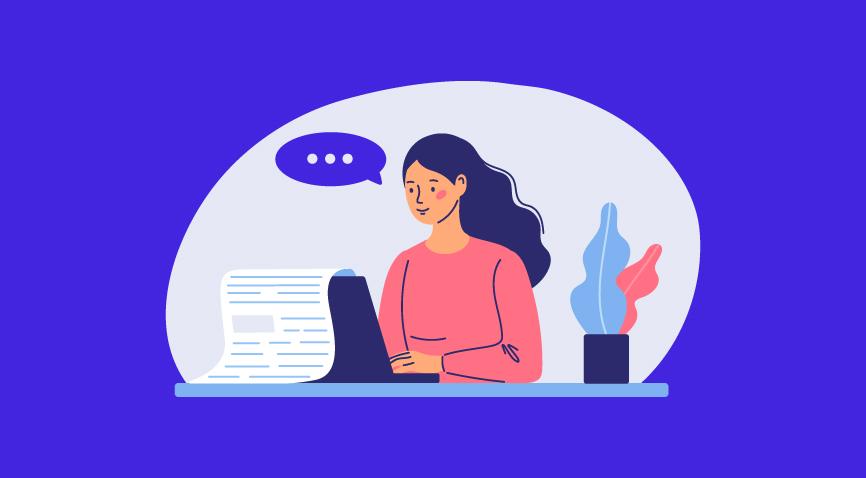 Are you someone new to blogging? We aim to share some helpful and effective blogging tips and tricks that help you easily come up with a successful blog.
Starting a blog involves many steps, making potential bloggers wary of taking the first step to start one. So, to help you get started, we will be sharing some highly effective blogging tips and tricks in this article.
19 Blogging Tips and Tricks for New Bloggers
1. Choose a blogging niche
Pick a topic you are passionate about and try to intensify that topic by doing something more or differently (or maybe even better) than the existing players.
Narrowing your niche is the smartest strategy to kick-start your new blog. It is, in fact, one of the best blogging tips and tricks for beginners. A niche blog will get you a reliable audience and boost your blog's topical authority, which helps improve search engine optimization (SEO) ranking.
For example, starting a health and wellness blog (a very general topic), you might focus solely on 'Herbal Remedies' or 'Nutrition' and become the go-to expert on that topic. Later, once you gain traction, you can branch out and cover a wide range of topics.
2. Write consistently
The most common reason why many bloggers fail is that they treat blogging as a hobby or a side project. Blogging requires hard work and consistency if you want to triumph. Otherwise, it is easy to fall apart in your blogging business.
That means while quality content matters, adopting a blogging habit and becoming consistent in blogging life is simply as important. If you have a busy schedule, you can use an editorial calendar to schedule your posts or drafts in advance to be more consistent with your blog.
If you do not feel productive, a great tip for new bloggers is to try reading the content published by other bloggers in your niche. You can also reply to the comments on your blog and learn what your audience is currently engaged in. All these activities will help you get new ideas, and you will feel motivated to work on them.
3. Establish a social media marketing strategy
Promoting your blog content on social media sites is one of the most useful blogging tips and tricks for beginners. It boosts readership and drives targeted traffic to your blog. Using your blog's niche, leverage the right social media platform to promote your blog.
For instance, if your blog content is visually driven, social media platforms like Instagram, Facebook, and Pinterest are a great fit. However, if you're targeting professional readers, it might make sense to gravitate towards social platforms like LinkedIn and Twitter if you're targeting professional readers. On the same note, promoting your content through networks like Snapchat would be a good idea if you are targeting a young audience.
To choose the right social media platform for your blog, find out the answer to this simple question – where is your audience? And the decision will be easy for you.
Once you have your social media channels ready, an important blogging tip for beginners is to create a strategy to promote your blog. The best way to do this is to write brief posts from your blog's content and redirect your audience to the website for more. Some engaging and catchy social media graphics can help too.
4. Write killer headlines
The headline or title of your blog post is the most crucial piece of your content. The content means nothing if a reader can't get past your headline. That's why you should learn how to write compelling headlines to grab the reader's attention and make them want to read more.
If you're unsure how to write your headlines, you can use the online headline analyzer tools to create clickable SEO headlines.
5. Optimize your blog for mobile
One of the most helpful blogging tips and tricks for new bloggers is to optimize the blog for the mobile device. This is just as essential as having a blog in the first place. Many bloggers are now opting to perfect their mobile sites.
Smart Insights reported that 80% of internet users own a Smartphone. Thus, the more mobile-friendly you make your blog, the more people are likely to engage with it. Often, this means choosing a responsive design template.
Usually, blogging platforms provide you with the option of responsive blogging templates. However, if your blog is custom-built, you may ask your web developer to optimize the blog for mobile devices.
6. Invest in a good blog design
An important tip for new bloggers is to spend time on the User Experience (UX) for your readers. A smart user-friendly blog design will set your readers up for a pleasant experience that will attract them to visit again.
You may outsource a professional blog designer to help design your blog. Or, if you cannot hire a professional, you can use high-quality WordPress themes for tried-and-true designs.
Thanks to platforms like WordPress, even a novice can start building their blog at the backend. The easy-to-use features and controls help add your personal touch to your blog. You can choose from the available blog templates per your aesthetic, UI/UX, color, and theme requirements.
7. Don't plagiarize your content
Avoid plagiarism on your blog. Write unique content. Don't try to copy someone else's content because plagiarism is a serious offense, and search engines like Google can even ban your site for copyright infringement.
There are many free and premium online tools that you can use to run a plagiarism check on your content before you publish it. These tools will help you make your content 100% unique and SEO-friendly. Remember, duplicate content is an offense in the eyes of Google, and your blog will suffer due to that.
8. Avoid Grammatical Mistakes
Grammatical errors can result in a bad user experience and affect your credibility. If English is not your first language, you can use online grammar-checking tools and apps like Grammarly or Grammar Checker to make your content free from grammatical errors. These tools are easy to use and are available for free as well as in premium versions. 
9. Connect with your niche bloggers
Blogging is a difficult business. But with the help of other bloggers, it becomes manageable. That's why reaching out to bloggers you admire in your niche and building good relations with them is an important tip for new bloggers.
You can learn many things from them and consider collaborating with them to cross-promoting each other. This would ensure your target reader sees your blog in no time.
10. Learn basic on-page SEO
Learn how to use a variety of on-page SEO tactics to rank higher in the search results. One of the blogging tips and tricks for beginners is to choose a targeted keyword for your blog post and include it in a few key places on your page, like the blog post title, meta description, and H1 tags. Additionally, learn how to use short and descriptive URLs.
If you are handling your blog at the backend without professional help, you can also use SEO plugins to ensure your blog's SEO is accurate. These plugins will scan your content before you post it showing you the blog's shortcomings from the SEO point of view. This way, you can make amends and make your blog search engine optimized before publishing it.
11. Add Links to your post
Incorporating links in your blog posts will increase the credibility of your blog and can be a boon to your SEO strategy.
On the other hand, citing external sources in your post will also provide a more in-depth experience for your readers.
12. Cross-browser test your blog
Cross-browser testing has become an important part of building a blog, and helps you provide a consistent blog experience to all your readers across different browsers.
Google Chrome, Safari, and Firefox are some of the most common browsers. Make sure the design of your blog is compatible with all the browsers and loads properly on every browser.
13. Respond to comments on your blog
One of the best blogging tips and tricks for beginners is to interact with your readers by replying to their comments on your blog post. The more interaction between you and your readers, the more comfortable they will feel about commenting again on your blog.
Interacting with your readers through comments ensures your professional credibility and help them understand your content better. However, make sure you do not entertain spam comments on your blog.
14. Use visual content
Enhance your blog posts with relevant, high-quality visual content to break up your text and highlight important takeaways so readers can quickly scan through the content and comprehend the message.
You can create beautiful graphics using Canva or download high-quality photos and videos from free stock photo resources like Pexels, Pixabay, and StockSnap. If you think designing graphics is not your cup of tea, get help from a professional designer.
15. Spy on your competitors
Competitive analysis is the backbone of a strong marketing strategy. So, first, identify your close competitors and their marketing tactics.
You can use competitor research tools like SEMrush and Ubersuggest to identify your closest competitors and gather data that can help you develop a marketing strategy for your blog.
Also, keep a close eye on the content they publish and how their audience responds. It will help you make amends in your content strategy to make it better and more results-driven.
16. Add Call-To-Action (CTA) buttons
While the content that you choose for your blog is important, it is also advisable that you include important Call-To-Action buttons in your blog. Finish your blog posts with some kind of CTAs to follow you on Instagram or subscribe to your email list.
17. Build your email list
Start building your email list from the beginning. For as long as your readers are subscribed to your email list, you can promote your new content directly to them without worrying about search rankings. One of the best blogging tips and tricks for newbies is strategically placing opt-in forms on blogs to convert readers into subscribers.
18. Create long-form content
Write long-form blog posts because they will get you more of what you want. Long-form content makes good SEO sense and will boost on-site engagement, social shares, and attract backlinks. As a rule of thumb, write 1,000+ words to rank higher in search engine queries.
19. Add Social Sharing Buttons
A good tip for new bloggers is blogging and social media marketing = marketing success. Linking social media icons to your blog is the best way to get your readers to follow your social media sites. It will increase traffic to your social networks and build your presence outside your blog.
The Most Important Tip of All: Don't Give Up
One of the most important blogging tips and tricks for beginners we'd like to conclude this list is: Don't let failure get you down.
Blogging regularly is hard, and you may struggle with your blog and perhaps feel like quitting. Shake it off, and keep at it. Hard work and commitment are incredibly important to being a successful blogger.
FAQs
1. How do I choose a Domain Name for my blog?
The name of your blog is the most crucial part. It describes who you are, what you do, or what the blog is about and helps your target audience discover you. So, one of the tips for new bloggers is choosing a domain name that describes you and your blog and makes it easy for your target audience to find it. Look for the most common keywords in your niche, and you can use them for your domain name or blog's name.
2. How can I generate free traffic to my blog?
Make use of social media and guest blogging platforms to generate free traffic to your blog. You can share your blogs on social media, write for guest blogging sites, participate in discussion forums, comment on other blogs, etc.  
3. How can I improve the SEO of my blog?
To improve the SEO of your blog, you need to get an idea about the basic on-page SEO. Keep the rules of on-page SEO in mind while you create content for your blog. Keyword optimization is one of the most important factors among others.
4. What are the best ways to get content ideas?
Besides covering the informational topics in your niche, a good tip for new bloggers is to keep an eye on the ongoing trends. Take notes of what your competitors and the influencers are doing. You can also try social listening, where you keep track of what your audience is talking about. All these activities will help you learn about the latest trends and give you lots of content ideas. 
5. Which social media platforms are the best for promoting my blog?
The selection of social media platforms depends on your audience and niche. Facebook, Pinterest, and Instagram are very versatile, and you can find all kinds of businesses and bloggers there. So, you can go for these three. Besides, you can check the utility of Twitter, YouTube, TikTok, Snapchat, etc., for your blog. If they have your audience, go for them! 
6. How does a blogger start making money?
There are many ways to make money while blogging. Some practices are using ad networks, selling products or direct advertising, affiliate marketing, native advertising, publishing sponsored posts, writing paid reviews, etc. Besides, follow the right blogging tips and tricks to make your blog famous among your audience and attract sponsors.