Marketing
How Often to Post on Social Media: The Ultimate Success Guide of 2022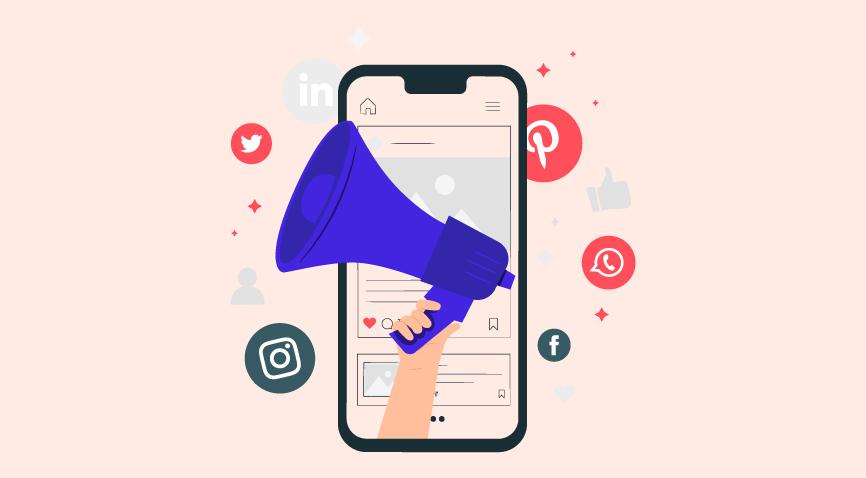 To get the maximum engagement from your social media posts, you need to know exactly when and how often to post on social media. Here's a detailed guide.
Social media users are constantly plagued by this question: how often to post on social media? Or when to post on social media? We can't over-emphasize the significance of consistency in social media marketing. That hasn't changed in 2022, and we don't believe it will change in the future.
Having an idea about social media engagement posts is only half of the work. The tricky part is figuring out the best time to share it with the global community.
According to the latest research, there are ideal social media posting frequencies for many networking platforms to maximize your reach. Specific hours work better for every social platform, which we'll discuss in detail below.
How Often to Post on Facebook?
As per research, posting once or twice a day is the best. Recently, Hubspot discovered that sites with fewer than 10,000 fans saw a 50% decline in engagement per post if they posted more than once a day. That's why you should perhaps post on your Facebook Page at least three times every week.
While posting, you need to remember that Facebook is the world's third most visited website, and an average user spends 34 minutes per day on the website.
However, pages with more than 10,000 followers saw a spike in clicks per post when they posted more frequently. Clicks per post soared between 31-60 posts a month for business pages with 10,000 followers or more. Clicks per post did not rise when these businesses posted over 61 times a month compared to one to five times a month.
Choosing quality over quantity is the key to determining social media engagement post frequency. Posting daily makes sense. The more you post, the more visible you are, but you might notice a drop in engagement if you post too much.
You can stay consistent by engaging with the audience you have built over time. But for starters, think of some ideas and plan a week or a month's worth of posts. The idea is to create a content calendar for yourself and follow it meticulously.
Facebook usage has increased exponentially amidst the pandemic. As per the current situation, the best time to post on Facebook are Mondays, Wednesdays, and Fridays from 10 a.m. to 11 a.m. and in the evenings between 8 p.m. and 9 p.m.
How Often to Tweet on Twitter?
Twitter users are likelier to catch up on the latest happenings and tweets during the early hours. Wednesday from 9 a.m. to 3 p.m. and Tuesdays through Thursdays from 9 a.m. to 11 a.m. is the best time for scheduling social media posts.
You will get the lowest engagement on your post on social media from 10 p.m. to 4 a.m. That makes sense because most of your audience would be asleep by then.
During the COVID-19 pandemic, usage trends were relatively consistent. The only difference was on Friday mornings when there had been an increase in activity between 7 a.m. and 9 a.m.
Because tweets have a short life span, it is necessary to spread your tweets across the day. Posting between three to six tweets per day is preferable. The ideal number of tweets per day is 15-23. Dan Zarella discovered that the accounts with a higher number of followers on Twitter averaged nearly 23 tweets per day, with no reduction in followers when the number of tweets increased.
Just knowing the best time to post on Twitter isn't enough. To increase twitter engagement, you first need to understand the platform. Whenever you want to make an informed decision, play the game of numbers. Numbers will never lie to you.
Typically, a person spends about 15 minutes per visit on Twitter. So it's best if you follow the rule of the thirds.
A third of your tweets should promote your business, another third to share personal stories, and the rest should be about insights from experts and influencers. This rule keeps the audience engaged with different topics and keeps them curious enough to keep following you.
If you disappear from Twitter for several weeks or even months, you will surely lose followers. You could also use scheduling tools to post while you are asleep but your followers are awake. Remember to stay authentic and follow up on talks after you return. Monitor your Twitter social media engagement posts analytics to learn what works and doesn't with your tweets and followers.
How Often to Pin on Pinterest?
For Pinterest social media engagement posts, the ideal times to post are late on Fridays and Saturdays between 8 p.m. and 10 p.m. (9 p.m. being the best) and between 2 a.m. to 4 a.m. The worst time to post on Pinterest is after work, during daily commute hours.
The top Pinterest businesses have shown consistent growth and, in some instances, rapid or astounding growth by implementing a multiple-posts-per-day plan.
Piqora, a visual marketing firm, interviewed firms such as Whole Foods, Lowe's, LL Bean, and others in 2013 to learn about their Pinterest experiences. The brands revealed the correlation between the regularity of pinning and traffic upsurge, with the highest growth between "a few pins a week" and "three to 10 pins per day."
Post a minimum of three pins each day and a maximum of 30. More than 30 pins each day do not provide any further rewards. Limit your pinning if you can't keep up with new content development. Creating unique, high-quality pins determines the quality of your profile. Three good-quality pins will outperform 25 redundant ones.
How Often to Post on Instagram?
The trends observed in 2021-2022 have shown drastic shifts in social media engagement, especially in India. As people moved their work and domestic lives online and from home, their use of social media skyrocketed. When is the best time to post on Instagram? According to Sprout Social, the latest optimum times to post on Instagram have grown to three days each week, Mondays, Tuesdays, and Fridays. It remains the highest right before lunch at 11 am, with a surge in interaction on Tuesdays at 2 pm.
Big businesses post on Instagram 1.5 times a day on average. If you post more, there is no loss in engagement as long as you keep up the pace.
Union Metrics, a social media analytics service, spent considerable time examining 55 of the most famous, prominent Instagram brands to understand the best methods for timing, regularity, and other factors. They discovered that almost all brands only post on Instagram once or twice daily. Some users posted up to 10 times daily and saw no discernible drop in per-post interaction.
There is no harm in posting stories frequently. Adam Mosseri, Chief of Instagram, said that two feed posts per week and two stories per day is the ideal way to build a loyal fanbase on the app. That makes sense. No one likes to be spammed. The key here is to determine how often your followers want to hear from you and see your post on social media.
Once you understand how and when you should be scheduling social media posts on Instagram, the next step is to adopt consistency in your routine. If you play your cards right, you can grow your followers at a much faster rate simply by posting every week consistently rather than posting less frequently than once a week.
Therefore, it is fine to post on Instagram more frequently, as long as the standard of the posts remains high.
How Often to Post on LinkedIn?
LinkedIn is evolving into a more interactive platform that promotes regular postings and engagement. LinkedIn Trainer Steve Phillip stated, "Success is not a spectator sport in his video. To make LinkedIn work, you must have a plan and implement that plan consistently."
LinkedIn, like any other platform, has its criteria for posting. You would see brands post only once and gain followers six times faster than those who keep a lower profile. A few companies that post weekly see twice the engagement rate, and some brands even get more engagement when they post daily.
It all comes down to your posts' quality and the content you feed your audience. The higher the rate, the higher the increase in engagement and the number of your followers. All you have to do is ensure that your posting strategy aligns closely with your engagement goals.
There is no exact best time to post on LinkedIn. Posting at least twice a week, not more than once a day (preferably in the morning), is the ideal way to go about it. You may engage 60% of your target consumers with 20 posts every month.
As per the LinkedIn Small Business Guide, the platform revealed an intriguing statistic about how frequently you should post on LinkedIn. Five times a week corresponds to a once-a-weekday posting frequency that is great for reaching the LinkedIn audience, comprising experts who invest most of their time on LinkedIn during working weekdays.
How Often to Upload on YouTube?
Consistency on YouTube is crucial. Make an effort to post a new video once a week. Don't quit YouTube just because you can't upload weekly, and don't publish boring videos to get something up there. We know it sounds like we're repeating ourselves, but it's all about regularity, quality, and what works best for your target viewers.
YouTube is all about creativity. You don't want your channel to stay silent as it may lead to your subscribers forgetting about you, and you won't get many views on your videos no matter how interesting they are. Once again, consistency is the key to success.
First, set a deadline for yourself when you're about to post a new video. Determine your social media posting frequency realistically. There are two advantages to that.
The first is that it will leave no room for you to procrastinate and the second is that your subscribers will know exactly when to expect a new video or a post from you.
Secondly, there might be days when you are full of new and creative ideas, and you want to convert those ideas into videos and upload them as soon as you finish. We recommend you not to do that. Instead, make those videos and save them for a later date according to your schedule.
Why exactly are we advising you to do this? It's because there might be days when you don't feel very enthusiastic, and you can use those videos to post on those days.
Weekends are some of the ideal days to publish your YouTube videos, with Saturday being the best. Schedule your uploads around 6 p.m. to 9 p.m. for maximum engagement.
Lastly, don't set unrealistic goals for yourself. Maybe you want to be a YouTuber full-time. Perhaps you don't. Either way, your schedule shouldn't leave you feeling burnt out.
When you make a schedule for yourself, set realistic goals and consider how much time you can devote to making videos. Even if you are not a full-time YouTuber, making videos shouldn't leave you tired that you cannot work on your primary job.
What Determines the Frequency of Posting on Social Media Platforms?
Understanding different platforms and how often to post on social media for business can be a bit tiring, but you will be glad in the long run that you did your research before making a decision.
Going with the general assumption, we can tell you that posting one to three times per week is a good start, and research supports these numbers, but the honest answer might seem different than what you expect.
If you post too often, your audience might feel fed up with you. No one likes to be spammed. So it's natural that people won't want to see your posts whenever they open their feed.
On the contrary, not posting at all will damage you since you risk being forgotten by your audience if they don't see enough posts by your profile/handle/channel. That's why you must find the right balance between posting much and too little for each social media channel you operate.
You can only find the right balance for yourself through trial and error. With this method, you will find the social media posting frequency on any platform.
Any person would overthink in the beginning how much they should post in a day. Still, if you talk to any experienced influencer or a known figure, they will tell you the same thing: focus on quality over quantity and maintain that consistency. Quality will always leave the frequency of the posts behind. If the audience finds your content relevant and valuable, they will keep coming back to see your posts, benefiting your social channel.
Nowadays, with the help of social algorithms, you can market your content to those looking for that kind of content. This provides you with a two-fold benefit.
The first is that users will value your content and appreciate it, only leading to them following you. The second is that they won't have to search and see everything published by every social media influencer. But as we said, you can only determine the best time to post on different social channels through trial and error.
Whatever your frequency of posts on social media, ensure that you maintain the quality of your content and offer as much value as possible through your posts.
If you focus on quality over quantity, your followers might not even care when you are posting. Instead, your followers and a few new people would seek out your content, which is precisely where the social algorithm we talked about jumps in and does its thing. Maybe you can provide:
Industry tips
Video tutorials that simplify complex stuff
Even some mind-blowing stats
Whatever information you provide through your content, your posts will attract new and old followers as long as it offers value.
So while there is no perfect answer to what determines the frequency of posts on social media, you at least know where you have to start to create great and engaging content that will help you reach out to people who will appreciate you and your posts.
Key Takeaways
Every social media platform has a different demographic of active users at different times of the day. Social media posting frequency and content must vary from platform to platform.
If you are wondering when to post on social media, you must identify the content needs of the users frequenting that platform.
Social media posting frequency for Instagram could be two to three times a week or once a day.
It is recommended that you do not post more than five times a day and post a minimum of at least once every day on LinkedIn.
If you are wondering when to post on social media, it is recommended that you keep up your creative juices and post once every two weeks or once a week. If your videos are long, set a realistic schedule for yourself.
Conclusion
The ideal time to post on social media depends on your followers' platform, time zone, and geography. While the figures in this article are averages, you may discover that your audiences are more engaged at other times. Experimentation is one of the best techniques to find the perfect time for posting to build your social media marketing strategy.
The trick is to post relevant, high-quality material consistently and monitor when your audience interacts most with your content.
You can use social network management software to plan posts at different times for several weeks to see which timings perform best for your audience. Remember that each platform is unique, so monitor each independently for maximum effectiveness
FAQs
1. How many times should I post on Instagram (2022)
It is recommended that your social media posting frequency on Instagram should be at least once per day and no more than three times each day. The primary goal is to emphasize the importance of quality and consistency in your posts.
2. How often to post on social media (2022)?
Most researchers believe that one post per day is ideal, with a maximum of two per day. According to Hubspot, pages with fewer than 10,000 followers saw a 50% decline in engagement per post if they posted many times daily.
3. When should I post on Facebook (2022)?
According to the latest studies, somewhere between 11 am and 4 pm on Wednesdays might just be the ideal time to post on Facebook. You can also consider posting on Fridays, Saturdays, and Sundays, as these days witness a ton of traffic and increased audience engagement.
4. Is posting every day too much?
According to recent research, there is an optimal posting frequency for many social networking networks. Many studies reveal that posting once every day is the ideal social media posting frequency, but you can post as often as you can as long as you post quality content.
5. Suggest some tips to grow our Youtube Channel.
Consistency on YouTube is crucial. You need to update your YouTube channel regularly if you want a shot at success. Make an effort to post a new video once a week. Logically the best strategy is to focus on momentum and devise your own social media posting frequency rather than blindly following the pattern.
6. Is pinning 30 pins every day on Pinterest appropriate?
There is no such thing as an excessive amount of pinning. However, social media posting frequency must be consistent. We value consistency above quantity. Pinning a comparable amount of times every day is preferable to pinning a large number of times all at once and then doing nothing. Pinning should be done daily if possible.
7. How often should B2B companies post on social media?
Although every business has its own needs, here is a rough idea of how often your business should post on social media:

Twitter: 4-5 times per day
LinkedIn: Once per day
Instagram: Once per day
Facebook: Once per day or five if you post more than three times per week

That said, there is no concrete answer to this question, and we can only provide you with a rough estimate based on our research. Different businesses might have different needs, and you might have to keep experimenting with different ways to find out what works out best for your business.