Marketing
Top 5 Benefits Of Email Marketing And Why Is It A Must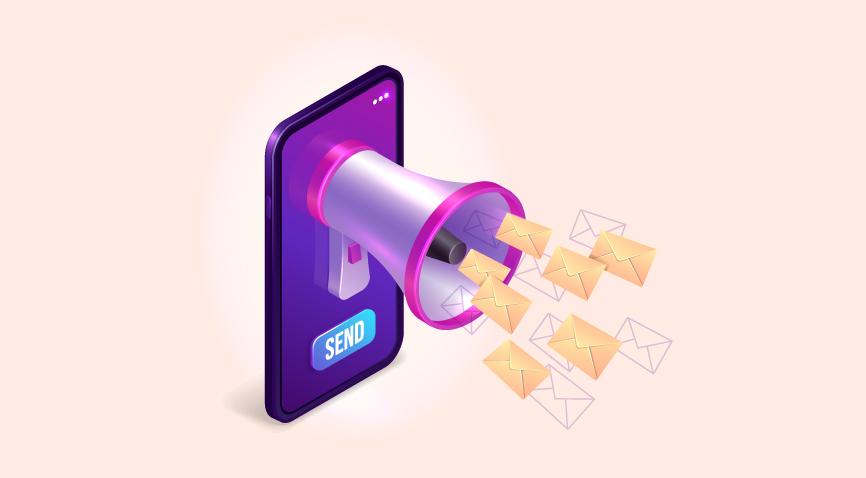 Digital marketing has evolved, organizations and brands are now leveraging the power of data-driven marketing to achieve their business goals. Data is at the forefront of every marketing effort and is the driving force that pushes companies to try different internet marketing channels like email marketing.
The pandemic is still looming over the world, and as a result, a lot has changed in the area of marketing. Everything is now online, from how businesses interact with their audience to the way consumers make purchases. Thus, internet marketing has become more crucial than ever.
At the start of 2020, several experts believed that email marketing was losing its charm and soon will be out of the marketing world. However, a lot has changed over the past two years, and now, the benefits of email marketing have become integral, making it an important part of internet marketing. Research reveals that 87% of marketers plan on investing more in email marketing.
Looking at the situation, companies are already working on formulating a new and evolved email marketing strategy that will help them stay afloat amidst the global COVID-19 crisis.
As per a report by Hubspot, companies are sending about 27% more emails than they did before the COVID-19 crisis. Well, this spike is not without reason. Email marketing works, and we've numbers to back our claim. In comparison to social media marketing (Facebook and Twitter), email marketing garnered 40% more conversions.
This was just the tip of the iceberg. We will dive into the top 5 reasons why email marketing is a must-have for your internet marketing:
Benefits of Using Email Marketing For Your Business
1. Hyper-personalization
A company may adopt an email marketing strategy for several reasons, including lead generation, brand awareness, sale promotion, sales, re-engaging customers, etc. Over the last few years, we have seen how personalization impacts customer behavior. A simple personalized subject line leads to a 62% of open rate, reveals a report.
Well, today, almost every brand sends out personalized e-mails, but is that enough? Doesn't look like it.
A whopping 96% of customers received the wrong or irrelevant information/promotion, reveals a recent report by Janrain and Blue Research. That's not all; of these, 68% delete the email, 54% unsubscribe, and 29% said they are less likely to make a purchase. Clearly, customers expect brands to know them well.
In this ever-competitive email marketing landscape, brands that stand out are the ones that use hyper-personalization. The use of artificial intelligence and data allows the company to send personalized greetings and better-customized offers.
Hyper personalization isn't just to please your customers but also helps you achieve overall cost efficiency. Another report revealed that targeted/segmented email marketing yields 50% better CTR than non targeted/generic e-mail marketing campaigns. So, if you want to generate leads while optimizing your costs, it's important to use hyper-personalization.
2. Easy to measure
E-mail marketing is one of the oldest techniques of digital marketing, and hence, over the past decades, this vertical has seen a drastic improvement. There are several metrics available to track an email marketing campaign and measure its success. There are several metrics to measure the benefits of email marketing efforts from delivery rate, bounce rate, click-through rate, open rate, and unsubscribe rate.
Over the past years, experts have been able to record and set benchmarks to measure the efficiency of email marketing. However, remember, not every business will yield the same result. And thus, these benchmarks may differ from one industry to the other. Today, there are several tools developed to measure these rates. One can simply purchase these tools to understand what works best for them and what doesn't work at all. This way, they can get actionable insights.
One popular insight that several businesses have gathered is the more images you include in the email, the lesser the click-through rate.
3. Engagement
Only 2% of your Facebook followers can see your post. On the other hand, over 90% of emails are delivered to the designated inbox. This means that emails have a higher chance of being noticed. Over the years, companies have conducted several experiments to understand what works in the category. Things like personalized messaging, exclusive offers, interesting subject lines, new product information, tips and tricks, and other such topics tend to have a higher open rate.
If you want your customers to engage with your e-mail, consider being transparent. Adding social media links, customer feedback, user-generated content, and more can lead to higher conversions as it helps earn your readers' trust.
Reports reveal the best day to send a promotional marketing e-mail is Tuesday, followed by Thursday.
4. Higher ROI
Email marketing has an unmatched ability to drive conversions and hence is considered one of the most effective marketing channels to optimize the company's ROI. You will be surprised to know email marketing is known to yield 4200% ROI.
This means, for every $1 invested by the company, they get returns up to $42. Isn't that remarkable?
The return on investment in email marketing is the highest compared to any other marketing channels (Facebook, Instagram, display advertising, and more).
How a company uses a strong email marketing strategy makes all the difference, and that's why some choose to tie up with digital marketing experts.
Another reason why email marketing yields the highest ROI in the market is because it allows for personalization and targeted communication. Have you seen any Instagram ad that's specifically designed for you? No. Social media platforms allow brands to broadcast messages and offers to their followers or potential customers; however, there's no scope for personalization.
5. Feedback
Email marketing generates a ton of data. This data has a lot of hidden insights. There are several ways in which this data can be interpreted. Companies are using advanced AI tech-led tools to get actionable insights from this data. These insights work as feedback.
These tools help understand the customers better – what works, what they don't like, etc. By understanding this, the company can tweak the communication to make it more effective. Emails can also become an official channel of communication and hence, sending emails to customers asking for feedback. Many email recipients have said that after a point, the content becomes irrelevant. Thus, by seeking feedback, the company can ensure they send out relevant communication. However, make sure you aren't spamming your customers.
Conclusion
The best part about e-mail marketing is that you can always experiment and learn. Those were the top five reasons why e-mail marketing is a must-have for your internet marketing. Now that you have understood the reasons let's briefly tell you how to maximize your email marketing efforts.
A tip that will help you ace email marketing would include consistent tonality and brand imagery. Moreover, don't always try to sell your products. Occasionally, surprise your audience. Talk about things that would benefit them, or add a personal note from the CEO. Remember, consistency is the key. Keep trying new things, and you will reap the advantages of email marketing. If you want to improve sales, get more leads, or drive more traffic to your website, it's time to include email marketing in your internet marketing plan.
FAQs
1.

What are some of the

advantages of email marketing for businesses

?
Some of the benefits of email marketing for businesses include:
1. Email marketing is more accessible and affordable than several other marketing measures
2. It helps sen personalize content
3. It is possible to collect feedback from the audience and upgrade their experience accordingly via email marketing
4. It helps improve sales
5. It helps generate more traffic for your website
6. It helps send consistently timed campaigns
2.

What are some examples of email marketing? 
Here are some of the examples of different types of email marketing campaigns:
1. Promotional Mail 
2. Transactional Mail
3. Newsletter
3. What are some popular email marketing tools?
Email marketing is very popular, but a critical challenge that most businesses face is planning, designing, and creating an email marketing campaign from scratch with the given resources and limited budgets.
In such a situation, marketers can rely on using free and popular email marketing tools. These tools save the time of creating and sending emails and dragging down the overall cost, hence increasing the ROI of your email campaigns. 
Some of the most popular tools which you can start using to complement your email marketing campaigns immediately are:
1. Hubspot 
2. Sender 
3. Sendinblue
4. Mailchimp
4. How to measure email marketing success in small businesses?
Measuring email marketing campaigns has become easier with most of the platforms' built-in analytics support. To determine whether a campaign was a success or not depends upon the objective of the mails sent and different performance metrics. 
For example, if the purpose of the mails sent was to show a personalized product catalog. Then you must focus on measuring how many users clicked to reach the product pages. 
If the objective was to create brand awareness, evaluate how many users landed on the business's website. 
In terms of the key metrics, small businesses should start to measure the success of their email campaign by measuring the Open Rate, Click Through Rate (CTR), Conversion Rate, Unsubscribe rate. These metrics will help you take the next step and allow you to plan strategies like A/B testing. 
5.

Benefits of email marketing: How and why does it matter? 
Email marketing plays a crucial role as it can help build a brand image, convert prospects to potential customers, and achieve business goals. 
Marketing Sherpa reports that 72% of consumers prefer to receive promotional messages through email.
It provides an edge over the competitors by building email lists, i.e., gaining new customer bases, not limiting to local customers — utilizing broad global reach to open new markets. 
Since email marketing is like direct communication, it helps build long-term customer relationships. Not only this, email marketing is advantageous in terms of constantly optimizing as the need of the hour for users and business goals combined with engaging content, enticing promotion deals and relevant newsletters, etc.