Marketing
A Beginner's Guide to Snapchat Marketing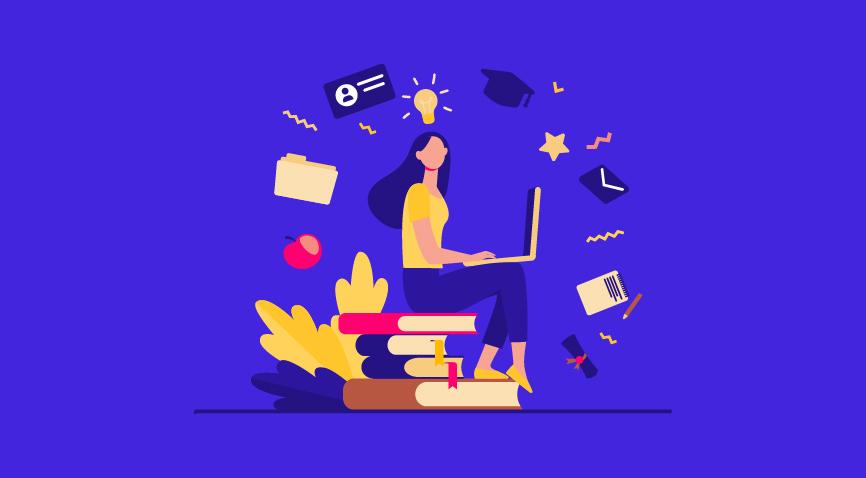 Snapchat is rising in popularity as a marketing tool. Read this blog to know how to do Snapchat marketing effectively.
Table of Contents
Why Is Snapchat Marketing Important?
Snapchat Marketing Strategy: 6 Ways to Leverage the Platform
6 Benefits of Snapchat Marketing
Key Takeaways
Conclusion
FAQs
After launching in 2011, Snapchat has grown to become one of the most popular social media networks in the world. The platform is unique, as compared to other social media channels, both in terms of features and functionality. It allows users to share short, temporary photos, videos, and text messages with their connections and followers.
In recent years, Snapchat has been rolling out a range of new features to facilitate fun and engaging interactions, including poll stickers, filters, Geofilters, Snap Maps, Snapchat ads, and many more. This makes Snapchat marketing a lucrative avenue.
While other major social platforms, such as Facebook, Instagram, and YouTube, are still seeing remarkably more users than Snapchat each day, a majority of marketers say that using Snapchat for marketing could be an effective tool for your business. That's because, as of the fourth quarter (Q4) of 2021, nearly 319 million users were active on Snapchat per day. This is a serious figure you would not like to miss to skyrocket your sales. Snapchat deserves to have a prominent place in your marketing strategy.
But what is Snapchat marketing, and how will it benefit your business? We have created a small Snapchat marketing guide that will explain the basics of the platform and the benefits of using Snapchat for marketing. If you're already using Snapchat for your business, this blog will help you take it to the next level. Before we dive into the benefits of Snapchat as a marketing tool, let's understand why Snapchat marketing is crucial.
Why Is Snapchat Marketing Important?
First things first, know that Snapchat marketing may not be ideal for every business.
If your target audience is under the age of 34, Snapchat might be the perfect marketing platform for your business. That's because 82% of Snapchat users are between 18 to 34 years of age. Plenty of marketers agree that this social media platform is a great marketing tool to reach millennials and Generation Z. Snapchat also works best with direct-to-consumer (D2C) brands.
While it can feel overwhelming to get started with Snapchat marketing, building a brand presence on Snapchat has now become a smart investment for many marketers and small business owners. Since the platform allows businesses to create short, highly engaging visual content, it makes Snapchatters heavily invested in those stories. And because of their high engagement rate, 60% of Snapchat users are more likely to make impulse purchases on the app. This indicates that the platform can be an effective tool to boost sales, increase revenue, and achieve a positive return on investment (ROI).
Snapchat Marketing Strategy: 6 Ways to Leverage the Platform
How to use Snapchat for marketing in ways that make sense to the audience active on the platform? Here are the five most effective ways you can incorporate Snapchat into your marketing strategy to help your business grow and prosper.
1. Use Snapchat Ads
Snapchat Ads are full-screen, vertical ads that appear in between organic Stories. The platform is currently offering several ad formats, such as filters, commercials, poll ads, singular image or video ads, and much more. Creating and managing Snapchat marketing campaigns is a useful marketing tactic to promote your brand and convert prospects into customers.
2. Enable your Snapcode
Enabling Snapcode is an effective way to promote your presence and gain more followers on the platform. A Snapcode allows you to share links to your website or landing pages, use the Lens Studio, access exclusive content, and more. The above image is an example of how Crocs used Snapchat Lens to garner attention from users.
3. Let an influencer take over
Allowing an influencer to take over your Snapchat account for a day can help you reach a new audience. At present, influencer marketing is one of the powerful marketing trends. Collaborating with influencers for brand promotion can be an effective Snapchat marketing strategy to reach a wider audience.
4. Post product demo videos or tutorials
To build a sense of familiarity with your brand, use Snapchat's video features for creating product tutorials or demo videos. There's nothing more powerful than a great demonstration or a tutorial of your product to help boost its appeal.
5. Use Snapchat Geofilters
One of the other major benefits of Snapchat marketing is that it offers Geofilters to reach local audiences more easily. With custom Geofilters, you can engage with people within your specified location and drive brand awareness. This means you can create unique, creative filters for different locations that can be a part of your overarching Snapchat marketing strategy. Geofilters are an amazing opportunity for brands to interact with their audience in a fun and entertaining way.
6. Have fun with the platform
You can use the platform to offer authentic and fun experiences that your followers might appreciate. For instance, use Snapchat to make your followers feel important by sharing interactive content, behind-the-scenes content, fun contests, special announcements, and exclusive images and videos.
Moreover, you can share magical augmented reality (AR) experiences with your unique Snapchat filters and lenses. It is a fun and engaging way to scale your Snapchat content strategy for brand promotion.
6 Benefits of Snapchat Marketing
Now, let's cover some strong benefits of using Snapchat as a marketing tool for your business.
1. Less competition, more opportunity
Almost every brand has an established presence on social media platforms, such as Facebook, Instagram, and Pinterest. As a result, it can be challenging for small businesses to successfully engage with users and make their content stand out from their competitors on these platforms. Fewer brands have tapped into Snapchat marketing so far. Therefore, it could be particularly beneficial for small businesses to incorporate the platform into their marketing strategy and engage with their target audience in a way that's different from what they're seeing on other popular social channels.
It means, when you advertise your brand on this platform, it will not be mixed with other brands' sponsored ads. Even though Snapchat's popularity is increasing among marketers these days, there's still less competition here than on other platforms.
2. Snapchat is a free tool
Except for paid ad campaigns, Snapchat is a free marketing tool that you can use to grow your small business. That means, you can save money on marketing by using this platform, which is a smart way for any small business to get ahead.
3. Snapchat Lenses
With Snapchat Lenses, brands can develop their own 3D lenses for interactive user experience (UX). After the creation and submission of your custom 3D lenses to Snapchat, the platform provides a unique Snapcode that anyone can access to unlock that lens for 48 hours.
The above image demonstrates how Nike created exclusive 3D lenses for users to virtually try its products by turning the phone towards themselves.
4. Engaging content
It is no secret that people are more likely to watch visual content, especially video content, over any other type of content. And on Snapchat, brands can video chat with their audience. Snapchat is not simply a photo-sharing app: it's a highly engaging platform that you can use to connect with your audience. Especially if you're targeting a younger demographic, Snapchat could be your golden ticket to reach them.
5. Snapchat is less competitive
One of the major benefits of Snapchat is that it is not as competitive as other social media platforms, such as Facebook, Instagram, YouTube, and Pinterest. Another key difference between Snapchat and other social media platforms is that its lenses are fun and playful AR experiences that transform the world around you.
6. Reach a younger demographic
If you want to connect with teens and young adults, Snapchat is the place to be. Marketing on this app will help you reach younger consumers in a seamless way. As mentioned earlier, Snapchat has 82% of users aged between 18 and 34 years, so there's a good chance you'll find your consumers on this social media platform.
Key Takeaways
Snapchat marketing is ideal for businesses targeting a younger demographic.
Snapchat as a marketing tool is different from other top social media platforms.
There is less competition on Snapchat, as compared to other social media platforms.
Snapchat offers a host of features, such as AR filters, Snap Maps, video chat, and more.
Conclusion
In terms of digital marketing, Snapchat is a goldmine waiting to be explored. Now that you know about the benefits of Snapchat marketing, it's time to make the most of this channel for effectively promoting your business.

FAQs
1. How to use Snapchat marketing for business?
With Snapchat, businesses can share short and temporary content with their followers, and can also use different features and functionalities to create branded filters, lenses, geotags, as well as Snapcodes to share fun and interactive experiences.

2. Is Snapchat marketing free?
Yes. Snapchat marketing is free, aside from sponsored ads and Geofilters.

3. How is Snapchat marketing beneficial?
Snapchat allows businesses to connect with their target audience in real-time when the audience is out and about. 

4. Why should marketers use Snapchat marketing? 
If your target audience is under the age of 34, Snapchat might be the perfect marketing platform for your business. That's because 82% of Snapchat users are between 18 to 34 years of age. 
Any social media strategy will fall flat without sound content. Pepper Content provides social media content writing services that will enable you to get high-quality leads. Simply click on the above link to get started!