Design
How to Ace at Designing Engaging App Banners in 2022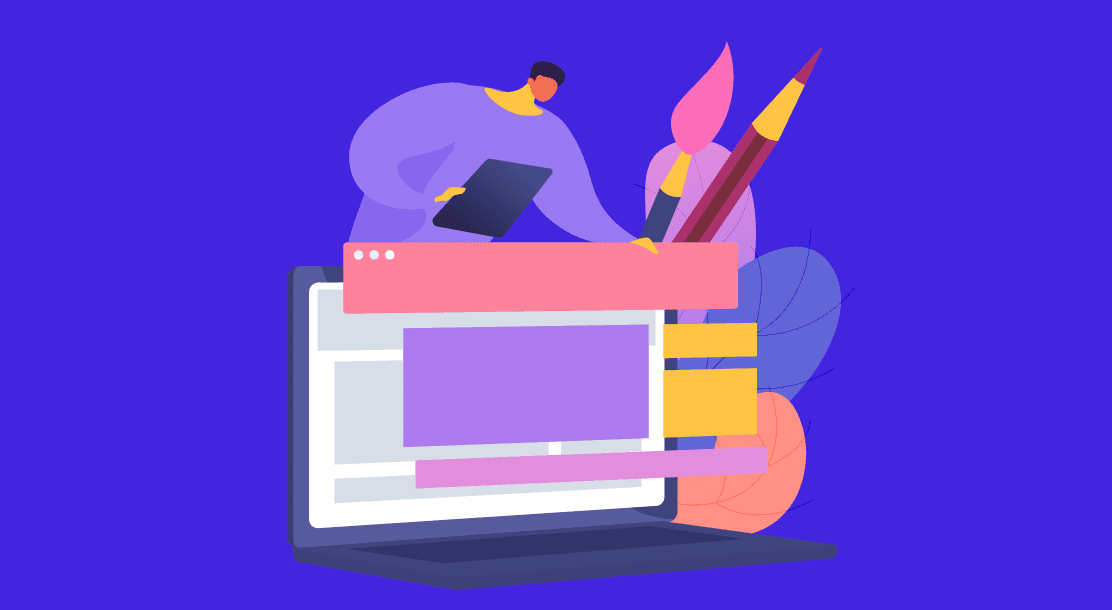 In this article, we'll tell you how to make a mobile app banner design that is eye-catching and well-designed to engage the audiences' interest.
An app banner is a great tool of advertisement for an app displayed on a web page to grab the users' attention. A banner is multimedia, which can be static images or moving visuals. It is basically like a poster linked with the advertiser's website.
Once users get engaged with the eye-catching mobile app banner design, they get excited to click on it to see what the banner offers to the audience. It takes them to the advertiser's website or its app downloading page.
App ad banners are a great way to quickly introduce a new product, policy, discount, sale, gifts, etc. The main objective of the ad banners is to receive maximum traffic to its website or get maximum downloads of its apps.
App ad banners can achieve the goal of yielding massive traffic or attention of users if the banners are worth it. So, it is crucial to know the little tricks to make a simple yet catchy mobile app banner design to attract the target audience.
Steps to Create Amazing App Banners
Here are some simple steps to create engaging mobile app banner designs.
1. Decide the aim of your app ads
The first thing to do while designing an app banner is to know your app advertisement's aim. In short, you should ask yourself what your banner will convey to the audience? Who will your target audience be, and how will you make them click on it? Will your banner be all about visuals or more of text, etc. Once you have all the answers, it's time to move right in making a banner.
2. Choose your app ad banner size
Ad banner sizes can be of any dimension. It's so good to be clear about which size you are going for your banner as it will make the further steps very simple to follow. You can choose any ad banner size from the following popular sizes:
v 120×20
v 168×28
v 216×36
v 300×48
v 320×50
v 468×60
v 728×90
v 320X250
v 320X480
v 120X600
v 800×1280
v 768×1024
Depending on the aim of your banner, choose the perfect dimension.
3. Keep your banner text simple and crisp
For a visually attractive app banner, keep the text as short as possible. Use creative phrases and crisp content. Never give much text as it won't attract the users' attention as the mobile window is so short, and they quickly move on from the pages you have the banners advertised.
4. Give eye-catching taglines and formats
People now have a short attention span, so you need to give an engaging headline to the banner. It should clearly state what the banner is all about. It should not be confusing or have any controversial texts or jargon, which will reduce your chance of getting the required traffic of the audience.
Also, make sure your app banner stands out from other banners as the web pages are filled with many of them already. To stand out, make your banner very vibrant with easy-to-read font styles and types. Keep the formatting simple and readable.
5. Use high-quality, relevant visuals
As an app banner is almost all about the visuals, it makes it of utmost importance that the visuals used in the app banners are of great quality and relevant to the app's theme.
For instance, if you have to make a banner for a gaming app, your visuals should represent the characters in the game or relate to the game's theme. This makes the users interested in the sight of the banner and obliges them to click on it.
6. Design the banner according to the target audience
The ultimate purpose of the app banner is to get maximum traffic to the app landing page or maximum downloads. So, it is important to keep the design per your target audience's preferences and liking.
Let's say your target audience is kids, keep the banner very playful and colorful to attract their attention. Likewise, keep the color scheme bright and radiant if it's meant for women's shopping.
7. Keep the file size light
When you are done with the rest of the things to make an app banner engaging, the most important thing is to keep the size of the file small and light, ranging from 5 KB to 200 KB as it takes less space on the page and is loaded quickly on all platforms.
Banners that are big-sized are heavy to load on mobiles and thus, take a lot of time to load fully. This crashes the entire purpose of advertising as there is no point if the banner is left unnoticed or not seen by the viewers.
8. Make the banner interactive
The outcome of creating an engaging app banner will be even more engaging if the banner is interactive. Add some animations, moving icons, blinking texts, fading buttons, animated characters, etc., to quickly attract the users' attention.
You can go beyond the static images and add animated backgrounds, special effects themes, 3-D interfaces, etc. It is seen that interactive ad banners get more traffic than static ones.
9. Add a Call-to-Action (CTA)
App banners are for advertising, promotion, and maximizing the app downloads, so it is necessary to include a strong CTA. A CTA is a brief callout to the audience to perform a particle task after looking at the banner if they are interested in it. A CTA can lead to an app landing page for downloading or may lead to visiting the app website.
Make sure the CTA is in contrasting color than the rest of the banner and is at a place where it is hugely prominent and stands out as it is the core reason to make the banner anyway. Also, ensure that the CTA works without any technical hindrance.
Key Takeaways
Start by identifying the purpose of your ad banner and what you want your audience to do after they see it.
Choose an ideal banner size as it would make it easy to add on other elements.
Add little text that is crisp and brief. Ensure to add eye-catching headlines and formats to grab the users' attention. Use various content writing services if you need help with this.
Include visuals and graphics that are relatable to your app's theme. Always add the visuals in high-quality and great color resolutions.
Customize your banners' colors and fonts to quickly attract the target audience's attention.
Opt for an interactive ad banner as it garners more traffic and yields more downloads than simple static banners without any animations or special effects.
Keep the banner file size small, making it very convenient to load due to the less amount of space it takes.
Include a strong CTA to help the audience do what you aim for through the ad banner. Give a distinguished CTA that stands out from the banner.
Conclusion
You do not need great design skills or experience to create a good app banner design. With the help of these steps and a little effort, anyone from a beginner to a pro can make a great creative ad banner design that would induce large traffic to the linked website or get maximum downloads efficiently.
Whether you want to make an ad banner to make an announcement, get app downloads, or promote the app's related products or services, these steps will simplify you to come up with a good and engaging ad banner. Plus, there are many ready-to-use tools and templates that can make your work even simpler.
FAQs
1. How can I make the banner interactive?
You can make a banner interactive by adding moving backgrounds, animations, special effects, 3-D themes, pop-up clicks, animated characters and icons, texts with flashes, etc.
2. How to choose a good color scheme for ad banners?
To choose your perfect color scheme, just take a look at the theme of your app and who is the target audience.

For instance, if it's meant for kids or women, using bright, vibrant colors will be better, and if it's for men, choosing deep hues like blues and olives will be better. A black and white theme would be the best for office professionals.
3. How much content should go in the ad banners?
As ad banners are all about visuals, keeping the content very brief. Provide ample text that clearly states what the banner is about but always avoid wordy text that makes the banner look cluttered. Keep the banner interactive with visuals and a little engaging text.