Content
Advertisement Tips: 6 Ways Ads Will Help You Get More Business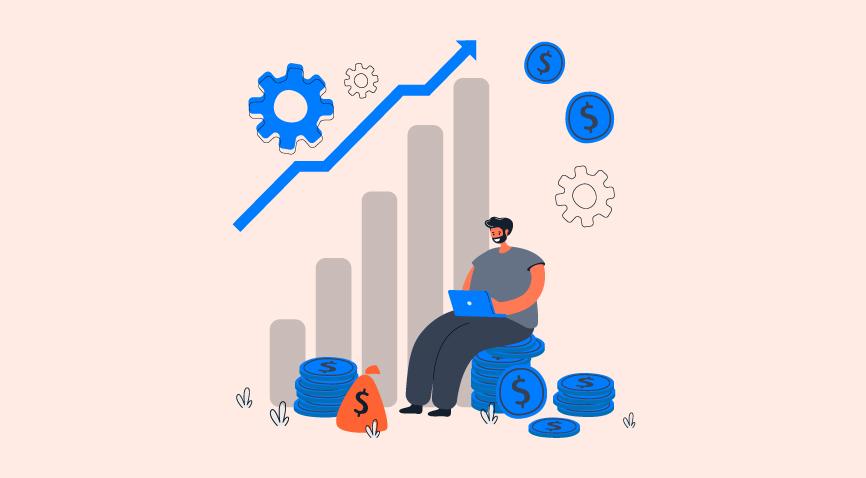 Table of Contents
Introduction
Best Advertisement Tips for Your Business
Know-How to Stand Out from Your Competitors
Use a Strong and Eye-Catching Headline
Use Multiple Platforms
Use Blogs
Analyze, Research, and Be Consistent
Create an Email Marketing Strategy
How can the Right Advertising Strategy Help Your Business?
Key Takeaways
FAQs
Today, advertisement and marketing are not simply about creating a good TV commercial or an attractive magazine ad. To make sure that your business grows and survives in this competitive market, you need customers. You can get this by promoting and advertising your business.
In today's digital world, the possibilities to promote your business are endless. So, it can be daunting to choose the right methods. This is the reason we have come with the best advertisement tips to boost your business.
Businesses looking to grow their client base quickly and boost their income need to invest in a good advertising campaign. This, in turn, will build brand awareness among a larger audience base. There are various advertising approaches that your business can take. Investing in advertising strategically can give you a high return on your investment.
You need new customers as, without them, your business is going to fail. The good thing is the core principle of producing proper advertising applies to anything tactical you might want to use as a promotional tool.
We will tell you six ways your advertisement can help you get more customers for your business. But before we jump into discussing them, you should know that it will require a little trial and error. With our tips, it is possible to get the best results you are expecting.
So, let's get on with it.
Best Advertisement Tips for Your Business
1. Know-how to stand out from your competitors
Your potential customers are coming in contact with advertisements from various businesses at all times. So, why should they go for your products instead of your competitor's? You have to give them a potential reason to buy from you.
Hence, you need to figure out how to stand out from your competitors and focus on it. You should even learn from your competitors and build your strategy accordingly. Let your customers know that you are the best choice for their required purchase. Give them a reason to step away from your competitors and choose you.
This technique is known as the 'Unique Selling Proposition'. A USP in advertising is:
Every advertisement you create for your business has to make a proposition to the customer. It should not just be product puffery, words, or show-window advertisement. Every advertisement has to say to the reader: 'get this product for this specific advantage'.
Your proposition in the advertisement has to be something that your competitors are not offering. Make sure that it is unique, and it should claim something that the other advertisements in the same region don't make.
The advertisement needs to have a strong proposition that is capable of moving the masses. It should be able to retain old customers and bring in new ones.
Learn about the customers' pain points and promote solutions to the problems they are facing. If your products or service solves the customers' problem, they will be more than willing to opt for your product or service. But remember, your solution has to be better than what others are offering.
The aim is to develop your USP yourself. Find out what makes you unique and what do you offer that no one else does. And then pitch it to your potential customers. Make them understand that this is the thing they are looking for.
Remember, any USP that you are coming up with can easily be refined later. Also, remember that you don't have to be the only one doing something to include in the USP. It might be something that others are doing but is not really being promoted.
So, take out your pen and paper to start with it already. You are sure to come up with some brilliant advertising ideas.
2. Use a strong and eye-catching headline
Everyone is busy, and the shortage of time is one of the major problems. So, your audience will scan things quickly. They are encountering several advertisements every day. Thus, it might not be possible to go through each one of them in detail. This makes it crucial to make sure that the advertisement is attractive and grabs the reader's attention.
One of the best ways to do that is to come up with an effective headline.
Experts have said that five times as many potential customers read the headline as they read the advertisement's body.
When you are writing the heading, the first thing that you need to consider is who you are writing it for and what will grab their attention. You can receive a tremendous response if you have powerful headlines. Great headlines come in different forms. So, write down the advertisement and then take time to come up with the headline.
At times, the headlines are newsworthy. These are the release of new products or services. But others come with a substantial benefit. Usually, the headlines are specific and not general.
3. Use multiple platforms
The advertising options were limited to brochures, flyers, business cards, and billboards back in the time. But today, in this digitalized world, the possibilities are endless.
One of the most popular advertising platforms available to businesses is social media. Not only is it effective and efficient but also easy to use. It allows you to infiltrate your audience's daily life directly by placing the ads subtly among the photos.
Some of the best social media platforms that you can consider for your advertisements are given below.
Twitter: Albeit marketing on Twitter is not as powerful as Facebook; it holds its place as a marketing platform. It can serve as an incredible add-on and is ideal for connecting with your potential customers through advertisements.
Facebook: It is one of the most powerful social media platforms. Under Facebook comes WhatsApp, Instagram, Facebook, and Messenger. So, make sure you take advantage of this platform and advertise your business.
Google: Google gives you ample opportunities to advertise your business. It lets you explore YouTube or Google My Business. Through YouTube, you will be able to promote using video ads. These are incredibly effective, particularly if you have to show the effectiveness of the services or products.
LinkedIn: If you have to target a business-focused audience, you should use LinkedIn. It gives you the option to communicate and network with professionals. In case you have a resume-building service, LinkedIn is the perfect platform for you.
With time, more and more social media platforms are being introduced, such as Snapchat. These new platforms can be worth exploring if you have to reach out to your audience.
In case you are new to social media advertising tips, start with something simple like Facebook advertising. It is a platform with a stunning reach. It lets you design your advertising with a specific niche in mind. Also, the analytics tool that the platform offers is quite helpful.
4. Use blogs
Another one of the great advertisement ideas is to use a blog for advertising your business. It will help in attracting new customers, growing customer traffic, and building customer loyalty. If you advertise through your blog, you can easily become the brand leader.
The benefits of using a blog as an advertising technique are endless. But remember, your goal is to add value by publishing well-written articles. The creative advertising strategy for blogs should consider customer engagement.
Many business blogs are requirement-based. This means the blog content will give answers to the questions your potential customers have. Thus, it will help you connect with the audience. However, you can also create want-based blogs as well since they focus more on stimulating demand. It might contain information that would make the readers feel that they didn't know they needed what you have to offer. These want-based blogs are for people who are reading during their leisure time.
No matter what the purpose of the blog, it should be engaging and fun to read. Through the blogs, your readers should learn what your business is capable of. It can easily serve as an ongoing portfolio for your previous work. It is the best choice for you if your business thrives on the proof of previous successes. A blog is an easy way to show your customers what they can expect.
When you think of blogging to promote and advertise your business, you have to focus on the customers and the networking possibilities. Thousands of blogs are being created every day, but you have to be frequent and consistent to stand out. With consistent blogging, you will be able to establish a robust networking advantage.
The power of blogging is unfathomable. It can be advantageous for your business, irrespective of where your customers are in the buying process.
5. Analyze, research, and be consistent
You must analyze your advertising campaign ideas. This is one of the most effective advertisement tips to follow. By analyzing and researching, you can understand what worked and what did not. Not knowing how your ad is performing can make your efforts go in vain. Also, it will lead to the loss of your advertising money.
For instance, a new Facebook ad campaign has garnered a lot of attention and has boosted sales. It can be helpful if you check out what made the ad stand out in the crowd. Was it the text or the image? Was it able to nail the target audience completely? Take important notes.
Every advertising platform comes with some analytics. For instance, the analytics tools have made it easier to gauge the effectiveness of Facebook ads.
To make your ads better, you can research your competitors. Find out what is so special about their advertising campaigns. You can use social media software to get an insight into your business competitor's course of action on social media.
What's more important is to make sure you are not stuck at one thing. If the marketing strategy you have applied isn't generating good results, it might be time to try out something new.
But no matter the marketing strategy you apply, it is crucial that you are consistent. No doubt, it is a balancing act. Excessive advertisements can be frustrating for your target audience and turn your potential customers away from the business. However, too little advertisement means you might go unnoticed. So, you have to be consistent with your ads. The ads have to be effective, simple, and targeted. Sometimes your audience has to see the ads multiple times before taking action.
Even if your business has reached the juncture where it has enough clients to keep the business healthy and running, you have to keep the ads rolling. Keep in mind that the needs of the clients and their interests might change. Moreover, as we saw during the pandemic, the economy can experience an unexpected shift.
Of course, there is no such thing as too many customers. If your business is in high demand, you should consider hiring more people to work in your company.
Email marketing plays a crucial role in the online marketing and advertising field. No doubt, email has stood the test of time. It is one of the most popular modes of communication. In fact, it converts at a higher rate than any other advertising method.
With email marketing, you will be able to bond with your prospective customers over time. It places visitors who are not yet ready to buy and be a part of the funnel, which keeps them connected to the business rather than making them banish you completely from their thoughts.
To start taking advantage of email marketing, you have come up with something valuable that you can give away to your customers for free in return for their email addresses. Usually, the best gift, in this case, is digital info products. Further on, you have to set up a series of emails that will introduce your customers to the new leads you have to offer and offer education relevant to the topic of interest.
How can the Right Advertisement Strategy Help Your Business?
When used efficiently and effectively, an advertisement can increase interest and awareness among potential customers for the promoted products and services. You can enjoy the great benefits of advertising if done the right way.
Let's take a look at these benefits of advertisements:
Increasing brand awareness: Are your target customers aware of the brand's existence? In the last few years, various advertisements have proved to be largely effective in increasing awareness of the brand's existence in the targeted markets. With the right advertisements, you can reach out to your customers and spread the word about your business. Apart from increasing brand awareness, it can increase your customer's awareness about the newly introduced services or products.
Stand out from your competitors: Several alternatives to your products are being launched every day. Customized and effective advertisements help focus on the competitiveness benefits of the products and how ideal the product prices are for their budget.
Educate the business customers: When the customers are satisfied with your products or services, they are motivated to complete their purchase. Advertisement can be used for educating customers about the availability of the products and services you are offering. It will also help them understand how what you are offering can solve the problem they are facing. Advertising with informative content related to the potential customer's problems and needs will demonstrate your industry leadership or thought leadership.
Increases sales volume or return on investment: An effective advertising campaign can drive more sales for your business. This, in turn, will increase your return on investment. The advertisement targets customers who are only a step away from completing their purchase. Offline advertising campaigns can help increase awareness about the business solutions, but digital campaigns can target the already engaged audience who are showing some interest in your business.
Key Takeaways
Your advertisement strategy should help you stand out from your competitors.
No matter the advertising strategy you are choosing for your business, make sure you are consistent.
Use multiple platforms to reach out to all types of customers.
Following the right advertising tips will increase your sales and improve brand recognition.
FAQs
1.

What are the cheapest methods to advertise your business?
The most affordable means of advertising your business is through classified or social media ads. 
2.

How can advertising attract customers?
Advertising can increase your business' visibility within the industry. It helps in attracting partners or customers who can expand your business. 
3.

What are Google Ads?
Google Ads is an online advertising method used by businesses for promoting products and services on search engines, such as Google Search or YouTube. 
4.

How should I spend on advertising?
To understand how much you should spend on advertising, you have to consider how much you usually spend and how effective it is. Also, assess what the competitors are doing. Calculate the number of additional sales you need for justifying your spending. 
5.

Should I hire an advertising agency?
Usually, it gets very difficult to handle the business and manage the business's advertising and promotion. Moreover, an agency has professionals who know the right strategy to use for your business. So, if you have the budget, it is better to go for an advertisement. 
6.

How long does it take to get results from an advertisement?
When you are not getting the results you expected, you will know what is going on. It gives an idea as to how the advertisement should change. The fastest results come from online advertising. Remember, advertisements shouldn't be used as a short or a quick fix. It has to be planned to support your marketing strategy as a whole using the right advertising tips.