Design
A Website Design Guide for Healthcare Companies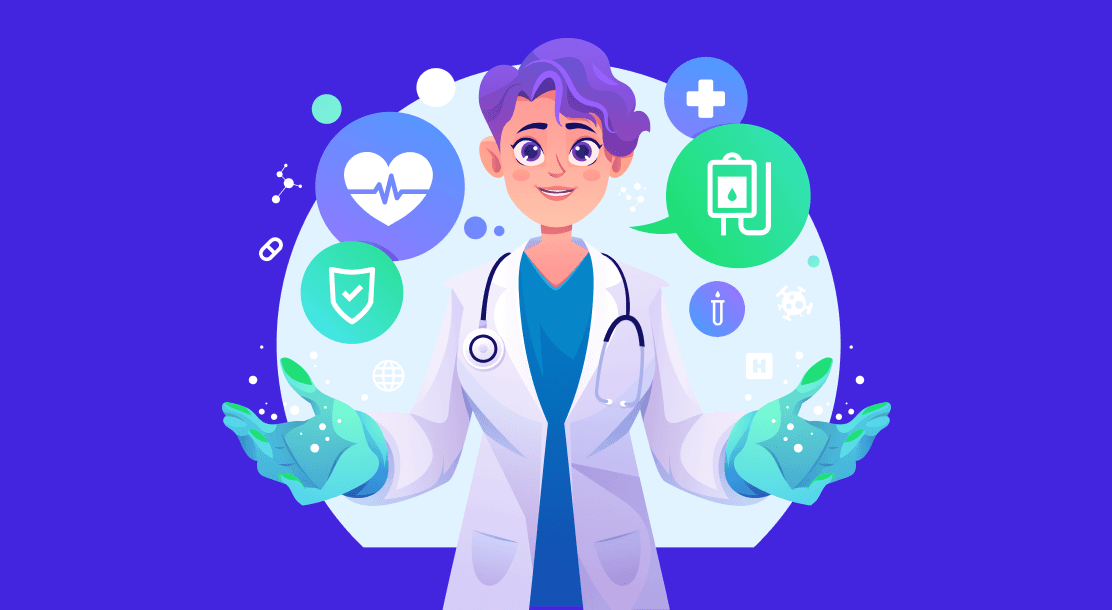 This website design guide is for anyone who wants to know how to make the perfect website for their healthcare business. Read on for some valuable insights.
During the second wave of the COVID-19 pandemic, hospitals in India were overflowing with cases of COVID-19 emergencies. Access to a healthcare professional or a doctor became difficult, and this was when the need for digital accessibility became a need. The pandemic has changed the lifestyle of people, and the reliance on digital tools was one such change. This has made it mandatory for all businesses—including those in the pharma and healthcare industries—to have a robust digital presence.
A well-designed website is usually the first step towards setting up an online business, creating brand awareness, and generating leads. If you are someone from the healthcare pharma company looking for a guide on how to work on your website, you have come to the right place. Follow this ultimate website design guide to create the perfect website for your needs!
Source
6 Key Design Elements of a Healthcare Website
In addition to web content writing, every successful healthcare website is brought together by a bunch of design features that power it. Below, we discuss some of them.
1.
Data visualization
Data visualization means representing data visually, in the form of charts, graphs, and more. You can publish essential medical information on your site visually, which would make it easier for them to understand and interpret it. This could be pertaining to the ongoing pandemic, common diseases in children and adults, important vaccinations, etc.
For example, you can have the updated statistics of the COVID-19 pandemic (number of cases, number of deaths, inpatient treatments, etc.) posted to your site regularly. This can be done in the form of graphs or pie diagrams for the visitors to grasp the information better.
2.
Simple search functionality
The search function within a website is akin to that of Google. The only difference is that in the former, the search is limited to the site. Sometimes a user might access your website for a particular purpose, and if they do not find the information easily, they will leave.
To avoid issues like this, you must add a strong yet simple search function. To enable your visitors to access the content they are seeking from your site, make sure this feature works well. The users should be able to use the search feature using common and simple words and phrases. It is advisable that you include spell-check, stemming (including the root forms of words, so their variants can fetch the same results), and synonyms. Also, ensure the search button is legible enough.
3.
Disability compliance (inclusive design)
According to Impact plus, few websites on the internet meet the widely accepted accessibility standards. This is an unfortunate situation. A good website design is not complete until it is inclusive. Some of the elements you can incorporate to make your website design inclusive are as follows:
● Have keyboard navigation.
● Design usable focus states. Focus states are the outlines that appear around links or buttons.
● Write alt text for all your images.
● Use descriptive labels for various fields.
● Use simple language.
● Use more visual cues than color.
You can refer to the Americans With Disabilities Act (ADA) guidelines on website accessibility.
4.
Mobile-friendly design
This is simply so that users can comfortably access your website through their phones as well. Most people, today, use their phones to access the internet. Your site not being mobile-friendly would be a big mistake and drive away visitors.
5.
Consistent color scheme
Apart from the colors of your brand logo, some of the best colors for healthcare pharma companies are light blue, light red, and light green. Blue symbolizes loyalty, strength, wisdom, and trust. Famous pharma companies like Pfizer, Roche, AbbVie, and Amgen use different hues of blue in their logos.
Green symbolizes nature and health. So it sounds perfect for a pharma and healthcare business. Historically, the color was used as a mark for French pharmacies. White is also one common color to create a clean design. You can even use shades of white such as ivory, snow, baby powder, etc. You can add a playful aspect to white by using contrasting elements.
Make sure you pay attention to the colors of every element of your website, even each button. The photographs you use will also depend on the color scheme you end up choosing. Maintain a consistent color scheme to create a brand image.
6.
Intuitive navigation
If your website is easy to navigate and use, more people will visit it. This is why intuitive design is so crucial. It essentially means the user should understand how to operate any [art of your website by just looking at it. This allows them to focus on doing what they opened the site for, rather than trying to figure out how to make it work. A few of the many ways to make your website design intuitive are:
● Conduct market research.
● Understand color psychology.
● Keep the navigation simple.
● Use the rule of thirds.
5 Tips to Design a Healthcare Website
The next chapter in this website design guide focuses on some essential tips to design a healthcare website.
1. Use genuine imagery
According to VWO, human photos on a website can increase conversions, because the initial trust is enhanced. And trust is a necessary factor in a pharma and health business. They create a great first impression on the visitor. Try to use genuine images, since stick photos are not as effective in creating trustworthiness. Make sure you are using these images with a purpose.
2.
Use calls to action strategically
A call to action (CTA) tells the viewer what you want them to do. It is the best way to direct the audience towards what your goal is. From encouraging them to buy your products to convincing them to subscribe to your services, you can use a CTA for just about any action. If the viewer does not know what to do next, they will just leave the website. Make sure you use a CTA on as many landing pages as possible.
3.
Connect with fellow patients and caregivers
If you have a healthcare pharma company, there are high chances that the people who are landing on your site are either patients or caregivers. Both the categories might be seeking some form of support. Find a way to facilitate this on your website. This can be done through discussion boards, forums, an online community, etc. Not only will this retain viewers, but it will also make them come back to your site.
4.
Use conversational language
Conversational language is sometimes referred to as "everyday language," "natural language," or "social communication." Use a language that resonates with the individual who is reading the content on your website. This can be done by using short sentences and simple words. Address the reader in the second person. The reader should feel that you are speaking to them directly.
5.
Test the website
Test your website on a sample audience to check if the design is working the way you intended. For this, you choose two sections of your target audience and ask them to use two versions of a site (it is known as A/B testing). This will provide you with valuable feedback and help you with aspects of the design that you might have ignored. After testing your website, make the required changes based on the results before finally launching it.
Businesses of all kinds are starting to ride the digital wave. And if your pharma and health business does not have a well-designed website, it will start to lag. Your website design should be such that it creates an engaging experience. Keep in mind the pointers of our website design guide when you get down to creating your site.
Key Takeaways
● It is important to make a website for your healthcare pharma company, especially at a time when the focus is shifting to digital platforms.
● Designing a healthcare website includes having an intuitive site structure, mobile-friendly design, conversational language, and more.
● Some things that can make your design stand out are, using the correct colors and visuals, platforms to connect with fellow individuals, and images of real people.
FAQs
1. What are the design elements for a good website?
The basic elements that are essential for a good website design are:
● Excellent user experience
● Mobile responsiveness
● Built for the audience as well as search engines
● Compelling content
● Solid CTAs
● Incredible visuals

2. Why is it important to have a website?

The reasons why a website plays a crucial role are:
● It improves the credibility of your business.
● A website creates brand awareness.
● It helps generate new leads and increases sales.
● It attracts traffic.
● It improves the overall experience of the customer.
● It is a medium to make important updates and announcements.
3. How to create an intuitive navigation design?
Although there are no absolutes, there are tips that can help you in making your website design navigation more intuitive:
● Having a horizontal navigation bar at the top of the site
● Adding a dropdown navigation menu if your site has a lot of content
● Having a hamburger navigation menu on one side
● Adding a navigation menu at the bottom of the web page
 

4. What colors should I avoid when I am designing a website for a healthcare pharma company?
It is advisable to avoid flashy colors. If you have a color palette for your brand, you should include those colors in your website design. 
● Excellent user experience
● Mobile responsiveness
● Built for the audience as well as search engines
● Compelling content
● Solid CTAs
● Incredible visuals


● Excellent user experience
● Mobile responsiveness
● Built for the audience as well as search engines
● Compelling content
● Solid CTAs
● Incredible visuals