Design
7 Steps to Effective Logo Animation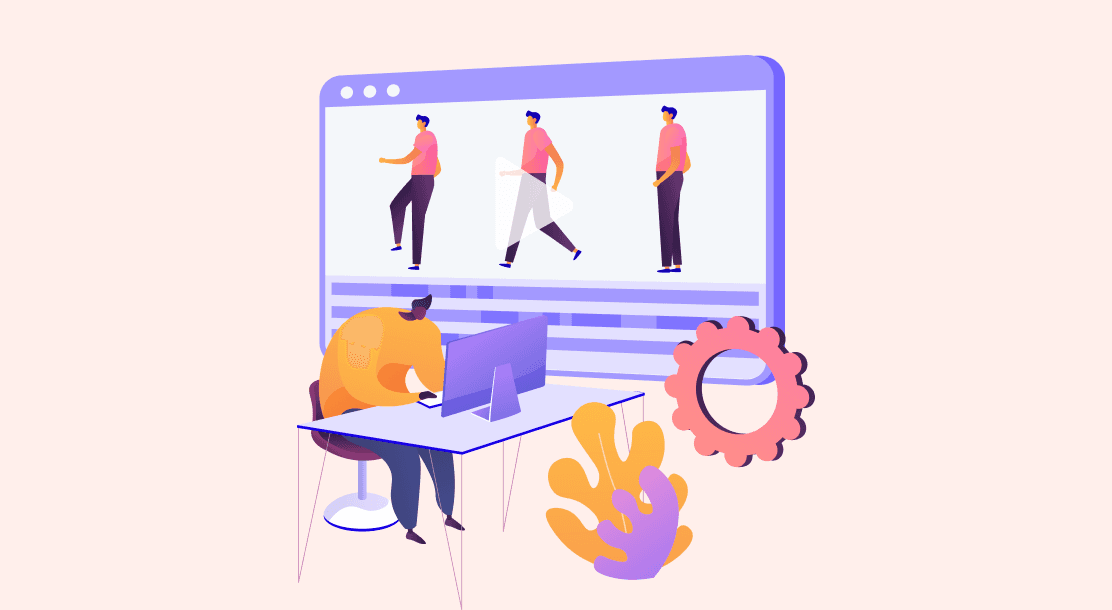 Animated logos are catchy and can captive an audience instantly. This blog focuses on seven critical steps to logo animation and helps you understand its importance.
With the increase in digitalization, users encounter logos more often than before. Logos are everywhere, whether a social media profile, a website or an advertisement. With this increase in brand logo visibility, there is also an increase in how brands showcase them. Over the last few years, logo animation has increased, with more and more businesses looking at animating their logo. If you are eager to make your logo animated, read and follow these seven simple steps.
7 Steps To Master Logo Animation
1. Do your research
As you start the journey of logo animation, you will need to figure out your brand's needs and what kind of animation you want to explore. An excellent place to start is by looking up animated logos made by other brands.
This process will give you a foundational idea of the dos and don'ts of animating a logo. It will also help you decide the kind of colors, effects, and placements you wish to opt for and avoid.
2. Decide on an animation software/tool
You can use template-based platforms such as Canva or Logo Maker Plus for easy logo animation. These platforms usually have a bank of effects, elements, and colors that help you customize your logo animation.
You can use dedicated animation software if you are up for a slightly more challenging but highly customized animation. These include Procreate, Adobe After Effects, and Adobe Spark.
To get you started, here's how you can make your logo animation for free using Procreate:
Work on a static design and trace it twice. This will result in three versions of your design.
Go to Action Settings and activate Animation Assist on Procreate. Next, click on "Add Frame" and begin tracing.
Switch to 12 FPS and hit play. You'll be able to see your logo animation move.
Continue by adding other details, elements, and effects that you like.
Add one layer for each design element that you wish to animate. Loop or animate them individually before saving.
Finally, when you press Save, all the layers will play together, resulting in your final logo animation.
Alternatively, animate your logo using Adobe's After Effects:
After Effects is a user-friendly software used by first-timers and professional graphic designers; however, it may require some getting used to. These steps will help you begin your AE journey.
Import your PNG logo file into After Effects.
While importing, keep the layers option on if you plan to animate only a few select elements of your logo. If you wish to animate the whole design, import without layers and rely on animation effects for the entire graphic.
In the display panel, explore the effect option available.
The timeline panel helps decide when an element comes into the frame, right from the beginning to the end. By shifting the timelines towards the left or right, you can adjust the appearance of each element.
Play everything together to watch your logo animation's various elements come to life. Save the file and render it for use.
3. Start with a rough sketch
An animated logo requires more elements than just your brand's font and colors. Sketch your ideas for revitalizing your logo using interesting vectors, symbols, and details. Or you can simply play around with your logo's lines, dots, and dashes.
For example, one of the logo animations by Spotify shown below simply brings the logo's existing symbol to life. Ultimately, we see the brand's name appear alongside the logo.
Whichever approach you take will require rough sketching and drafting first, followed by filling in colors, adjusting the placements, and deciding on the size of the elements.
4. Ideate the animation
While some brands prefer just to have fun with the logo, adding random animation effects may not help the brand. This is especially if you are planning to communicate something crucial with your logo animation.
Instead, you can sharpen your storytelling skills and decide to involve the same while making an animated logo. An excellent example is this animation by MasterCard. They show how the card makes one's travels much easier and more convenient using simple icons.
5. Animate a static image
With your 3D logo and a few animation ideas at hand, you can now begin with basic animation steps. From looping, fade-ins, and fade-outs to turning your image into a full-fledged video sequence, you can experiment with multiple visual effects to find the one that suits your brand.
Remember to use contrasting colors in the background, or simply go for a plain background to make your logo animated for universal usage. This step may seem challenging at first, but with some direction, you can do wonders with the simplest of animations and effects.
6. Thread the logo together
As you produce one frame after the other, you will be ready to animate the whole video that shows your brand's journey. At this step, ensure that your logo animation is to the point and not too long. Because while animated logos retain a user's attention quickly, longer animations do not serve the same purpose.
With this step, you can finalize your brand's logo and create multiple sizes for website banners, social media usage, ads, and more.
7. Try different versions
Moving on, you can try multiple versions of your brand's logo, playing around with colors, effects, and messaging. Many brands create unique animations for their products and campaigns as well.
Trying various versions of your animated logo can help you connect with a wide range of audiences. For example, a logo animation prepared especially for a seminar can be around the brand's journey or work. And a logo animation showcased on Linkedin could be about B2B business or hiring.
Why Is Logo Animation Important For Your Brand?
If you are wondering about the kind of impact logo animation can create for your brand, here are some benefits you can consider:
An animated logo acts as both a promotional and branding tool. It increases the memorability of your brand in the viewer's mind.
Animated logos help you set the tone of your brand. At the same time, they enable you to build your brand's story in a matter of a few seconds.
It helps increase brand awareness because video-based interaction stays longer in the user's memory.
Logo animation also helps in storytelling, giving you the chance to tell your brand's story with more than just a 2D image.

In Conclusion
With this guide on how to animate a logo, you are ready to take the first steps in logo animation. A good trick is to study what other brands are doing and start with easy logo animation. Then, once you have enough grip on the skill, you can move to animate your brand's logo to showcase the world. 
Key Takeaways
Logo animation is a skill that can bring your brand to life. It can help your users better understand and connect with your brand if deployed correctly.
To make your logo animated, you can rely on simple online templates or dive deep with software like After Effects. You can make the decision depending on your brand's needs and goals.
If you are a beginner, multiple software and templates can guide you on your journey to make an animated logo.
FAQs
1. How much does it cost to make an animated logo?
Animating your logo using a unique design may cost anywhere from INR 3K to INR 50K+, depending upon the scale of your business, the agency/freelance designer involved, and the level of animation. However, starting out, you can experiment with free online logo animation templates.

2. What is logo animation used for?
Logo animation is the art of animating your brand's logo to enhance emotions, show professionalism, and add a layer of interaction with the user. Animated logos can be used on your website, social profiles, presentations, and promo videos.

3. Which software is suitable for easy logo animation?
Multiple tools and apps on the web allow instant logo animation with customization and templates. You can explore software options, including Adobe Spark, Logo Maker Plus, Animaker, and Canva.

4. Can you make your logo animated in Canva?
Yes, it is possible to animate a logo using Canva. Canva offers a variety of animation templates. Click on "Animated Logos" on their homepage, explore their templates, and customize animation using your logo file. Learn in detail about logo animation using Canva on their official blog.

5. How to use an animated logo?
It is vital to animate your logo and use it to match your user's preferences. Your logo animation should feel relatable, spark a positive, brand-related emotion, and be short in length. A good logo animation will surprise the viewer, communicate the brand's messaging and values, and spark interest.