Marketing
5 Ways You Can Incorporate Customer Stories into Your Content Marketing Strategy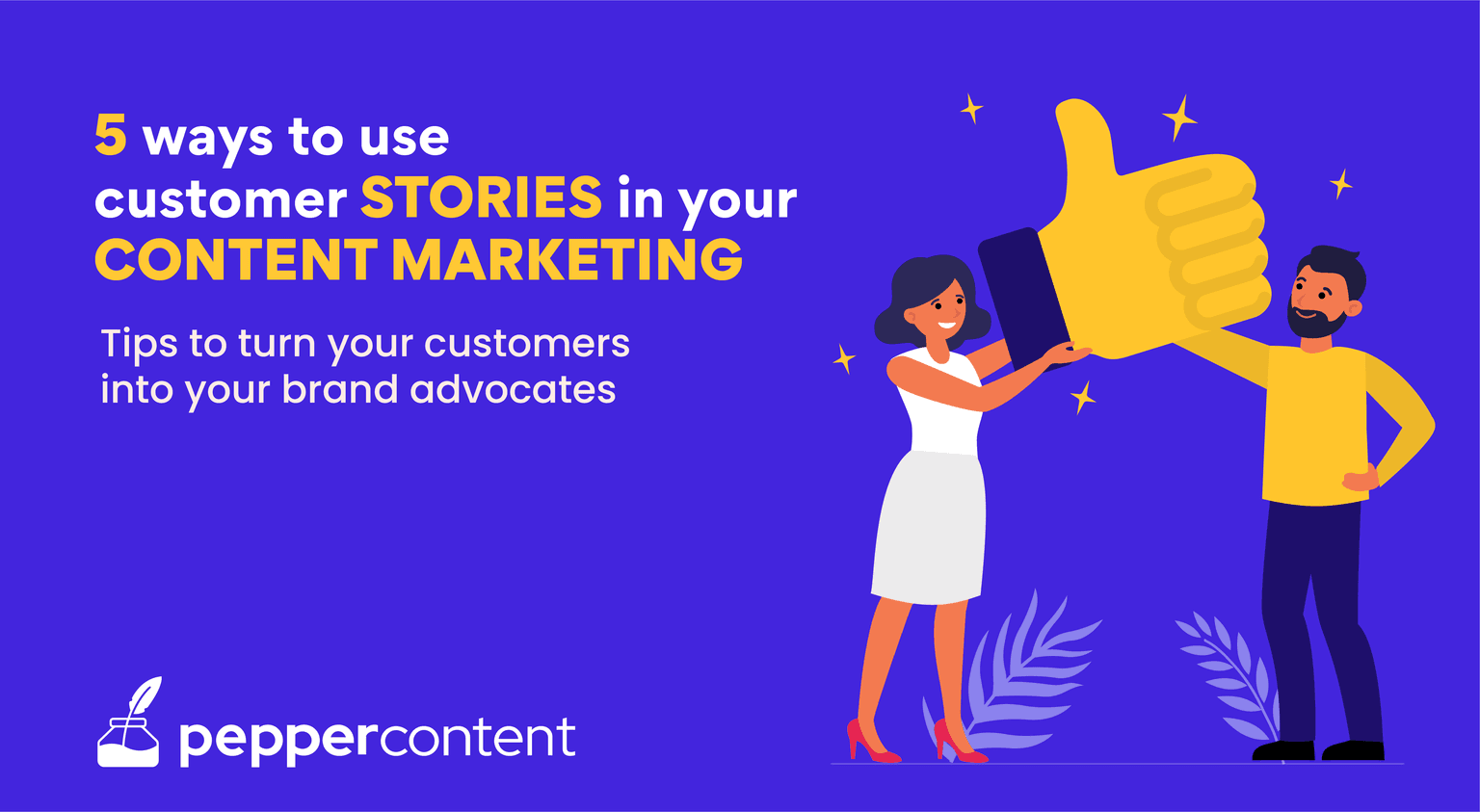 Let's accept it. Selling isn't easy at all, especially in a world where everyone is digitally connected. Buyers are the ones in control as they have all the information they require at the click of a button.
The decision-making process of a buyer consists of three phases. They are as follows:
Awareness Phase – At this stage, a buyer realizes they have a problem that needs to be addressed.
Consideration Phase – During this phase, the buyer understands the problem and is looking for help or a solution.
Decision Phase – The buyer knows what the best option is, and they are now looking to invest in it.
As a business owner, how can you produce the right types of content to accelerate sales? Here are some of the ways in which your marketing and sales efforts can be bolstered:
How Can You Use Customer Stories Smartly?
Customers are the core of your business. After all, they are the fuel to your engine.
Peer-to-peer marketing is shown to have tremendous success, and you should be considering it for your business if you want to improve your marketing strategies.
Here are a few content marketing examples that will show you how to incorporate customer stories into your content.
1. Case studies
Case studies can be your ideal starting point. When you have a customer, who is willing to be a part of your article or blog, you can interview that person and focus on the ways your service or product has helped them attain their goals. You can also include statistics that show how your brand has helped them. This will add more credibility to your case studies.
2. Video testimonials
On video testimonials, your customers speak in their own words about how your services and products have helped them deal with particular problems. By doing this, your audience can see and hear about the benefits of your brand. To help you reach a larger audience, you can share these video testimonials on your brand's social media channels.
3. Blog posts
Featured articles and blog posts using customer testimonials can also help with brand storytelling. The trick is to make your content relevant and exciting to your audience. Customers look for reviews and testimonials before buying a product; hence, incorporating real customer stories into your posts can be a great idea. For example, Shopify shares customer success stories on their blogs that focus on telling entrepreneur stories. These help in promoting their services using innovative and emotional storytelling strategies.
4. Targeted emails
If you're using targeted emails as part of your content marketing strategy, use customer stories in your emails too. Highlight statistics and other essential points in your email subject lines to capture the audience's attention. Make sure that you keep your messages short and simple to engage them. Also, include a call-to-action that can drive them to your product page.
5. Events
If your organization hosts an annual event, you can invite your customers to participate in lead or panel sessions. It is a compelling way to get your customer success stories to a broader audience. Also, since your team members will be present at the event, it will be easier for a prospect interested in your brand to connect with them and learn more about your company.
Best Creative Storytelling Examples You Can Use in Your Marketing Campaigns
Storytelling has never been more important. Now, more than ever, brands understand the value of telling stories that rise above the noise and make a pixelated connection with their customers. In this segment, we will look at some of the best creative storytelling examples and how they have helped these brands create engaging content with their customers.
1. Nike
Nike knows better than anyone 'how to do storytelling' and uses stories of athletes and events to market its products. They're marketers that know how to engage their audience fully. They don't just push products; they present stories that engage customers and convert them into sales.
Furthermore, their storytelling leads them from one campaign to the next, giving them a competitive edge in an overcrowded market.
It would not be false to say that Nike has taken storytelling and brought it to another level; not only do they have stories on their website, but they also tell stories through videos.
They can take something that happens every day (like going for a run) and spin that story with music, visuals, and celebrities to bring people together all over the globe.
Nike continues to use storytelling as a primary way to connect with consumers around the world. It can reach out through various channels and platforms that effectively engage its intended target audience.
To sum up, Nike has developed its storytelling around its history, brand, products, culture, and technology. All these come together creatively to enhance the brand's image.
2. IKEA
IKEA uses storytelling content as its primary content marketing strategy to reach a wider audience. Today IKEA is known for many things. Their minimalist yet functional designs, fun housewares, and the flat-pack assembly process are just a few.
But way back in the 1940s, when IKEA was just two guys, it was all about helping families create affordable home furnishing solutions by showing them how to do it with kits.
Using storytelling to share the story of their unique message, a traditional showroom, furniture samples, and copy that resembles modern online content helped launch one of the most successful businesses in the world today.
The online communication channels of IKEA are extensive and well thought out, but the content they create stands out. They use traditional video formats, including product ads and other dimensions such as virtual reality, and even have ambassadors to promote their products.
The way they tell stories changes along with the changing technological possibilities, which makes the Swedish company an excellent example of how a company can benefit from creating original content for marketing purposes.
3. Apple
While talking about creative storytelling marketing examples, how can we forget Apple? When it comes to marketing, Apple has a pretty good track record. Their marketing strategy is built around building a story that consumers can connect with. The way they do this is through product videos, social media, and significant announcement events.
From a memorable unveiling of its latest iPhone to the unboxing of a new iPad, Apple gets plenty of attention for its marketing. Apple has built a culture around their products, and consumers are drawn in by them not just as technology but as art in their way.
They market themselves around showing how their products are made and conveying the message that they are innovative to the extent that other comparable products cannot deliver.
By producing stories like this and making it so clear to consumers, Apple creates an image around their brand that no one can beat them in the technology space.
The creative storytelling for the marketing team at Apple believes that revealing technology's benefits without focusing on the product itself is essential to overcoming consumer resistance.
4. Dove
Dove began as a small brand with strong values and an anti-beauty campaign, so it was no surprise that in 2015 they were one of the most awarded beauty brands. While they certainly practice how they preach, they also know that heartwarming storytelling can bring their message and products to life.
Dove promises to deliver 'Real Beauty' inside and out. They bring this message to life through compelling marketing that connects with people on a human level. It's centered on how we see ourselves – as beautiful, complex, imperfect individuals whose appearance should not undermine our dignity or worthiness.
Dove's most memorable marketing campaigns have all revolved around a well-crafted story told in a manner that makes you believe in the brand. The company is not new to this kind of marketing area; however, it has perfected it over the years.
To wrap up, Dove marketing campaigns are not only great creative storytelling examples but one of the best narrative storytelling examples as well.
5. Warby Parker
Warby Parker has a specific product: Eyeglasses. How have they managed to build a strong brand and loyal customer base that spans the globe? Well, one meaningful way is through creative storytelling ideas.
Warby Parker uses a short story to describe its creative vision and best explain its mission to potential customers. The story highlights how the company was created to fill a growing desire for quality, stylish eyewear at an affordable price. It explains how its founders had an idea and built a business from it. And while the story is fictional, it represents the truth about what Warby Parker does, making outstanding eyewear at a fair price. Creative storytelling is a powerful tool in their marketing arsenal because it tells more general stories that resonate with consumers and inspire them to action without directly referencing a product.
So this was all about the best creative storytelling examples that brands worldwide have used to attract and engage with their customers. Creative storytelling for marketing is a valuable strategy to help businesses develop a story that presents them as unique from the competition. Enhancing your brand image will allow consumers to remember your business and associate it with positive qualities.
The Importance of Customer Stories in Content Marketing Strategy
Incorporating customer stories into different types of content can help you gain your audience's trust and direct them to the sales path. Here are five reasons why customer stories are essential for your content marketing strategy:
1. They can boost sales
Using customer stories in your content marketing strategy can help you launch a stellar advertising campaign. Customer stories prove to be effective because they show real people with real problems. When you accommodate customer stories in different types of content, your potential customers will relate more to your posts. The results you get are almost instant as your new customers can see the advantages of your products.
2. They can enhance your service or product
When you share customer stories with your sales and marketing teams, they can reveal issues that can be immediately addressed and your products and services enhanced accordingly.
3. They can help with marketing campaigns
Sales and marketing teams perform the vital tasks of attracting new audiences, generating leads, converting leads, and retaining customers with innovative strategies. Using customer stories like case studies, testimonials, and quotes can add value to your content marketing strategy.
4. They can identify common issues
If you have clients in different industries with problems you've helped them solve, you must have individual customer stories illustrating those efforts. You can use your business website or blog to speak about the common issues and talk about the solutions you offered. It's better to have customer stories that stress buyers' problems and how you've solved them.
5. They can build stronger relationships
Most people like to be in the limelight, and the truth is, very few get the opportunity. So, when you approach a loyal customer to share their experience or journey with your brand, chances are they will be excited and ready for it. Customers will feel more special when you have a talented writer to pull off a good feature revolving around such experiences. This, in turn, can help you forge a stronger bond with them.
Conclusion
Sharing customer stories sends out a message that your organization is not tooting its own horn. Hearing the benefits from real-life customers makes the experience more authentic and trustworthy. Also, sharing such stories increases brand awareness.
Looking at all the above points, it's clear that customer stories should be a part of your content marketing strategy. There are no hard and fast rules regarding them; just keep each customer story's purpose consistent.
FAQs
1. What are some great storytelling tips?
Plan a key message you want to get across
Create an event
Provide visuals and facts that support your story
Be unique
2. What are some examples of great content marketing ideas?
Personalize the content to your customers
Personalize your calls-to-action
Employ interactive features
Utilize email outreach tactics
Contests and giveaways
3. What are some storytelling best practices?
Make it personal
Tell stories that are framed
Infuse the story with action
Make the story relevant and relatable to your audience
4. What are some good content marketing tips?
Create valuable content
Look for influencers to promote your content
Make use of social media tools and platforms
Try guest posting
Make it easy for customers to see your content
Use effective headlines to stand out in the crowd
5. Name some business storytelling examples?
Some of the best business storytelling examples include Nike, Dove, Airbnb, CrossFit, and Apple.