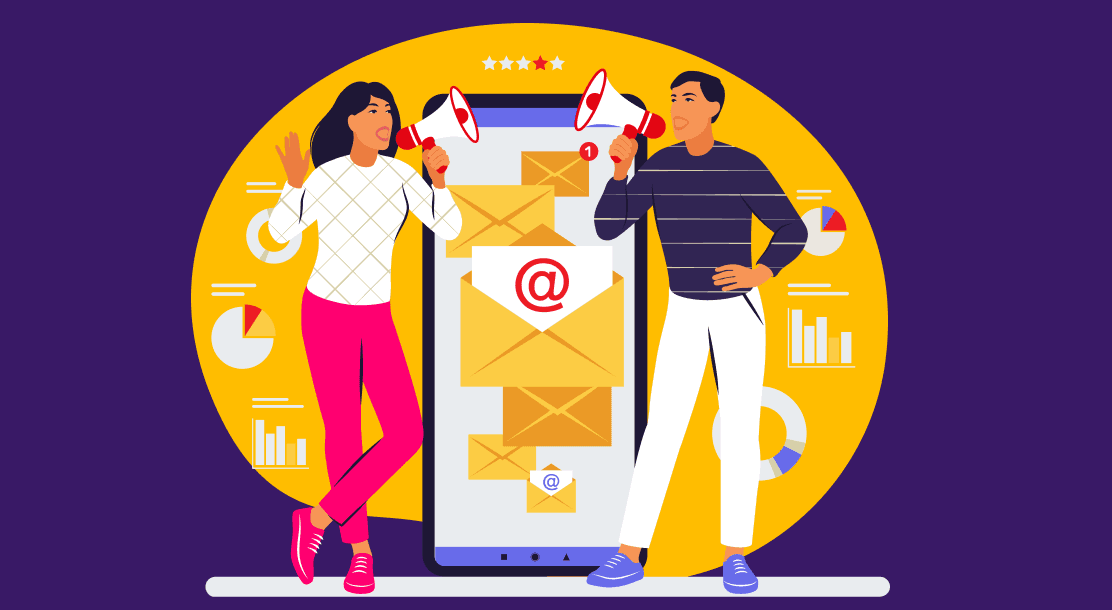 This blog will go through some email marketing statistics that will be absolutely useful for every marketer.
Email marketing is a highly effective method for getting leads and conversions. Do you have the most up-to-date email marketing statistics? And does email marketing have a place in your company's budget at all?
Email marketing is still alive and strong, despite fast-evolving marketing technology and the rising popularity of social media. Any careful examination of the most recent email marketing stats would reveal the same conclusion.
Email marketing is a great way to get in touch with potential customers right away. The effect of this technique is rather impressive since it can do far more than simply deliver messages to inboxes.
There are several resources to learn about the effects of email marketing, the majority of which are theoretical opinions. However, some of us are unaware of why they should employ email marketing as part of their digital marketing strategies. In this blog, we've compiled a list of up-to-date, insightful email marketing stats to help you understand the benefits of this method, as well as to accelerate your existing email marketing campaign.
40 Insightful Email Marketing Stats to Know About
Email marketing is one of the oldest marketing tactics that has remained relevant despite the changing world. The simplicity of email marketing resides in the fact that it allows you to communicate directly with your audience.
If you are currently using email marketing, you may use these figures to analyze how you stack up against other marketers. Whatever you're searching for, here is the most up-to-date and comprehensive list of email marketing stats available.
According to Statista, the number of active email users is expected to reach 4.4 billion by 2024.
As per a report by Statista, spending on digital lead generation advertising is expected to reach $3.24 billion by 2023.
For 89% of marketers, email is the most crucial medium for generating leads.
Every day in 2022, 333.2 billion emails are estimated to be sent and received, according to Statista. That's an astonishing number of emails sent and received every day.
For 48% of B2B marketers, email marketing effectively drove conversions and engagement.
After peer referrals and industry-specific thought leaders, email is the third most powerful source of information for B2B audiences.
Consumers who buy things via email spend 138% more than those who don't get email offers.
Around 73% of 18-24-year-olds check their email on their phones.
Click-through rates (CTR) for video emails are 96% higher than for non-video emails, according to a survey of one billion emails.
The average email conversion rate in 2021, according to Barilliance, was 1.22%. In 100 emails, that's a little over one sale.
Not only do automated welcome emails have the highest open and click rates, but they also generate the most sales, with a 3.02% order rate.
According to a Gartner research, email marketing is viewed as the most effective marketing channel by 47% of marketers, while mobile marketing is preferred by 57% of them, followed by SEO (54%).
According to GetRespsonse, nearly 22% of all email campaigns are opened within the first hour of being sent.
Because communication is such an essential aspect of doing business online, more than 72% of consumers prefer email as their primary method of communication.
68% of millennials send and receive emails with emojis, GIFs, and stickers.
According to Campaign Monitor, using the term "video" raises open rates by 19% and CTR by 65% and reduces unsubscribes by 26%.
According to 40% of marketers, email newsletters are essential to B2B content marketing strategies.
Marketing automation is now used by 51% of businesses on average.
88% of smartphone users check their inboxes on their phones.
B2C firms' emails and websites aren't mobile-friendly in 52% of the cases.
According to the Content Marketing Institute, email marketing software is a critical component of 85% of B2B firms' content marketing strategies.
According to HubSpot, mobile-friendly email is the second most-favored tactic email marketers use to enhance their performance.
75% of marketers rank their email marketing strategy's ROI as excellent or good.
Only 33% of marketers believe that sending out early notifications of items or sales is a successful email marketing strategy.
Checking email is an add-on activity. People do it when watching TV (69%), in bed (57%), and on vacation (57%).
10% of users dislike the lack of personalization in emails.
The email open rates for pet and animal services are the greatest.
Brands that run A/B tests for their emails generate an ROI of 48:1.
40% of users would like emails to be less promotional and more informative.
76% of people have at least once used emojis in business emails.
23% of brands have experimented with interactive elements in email, and another 32% are considering following in the former's footsteps.
Segmented and personalized emails help generate 58% of revenue.
40% of consumers claim they have at least 50 unread emails in their inboxes.
Marketers who make use of segmentation in their emails experience as much as a 760% increase in revenue.
Global emailing marketing is poised to increase to $17.9 billion by 2027.
64% of small businesses make use of email marketing to reach customers.
Almost one in five email campaigns is not optimized for mobile.
86% of professionals prioritize email communication.
In B2B content marketing, email marketing is used most for lead generation (85%), lead nurturing (78%), and customer retention (74%).
The three reasons personalized is used in emails are enhanced open rates (82%), improved CTR (75%), and customer experience (58%).
When looking at email data, it appears that there isn't a lot of variation in how emails perform on different days. Weekdays, as expected, perform best, with the weekend having the lowest engagement figures.
Email open rates are highest on Mondays (22%).
Tuesday is the best day for CTR (2.4%).
Wednesdays and Tuesdays have the highest click-to-open rates (an average of 10.8%).
Throughout the week, the rate of email unsubscribes is nearly equal (0.1%).
According to worldwide averages by the day given above, these are the worst-performing days for sending emails:
Saturdays and Sundays have the lowest CTR (2.1%).
The worst days for CTR are Friday, Saturday, and Sunday.
While this information is important academically, you should carefully evaluate your audience and do email testing before removing entire days from your campaign schedule.
Email Marketing Success Rates
One of the most excellent ways to assess if your email campaign is working is to look at its open rates. This figure indicates how many people in your target audience open the emails you send them. If your subject lines resonate with your readers, you'll have a greater open rate. Here are a few email marketing success rate examples by Mailchimp:
With a 28.77% open rate, government-related emails lead the list.
Emails sent by hobby organizations came in second, with a 27.74% open rate.
Religion-related emails came in third, with a 27.62% open rate.
The average open rate across all industries studied was 21.33%.
Examining click rates is another way to see how well your emails perform. A click rate is a percentage that indicates how many properly delivered emails received at least one click. This statistic indicates whether your audience thinks your emails are relevant enough to click on for further information.
How to Increase Click-Through Rates
The click rate of your campaign material simply informs you about how many of your subscribers find it valuable. You'll need to generate more useful material for your subscribers to increase your click rate. You may occasionally do this by targeting specialized material to a smaller, segmented audience. You may also experiment with different link texts and content blocks in your email.
As a practice, avoid using the generic term "click here." Many people will not click it since they are unsure where it will take them. It also omits crucial information that certain screen readers require, such as visually impaired readers. Some users have found that incorporating many links to the same material into a single campaign works well. This is especially useful for campaigns that just have one call to action.
After reading all of these fascinating email marketing statistics, you should have a better understanding of email marketing's significance, and how it affects many areas of digital marketing. Today, you have access to numerous email marketing facts and tools to help you decide on a strategy that best works for you. Therefore, if you haven't implemented an email marketing strategy for your internet business, now is the time to do so.
You may apply what you've learned about industry trends and best practices to your next email marketing campaign. You may also use that information to enhance your current email marketing campaigns.
Key Takeaways
Email marketing is a fantastic technique to contact potential consumers immediately.
Email marketing is a highly effective method for marketers.
Email marketing has a big impact on businesses, since it can do more than just deliver content to people's inboxes.
Email is the most effective medium for generating leads for 89% of marketers.
Email newsletters are the most important technique in B2B marketers' content marketing efforts, according to 40% of them.
You'll get a higher open rate if your subject lines resonate with your readers.
FAQs
1. What are email marketing statistics?
In marketing, statistics are used to discover market trends, and monitor and evaluate the potential and performance of marketing campaigns. The key to successful marketing is precisely identifying the target audience and then reaching out to them through efficient marketing communication channels and methods.

2. Can you make money with email marketing?
Getting people to buy your products or services is a terrific way to generate additional money with email marketing. This is a common technique in which you cleverly encourage your customer to make a purchase.

3. Will email marketing be effective in 2022?
According to Statista, there will be 4.4 billion email subscribers worldwide by 2023. And if that's not enough to prove the effectiveness of email marketing, marketers across the board are increasingly using email as their go-to marketing tool. 

4. What are some helpful email marketing stats for 2022?
The following are some helpful email marketing stats for 2022. 
1. Marketers who use segmented advertising see up to a 760% increase in revenue.
2. 35% of marketers send three to five emails to their customers every week.
3. In 2020, 78% of marketers said they had noticed an increase in their email interactions.
4. Four out of five marketers prefer not to use social media over email marketing.