Design
3 Best Photography Logo Ideas for Inspiration [+Tools]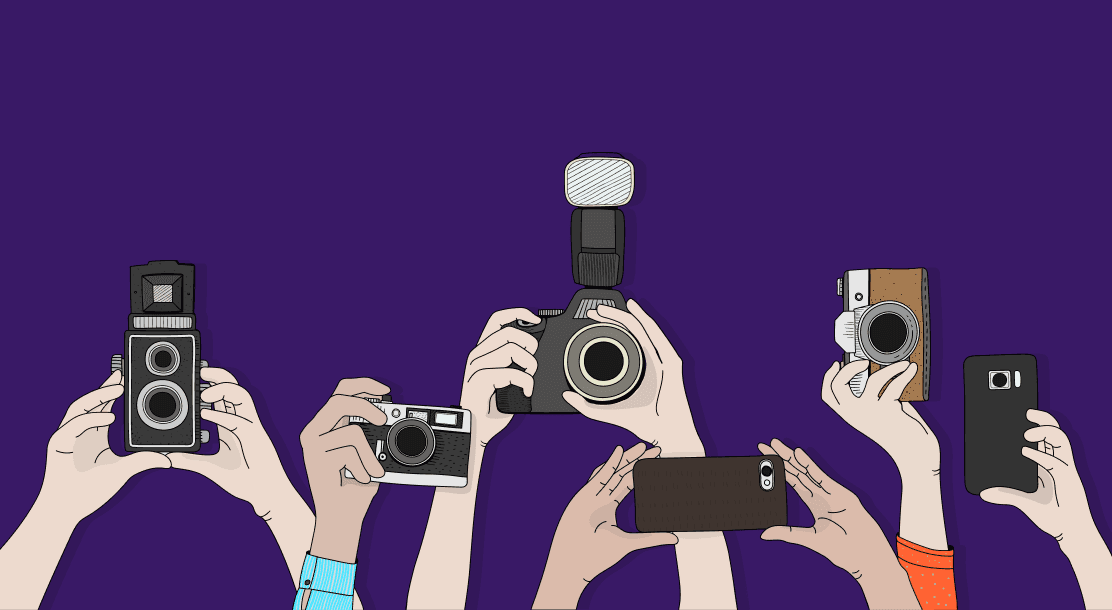 Your photography business needs a logo that is as good as your photographs. We are here with brilliant tips to create that perfect logo.
Having a perfect logo is important for every kind of business. It is more so for a photography business, since it reflects the brand image. After all, having a good logo is essential to depict your creative ability as a photographer. A good photography logo also helps in brand recognition. With so many photography logo designs and styles, it may get confusing, and even daunting, to decide on one.
Read this blog to not only get inspiration for your logo design, but also to get to know about the best platforms for making photography logos.
Top 3 Photography Logo Ideas For Inspiration
There are endless options when it comes to logo design. We are sharing with you some of the best photography logo ideas you can borrow.
1.
Handwritten signatures
The signature can be said to be one of the oldest forms of logos. This is a classic choice to go for if you want an exquisite, personalized logo. It directly puts forward the most important element of your brand: you.
Be sure to use a readable font and color that matches your brand. You don't have too many elements to play with here, so you will have to show your brand image as simply as possible.
Here are some examples of classic signature designs:
2.
Shape elements
You can have one shape being the central element of your photography logo. Some of the most popular shapes that are used are:
●
Circles
One of the best features of a circular logo is that it fits perfectly into your social media profile picture thumbnail. As for psychology, circles are associated with stability, strength, trust, and femininity.
●
Rectangles and squares
Rectangles and squares logos imply balance, professionalism, and efficacy. You can go for these shapes if you want your brand to appear sharp.
●
Triangles
Triangles are said to be associated with power, science, law, and masculinity. A triangular photography logo can give an edge to your brand, as they also stand for innovation.
Choose a shape that you think would best fit your brand, and then add other elements, such as illustrations, text, and color, to create the perfect logo for your photography business.
3.
Include the main subject in the logo
You can include the central subject of your business in your logo itself. It achieves one of the most important functions of the logo: to put forward the identity of your brand. The viewer will understand what kind of photography services you provide by just looking at the logo.
However, use such logos only if you are sure and clear about the subject/niche. If you do not strictly work in that area or plan to shift and explore, you may not want to limit the scope of the logo.
This logo has two elements: the mountains and cityscape. It is an example of how it is clear that the expertise of this photographer lies in nature and cityscape photography:
The following logo of an Indian photography studio has an illustration of a sleeping baby. It leaves no doubt that they take up maternity, baby, and kid photoshoots.
The following logo clarifies the person's expertise in wildlife photography by adding a relevant illustration. It's made clearer by the addition of text.
3 Best Photography Logo Makers
A logo maker is an application where you can create a logo online. All you have to do is upload your business name, brand style, colors, etc., and it generates one for you. Some online logo makers provide you with more creative options, and you can add design elements or details by yourself.
Of course, the quality and design of a logo maker online may not be as good as one created by a professional designer or design service, but they are great tools to use if you're on a low budget. So, if you are looking for some of the best photography logo makers online, keep reading.
1.
Canva
Canva is a one-stop solution to all of your design needs, and logos are no exception. You can choose from a sea of logo templates. Once you have the design, you are free to tweak it as per the requirements of your brand. Canva offers a lot of flexibility and creative freedom. So if you want a hands-on experience, this tool is the way to go.
2.
Tailor Brands
This platform uses an AI algorithm to churn out aesthetic logos. To get started, you need to submit some essential information, such as your niche, preferred fonts and logo styles, and a bit about what you do. Then it goes on to create a logo that is the closest fit to your preferences. Even after the logo is formed, you can experiment and customize your logo: change the font, color palettes, or move elements.
3.
Logo Maker
The best part about this platform is the range of options you can try out for your logo. It is also quite easy to use, and is a treasure trove of well-designed templates. It is a great tool if you want a heavily customized logo. And if you are not one to put in that effort or get more involved in the design process, this photography logo maker may not be for you.
Making the perfect logo for your photography brand is not as confusing as it seemed earlier, right? There is a wide variety of logos and logo designing sites to choose from. Now that you have some inspiration and the right information, you can decide what you want based on your desired outcomes.
You can choose to hire a designer, design a logo by yourself, or just use a custom-generated logo. Form a vision for the kind of logo you want for your brand. Then decide on how you want to go about making one. Most importantly, just get creative!
FAQs
1. What makes a good photography logo?
A good photography logo needs to be unique and in sync with your brand. It should be simple yet impactful. It should also have a clutter-free design so that the viewer can understand the message well.
2. What are the most important elements of a logo design?
The three important elements of a logo design are:
● Symbol: an abstract or illustrative symbol is used to depict the idea of your brand.
● Font: every logo has to have a distinct font if it contains text. A lot of companies use a mixture of text and symbols to make a memorable logo.
● Color: choose colors keeping in mind the brand image and aesthetics. Color also influences emotions and behaviors.
3. What are the pros and cons of using a logo maker?
Pros
● It is easy to use.
● It makes logos in a short period of time.
● You can customize your logoṣ.
● It can be cheap or even free, depending on what logo maker you use.
 
Cons
● Your logo can look unprofessional
● Using an online logo maker may make your design unoriginal.
4. How to choose a color palette for your logo?
The logo is one of the first impressions of your photography brand that the viewers and prospective clients might get. Focus on the brand personality and traits while choosing a color palette. Also, consider color psychology. If your brand design already has a color palette, it is advisable to use that.