Content
10 Golden Rules of Writing Content for your Website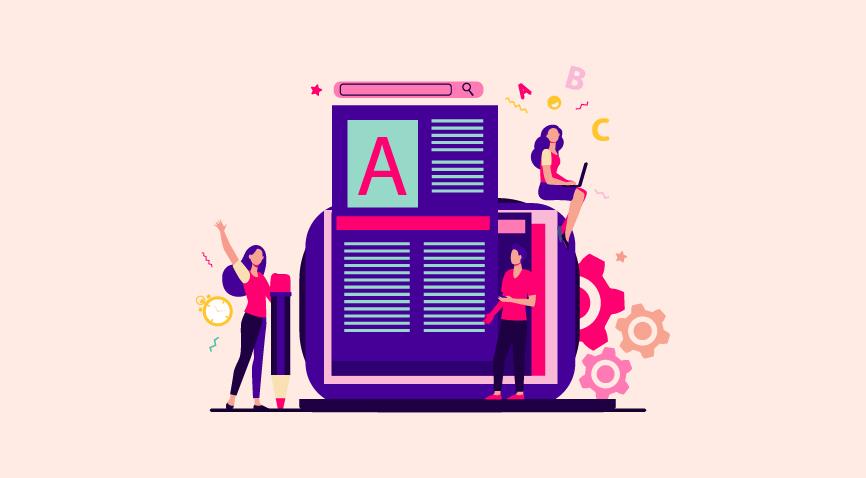 As a content writer, it is your responsibility to guide readers to discover more information by hyperlinking certain words or expressions to other web pages, particularly those on your site. The case study by Ninja Outreach shows how they used internal links to help increase traffic on their website by 40%.
Table of contents
The golden rules of content writing
Know your audience
Inverted pyramid model
Short and simple sentences
Active voice, please!
Incorporate visual content
Keep jargon at bay
Use synonyms
Make your text readable
Layer website content
All about CTA
BONUS: 5 additional content creating best practices to help you write content like a pro
Populate your content with semantically related keywords
Optimize your content with on-page SEO
Understand your audience's pain points
Plan your conversion path
Make use of content creation software
It is always very challenging for a content writer to capture their audience's attention consistently. You may have a few articles that bring in maximal traffic, but other pieces do not perform well. Maybe some pieces of content are failing to gain traction because you are not following the golden rules of writing.
If you are running a website, you must know how to write content (and enhance it with SEO) to bring traffic to your portal.
Here are ten basic and (5 additional pros) content writing best practices to help you do just that! All you need to do is implement these tips for creating content on your website and see the metrics improve for yourself. You can thank us later!
The golden rules of content writing
1. Know your audience
It sounds straightforward, yet many professional writers put pen to paper — or a finger to the keyboard — before understanding their target audience and what kind of content you need to put forth for them.
Before drafting a piece of content, remember to ask yourself these questions. Who is my target audience? How can you classify them as primary and secondary audiences? How to create great content for my specific audience? If you answer these simple questions, you will be able to develop engaging pieces of content.
Let's say you're writing an article for a law office. Your primary crowd may be potential clients and existing customers. But your secondary crowd is a lot more extensive and could incorporate law journalists, lawyers, or any individual or business who may require your services later on. Knowing your audience will be your first step to becoming a star content writer.
2. Inverted pyramid model
We all know that readers now have a limited attention span, and they'll decide whether your webpage has the information they are looking for or not in a few seconds. Therefore, it is important to design your content like an inverted pyramid. The main messages should be conveyed in the beginning. The introduction should be strong and able to catch readers' attention. Once you capture your readers' attention, keep them engaged with lots of facts and data.
3. Short and simple sentences
The next step is knowing how to structure and write your content. Write short and simple sentences. Easy-to-comprehend articles will draw more and more readers.
Make sure that you focus on grammar – no errors should be allowed in this regard. There are plenty of online readability tools available for free to check your readability score. Take, for example, the Hemingway app. Such tools can help you create highly readable content.
4. Active voice, please!
Always use an active voice for your sentences. Make sure you keep your subject at the start of a sentence. Active voice is a great way of creating reader-friendly content.
5. Incorporate visual content
When creating great content, it is crucial to understand that an article is not all about words and sentences. There are a lot of other things that give life to your article. The first thing you will need to add is real-life examples that can help a reader relate to the central theme of your article. Along with these, you can use images, data, tables, charts, and infographics. Images and diagrams help a reader understand a topic or a concept better. As a result, they also help your article stand out from the crowd and enhance your website's SEO. Thus, as many as 88% of marketers prefer visuals in their content since 64% of buyers are more likely to purchase after viewing a video or visual graphics about your product/service.
6. Keep jargon at bay
The online world is for everybody, not simply for specialists who can understand complicated words. So, ensure that all the ideas and thoughts that you are putting out are explained in simple terms so that even an ordinary person can understand them. Please keep technical terms and jargon at bay as most of the readers won't understand them. Also, give hyperlinks to different articles where readers can get more specific information on a particular subject.
7. Use synonyms
Wordplay is enjoyable and can help keep your audience hooked. If you have trouble coming up with select words, you can always look at online tools and dictionaries.
8. Make your text readable
As per the inverted pyramid, you should always put important information at the top, but that doesn't mean you put everything into the introduction itself. Therefore, it is vital to form a proper structure for your article so that a reader can get the article's main idea with even a cursory glance. The best way to accomplish this is by providing proper headers at strategic points.
Here's an illustration of how to place headings and subheadings to break a page and make it simpler to peruse. These sub-headers can make your content rank higher as well.
9. Layer website content
The extraordinary thing about a website is that guiding readers from one page to another is not impossible. As a content writer, you are responsible for guiding readers to discover more information by hyperlinking certain words or expressions to other web pages, particularly those on your site. This case study by Ninja Outreach shows how they used internal links to help increase traffic on their website by 40%.
Layering the website content will encourage individuals to explore your site. If you run affiliated marketing content, then make sure that you guide your readers to product pages to purchase the products after reading your articles. This is an essential factor to consider while publishing an article online.
10. All about CTA
Great sites and every web page can be effective when it has a solid CTA (Call To Action) button. A CTA is a word or a phrase that tells readers what they need to do after reading an article. It could be short and straightforward, like 'Download Now'. Or it could be a long sentence, like, 'If you like this article, then subscribe for more relevant content every day'.
A Hubspot survey said anchor text CTAs increased conversion rates by 121%.
BONUS: 5 additional content Creating Best Practices to Help You Write Content Like a Pro
Writing is just one (and, of course, the main) part of your content strategy. There is more to writing that helps you create great-looking content.
Here are some tips that can help you write like a pro and create amazing content:
1. Populate your content with semantically related keywords
No matter how great your content looks, it is not complete unless it reaches the appropriate audience. To help your content reach a wider set of your target audience, you need specific keywords to help your content rank higher in search engine results and bring in more traffic.
If you're looking to embed quality keywords on your content, you need to keep a few things in your mind.
Tailor your title around long-tailed keywords: Long-tailed keywords are nothing but the audience's searches that are usually more than 4 or 5 words. For example, if you're writing an article on content writing best practices, your title can be 'How to Write Amazing Content or X Best Practices to Write Great Content', etc.
Put other semantically related words to use: Don't just focus on writing around your primary keyword (content writing); make use of other keywords, which might possibly be related to your main keyword, such as content creation, content writing tips, etc.

2. Optimize your content with on-page SEO
Make better use of your keywords by incorporating them into your SEO strategy. Add keywords into your H1 and H2 tags (title and sub-topics) and meta-description.
For example, your sub-topics can be:
How to write content
Golden rules of content writing
Benefits of great written content, etc
As much as you're looking forward to optimizing your content with relevant keywords, make sure that you don't overdo it. Keeping it right can help you enhance your website's SEO and make your content rank better in SERP results.
3. Understand your audience's pain points
Other than anticipating what your audience might be looking for, you can search for what they're looking for.
For example, let's say you're writing for a website that sells hair care products. Your initial pieces of content would've been around content creation tips to make your content informative and knowledgeable. However, if you spend time around sites such as Google, Quora, Reddit, etc., you'll start learning about people with hair problems such as dandruff or hair fall.
You can then tailor your content around their pain points to connect with them emotionally and make your content feel good to them.
4. Plan your conversion path
Your audience has visited your website and stayed enough to read your content. What next? Where do you want them to go/ What do you want them to do next?
Having answers to these questions beforehand can also help you tailor your content to suit the required outcome. Here's how you can plan a conversion path for your audience.
Know what is your content's purpose: Is it informational, is it for converting a prospect? It can be anything. Fix on one and write the rest of your content around it.
Right, left, top, or bottom: Knowing your content's purpose gives you the map to where you want to take your customer. If it's informational, send them to another detailed article, or if it's targeted at conversion, you can send them to a landing page or your product page.
5. Make use of content creation software
Everyone needs a helping hand at times. A content creation software or tool is one such hand that can help you perfectly build your content from scratch to end.
Multiple content creation software in today's world can help you with content planning, content creation, content development, etc.
Here are some of the top such tools:
SEMrush
Contently
Outgrow
Shorthand
Following the aforementioned best practices for content creation can help you write content like a pro and ensure that your strategy stands out from your competitors.
Conclusion
Writing is hard work, and writing content for a website is even harder. However, it isn't necessary to get it right the first time around. After the content goes live, one can check and optimize it every month to see what works and what doesn't. The above content creation tips will prepare you to create content for even the most short-attention-spanned internet readers.
FAQs
1. Is being a content creator worth it?
Absolutely, despite the traffic in the current scenario where many millennials and Gen Zers are into content creation, making the cut difficult. Content creation is indeed a highly profitable career.  
2. What are some good topics to start with while creating content?
There is always room for content in everyday topics such as technology, social media, health, entertainment, etc., that you can start with while creating content. 
3. What kind of content should I create?
The best kind of content is the content that your audience is looking for. And to find that out, you can simply understand their pain points on online forums and social media. 
4. How to write a unique content?
First and foremost, stick to a niche. Don't create content on a topic that probably everyone else is pursuing. If you're creating content on a broader topic, make sure that you give it a unique structure and add your point of view to keep it unique from others.  
5. What is the most effective way of content creation?
HubSpot suggests organizing content through topic clusters such as a comprehensive pillar page linking to other pages on your subtopics is the most effective way.