Engineered for
acquisition
With Pepper's Content Marketing Platform your content, data, and teams come together to achieve your marketing goals on time, every time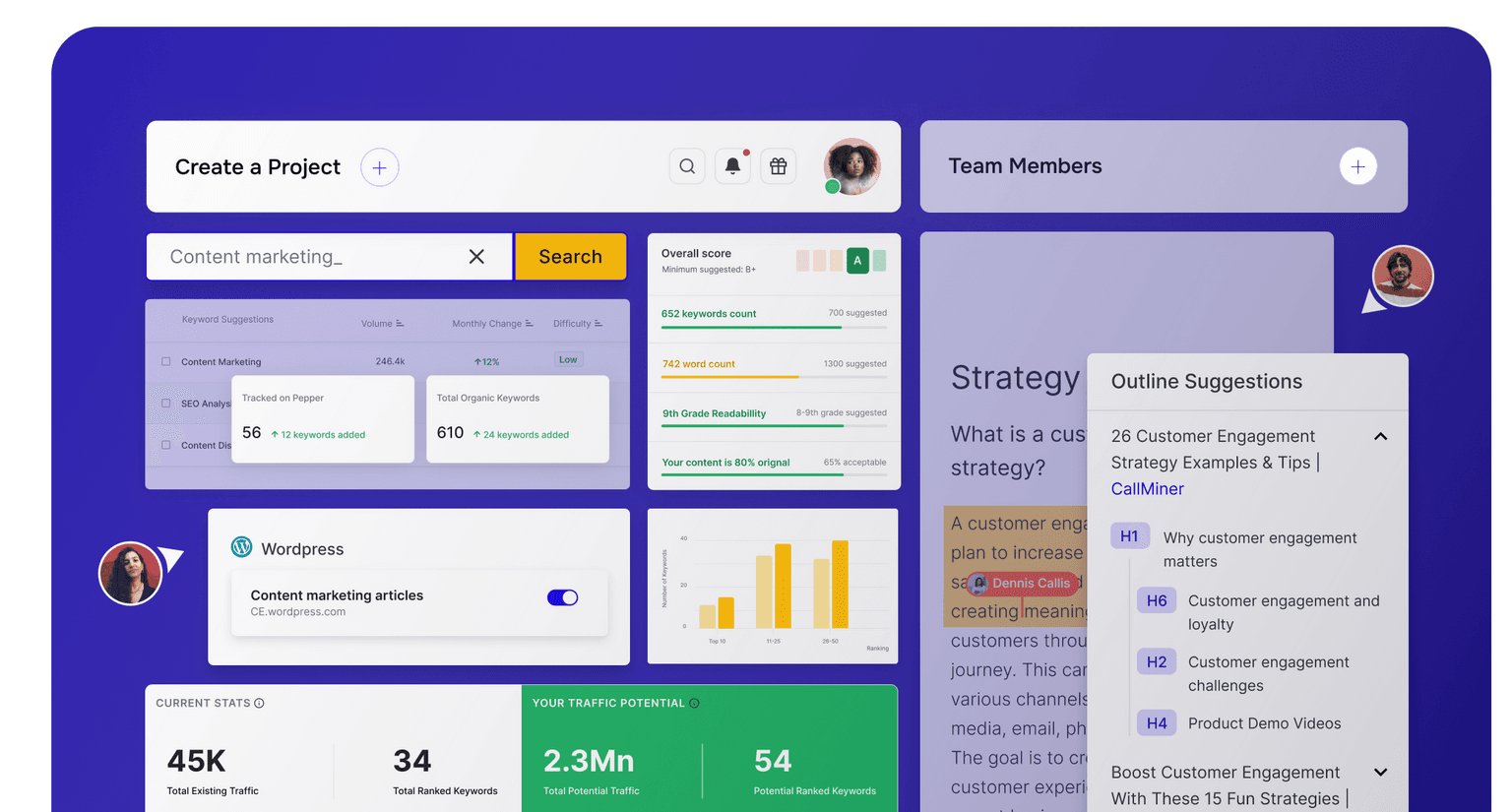 2500+ businesses trust us with their content
Why do you need a Content Marketing Platform?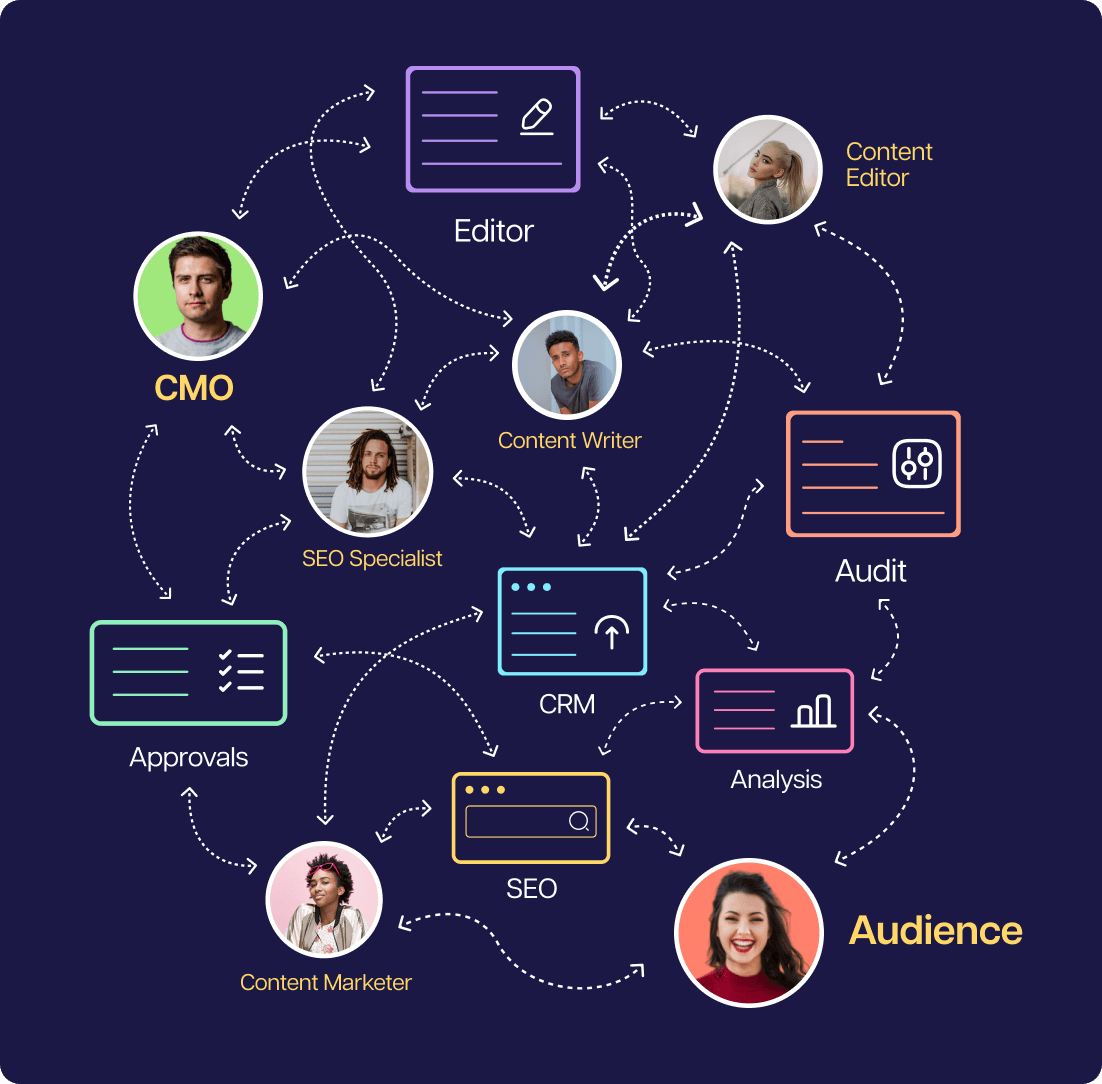 The old, chaotic way of marketing with content, data, and teams scattered everywhere
The new, modern way of marketing with content, data, and teams at one place
A tailored suite of best-in-class tools
Ideate, create, manage, distribute, and analyze all your marketing campaigns on a single dashboard, designed for winning teams.
Strategy
Is your content strategy missing in action?
Craft your content strategy based on data derived from top-notch tools and AI algorithms
Content OS
Maximize your content output
Create and manage content efficiently by making the most out of the AI-powered platform
Create high-quality content on the go
Use our intelligent text editor, Pepper Docs, combined with our AI and SEO writing assistants to write engaging content
Bid adieu to hours of manual content review
Use our automated content audit workflow that checks for grammar, plagiarism, word count, readability level and more
Ensure all stakeholders are on the same page
Collaborate, brainstorm and create together with your internal and external teams in an inclusive and efficient manner
No more second-hand publishing
Integrate with your CMS and publish your content in a few seconds, without formatting hassles
Content Analytics
Keep tabs, without switching tabs
Always be tracking your content's impact and mould your content strategy based on data and insights
Your content ecosystem in one place
Frequently asked questions
1.
What features and tools are included in Pepper's Content Marketing Platform?
Content strategy - keyword research, topic suggestions
Content creation - Talent Network, Intelligent text editor, AI +SEO assistant
Content distribution - Shopify, WordPress, and Zapier CMS integrations
Content analysis - Position tracking, Website audit, and Content gap analysis
2.
Is Pepper Content's platform suitable for businesses of all sizes?
Pepper's content marketing platform is fast-growing and enterprise companies to streamline their content marketing efforts.
3.
How does the content marketing platform help with content creation and management?
For content creation, Pepper has a huge talent network where you can outsource content creation. Pepper also has an in-house text editor integrated with SEO and AI assistant to help you create better content, faster.
4.
Can the platform assist with content distribution?
Yes, Pepper allows you to distribute your content on your preferred CMS.
5.
Is there a content brief creation and collaboration feature available on the platform?
Yes. You can create a detailed brief using our brief builder and share complete context with our creators. You can also collaborate with your internal and external teams using our sleek chat space.
6.
Is the platform user-friendly, and do I need technical expertise to use it?
Yes, Pepper's content marketing platform is completely user-friendly. You and your team members can hop onto the free trial and get started today.
7.
What kind of support and assistance does Pepper Content provide for platform users?
We have detailed help articles and videos to help you navigate and make the best out of the platform. A detailed onboarding is done to help customers set up and get started.
Take the chaos out of content marketing