Marketing
Hacking YouTube SEO: 26 Strategies for Gaining the Best Results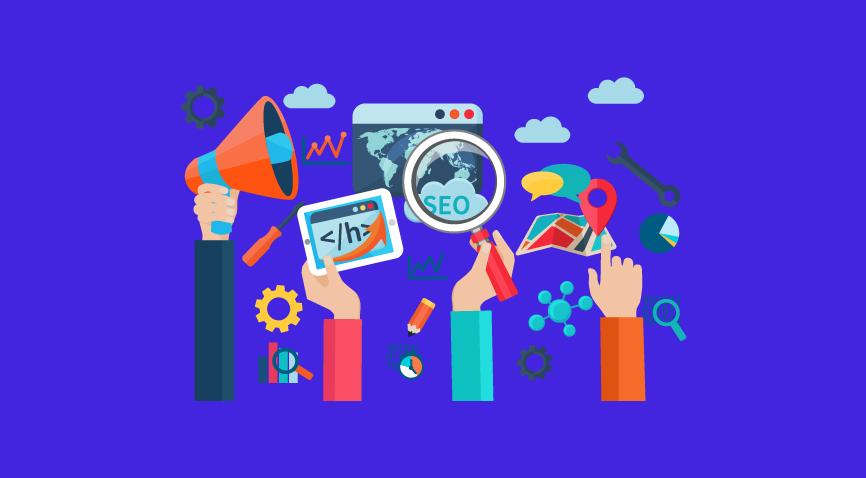 Table of Contents
Introduction
YouTube SEO: A Complete Guide

Keyword Research
Content Creation
YouTube Analytics
Optimize Video for Better SEO
Encouraging Viewers to Like, Share, and Subscribe
Creating Playlists
Promoting Your Video

How to Boost the Growth of Your YouTube Channel
26 Smart Tactics to Hack YouTube SEO
Key Takeaways
Conclusion
Frequently Asked Questions
Whenever you need information on a topic, you hit search on Google. It could be a new recipe, shopping recommendations, addresses, so on and so forth. We all do that. And that's exactly why companies invest money in working on their website's SEO. But think a little harder. There are other places on the Internet where you hit search. I am talking primarily about YouTube. It may not be as popular as Google, but you know that everybody around you uses it.
Everybody is on YouTube. And every second person is sharing videos on YouTube. That means that it's important for you to do something that can increase your viewership on this channel. Well, you may not know, but you can work on the SEO of your videos on YouTube too. Yes, that's right! Now you must be thinking about how to increase your YouTube SEO ranking. Keep reading, as we'll share some wonderful YouTube SEO hacks here.
YouTube SEO: A Complete Guide
There was a time when people started reading a lot on the Internet. That is when blogs went viral. We now live in an age where people are going gaga over videos. According to Tubefilter, there are over 500 hours of live-action as well as animated video content being uploaded on YouTube alone, every minute. It's true that videos are the new big thing. Good video content sells like hotcakes. But the issue is how to divert more and more viewers towards your videos in this vast ocean of content.
Just like Google, you have two options on YouTube as well – paid and organic. As the name suggests, you can sponsor video ads to drive more clicks, impressions, and sales for yourself. The other, more cost-effective idea is to optimize the videos, keeping in mind the YouTube SEO guidelines. Since you search for videos on YouTube, their SEO works just like Google. There are several steps and hacks that can help you improve your search rankings on YouTube. By practicing them, you can attract more viewers at the top of the funnel with improved SEO rankings.
We are putting on the hat of your YouTube SEO guide and sharing some basic tips below that will give you a better idea of how to boost SEO for your YouTube videos.
1. Keyword Research
Keyword Research is something that you must be doing as a part of SEO for your websites. The same process is needed for your YouTube videos. But there is a catch here. It's better to conduct the research before making your video so that your content is more in accordance with the topics that are most searched for and your video ranks better. Your target keywords should get a minimum of 300 searches per month.
2. Content Creation
The next step is what you actually came to YouTube for, which is to create and share your videos. Once you are through with the keyword research, you'll have a better idea of the kind of videos people are seeking. While keeping the SEO guidelines in mind, make sure the production quality of the video is great too. A few key elements that require attention in creating videos are the composition, editing, and scripting of the video. Irrespective of how boring you think your product or service is, a touch of the storyline can always elevate it. The last bit is editing. It is a time-consuming job, but one that can help take your video to the next level. If you have seen the transition videos that are trending on both Instagram and YouTube, you know what we are talking about. A major part of your storytelling can be accomplished with the support of a good video editor.
3. YouTube Analytics
If you are a content creator on YouTube, you cannot hide from its analytics. How else will you know what is working and what is not? Further, there's no point in sharing content without assessing the results and impact created. Some of the criteria measured by YouTube Analytics are video retention, subscription rate, engagement (comments, likes), and the number of people who've saved your videos to 'watch later. All this data is available on your YouTube Analytics page.
4. Optimize Video for Better SEO
Everything, from the name of your file and the title of the video to the description and tags, is important from the SEO point of view. You need to involve keywords in all your content. It may be significant to mention here that 'Tags' are the least important out of all the others. Guidelines like word limit, percentage of keyword additions, etc. must also be considered. This won't just help you in YouTube SEO but will also make your videos more searchable on Google.
5. Encouraging Viewers to Like, Share, and Subscribe
Have you seen how every single YouTube video creator asks the viewers to 'like, share and comment' on the video and also to subscribe to the channel? These are Call to Action (CTA) plugins. If you are watching a video on YouTube and enjoying it, chances are that you will hit the like button. But, when the creator subtly asks you to subscribe to his/her channel, it gets you thinking that maybe you really don't want to miss any future video of theirs.
If your viewers are encouraged to like, share, and comment on your videos, and thereafter subscribe to your channel too, it tells YouTube that you are producing quality content.
6. Creating Playlists
One should create playlists of all the videos of the same topic. It's not just convenient for your viewers but for you too. Having an organized channel invites more and more viewers. Look at it this way – if all your videos pertaining to similar topics and containing similar keywords are put together in one playlist, you have a greatly optimized YouTube channel.
7. Promoting Your Video
Just like you promote your website on every channel possible, you need to promote and market your YouTube video too. Cross-channel promotions must definitely be done. You can promote your YouTube videos on Facebook, Instagram, Twitter, Quora, Reddit, and other third-party websites. It's a given that while doing this, you will promote your videos to a specific target audience. This will, in turn, help you get a higher retention and subscription rate. To top it, you will receive clicks and an audience from all these high-authority sites. This can do wonders for your SEO.
How to Boost the Growth of Your YouTube Channel
Did you know that people spend over one billion hours each day watching videos on YouTube? Surprising, right? Looks like investing in just SEO may not be the answer. You will need to go above and beyond to ensure that your videos get maximum eyeballs. Along with sharing the usual top YouTube SEO tips, we're sharing additional information the way that may help you optimize your content on YouTube.
Create more videos and content around a single keyword or topic. This will help viewers identify your channel as the best in a particular niche.
Videos on YouTube with maximum views are those that are only 1 to 5 minutes long. You don't always need to create new videos from scratch. Repurpose the content that you already have to share videos on trending topics and keywords.
Always engage with your audience. Make them feel involved. In fact, you should also engage with content posted by other channels. YouTube encourages this, too.
Look appealing. If yours is a brand, it's good to show details regarding it on the channel, such as cover image, description, etc. Always make sure that your profile and videos look professional.
Be consistent and regular with your videos, otherwise your viewers will lose interest and stop seeking your content.
26 Smart Tactics to Hack Your YouTube SEO
Now that we have covered how you can help optimize your YouTube videos and you're still wondering, how to do SEO for YouTube videos, it's time to check out some effective hacks.
1. Find the right keywords
You might think that we've already mentioned this before. But here, we're not just telling you to search for keywords the way you've been searching for Google SEO. Searching for video keywords is a different game altogether. You might have observed that most videos are searched for understanding processes or techniques of doing something. As a result, the top keywords for any topic start with "How to". There are multiple websites that can help you search for the right keywords like Ubersuggest.
Make sure that the keywords you target have search volume in several hundred, else it won't make a great impact on your viewership. Third-party websites will also give you details about the cost per click, paid difficulty, and search difficulty of your keywords. Do thorough research before choosing them.
You should also search for different topics on Google and see the videos that crop up in search results. This will give you an idea of what will work.
2. Conduct keyword research on YouTube
Now that you have checked out Google and other websites for keywords, give YouTube a chance too. You'll be surprised at how that might work out for you. After all, your primary target is the group of people that is already browsing YouTube. The easiest method to do this is to just type your primary topic on the search bar of YouTube, and then check out the auto-generated search suggestions. This gives you an idea of what people are already looking for.
3. ptimize the title
Wondering how to optimize YouTube videos? This is the most important part of the implementation. This is what it all comes down to. If you are not optimizing the content of your videos, you'll keep wondering how to increase YouTube SEO ranking, but nothing will ever help. The title is literally the first thing that the viewer's focus goes to. Next is the thumbnail. So, ensure that the title is self-explanatory. It needs to have your focus keywords. It's crucial that your title captures the attention right away. To achieve this, your title should tell the viewer that this video will help him/her solve a problem. That's how you make an impact.
4. Optimize the description
Next comes the description. It is essential to add proper information about the video in it. Don't forget to give useful links that you may have talked about in the video. But on top of all this is the fact that your entire description requires to be full of target keywords. An amateur YouTuber will just stuff the keywords, whereas a professional will use them in such a way that the viewer won't be able to point them out. That is the correct way of adding them. Also, it's important to add your primary keyword as early as possible in your description. Since the description is generally a longer piece of content, adding the primary keyword right in the beginning will help YouTube's bot identify it instantly and crawl it. This means the bot of a search engine will recognize your page and show it in the search results. This will help you get a better ranking.
5. Optimize the tags
Although tags are not as significant as the title and description of your video, optimizing them the right way can help your video appear more in YouTube's sidebar, in the 'Related Videos' section. The tags are somewhat like hashtags on Instagram. They are the easiest place for you to fill up the keywords without stuffing them too much. Ensure that you are using the most relevant terms in your YouTube tags. But don't go overboard. Adding 10 to 12 tags is enough. Overdoing it may not help at all.
6. Invite viewers to engage
This is the trick most used by all YouTubers. If a person is taking the pain to go through your entire video (considering that the YouTube videos are long), hitting like and leaving a comment is not a big thing. All you need to do is remind them that this will be a huge help to you. Sometimes all it takes is a nudge. This is because at times we keep appreciating the content in front of us but forget that a tiny effort from us will go a long way for the creator. So, make sure that you do your bit by adding a gentle request. If more and more viewers hit "like" and post comments on your videos, it informs YouTube that you are sharing worthwhile content. That is reasoning enough for them to push your videos to more and more viewers.
7. Invite viewers to become subscribers
Now, this is a tougher task because subscribing to a YouTube channel is a big deal. But it is also a defining metric for your video's ranking because if people are subscribing to your channel, it reflects highly on the quality of your content.
You'll always have viewers who'll go through all your playlists once they enjoy watching a single video. But, do you know what's saddening? They might still not subscribe to your channel. Some might not do it out of choice, whereas others will just forget. Like we mentioned before, all they need is a nudge. This is the easiest thing you can do to gain more followers – just add a small line at the end or beginning, or even in the middle of each video, asking the viewers to subscribe, if they haven't already.
8. Well-produced videos
You can do everything you want to increase the eyeballs, but if your video is not well produced and of good quality, your channel will take a major hit. Nowadays, almost all smartphones have capable cameras. The way you record and edit is what makes all the difference. There are a few small investments that will let you step up your game.
Flattering light that can put focus on the subject of the video.
Plain backdrop so that the focus of your videos does not divert from you.
Tripod for stability.
Microphone for top-notch audio quality. Even a ₹500 microphone can help you achieve an audio quality, with zero disturbance, which is much better than what your mobile phone will offer.
9. Appealing thumbnail
Thumbnail is the second thing, after the title, that any viewer sees, maybe even first. It's crucial to have some information mentioned briefly on your thumbnail, along with an attractive image of what the viewers can expect inside. But, stay away from spammy words and phrases like 'Double your money in 10 days', etc. Your video might come under scrutiny for using such language. The biggest mistake countless novice YouTubers make is not adding a thumbnail. This will prevent you from generating good clicks.
10. Always add closed captions
Every video has an option to add closed captions. What people know is that this is for the convenience of people who are deaf or hard of hearing. What most YouTubers don't know is that closed captions are also crawlable by search engines. So, ensure that you add keywords in them (avoid stuffing) as they will give a boost to your video rankings.
11. Edit your file name
Many people use random file names even while uploading the videos. While adding a primary keyword to your file name may not have a substantial impact on the SEO, it'll definitely be a good addition. As long as everything you upload is related to your video's topic, you're good to go. You don't need to conduct some research especially for this. All the information that you already have is enough.
12. Build links for your YouTube channel
Everybody keeps creating and sharing the links of YouTube videos. Sharing your channel's link on third-party apps and websites will help you go a long way. If your channel gets traffic from them, it will indicate to YouTube that you are an authority in your niche.
13. Promote on social media
We live in a world that is deeply connected through social media. In fact, YouTube itself is a social media channel. Other social media platforms like Facebook, Twitter, and LinkedIn are filled with people who enjoy watching videos too. As a matter of fact, videos on Facebook have more impressions and higher-watched time than YouTube videos. A probable reason may be that YouTube is filled with videos, whereas for Facebook, video is one of the many post types you'll come across. Also, Twitter users are highly inclined towards video content. Therefore, cross-promotion of your YouTube videos is a must.
14. Share your video via email
Emails are probably one of the most effective ways of getting people to watch your videos. People who don't want to receive your emails mostly unsubscribe. So, the number of people who're still receiving your emails are those who are interested in seeing your content. Thus, you have your perfect target audience right in that bucket, and they will surely increase your views.
15. Start embedding your videos
As a YouTuber, you should leave no stone unturned to increase the views on your videos. Now that we've covered cross-promotion on social media platforms, it's time to hit the websites. Embedding your YouTube videos on different websites, such as blogs, is a great idea. It gives you an absolutely new audience and increases the engagement on it too. Don't forget to give a link to your channel. Who knows! You might just hit your desired subscriber number.
16. Competitor research
Now that you have done your keyword research, it's time to do some background research on your competitor's channels. More often than not, it'll help improve your video's viewership. Take a look at the keywords that they are using in their videos and profile description, and add the same to yours. Then, do go through the analytics to see the difference.
17. Increase the watch time
This refers to the length of time that people are watching your videos for. The inference is, the more the watch time, the better your content. Your focus should also be on continually improving your content in a manner that your average watch time increases. Along with other analytics, it is important to keep an eye on this too.
18. Review your analytics | Watch time report
Like every other social media channel, YouTube also provides an analysis of all the content that you share on it. You want to avoid ignoring it because if you do, you'll continue making videos without knowing the impact that they are creating. Criteria like engagement, watch time, etc. are shared by YouTube with every YouTuber. Make sure that you study them every time, so you know how to improve before your next video hits the channel. This will help you know where to add punch to the video, in a manner that keeps your viewers hooked.
19. Review your analytics | Audience returning visitors report
The audience returning visitors report is one of the most important pieces of analytics that you need to look at. This report will give you helpful metrics like your top-performing videos and the audience retention data for every single video. You can also open up each video and analyze it second by second. If you focus on this report alone, it can help you improve your content and rank your videos better.
20. Review your analytics | Analyze your engagement reports
There is yet another piece of analytics that requires your attention. These are engagement reports that give information about several metrics such as subscribers, comments on each video, likes, dislikes, etc. This gives you an insight into which video worked well and which didn't. It is imperative for you to go through this before deciding the script and flow of your next video.
21. Build suspense
Building suspense and creating a thrill for your viewers right at the beginning of the video is essential. You can do this later in the video too, but it won't have a similar impact. We recommend the beginning because it will increase your average watch time and will keep your viewers hooked. With proper SEO, you can bring your viewers to your video, but will they stay? It's important for you to give them something to stick around for.
22. Build playlists
Organizing your videos into playlists will help your channel look more seamless and attractive. It will make it easier for your viewers to explore and browse through all your videos. It will also ensure that all your videos of similar keywords will be under the same playlist. This can increase the views and retention time of your videos. It will also help you get more search traffic.
23. Collaborate with other channels
This is something that many YouTubers ignore, but it is good advice. Think of it this way – you have a YouTube channel with over 100K subscribers, and you collaborate with another channel that has 110K subscribers. There isn't a lot of difference in the number, but the audience is entirely different. Once you feature on their channel, even if your presence and energy appeal to 10% of their subscribers, you are in for a treat. Your subscriber list will see a sudden boost.
24. Give interviews
This is different from collaborating with another channel. There are several channels that only specialize in this. Giving interviews on other YouTube channels won't just help you tap into a different lot of viewers, but they will also get to know you better. The followers that you gain after this will be authentic and they will stick with you for a long.
25. How long should my video be?
The answer to this question generally is somewhere between 1 and 5 minutes. The average optimal length is 4 minutes 20 seconds. However, this guideline might not work out well for your channel. What do you do then? Stick to what feels right for your type of content. If your videos need to give out a lot of information, then do it. You do you!
26. Work on your content
We have mentioned production quality and the addition of suspense, but this point is different. What we mean to say is that your channel will stop working after a point if you stop improving your content and bringing new things to the table. Your content will soon become obsolete. So, never forget that content is key. You can bring all kinds of audiences to your channel, but if you won't have good videos for them, nobody will stay.
Key Takeaways
This has been long. If you're reading this, you're really interested in doing all that it takes for you to make your YouTube channel work. Some key takeaways will give you clarity.
YouTube SEO works almost like Google. Do your keyword research thoroughly. But remember, it all comes down to logic. If you were interested in the topic that you're making videos about, what kind of videos do you think you'd like to see? Lead with that.
Every little piece of content that goes on your YouTube channel matters. Your video's title, description, raw file name, tags, etc. should all be keyword-rich. But, don't stuff the keywords mindlessly.
Create an attractive thumbnail that will force any viewer to click on and open the video.
Always keep an eye on the analytics. They tell you what your viewers directly won't. They will also help you understand the behavior of your viewers and subscribers.
Don't shy away from promoting your videos on different social media platforms and other websites.
Collaborate with other YouTube channels and gain mutual benefits.
At the end of the day, content is key. Keep learning and improving.
Always keep going back to our list of YouTube SEO hacks to ensure you're ticking all the right boxes.
Conclusion
We live in an age where almost every person has a YouTube account. Not everyone might be sharing videos, but everyone will definitely be watching them. Video content now works better than others, and over 500 hours of live-action and animated video content is being uploaded every minute, on YouTube alone. If you are one of those uploading them, you need to step up your game, otherwise, your content will hardly be viewed by people. Our YouTube SEO hacks will help you level up. This was your little YouTube ranking guide, and we hope it helps you bring your A-game to your channel.
FAQs
1. Does content marketing help with SEO?
Aligning content marketing along with your SEO plan will result in creating new and informative pieces that make use of high-ranked keywords. The more content you produce, with appropriate keywords embedded in it, the higher your SEO ranking will be.

2. Is content marketing becoming the new SEO?
No. Both need to exist separately and help each other for better rankings. As search engines place a lot of importance on top-quality content production, a good content marketing plan has become a necessity for SEO rank improvement.

3. What is better: SEO or digital marketing?
There really can't be a competition between the two. Both are necessary to improve your website's rating and invite in more users. 

4. How is SEO related to content marketing?
While creating good content will help you to have a high-quality and valuable website; including ranking keywords in that content allows the website to rank higher in search engines and attract more traffic. This in turn will help you get closer to desired content marketing goals as soon as possible.

5. What are some common SEO mistakes in digital marketing?
Overstuffing keywords into the content. Only looking at ranking and not improving content quality. Not spending enough time optimizing the website for mobile devices.

6. How does social media support content marketing?
Social media is a great asset to content marketing. It helps in promoting the content within appropriate groups. Now, with the use of hashtags, you can target specific interest groups to market your content. It's also a great way to understand your target audience's interests and behavior.