Marketing
Decoding the Art of Content Marketing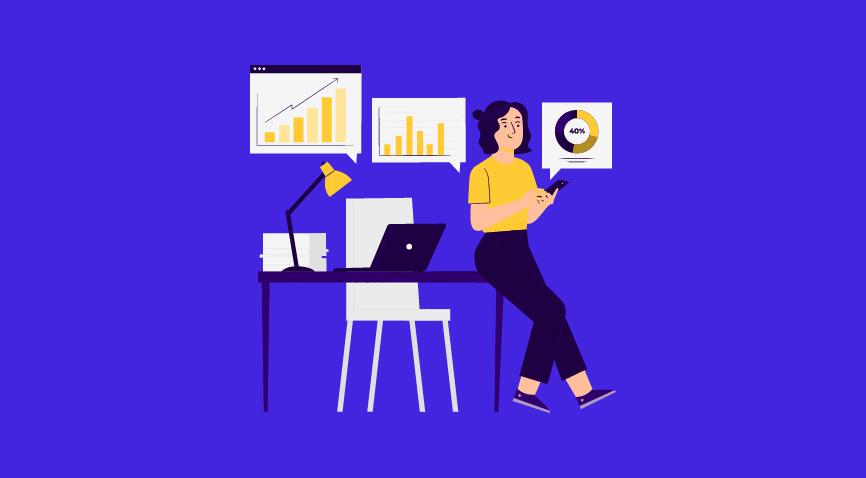 Content marketing is an art, and there is no denying that. This blog focuses on the importance of content marketing, how it is an art and can be used artfully.
Table of Contents
Defining Content Marketing
Who Should Use Content Marketing?
Content Marketing: Is it an Art?
4 Crucial Tips to Learn the Art of Content Marketing
Why Should Brands Master the Art of Content Marketing?
Today, content ignites curiosity, offers value, and is remembered long after being read. The art of content marketing enables this type of content creation and sharing.
As a marketer, you may agree that there is a world of difference between today's and yesterday's consumer. Today's audience doesn't entertain blatant, over-the-top marketing (also known as outbound marketing). This is where inbound marketing enters the scene.
Inbound marketing involves carefully crafted strategies that attract audiences with meaningful content and address their pain points. It doesn't just seek to generate leads or close sales but also aims at building valuable relationships with consumers. Inbound marketers see users as not just a tiny part of the sales funnel but as an essential entity with whom contact needs to be reinvigorated and re-energized from time to time.
In short, in inbound marketing, the consumer is indispensable to the brand.
This blog decodes the art of content marketing and focuses on its importance. But before moving forward, let's refresh our memories with the basics.
Defining Content Marketing
Content marketing is a crucial arm of inbound marketing. In its simplest form, content marketing is the process of ideating, planning, producing, and distributing content that adds value to readers' lives while furthering a brand's lead generation goals.
This is when it becomes increasingly important for brands to master the art of good content.
Often, the difference between a business's success and failure is how well content marketing is utilized. You may have great content in place, but if you don't know how to market it well, all your strategies will fall flat. But before we get to the marketing part, let's look at the type of content brands usually create. (Note that the below list is not exhaustive.)
Blogs/articles
Guest posts
Ebooks
Social media posts
Podcasts
Infographics
Paid ads
At the core of content marketing are specific goals.
Some of them are as follows:
Engaging and re-engaging audiences
Educating users and spreading awareness about the brand
Generating leads
Building meaningful relationships with new and existing customers
Building a loyal community of users and brand advocates
Who Should Use Content Marketing?
Any company can use content marketing. Big companies like Apple, Microsoft, Uber, and others have been evolving the content marketing industry and helping create meaningful content.
This type of marketing can create an excellent impetus for any business that decides to stay around for a long time. Even for start-ups, quality content can provide the initial push they need to take off. With a good content marketing plan, any company can become the best in its field in no time.
Content marketing helps businesses of all sizes lay a foundation, grow bigger, and thrive. That said, delivering consistent content may not be an easy task. Many big and small companies are still struggling to produce quality content consistently. Thus, companies are strategizing, breaking up their marketing plans, and going through various trial-and-error rounds.
From monitoring how a piece of content is faring online to implementing the best practices, these are steps helping companies grow. Content marketing is becoming a force to reckon with, and its endeavor to outdo even itself is becoming increasingly artistic.
Content marketers are always trying to tap into customers' core sensibilities and provide them with content that strikes a chord, inspires, and motivates.
Content Marketing: Is it an Art?
Traditional art forms like film, painting, theater, and the like have been around for centuries. But content marketing, which weaves all sorts of media into impressive, informative, and quality content, is nowadays considered a form of art.
The reason for this is that a good piece of content creates a significant impact on people, just like any art form (think marketing campaigns, such as McDonald's "Question Time" and Coca-Cola's "Share a Coke," which have remained imprinted in the minds of the consumers).
One of the primary purposes of art is to create an enriching experience for the viewer. It seeks to tap into their emotional and intellectual core and shift something. This is also what the art of good content aims at doing.
It targets users with the motive to provide them with positive learning experiences—those they'd want to keep coming back for. However, just like any painting cannot become art, any content cannot be counted as art.
For it to become prestigious, it must bring value. Thus, companies are vying with each other to produce the best piece of content to make the most impact.
4 Crucial Tips to Learn the Art of Content Marketing
Good content means content that helps to convert. So, to achieve that, here are some tried and tested ways that have been approved by professionals specializing in the art of content marketing.
1. Formulate a strategy
Any good plan needs to be strategized. The primary strategy should always cater to and meet the target audience's requirements. Tailor-made content is what you should aim for.
To develop a winning content marketing strategy, you need to figure out who your target audience is. Find out their likes and dislikes, what they do for a living, how they prefer to spend their leisure time, etc. Center your content on these factors to gain the desired responses from your user base.
2. Pay attention to SEO
SEO is one of the cornerstones of content marketing, and incorporating SEO-centric content in your plan is one of the best content marketing tips you will ever receive. It is an essential component of any good piece of content.
It helps businesses reach their target audience faster. It encourages the creation and publishing of quality content that ranks higher on search engine results pages (SERP) and ultimately drives organic traffic to your website.
A few content marketing tips for SEO include earning credible backlinks, improving website speed, writing engaging headlines and meta titles and meta descriptions, and more.
3. Make it about the customer
Writing or producing content about a brand and its products is insufficient. Doing so would result in the customer losing interest and leaving your website or unfollowing your social media channel. Instead, focus on the customer; talk about the issues they face and how your product/service can help solve them.
Your business should specifically address what bothers the customers. Create tailor-made content that will help them (this could range from e-books and cheat sheets to video tutorials, webinars, and more).
4. Ensure your content has a structure
A well-structured piece of content will have all the elements to make it successful. Factors like easy comprehension, flow, relevant information, and a clear call to action blended into the content would make it hard to ignore.
Why Should Brands Master the Art of Content Marketing?
Content marketing has opened up prospects of generating useful content that will help users look for information and enable marketers to promote their products. Another critical aspect of content marketing is retaining readership and followers.
Marketing through content allows brands to generate relevant information systems that are easy to read and add value to the person who seeks knowledge.
In short, content marketing is a strategic move that helps brands gain visibility. Brands can make an impact through content and make continual use of it to keep securing a place in the hearts and minds of their users.
There are plenty of ways content marketing can help. Most importantly, it is mutually beneficial to both the marketer, for whom it is a profession and for the users, who are the buyers and information-seekers. Content marketing can thus help meet the following objectives.
1. It boosts sales
Content marketing is a marketing strategy. And like any other form of marketing, it is focused on generating leads and driving revenue. Therefore, its results are in the conversions. This strategy effectively and steadily boosts sales, making it an extremely effective tool for marketers.
2. It creates a loyal user base
Quality content is bound to draw customers. As customers grow used to relying on the content a company produces, they begin to trust and invest in the brand. These people become the most robust and ardent followers of the brand.
3. It helps create trust
The purpose of quality content is not just to drive sales. It is also aimed at building relationships with the audience. When you skillfully answer your audience's queries and address their needs and pain points, they will start to trust you more. They will also remember to turn to you when a similar need arises in the future.
4. It helps retain customers
One of the critical roles of engaging content is creating a customer experience that is pleasant, powerful, and inspiring. By mastering the art of marketing, you can not just gain new customers but also retain old ones.
5. It positions you as an authority
Another critical aspect of content marketing is that by regularly publishing content that inspires people, you can become an entity people look up to, one whose advice and insights they trust. However, to be positioned as an authority, you need to make sure you have expertise in your field and the ability to answer customers' queries and concerns.
6. It is cost-effective
Another important feature of content marketing is its cost-effectiveness. Other types of media publicity are much more expensive than content. Unlike traditional marketing methods that may not guarantee the desired results, content marketing is an effective method that doesn't weigh heavy on your pocket. Hence, quality content is a reasonable and significant investment.
Content marketing is a cheaper—and more effective—way of drawing potential customers in. Even when compared to paid advertisements, content marketing takes the cake. One of the primary reasons behind this is that the art of content marketing takes less time to learn, is easy to start with, and delivers a more significant ROI.
The Final Word
It is often said that content is everything. Although this may not be 100% accurate in all cases, good content is almost always undefeatable. Companies, irrespective of their size, are now concentrating on well-researched and well-targeted content that genuinely deserves the epithet of art.
As a result, more and more marketers are now focused on learning the art of good content. Perhaps, the most valuable contribution of content marketing is the relationship it helps to build between customers and businesses.
Now that we have decoded the art of content marketing implement it and see the results for yourself.
Key Takeaways
Content marketing is one of the most crucial parts of inbound marketing. 
It is a cost-effective way to attract customers through content that adds value and inspires action. 
Given its ability to strike a chord with the audience, content marketing is nothing short of art. 
One reason brands should master the art of content marketing is that it helps them gain visibility and enables users to gain knowledge and get their queries answered.
FAQs
1. What is content marketing?
Content marketing is a means to create, ideate, and share quality, click-worthy content that helps brands gain more visibility.
2. What are the benefits of content marketing?
One of the major advantages of content marketing is that it focuses on the users. It prioritizes the users' needs and wants, and seeks to address their pain points. This makes them want to keep coming back to your brand for more.
3. Why is content marketing considered an art?
Content marketing is nothing short of art. This is because, just like any other form of art, good content inspires and influences people emotionally as well as intellectually.
4. What are some effective tips for content marketing?
Some handy content marketing tips include structuring your content, including catchy calls to action, formulating a plan, optimizing content for search engines, and always placing the user first.
5. What are some common content types used in content marketing?
Some common types of content used in content marketing include articles, white papers, ebooks, podcasts, video content (how-to videos, tutorials, customer testimonials, interviews, unboxing videos, and more), and infographics, among others.