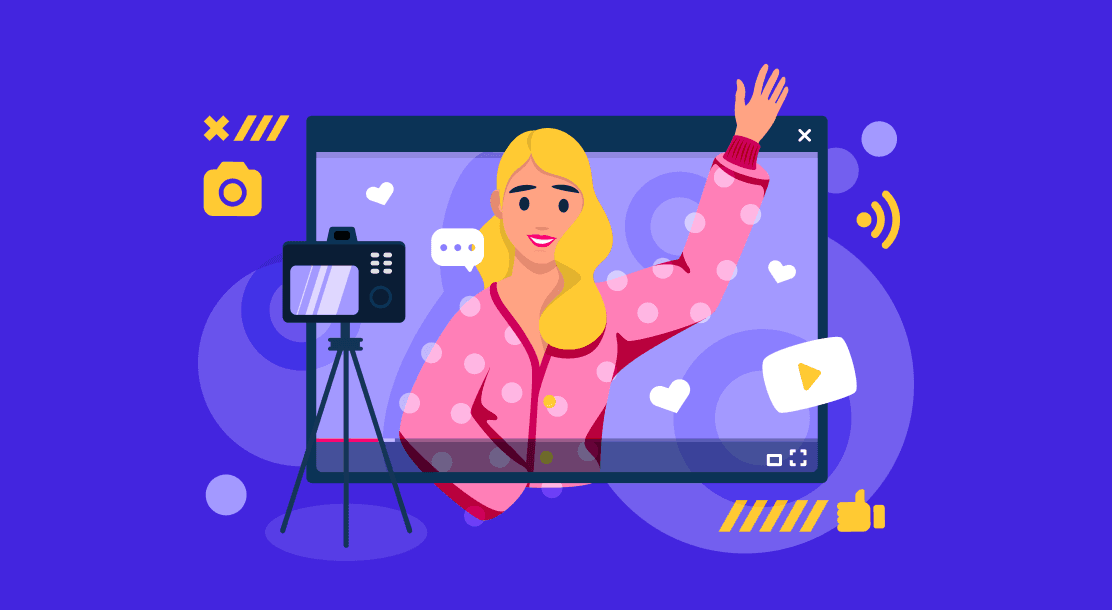 Want to build authority in your industry? Time to consider becoming an influencer. Explore crucial eight steps to help you get started & become an influencer.
With the advent of the internet, businesses have targeted larger audiences from different demographics. Earlier, marketers did not have much choice. Still, the evolution of social media has made it possible to engage with an increasing number of users in a moment and thus, created a vast pool of advocates for marketers to tap into.
Albeit your passion and creativity are fundamental to influencing people, it is indispensable to build a lasting relationship with your audience. An influencer is known to make a significant impact on their peers and audiences by sharing their recommendations and expertise regarding the specific industry. So, if you want to be an influencer, you need to establish yourself as an expert or a known authority within your field. Once you do that, you may gain a high level of popularity; and then partner with companies to influence their consumers to purchase the final product.
What is Influencer Content?
Influencer content is the content that is created with the collaboration of industry authorities, i.e. influencers and subject matter experts. People often look forward to an influencer's opinions and admire them for sharing their expertise with transparency. This outlook encourages marketers to hire them to reach a new or larger audience base by leveraging their credibility and social followings.
The best part even if you have a loyal following of just 1000 people and you know the art of engaging people through your craft, you can still make an impact.
To become an influencer is not everyone's cup of tea. You need to put in a lot of hard work before you can actually see the results. However, there are certain steps you can take to steer your endeavors in the right direction.
How to Create Quality Influencer Content
1. Pick your niche
Before you jump on the bandwagon, choose a specific niche that aligns with your personality. Without a defined niche, you will have a tough time building an audience because you might be competing with everyone to grab your audience's attention, and it will take you nowhere. As an influencer, you need to research and post content regularly, which would help if you have a natural inclination towards the chosen industry. Also, it would help if you had a level of expertise in that field to make it easier for you to establish yourself as an influencer.
There are a few popular domains that you can consider as your niche.
Travel
Literature/books
Food
Fashion
Finance
Home décor
Health and Fitness
Beauty
Entertainment
2. Build your content strategy
Once you have found a niche, it's time to build your content strategy. To be an influencer, you need to constantly provide relevant and high-quality content that showcases you as an expert in the chosen field. So, it is recommended to create a layout in advance regarding how and what you will share with the audience, voice, and tone of the content, publishing calendar, elements for web content writing (text, graphics, etc.) There is no particular template for content strategy, but eventually, it must help you engage with your audience.
3. Optimize your social media channels
This digital world is vast, and you might want to show yourself everywhere. But, you need not be active on every channel; try to pick one or two tracks that work for you.
Try to determine your social media target audience and understand where you can engage with them easily. You can also analyze other content marketing influencers in your industry to determine which platform they are using the most. Numerous factors may help you select the right social media platform for you:
Your niche type
Your target audience
The kind of content you create
How good you are in front of the camera
Where you can engage with your audience easily, etc.
Do note that some of the influencers also opt for social media content services if the followers wish to see regular content from them.
4. Understand and engage with your audience
As mentioned above, before you start optimizing your social media channel, it is imperative to know who your real audience is. Once you know who they are, will help you create a loyal follower community to support your work. Influencers have a strong connection with their audience, which is why they do not serve everyone out there. So, try to focus on people who can fuel your brand. Your content is critical to your content marketing strategy, but it would not work unless there is no audience to consume it. Try to make your audience feel valued by responding to their comments and feedback and striking a chord with them.
5. Grow your network
It is vital to building a loyal follower base. But it is equally important to network with other influencers to grow your audience. Visit social media channels of other influencers and interact with them via leaving a comment on their page or sharing their content. This can be your influencer content strategy to build a rapport with other influencers, bring a significant audience base to your channel, and see some fantastic results unveil in front of you.
6. Maintain consistency
Creating quality content is not enough. Creating content consistently is. Understand that consistency produces a recall value in the minds of your audience. They will remember you if you send them regular updates that satiate their curiosity. So, if you do not create content consistently, your audience will eventually unfollow you or forget about you altogether. Establishing yourself as an influencer is a process, and thus, you need to be consistent with your craft.
7. Have an opinion
This is probably one of the most critical steps you need to take in your journey to become an influencer. People are often more attracted to unique and authentic voices than those who repeat what everyone else is saying. Try to find your unique voice and share your honest opinions even if you cannot see an audience base right now. This will set you apart from other content influencers and fetch you an audience that respects you.
8. Let brands know how to contact you
To become an influencer, you need to come out and announce to the world that you are open to collaborating with brands. You can provide your contact details or mention in your bio that you are interested in collaborations. Besides that, you can also pitch your ideas to relevant brands or connect with them via an influencer platform. Or, you can tag them in your posts and talk about their product. With the rise of the internet, it is possible to make money via social media channels, but brands should be able to find you.
What is Influencer Marketing Strategy?
Influencer marketing is a strategy to leverage the credibility and status of an individual to promote business. Many influencers use this strategy to launch or promote their own business.
However, it is not always about capitalizing on someone's reputation, but sometimes establishing them as a trusted authority to convey a thought that can impact society. The reason why everyone wants to become an influencer these days is that influencer marketing works. Whether you want to engage an audience or see your sales graph skyrocket, influencer marketing strategy is everyone's go-to approach in this digital world. And, that is helping many do business!
How to Polish Your Content Marketing Strategy?
Your content strategy needs to be well-crafted and diligently deployed if you wish to increase your online visibility, fetch more traffic, and improve audience growth. And polishing your content is one of the strategies to help you see those results much quicker.
Here are some of the tips that you can consider for a better content marketing strategy:
Do not try to copy the same strategy on every social media platform. Each platform is different, and so is the way to engage with the audience there. If you replicate the same strategy everywhere, it will not lead to the results you want to see.

Stop creating generic content. It's available everywhere, then why should anyone choose your page to dig into? Try to build diverse content, even if they are less relevant to your industry.

Do not take your existing followers for granted. To reach out to a new base of followers, often people forget to cater to those who helped them build a rapport. Your audience has been there because they find content inspiring or entertaining. Once you stop giving them reasons enough to be there, they can unfollow you anytime.
Being an influencer is not going to be an easy job. Behind all the glamour, it's your hard work and patience that eventually help you reap amazing results. The key is to find your unique voice, create genuine content that caters to your target audience, and establish yourself as an expert in your industry. As you follow the steps mentioned above, you will undoubtedly see significant growth in your career. However, please do not assume it to be an overnight success. Remember, it is a process, and you need to consistently make efforts to become an influencer in this digital world.
Key Takeaways
Influencers are subject-matter experts who sometimes collaborate with other experts in the industry to create content that their followers can enjoy.

To become a known influencer, you need to decide which niche you would like to get started on, build a solid influencer marketing strategy, and optimize social channels accordingly.

To become relevant as a prominent influencer, you will have to produce content consistently, engage with your followers, and keep growing your network.

Share your contact details on your social media profiles to help brands to collaborations with you regularly.

Once you feel you've gained a footing in the industry, start working on building a solid content marketing strategy. Here, you need to keep track of trends and generic content that will help you avoid plagiarism.
FAQs
1. How many followers do I need to become an influencer?
Though many influencers have a larger audience, there is no fixed criterion to become one. If you have expertise in your chosen field and know how to engage with the audience, you can start your journey even with 1000 followers.

2. How do influencers get paid?
Influencers get paid while promoting brands' products through their channel in exchange for compensation. The compensation can be monetary or a freebie; it's mainly negotiated between the influencer and the brand- what works for them.

3. How do I market myself as an influencer?
Here are a few of the ways to help you create your image as an influencer.
1. Aim for specific goals.
2. Build your foundation in the right place.
3. Find out what works and what doesn't work.
4. Collaborate with brands that reflect your personality.
5. Find your unique voice. 
6. Be transparent with your audience. 

4. What are the qualities that make an influencer successful?
A good influencers can put themself in the shoes of others. They take a stand for something they believe in, and know-how to make their content relevant and engaging at the same time.