Marketing
Quality vs. Distribution: 7 Examples Where Average Content Went Viral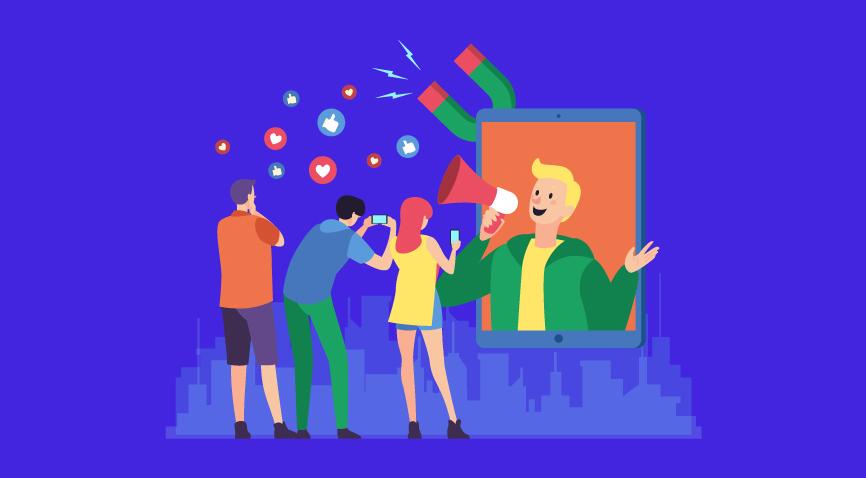 Every other day you hear about content going viral, and the latest viral video doing the rounds, spreading at lightning speed is often one of the best viral content examples that are the talk of the town. However, did you stop to wonder what makes it tick? How did the content go viral? Is it because of the product or the way the ad was created? Some people may call it sheer luck, which is definitely not true.
Viral content marketing examples often require a well-planned strategy, though luck plays a small part besides creativity and painstaking preparation. We'll analyze the concept in-depth, and explain what makes content go viral, what makes a campaign successful, the advantages you can derive from viral marketing, and present some of the best viral content examples in this article.
What is Content Distribution?
One often hears the phrase content distribution, more in marketing circles. While it may signify many things, unless you have an idea about the various possibilities there's no point in including it in your marketing budget. Even the best quality content can go rudderless, and eventually get lost unless it is channelized properly.
In a nutshell, content distribution can be defined as the promotion of content for the benefit of online target audiences. It may be achieved through several media formats, across various channels – namely paid, owned, and earned.
Paid content distribution is when you need to pay to have your content distributed. Payment can be made in any form, for instance, pay-per-click (PPC) is a great example of paid content. The promoter of the content needs to pay for every click a user makes to view the content. The outcome may or may not be favorable, which is not the advertising company's concern.
Owned content distribution involves distributing your content via your web properties. You may promote your content through your blog, an email newsletter, a microsite, or on social media.
Earned content distribution involves engaging third parties to distribute your content. It may be distributed as press coverage, shares, retweets, guest blogging, and product reviews.
Tips to Build a Promising Quality Content Distribution Strategy
Content merely present on the internet doesn't make it visible to anyone. Without a proper content distribution strategy in place, the best content is wasted simply because it goes undiscovered.
An effective content distribution strategy will devise ways and means to get your content where it matters – right before your target audience. Your strategy helps you cement your relationship with your audience and convince them to take any action like visiting your website, watching a short video, signing up for your newsletter, reading your blog, or downloading your ebook. Your strategy should be a mix of paid, owned, and earned, and striking the right balance by complementing each other takes your content far and helps you achieve your goals.
There's no magic formula for content distribution, you'll have to create one for yourself by using engaging content and sharing it with your target audience. Your goals, data analysis, and search engine optimization will contribute handsomely to the success of your content distribution efforts.
So, why are you on a content marketing endeavor? Do you have a goal, or do you just want to create brand awareness, generate leads, and enhance user engagement? These are critical questions you must ask yourself. Do you want your target audience to simply visit your website, subscribe to your newsletters, or download your e-book before you cement your relationship?
Who is your target audience, anyway? How would you define them? Is your product meant for millennials or gen z? Are you looking to reach out to executives in the purchasing department of organizations, or any individual who will buy your product or service?
Does your target audience like watching videos or reading text? Identify how your audience consumes content, where they look for content, and use this information to formulate your content strategy.
Of course, after you have identified your business goals, your target audience and where they hang out often, and their likes and dislikes, etc., you must use the information to build your content distribution strategy.
Paid content distribution may be the perfect answer when you plan to launch a new campaign that needs a healthy mass to sustain. Paid distribution may be necessary to add traction to well-crafted content that needs the extra boost. One problem with paid distribution is that the leads will start dwindling once you stop payments. Hence paid distribution can be used only for gaining the initial push. However, it is easy to measure the metrics in paid distribution and tweak your campaign accordingly.
Organic content distribution involves using various channels to leverage and create an audience (takes some time), though you don't have to spend money. You can distribute content through organic channels such as social media, email marketing, guest blogging, etc.
Brands usually make a beeline to social media because that's where most of the action takes place. Being on Facebook is very beneficial for businesses as they can initiate direct dialogue with consumers and understand their pain points before offering solutions. The trick lies in posting regularly, which helps create brand awareness. Don't expect people to buy straight away, it takes time and patience to get your target audience in a comfort zone.
Some quick tips for organic social media content distribution:
Decide when and how often to post depending on the network you choose. Find out the demographics and times when your target audience visits the platform and post accordingly.
Sharing short-run video content is the prevailing trend, and such videos are posted on most social media platforms.
Text and infographics are equally important, and quality images accompanying texts are bound to get more views and shares.
Connecting with people on an emotional level has a better impact. Posting mechanically doesn't attract the desired responses.
You may want to upload engaging content on free platforms to have your target audience visit your website from such platforms. Two of the most popular free platforms are YouTube and SlideShare.
Creating engaging entertaining content to upload on YouTube pays rich dividends. Most YouTube users want fresh, informative content. Engaging content always gets more views and shares. Using keywords is another crucial requirement that helps find your target audience faster, and adds more visibility to your content.
SlideShare is convenient for repurposing your content and sharing, especially for people who want quick information at one click. LinkedIn owns SlideShare, which has thousands of professionals searching for informative content.
Search Engine Optimization
SEO plays a critical role in your content and helps with ranking on search engines. Using the relevant keywords helps your content appear prominently on search results, so leveraging keywords is an essential part of your content distribution strategy.
You may want to use Google Keyword Planner or Moz Keyword Explorer to check the most relevant keywords. Google Trends indicates the number of searches for a specific keyword. If you use the most-searched keywords in your content, your target audience will see it. The trend today indicates a preference for longer articles. Long-form content is ideal for providing additional information that addresses users' pain points.
What is Viral Marketing?
Viral marketing is intended to generate interest in a product, service, or brand and increase sales. Viral marketing relies on messages that spread at lightning speed, and are conveyed from person to person. The users do not seek any inducement or reward for sharing and do so simply because of the appeal.
Social media platforms are the natural choice for viral marketing because of the sheer number of users who make sharing an easy task. A marketer cannot stop viral marketing, even if they wanted to. Once the content picks up the momentum, it spreads like wildfire and has its run until the users lose interest, which is usually when the next viral content arrives on the scene. However, content going viral does not guarantee conversion or sales, and unless a marketer takes advantage of content going viral, no marketing takes place.
How a viral M-marketing campaign works
A viral marketing campaign is not too complicated and relatively easy to pull off. The marketer creates a short video that appeals to their target audience. After the initial promotion, the campaign gains traction on its own as the users take control of the sharing, which goes wild.
It is not uncommon for a viral marketing campaign to catch on by accident when a user unknowingly uploads a video that goes wild simply because it appeals to more people at the same time. Brand videos also follow two paths, one where the user knows it is branded content, yet prefers to share it because of the stunning appeal.
The second one is where the brand does not make it so obvious and such devious posts also go viral as long as the user sees no trickery involved. Although such posts border on spam, they are safe as long as the users don't mind sharing them. However, the moment any user suspects spam, the virality disappears and the campaign loses steam. It is essential that the marketer never posts the message over and over again, which may trigger suspicion of spam.
The High Points of Viral Marketing
Cost-Effective
The beauty of viral marketing campaigns is that they cost incredibly less as most of the work is to do with sharing, which is done by the users on their own accord. The distribution costs remain very low throughout the campaign with no need to pay for advertising space at any point in time.
Immense Reach
The major advantage of viral marketing campaigns is the extensive reach that enables a post to reach international audiences without a single penny being invested. Even a small company can afford to go viral with a post as all that matters is the post itself, and the users who share it.
Non-Invasive
A viral marketing campaign is non-invasive as it is the choice of the social media users and no one is coaxing or forcing them to share the content. The brand cannot be blamed for being invasive as its activities are passive throughout. The bran's integrity raises a few notches and it gains more respect from the users for being non-invasive.
Helps with Brand-Building
A viral post can help a marketer build a brand simply because of the incredible content and the number of people it reaches in a short time. The users develop a sense of belonging with the brand and begin to like it even as the message keeps spreading. Psychologically, people believe that unless the brand has value, it won't go viral.
Advantages of Viral Marketing
Although a viral post has a very short lifespan, most marketers make hay while the sun shines. Even 30 minutes is enough time to reach 300,000 people. Even if 20% of the people you engage are relevant to your product or service, this is no mean achievement.
Here are some distinct advantages of viral marketing:
Affordable Advertising Costs
All that your campaign needs is the initial torque to set it in motion. Despite spending money for promotion initially, viral marketing can help your brand gain exposure. It is not surprising that several viral content marketing examples have made a mark for their respective brands and earned them a niche position in the market.
Once your campaign picks up momentum, you can afford to sit back and cruise along, watching all the wild sharing and re-sharing that take your content to uncharted territory where your target audiences exist. And mind you, you would have hardly spent anything on advertising, and the expense on that account is almost zero. Moreover, the mileage your brand gets will stand by you in the long run, long after the 'virality' of the content is lost and all the excitement inevitably dies down. As a result of your content reaching such a large audience, your brand image will linger in the minds of thousands of people, and chances are they will recall it shortly.
Rapid Growth
No business can expect to achieve success in a short time. It takes painstaking effort and a lot of time needs to be spent. In most successful cases, the founders struggled initially and faced failures many times before finally succeeding.
However, with viral marketing, it is a totally different story. Brands have achieved overnight success because of just one post that went wildly viral. Any business owner would be willing to give an arm and a leg to achieve this type of instant success.
However, creating a viral post and launching a viral marketing campaign isn't that easy. You never know until you try, and the fact is that even if you don't achieve overnight success, you can put focused efforts to achieve consistent growth over a period, looking out for an opportunity to create a viral post. The advantage is it costs you little or nothing, and all it takes is a viral post to achieve success.
Instant Leads
The only way to get instant leads is through viral marketing. There are countless viral content examples that turned successful because of leads generated through a single post that went viral. Viral marketing helps you spread your tentacles far and wide and generate instant leads simply because your target audience loved the viral post so much that they not only shared it but went ahead and took an action in your favor.
A post or topic that's gone viral recently evinces keen interest and people are curious to know what it is, and why it is going madly viral. Your brand is caught up in the whirlpool and leads just happen naturally, though as gainful collateral.
Best Exposure
A brand thrives on exposure, and viral marketing, which is a part of online marketing strategy, helps your brand gain the exposure it desperately needs to sustain itself. As your posts gain momentum, it gets shared repeatedly by your target audience on most of the leading mainstream media outlets. None of these actions is planned and invariably happens on the go. What the media outlets look for is a good reason to share your post, and viral marketing provides them the reason. When big media outlets take the cue, the smaller ones are quick to follow, lest they are left out. All it takes is a few seconds of exposure on CNBC or ABC for your post to be picked up by all the smaller fry.
Enhanced Credibility
All that a brand requires is credibility, which comes from recognition. Credibility leads to unshakeable trust, which finally leads to acceptance. Just because others are going for a brand, new entrants are willing to give it a try, no questions asked. How long the brand sustains this newfound credibility is anyone's guess. But most brands look for such breaks, which are provided by viral marketing. Usually, it takes years for a brand to gain recognition, which is often by trial and error, followed by customer testimonials. The journey is pretty long and not many small brands can sustain themselves for so long. The only solution lies in viral marketing because all it takes to establish a little-known brand is a post going viral beyond imagination.
7 Examples of Content that Went Viral
1. Blendtec's Viral Marketing Campaign Crushed its way to Success
Blendtec, an international seller of advanced blenders is basking in the glory of its successful viral marketing episode for the past 10 years. A simple question "will it blend?" went on to have six million views in the first six days, and close to a million conversions (subscriptions). It is one of the most remarkable feats in the history of viral marketing and is considered one of the finest viral content examples ever.
So, how does this story unfold? It all happened back in 2006; soon after Blentec's new marketing director took charge. George Wright probably believed in thinking out of the box, and thought of a brilliant idea that went viral. He, along with the company CEO Tom Dickson, and the entire R & D team decided to push their blender to the most extreme limit conceivable.
They fed the blender chunks of wood just to see if the blades could take it.
Wright believed that this would make a unique video and had the experiment recorded in-camera. The blender just chewed up the wood and was hungry for more. And all they'd spent on the experiment was their time and $100 towards the cost of the wood chunks.
The success prompted Dickson to make 150 more such videos blending glass marbles, glow sticks, Apple products, Bic lighters, neodymium magnets, and more such inconceivable items.
Dickson became an overnight celebrity and was invited by the gray-haired Jay Leno to appear on The Tonight show with him. Incredible, but true, Will it Blend? Is featured on The Today Show and the Discovery Channel for the past 10 years, and still going strong.
The stunning video, one of the wildest viral marketing video examples went on to gain 285+ million views, leading to a 700% spurt in sales. This was more mainstream publicity than the team ever expected. The viral video won the company the bronze Clio award in 2008 for the best ad. The videos made Blendtec so popular that it soon became a household name.
How did this video go viral?
The very thought is so wild that anyone would stop for a moment to see what happens to wood, glass, and hardened plastic when fed into a blender. Viewers started calling up Blendtec and suggesting some crazy items to be tried in the blender. This set off a chain reaction and prompted others to think of equally wild objects to blend, and contributed to the virality of the post.
Moreover, the cost of making this video was ridiculously low, and you didn't need a computer to calculate the ROI, which kept growing wildly. The concept was such that none could predict the outcome, which ultimately paid off. The target audience was so enthralled with the concept that they shared the video furiously, and probably until there was no one else to share it with.
2. How Old Spice Smelled New Profit
The shaving product with a musky smell started smelling profit with the video entitled "The Man your Man Could Smell Like". While the women went gaga over the prospect of their men smelling like the towel-clad he-man Isaiah Mustapha who spoke in clichés, the video itself went viral.
It is quite probable that the timing had something to do with the success of Old Spice's video as it was launched in 2010 during the Superbowl weekend. The shaving accessories company witnessed a 107% increase in revenues because of this viral video.
The video had a simple formula where the muscular model Mustapha appeared with a bare torso and delivered a hilarious monolog to the camera. The video was created in a single take that reached Cannes and halfway across the world.
With an overwhelming 40 million views it was one of the most viral content examples to hit social media. This single video was responsible for increasing Old Spice's Twitter followers by a whopping 2,700%. On Facebook, the video increased its followers by 800%. Such viral marketing made the Old Spice ad one of the most viewed ones on YouTube.
It was the video's hilariousness that made it a roaring success. How else would you promote a men's deodorant or body wash? The brand had the capacity to laugh at itself and was probably lucky enough to find the best male model.
The video targeted women (the opening line "Hello ladies") who could influence their men to purchase the product. Soaps and body wash purchases are generally made by women, and the ad with an attractive male on horseback clinched the deal. Besides being the subject of water cooler talk, it was probably the most discussed video amongst women in private.
Although the video was cool and targeted women despite being a men's brand, it was the collective response that made it go wildly viral. Old Spice purportedly made 100 response videos using select commentators to upload on YouTube. Such customization contributed to the video going even more viral.
3. The ALS Ice Bucket Challenge
Undoubtedly, the ice bucket challenge is one of the most-watched videos, and it appeared on TV, YouTube, and did the rounds on social media. It was the year 2014 when the video surfaced, and the highpoint was ice-cold water being dumped on people's heads. The shivering participants then pitched for donations on behalf of ALS.
It was one of the hottest viral content examples where ice-cold water was thrown on people regardless of the weather. The video recorded 2.4 million views on Facebook. Moreover, 28 million people liked, shared, uploaded, or commented on this video. The best part is there was a cause behind the video, and the proceeds ($98.2 million), which was close to 40x the last year's collection ($2.7 million), went to the ALS association for medical research. Celebrities participating in the challenge added fuel to the fire, and the videos spread rapidly across social media, making a viral marketing revolution.
The secret behind the success was the absurdity of the idea – throwing ice-cold water on yourself. Everyone was watching with bated breath to see how each celebrity reacted to the sudden downpour of freezing water. The curiosity drove the video to go viral.
Another reason why the video went viral was because of the noble cause behind it. Millions of people got to hear about the ALS Association and its activities behind the scenes.
The greatest draw was probably the celebrities willing to take up the challenge. Who wouldn't want their favorite stars, especially female celebrities, to get drenched in public? Another trick that contributed to the virality of the video was the celebrities nominating other celebrities, and the chain went unbroken.
4. How Lay's Chips Crunched the Numbers
"Do us a flavor"- four words that created a revolution in the potato chips industry. The words were coined on behalf of food company Frito Lay the owner of the brand Lays. It was early 2012 when the campaign went viral on Facebook and via SMS.
The campaign was unique in the sense the people got to vote for a new flavor for their potato chips. And there was a prize for the winner too – $1 million.
One of the very well-planned viral content examples, the Lay's campaign had a panel of judges comprising celebrity chefs. The people voted three flavors that reached the finals – Cheesy Garlic Bread, Chicken & Waffles, and Sriracha. All the three flavors were produced simultaneously by the food giant, and people were called to vote via Facebook, Twitter, and SMS. Thousands of people voted, and the winner was Cheesy Garlic Bread.
The viral campaign was a success and Lay's Facebook following tripled, and there was a spurt in sales by 12%.
Inviting the fans to vote probably did the trick. This is what most technology companies do, and the majority always wins. But for an everyday food product like potato chips, this was probably the first of the firsts. Frito Lay got people actively involved in the campaign, and this added to the frenzy. The instant engagement was the secret behind the campaign's success.
The $1 million cash prize was a huge incentive that would have convinced anyone to give it a shot. There was the math behind it, the figure was 1% of the net sales of the newly launched flavor. Did anyone need a better incentive?
The ease of participating contributed heavily to the success of the campaign. All you had to do was vote by choosing one of the three flavors. For people on social media, it was easy, and it was not difficult for people not on social media. All they had to have was a mobile phone.
5. How PooPourri raised an all-pervading Stink to Success
The idea may not have been funny for some people, though it did create a buzz as a deodorizer that gets rid of the stink in the loo. The title of the video was kind of catchy – Girls Don't Poo, enough to grab the attention of females and males.
The narrator was a female, and the script was loaded with poo-puns, which were as good a discount coupons. The video also explained how the novel product trapped the bad odor, and prevented it from escaping into the air.
It was no mean feat that one of the diciest viral content examples permeated success from all sides. With over 6 million views and 278,000 shares within a week, it was destined to smell the sweet scent of success. PooPourri's Facebook following swelled by 354%, and success was guaranteed.
Although the concept was a bit quirky, and how many people wish to hear poo-puns? Despite the awkwardness it could create, it went on to create a virality beyond compare. People fell in love with the concept instantly and promptly shared it.
The video became popular probably because of the likable actor Bethany Woodruff. The question is whether she got the 6 million views, or did the PooPourri name do the trick?
6. Why Angry Birds couldn't take off
Despite being downloaded on 1 billion mobile devices, Angry Birds couldn't make a clean takeoff. Rovio Entertainment released 52 games before Angry Birds and all of them failed. There were no takers in the English-speaking regions. It didn't stop Rovio, and the company rolled up its sleeves and got to work. Three months of hard work and Angry Birds made it to a Finnish app store from where it made history.
It progressed to Sweden, Denmark, and Greece and witnessed 40,000 downloads, a far cry from the earlier fiasco. The success prompted Rovio to approach the leading game publisher Chillingo to launch the game in the UK and US. Chillingo worked out a tie-up with Apple and had Angry Birds feature in the forefront in the UK app store. In 2010 it was declared the game of the week. The rest is history, and the game achieved the 1 billion mark soon.
Rovio or Angry Birds were quite unheard of in two of the world's largest markets when the game was first launched. However, this did not deter Rovio and the new strategy was to focus on smaller markets, create a marketing success, and then proceed to the larger markets. The gamble paid off.
Another reason for the resounding success of Angry Birds was the addictive nature of the game. One had to be intuitive to play the game, and the zero load time was also in its favor. What's more, is, the free game can be played virtually anywhere.
7. Scrabble App and its Free Wi-Fi Offer
Scrabble the word game was used in a novel way to induce people to use the free Wi-Fi hotspots installed in prominent public spots in Paris by ad agency Ogilvy & Mather, Paris. Whoever wanted to use the free Wi-Fi hotspot had to go onto the Scrabble network and create the best word. Based on the words created, and the score, free Wi-Fi minutes were allotted.
Wordsmiths could try for longer words if they wanted to earn more minutes in one go, and sharing the words on Facebook doubled your score and free Wi-Fi minutes. Over a two-week period, people created over 6,000 words.
The reward of free Wi-Fi minutes probably did the trick. The Scrabble hotspots were chosen based on areas with the heaviest traffic. The app became popular by offering free Wi-Fi minutes, most of which were used to create words and continue playing the game. It was a double-benefit of sorts that worked perfectly.
Key Takeaways
Most instances have established the fact that going viral need not always be by accident. It takes creating an intelligent concept plus perfect timing to create a successful viral marketing campaign. The target audience plays a significant role in viral marketing, as in all online marketing strategies.
Conclusion
Contrary to popular belief, it is not very challenging to create a viral marketing strategy. What's more, is the cost is so negligible that anyone could give it a shot. If the gamble pays off, the marketer stands to benefit from soaring revenues, and brand awareness of unprecedented scale.
FAQs
1. What is meant by the term viral marketing?
Viral marketing can be defined as a selling technique that works organically and through word-of-mouth. It could be any product or service, the news about which spreads like wildfire. You can find several viral content examples on the Internet, thanks to social media platforms that are responsible for the content in the form of shares, memes, forwards, and likes going viral.
2. How can I do viral marketing?
The first step to viral marketing is getting to know your target audience. Your viral marketing campaign needs to be targeted at someone, and you can't expect your content to resonate with everyone on the Internet. It is impossible to create content for everyone, hence knowing your target audience and writing relevant content can help it go viral.
3. What's a good example of viral marketing?
Viral content examples abound on the Internet. They are known for the speed at which they travel because they are easy to share. Viral content always finds its way on social media, and some classic viral content marketing examples include creative, funny videos, and emotional clips published on YouTube or Facebook, which spread rapidly through other social media channels.
4. What is meant by viral video marketing?
Video or other content conceived, created, and shared organically again and again by your audience is viral video marketing. Viral videos spread almost uncontrollably; typically, the author of the content cannot stop it even if they want to. It moves from online channels to offline channels, capturing viewers' attention as it goes. With viral videos, most of the content promotion is done by the target audience by default.
5. What makes viral marketing effective?
One of the best viral content marketing examples is content that's successfully shared by thousands and thousands of viewers simply because it kindled curiosity and the desire to share with someone or the other. The very purpose of the content is to cause excitement over something that is not very important. It travels swiftly by word of mouth and keeps snowballing, gathering momentum with each new share.